NYPD Chief Says Officers Turning Their Backs On Mayor Were "Inappropriate"
Wiliam Bratton criticized the display, meant to show a lack of confidence, that took place at the funeral of a slain officer on Saturday.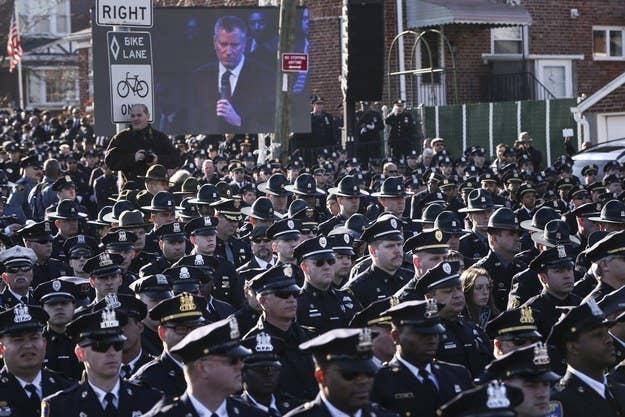 NYPD Commissioner William Bratton on Sunday said it was "very inappropriate" that some officers turned their backs on Mayor Bill de Blasio as he delivered the eulogy for a slain police officer.
The display, meant to show that many officers have lost trust in the mayor, came during the funeral for Officer Rafael Ramos' on Saturday. Hundreds of law enforcement officers outside the church turned their backs when de Blasio came on a large screen.
Many officers also turned their backs on de Blasio when he entered Woodhull Hospital on Dec. 20, after Ramos and Officer Wenjian Liu were shot and killed while sitting in their parol car.
The issue is a sensitive one for de Blasio and Bratton. The commissioner needs to both defend his officers and his boss. De Blasio is struggling with proving to the rank-and-file that they have his support after he campaigned on a platform that was critical of the NYPD.
Bratton said on Face The Nation on CBS:
"I think it was very inappropriate at that event," the commissioner said. "That funeral was held to honor Officer Ramos, and to bring politics or to bring issues into that event, I think was very inappropriate, and I do not support it. He is the mayor of New York. He was there representing the citizens of New York to express their remorse and their regret at that death. It was inappropriate, and at the same time, it is reflective, unfortunately, of the feelings of some of our officers."