Mass Resignations Reported At The New Republic
More than 20 people resigned amid a management shakeup, according to Ryan Lizza, one of its writers. These follow the resignations of editor Franklin Foer and literary editor Leon Wieseltier.
Ryan Lizza, a writer at The New Republic, said Friday there have been mass resignations amid a management shakeup: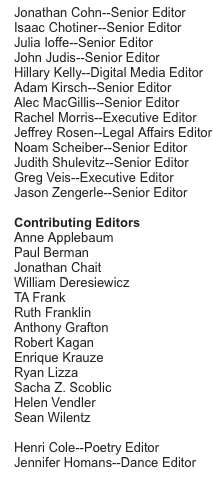 On Friday, the New York Times reported that the editor, Franklin Foer, and literary editor, Leon Wieseltier, resigned over the direction new management wanted to take the publication in a new direction:
In October, Guy Vidra, a former General Manager of Yahoo News, was made chief executive officer. Its publisher and editor-in-chief, Chris Hughes, is a Facebook co-founder.
The Times reported:
And on Thursday, its editor, Franklin Foer, and the veteran literary editor, Leon Wieseltier, abruptly resigned in the face of a disagreement over the magazine's direction. Mr. Foer was replaced by Gabriel Snyder, a former editor of The Atlantic Wire. The magazine will reduce its publication schedule to 10 issues a year, from 20, Mr. Vidra said in a memo, and would be reimagined "as a vertically integrated digital media company."