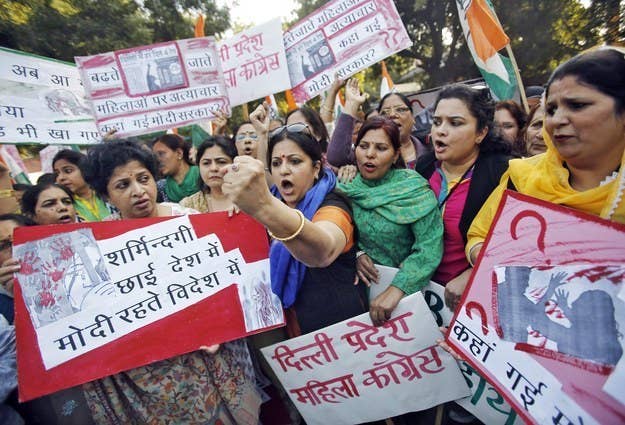 Police in New Delhi said Tuesday they are considering whether to criminally charge Uber or its executives for misrepresenting the safety of its car service after a 26-year-old woman said she was raped by a driver this weekend, a police official told the Associated Press.
Police in India's capital questioned Uber executive Gagan Bhatia about the company's statements that it fully checks the backgrounds of its drivers, the official told the AP:
"What we are doing is trying to ascertain what knowledge Uber had of this person," the police official said. It was the second day of questioning.
Police have also said the paperwork the driver presented to Uber was fake, the police commissioner told the Press Trust of India.
Commissioner Bhimsen Bassi added that police are examining Uber's legal liability in the matter.
New Delhi banned Uber after the attack, saying the company misled its customers. Uber's CEO shot back, saying New Delhi's licensing procedures were "absent." India's home minister later called for all states to ban the service.
The driver, Shiv Kumar Yadav, was arrested on Dec. 7.
Police officials told the AP that while Uber's website says "every ridesharing and livery driver is thoroughly screened," the drivers did not have badges that police issue to taxi drivers after clearing background checks. Uber, the official said, registered as a tech business and not a transportation company. The official said:
"We need to find out if they have any formulated procedures to honor the promise of a safe service. In this case, the victim was going home quite late at night. People don't take any extra safety precautions because they rely on the promise that is made to them."
On Dec. 9, dna reported details of the attacker's police interrogation, ostensibly acquired from police reports.
"After picking the victim from Vasant Vihar, I drove the car towards north Delhi. But when I saw her sleeping, I took a detour and parked my car near a garbage dump," Uber driver Shiv Kumar Yadav reportedly told police.
"When I tried to sexually assault her, she resisted and I repeatedly slapped and tried to strangle her. However, when the girl said that I am a cab driver and could be traced, I threatened to kill her. To keep a tab on her, I copied her number on my phone and gave her a missed call. I dropped the victim near her house and told her not to lodge a complaint," he is said to have confessed.