Four Blackwater Guards Found Guilty Of Killing 14 Iraqis In 2007
The former defense contractors were charged with killing 14 Iraqi citizens and wounding 17 others in Baghdad in 2007. The incident caused an uproar about how private outfits working for the government operate in conflict zones.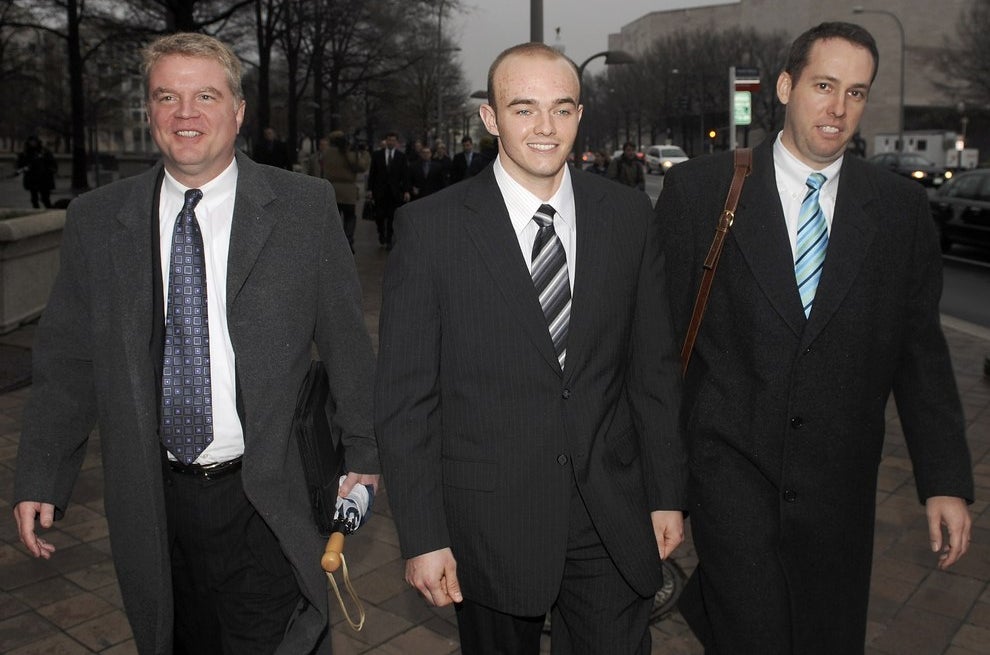 Blackwater security guards Nick Slatten and Dustin Hard leave court in 2009.
Four former Blackwater Worldwide security guards were found guilty of shooting more than 30 civilians, killing 14, in Iraq in 2007, federal prosecutors said.
Nicholas Slatten, 30, from Sparta, Tennessee, was found guilty of first-degree murder for firing the first shots. Three others — Paul Slough, 35, from Keller, Texas; Evan Liberty, 32, from Rochester, New Hampshire; and Dustin Heard, 33, from Maryville, Tennessee — were found guilty on voluntary manslaughter charges. All are military veterans.
The trial lasted about 10 weeks and the jury deliberated for 28 days.
Slatten faces up to life in prison for murder. The other three face a mandatory minimum of 30 years in prison.
"Seven years ago, these Blackwater contractors unleashed powerful sniper fire, machine guns, and grenade launchers on innocent men, women, and children," said Ronald Machen, the U.S. attorney for the District of Columbia. "Today they were held accountable for that outrageous attack and its devastating consequences for so many Iraqi families."
David Schertler, a lawyer for Heard, told the Associate Press that "the verdict is wrong, it's incomprehensible. We're devastated. We're going to fight it every step of the way. We still think we're going to win."
The guards for Blackwater Worldwide — now called Academi guards — were State Department contractors providing security services in Baghdad.
On Sept. 16, 2007, the guards fired at people in a traffic circle "upon sudden quarrel and heat of passion," according to the federal indictment.
At the time of the incident, the four guards — part of a larger team — was making way on the street for another Blackwater convoy, carrying a U.S. official away from a bombing.
As the Associated Press wrote:
The defendants' lawyers said there was strong evidence the guards were targeted with gunfire from insurgents and Iraqi police, leading the guards to shoot back in self-defense. Federal prosecutors said there was no incoming gunfire and that the shootings by the guards were unprovoked.

The prosecution focused on the defendants' intent, contending that some of the Blackwater guards harbored a low regard and deep hostility toward Iraqi civilians.

The guards, the prosecution said, held "a grave indifference" to the death and injury that their actions probably would cause Iraqis. Several former Blackwater guards testified that they had been generally distrustful of Iraqis, based on experience the guards said they had had in being led into ambushes.
The jury rejected that self-defense claim.
The incident significantly increased tensions between Iraqis and U.S. Department of Defense security contractors and what role they should play in securing American officials overseas.