Prosecutor Says DSK Should Be Acquitted Of Pimping Charges
A prosecutor said Tuesday that the former International Monetary Fund chief should be cleared. On Monday, most of his accusers dropped their allegations against him.
A French prosecutor on Tuesday said DSK should be cleared of pimping charges because the evidence presented at trial doesn't show he knew that he was having sex with prostitutes, according to the BBC.
The judge will make the final decision.
According to the Associated Press, "five of six plaintiffs in a high-profile French prostitution trial have dropped their accusations against Dominique Strauss-Kahn, arguing that there isn't enough proof that the former International Monetary Fund chief violated the law."
The move Monday increases the chances that Strauss-Kahn, a onetime contender for the French presidency, will be acquitted of charges of aggravated pimping. Strauss-Kahn argues that he was unaware that women involved in orgies with him were paid sex workers.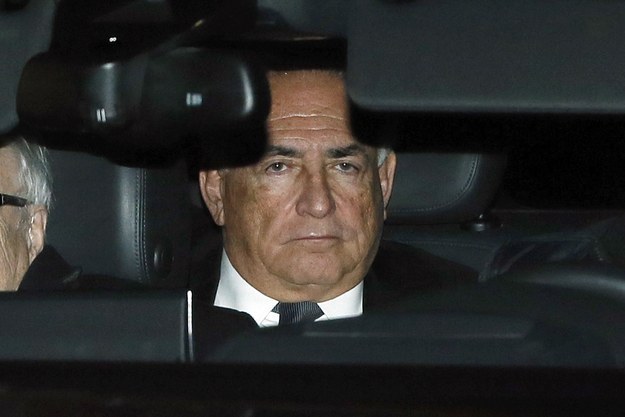 Former International Monetary Fund chief Dominique Strauss-Kahn testified in his aggravated pimping trial Tuesday that he only attended four luxury hotel orgies a year and didn't know the women there were prostitutes.
It was the first questioning that DSK, as he is known, faced from the panel of four judges. He's standing trial with 13 other defendants. There's no jury.
"When reading court documents, we have the image of a frenetic activity, that we would do only that. But it was only four meetings a year over a three-year period," DSK said, according to the Wall Street Journal.
"I committed neither crime, nor offense," he added, according to Agence France-Presse, which had a reporter in the courtroom. "I was never aware of the prostitutional aspect."
Central to DSK's defense is the idea that he is a "libertine," and that he believed the people he had sex with had the same outlook, and weren't paid.
"These are sexual relations, outside of conventional social relationships, with people whom you don't know. The encounters are shared and consensual," a former police commissioner, Jean-Christophe Lagarde, testified. He is accused of helping organize the sex parties.
DSK said he knew three of the people who allegedly organized the parties. The judges hinted in their questions that he was the guest of honor at the orgies.
"Were you the most important man in this world?" one of the judges asked DSK.
"I don't know if that was the case but some thought so," he replied.
DSK, once considered a formidable candidate for the French presidency, also refused psychiatric or psychological evaluation, the court heard, because he worried it could be leaked to the media.
In 2011, DSK was arrested in Manhattan after a hotel maid, Nafissatou Diallo, said he sexually assaulted her. The case became an international spectacle, and the district attorney later dropped the charges.
Before the day's hearings, topless protesters from the group Femen jumped on DSK's car as it arrived.