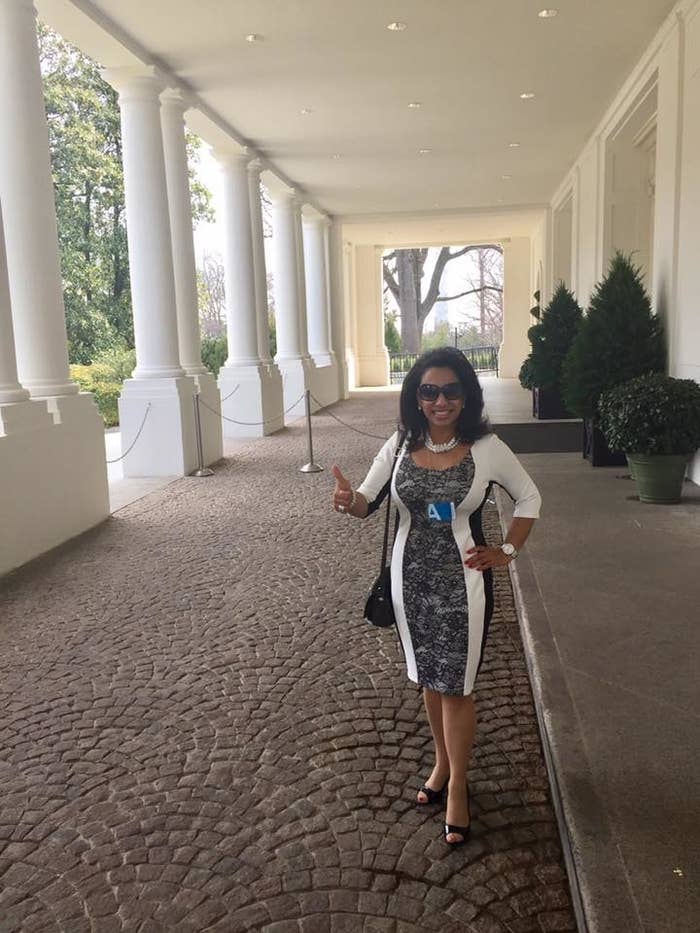 Brigitte Gabriel, one of the most influential anti-Muslim leaders in America, was at the White House on Tuesday after saying she had a meeting there.
Gabriel posted two photos to Facebook — one showing her on the White House grounds, another showing her meeting with an unidentified person in an ornate room.
"Very productive day at the White House. Stay tuned for more updates. I love our country so much. #protectionoverpolitics #makeamericasafeagain #actforamerica," she posted.
The visit came despite one White House official telling BuzzFeed News they were "not aware of any meetings" and another official saying "I don't see the meeting anywhere that I have looked so far." An aide in the White House press office said later Tuesday they're looking into the photos.
However later on, a White House official confirmed to BuzzFeed News that Gabriel had in fact visited. "Ms. Gabriel and a colleague were here to participate in a brief meeting with a member of our legislative staff. The purpose was to make general introductions, which is pretty typical with any new administration," the official said, adding that Gabriel requested the meeting.
Gabriel — who once said "every practicing Muslim is a radical Muslim" — founded the group ACT for America in 2007. She didn't return requests for comment from BuzzFeed News.
BuzzFeed News reported in September 2016 that ACT for America has been classified as a hate group by several organizations that track extremism, such as the Southern Poverty Law Center. Ret. Gen. Michael Flynn — who President Trump recently fired as national security adviser for lying about communicating with Russia — called Islam a "cancer" at an ACT meeting and is a member of the group's board.

"Brigitte Gabriel is an extreme Islamophobe and leader of a known hate group," Heidi Beirich, director of the Southern Poverty Law Center's Intelligence Project. "Hate has no place in the White House and she should not have an audience with the Trump administration. There have been enough anti-Muslim people in this administration already — enough is enough."

The possible meeting comes as the Trump administration is under fire for banning travel from six Muslim-majority countries — a federal judge put the presidential order on hold — and for restricting electronics on flights for people traveling from 10 major airports in the Middle East. Trump, while he was a candidate, said he wanted to ban Muslims from entering the United States.
Several senior US officials now share Gabriel's vision of Islam as a cult-like ideology that's a threat to national security. Trump's chief strategist, Steve Bannon, is on the record as saying the Western world is engaged in an existential battle with Islam. Cabinet member Ben Carson has said a Muslim shouldn't be allowed to serve as president — a prospect that's unconstitutional. Senior adviser Stephen Miller has been attacking what he calls "Islamofascism" since his college days.

ACT boasts 300,000 members in 1,000 chapters nationwide and has built a political operation around its ideas. As David Noriega, a BuzzFeed News reporter at the time, wrote:
"They embody this idea that Islamophobia is not fringe," said Kalia Abiade, advocacy director for the Center for New Community, which monitors what it calls "organized bigotry" and has tracked ACT for America nearly since its inception. "Their positions might be extreme, but they are not a fringe movement. They have really good relationships with lawmakers. They've got members of Congress speaking at their briefings. In terms of direct impact, I don't know who else would compete with them."
Muslim and religious advocacy groups slammed the reported visit:
"No White House official should be meeting with the leader of a hate group that is one of the main sources of growing anti-Muslim bigotry in our nation," said Nihad Awad, the national executive director for the Council on American-Islamic Relations, in a statement. "This meeting should be canceled immediately and an explanation should be offered as to why it was scheduled in the first place."
Rabbi Jack Moline, the president of Interfaith Alliance, told BuzzFeed News, "American Muslims and other religious minorities have looked to the administration to reassure them of their safe and welcome place among all American citizens. Instead of meeting with their leadership, President Trump is hosting someone who has advanced stereotypes and prejudices that add to the insecurity of minority groups."

And the Muslim Public Affairs Council said, "Gabriel has absolutely no formal credentials — academic or otherwise — to be an expert on Islam or Muslims, but what she does have is a long-standing history of making baseless, inflammatory statements about the faith and its adherents. Until the administration is willing to hear from and speak directly to credible experts, they will continue to create policies that are based on fear, not fact, and will continue to further the divide between us in America and America and the world."