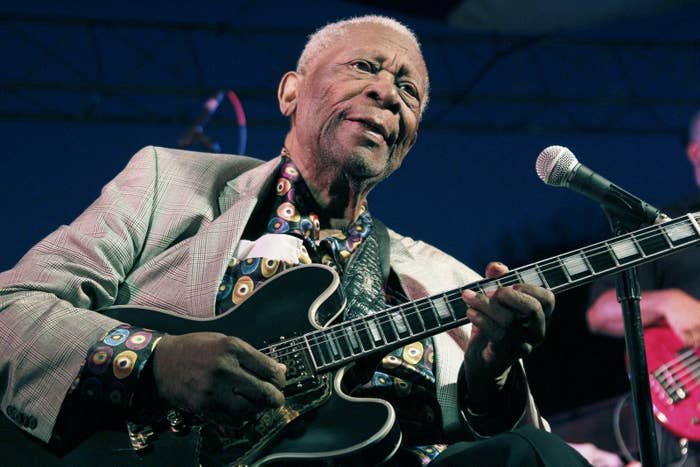 B.B. King, the most recognized blues musician of the modern era, died Thursday. He defined the genre for nearly seven decades and inspired countless artists with his unique style of electric guitar play — earning him the nickname the "King of Blues." King was 89.
King died in his sleep at 9:40 p.m. Thursday at his Las Vegas home, his attorney, Brent Bryson, told the Associated Press.
"The blues has lost its king, and America has lost a legend," President Obama said Friday. B.B. King ... became the ambassador who brought his all-American music to his country and the world. No one worked harder than B.B. No one inspired more up-and-coming artists. No one did more to spread the gospel of the blues."
He added, "there's going to be one killer blues session in heaven tonight."
King announced on May 1 that he entered home hospice care at his Las Vegas residence, ending his legacy as a relentless touring artist. He performed at hundreds of shows a year well into his older age, always with his trademark Gibson guitar nicknamed "Lucille."
King, an inductee to the Rock and Roll Hall of Fame, won 15 Grammy awards over his lifetime — more than any other blues musician. His string-bending and vibrato technique on the guitar earned him spots on several lists of the instrument's greatest players of all time.
King was born Riley B. King in 1925 and as a boy worked on a sharecropping plantation in Itta Benna, Mississippi. "He toiled in cotton and corn fields, milked 20 cows a day (ten in the morning, ten at night) on Flake Cartledge's farm. After those morning milkings, he walked some three miles to the one-room schoolhouse that was home to kindergarten through grade 12," David McGee wrote in the biography B. B. King: There Is Always One More Time.
Growing up, King had several experiences with violence and racism. At one point, he said in a 2013 interview, he saw a young man "being drug up the streets over to the courthouse" in Lexington, Mississippi, where the man was lynched.
"I think it scared me more than anything else, because I was maybe a few years older than he was, so he was a boy, and I was scared after seeing them dragging him up the streets," he said, adding, "I thought that just as had happened to that guy, it could happen to me."
King's first encounter with a guitar came at a young age, McGree wrote. The local reverend from the Church of God in Christ brought his instrument to King's home, and after King was caught touching it, the reverend taught him the basics. After that, King taught himself how to play.
"I was what they call in the country a 'house boy.' A house boy was a guy that, excuse me, that did whatever was around to be done. And my wages, I made $15 a month, which I thought was a lot of money, $15 a month. That's how I got my first guitar," King said in a 2004 interview.
King hitchhiked to Memphis with $3 in his pocket, and lived with a cousin who was already an established blues player. He began playing the local scene, and was paid 4 cents for every album he made.
"In the early Fifties King was a disc jockey on the Memphis black station WDIA, where he was dubbed the 'Beale Street Blues Boy.' Eventually, Blues Boy was shortened to B.B., and the nickname stuck," according to his biography in Rolling Stone.
In 1954, as his rendition of "3 O'Clock Blues" topped the Billboard R&B charts, King began to gain a national audience by keeping a rigorous nationwide touring schedule. in 1956 he played "340 one-night-stands," and worked "every day of the year," wrote Charles Sawyer, a project consultant for the B. B. King Museum. He won his first Grammy in 1970 for "The Thrill Is Gone" — which went on to be one of his greatest hits — and the following year he performed the song on the Ed Sullivan Show, reaching millions of viewers and launching himself to fame.
When asked in 2004 how he accounted for his rags-to-riches story, King said, " I don't know how to answer you. I'll try. There is so much to do. So much more to do till even today. I think that I'm okay. I think I know my job. I said this earlier. I have had a lot of things happen to me for which I'm grateful."
Many musicians paid tribute to King over social media and at his clubs on Friday.
Eric Clapton, who performed with King, posted this to his Facebook:
This is from Slash, of Guns N' Roses: