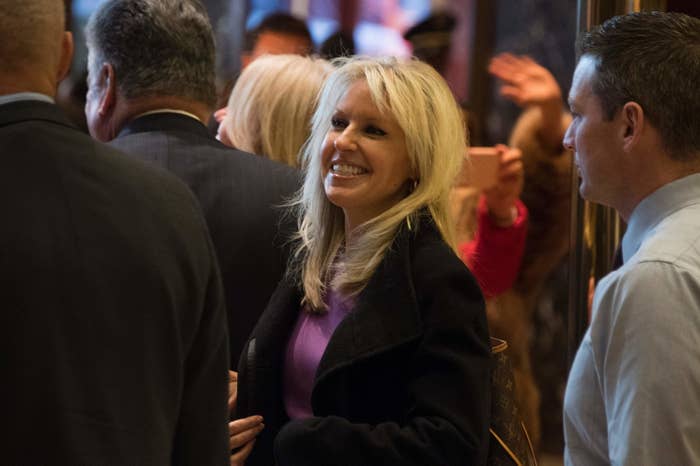 A conservative commentator who President-elect Donald Trump appointed to a senior director role at the National Security Council reportedly won't take the job after she was caught in a widespread plagiarism scandal.
"After much reflection I have decided to remain in New York to pursue other opportunities and will not be taking a position in the incoming administration," Monica Crowley told the Washington Times. "I greatly appreciate being asked to be part of President-elect Trump's team and I will continue to enthusiastically support him and his agenda for American renewal."
CNN first revealed earlier this month that Crowley — appointed in December as the senior director of strategic communications for the National Security Council — plagiarized more than 50 segments of her 2012 book, What the (Bleep) Just Happened? Its publisher, HarperCollins, has since pulled it from the shelves.
Two days later, Politico Magazine reported that Crowley plagiarized several passages of her Columbia University PhD dissertation, "Clearer Than Truth: Determining and Preserving Grand Strategy: The Evolution of American Policy Toward the People's Republic of China Under Truman and Nixon."
Crowley reportedly pulled from other scholarly works, Foreign Affairs, the Associated Press, and numerous other sources, CNN and Politico reported.
A message to the Trump transition team was not returned. Crowley was slated to work with Trump's chosen national security adviser, retired Gen. Michael Flynn, who told the Times, "The NSC will miss the opportunity to have Monica Crowley as part of our team. We wish her all the best in her future."
In his December announcement, Trump called Crowley "a renowned scholar who holds a Ph.D. in international relations from Columbia University, [and] is a foreign affairs and political analyst for the Fox News Channel. She is also a New York Times bestselling author and a columnist and online opinion editor of the Washington Times."
"I am deeply honored, humbled and grateful to be asked by the President-elect to join the extraordinary national security team he is assembling," Crowley said in a statement at the time. "He is also committed to selecting the best people for the jobs of keeping the American people safe and the country secure."