What You'll Be Able To Do With The Next iPhone's New NFC Antenna
Word just leaked that the next generation of iPhones will come with a special kind of antenna, designed for something called Near-Field Communication. Here are the coolest things you'll be able to do with it.
This is the part Apple's most excited about. At this year's WWDC, they unveiled Passbook, an iOS app that holds digital copies of tickets, coupons and boarding passes — basically, any authenticated piece of paper you're worried about losing. When the time comes to show your ticket, you'll just load up Passbook and tap your phone. NFC tech has been in Android phones for a while now, but iPhone support will speed adoption immensely.
Google's been trying to make smartphone payments happen for years now (with a lot of help from Visa and Mastercard), so there are already tap-to-pay boxes at thousands of locations, including crazy Japanese vending machines. (And, for example, McDonald's.)
NFC can also do cool things with mobile check-in services like Foursquare. You'll be able to create events on the fly with nothing more than a sticker, and check just by tapping your phone. This already works for Android phones running Ice Cream Sandwich (that is, basically none of them); you can expect it to pick up steam when iPhone users come aboard.
4.
Your Phone Will Be Your Keys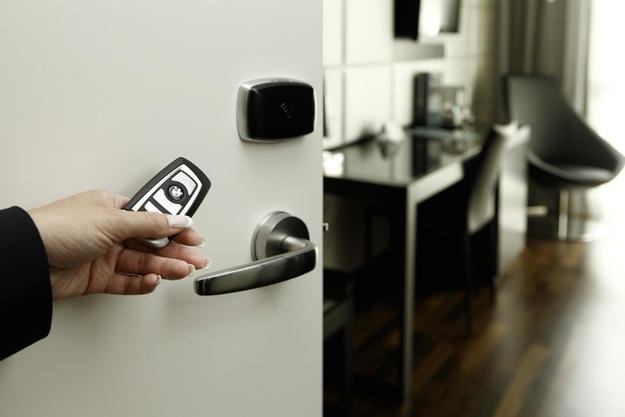 Farther down the road, it's easy to imagine using NFC anywhere you'd use a key. BMW and Lexus already use it in place of rotating car keys, and many hotels use it for room keys. Your days of carrying around intricately cut pieces of metal may be numbered.
The big picture is, you're going to be tapping your phone on lots of things. The chips that work with NFC are very small and very cheap, so they can go basically anywhere. They're the same as those tiny anti-shoplifting stickers you find in books. And now, with the help of mobile apps, they can trigger almost anything they need to on a smartphone. Or, if you want to just operate your phone by holding it up to different spots on a strange mousepad thingy, you can do that too.