How Valve Is Turning Gamers Into Filmmakers
With Source Filmmaker, Valve has created hundreds of shoestring animation studios — and given machinima a shot at respectability.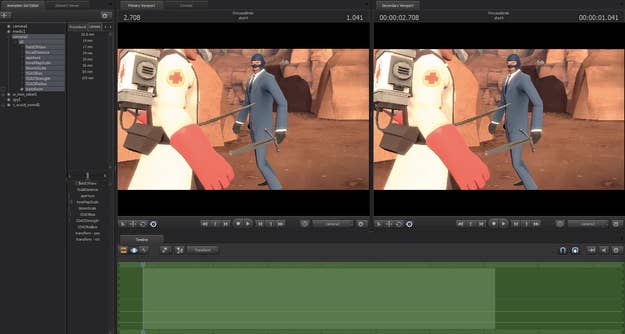 It used to take millions of dollars to make a motion capture work. You needed a specially designed suit covered in reflective balls, or a network of LED markers. Now, all you need is two Kinects and the right software.
As of this July, a lot of the software is free. The biggest change came with the release of Valve's Source Filmmaker, a free-to-download animation suite. It's built on top of the same Source graphics engine Valve used to build Portal and Half Life 2. It's also one of a handful of technologies that, in the course of just a few years, have turned 3D animation into something you can effectively do in your basement.
At least one real, we-have-a-producer-and-everything movie is already being made using Source-powered tools, and there are plenty of fans ready to follow suit. In the seven weeks the program's been available, they've already produced hundreds of videos, ranging from the promising to the bizarre. There's a musical. There's a single-shot slapstick comedy. Those are the ambitious ones. There's also a lot of video overdubs and a lot of videos so weird as to defy description.
It's roughly the same terrain you find on YouTube, the scattering of goofs and half-baked projects that comes with any powerful new tool that's available to just anyone. There's also precious little documentation, so most of the know-how comes from community members like Jimer Lins (a handle), who's been making "Tip of the Day" tutorials on Source for the past month. "Right now I think it's still very much in the 'ooo shiny thing' phase," he told me. "But I can promise you that right now someone is working on something that will absolutely blow us all away."
It's not so far-fetched. Good, cheap instruments have a history of changing art forms, from the lo-fi four-track to the more recent appearance of cinema-grade DSLRs used to shoot features like Tiny Furniture and Act of Valor. Cheaper tools bring new artists to the table — a few gems, along with a lot of junk.
In the case of Source Filmmaker, it also comes with a strong whiff of advertising. Valve tested the software making in-house ads like this one, and every copy is stocked exclusively with the sets and character models from Team Fortress 2 and other Valve projects. As a result, all the videos so far have been set in that world, made by and for fans of the game. It's as if, for your first year of playing the guitar, you could only play songs about Mario Kart.
Since the program has only been around for two months, it's safe to say this is only the beginning. Lins claims to know at least half-a-dozen feature-length movies being developed on the platform, and a look at the Steam forums turns up at least as many calls for collaborators. None of them has turned into a real, we're-selling-this-for-money motion picture yet, but it's not for lack of trying.
In the meantime, get ready for a lot of films about rocket launchers.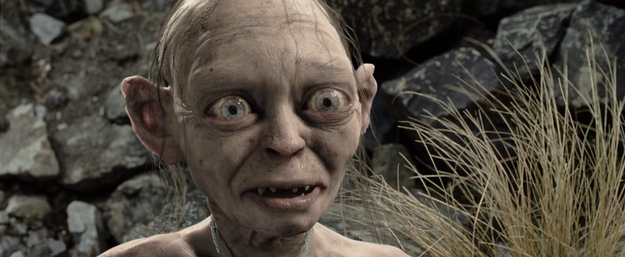 The seed of the project came from a designer and occasional comic artist named Bay Raitt, who was struggling with the inertia of big-budget film. He was the Creature Facial Lead at WETA Digital, making the Lord of the Rings movies — which is to say, with a bunch of other people, he made Gollum's face. It was great work, but he came away from the experience frustrated. "If you add a new shot to a movie, or you change something at the last minute, it's extraordinarily risky," he told me. "Iterating in context, when you can actually see the problem right in front of you and you can come up with an immediate solution, that's when you make the best quality decisions."
The relationship between film and games was even more dysfunctional. A film team would work months perfecting the 3D model for a film character, and the video game would spend more months rebuilding the models from the ground up, armed with only a few frames from the movie. As long as the game used a different engine from the film, transferring the data wasn't practical.
He decided to build something simpler. "At the time, I was trying to look for what I was going to do next after Gollum," he told me. "I was interested in getting closer to the audience, and the big visual effects world is not really organized in that way."
At the same time, Valve was seeing more and more game-engine movies (called machinima) pop up on YouTube. Riffing on the Halo engine, the Red vs. Blue series was commanding up to a million viewers a week. In the Valve world, there was Garry's Mod, a sandbox game based on Half Life 2's Source engine, producing machinima that ranged from jokey to violently absurd.
The limitations in Garry's Mod are easy to spot. Camera movement is jarring. Lighting and sound editing is minimal. The facial expressions are, for the most part, horrifying. The tools for anything more artful just weren't available — at least not to the zero-budget crowd.
Valve brought on Raitt to fix all that. Raitt had started his own animation company, BoxRocket, with a Pixar alum, but once he connected with Valve, he quickly joined the fold. On top of the mod tools, Raitt's team built a single workspace to handle keyframing, editing, lighting, color grading and rendering. Most professional setups separate these steps between different people and different programs. The animator uses Maya, the editor uses Final Cut, and the whole project is sent to a separate cluster of computers for final rendering. It's a more powerful setup, but it's also expensive and unwieldy.
When everything is on a single computer, it means you can animate from your basement, two hours at a time. Need to do your own motion-capture? Check out this tutorial. All you need is a pair of Kinects and some software. Need help with the lighting tool? Take it to the forums — or better yet, the subreddit. All it takes is time, effort and a little bit of art.
Source Filmmaker's gaming roots also cause a few problems. Valve has taken a hard line on IP from the beginning: if you're going to make money off a movie, even from YouTube ad revenue, it can't have any Valve property in it, from the character models right down to the wall textures. The program's still free, but everything else is on loan. So far, none of the YouTube shorts stand on their own, but if one of them were popular enough, the creators would need to replace the offending 3D models before a wider release. Valve's staying mum about distribution (YouTube's good enough for now), but if they ever decided to start selling movies, Steam would be the perfect platform for it. The real test is still whether the community can produce something you'll want to see.
Or they could stick to fan movies. It might be disappointing to cinephiles, but Valve would be perfectly happy to keep the service alive as an engine for fan films, and it's no coincidence that Valve recently expanded their video-sharing forum. For his part, Raitt isn't worried about the amateur-professional divide. "Sometimes a creator is just a creator. It just depends on how much they want to participate."