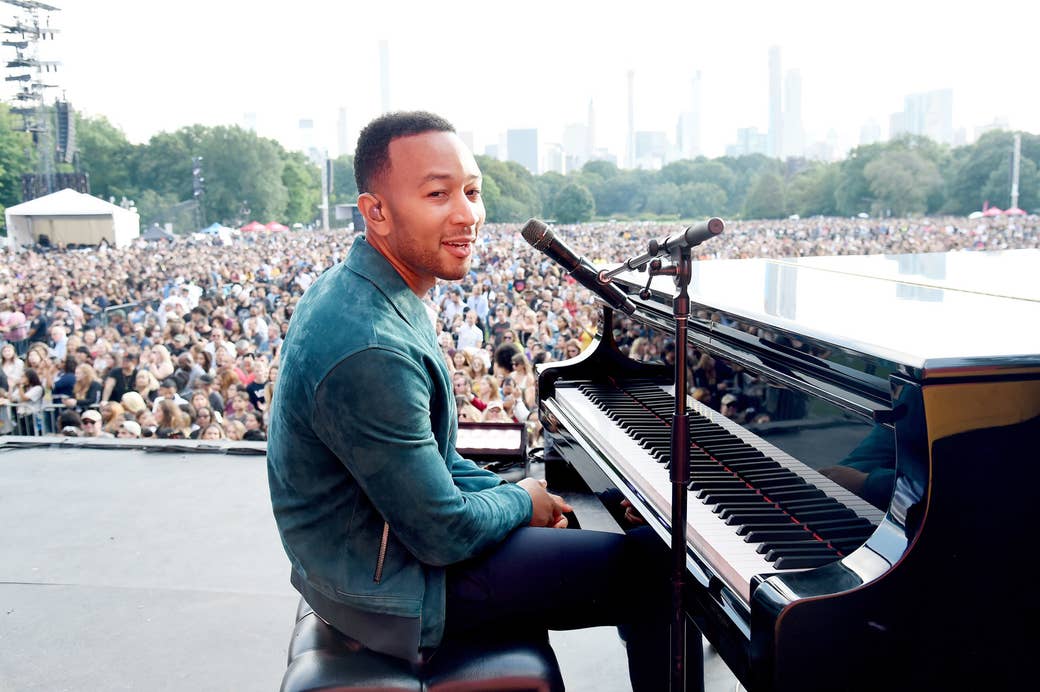 It takes a certain kind of brazen self-confidence to give yourself the last name Legend — especially if you're a musician. As much as it's an old-fashioned play for timelessness, it's also very on the nose. Suddenly, you're susceptible to a lifetime of corny newspaper puns and reviews will forever be determining if your latest album "lives up to the name."
It was for these reasons, said a 26-year-old John Legend (legal name John Stephens), that he was at first wary of releasing his debut studio album, Get Lifted, under that moniker. But ultimately he went for it. "I decided that if my only reason for not doing it was because I was worried about failing to live up to it, that would not be enough reason," he told a reporter for the Los Angeles Times in 2005. "I didn't want to go into this at all thinking I possibly would fail. I was going to do the best I could do. So I've invited the pressure on myself."
About 13 years after that interview, John Legend is, if not quite a legend, certainly someone who has acquired an impressive (maybe even surprising) number of accolades: After winning Best New Artist at the 2005 Grammys (one of 10 Grammys he's won; yes, 10!), he got his first Billboard No. 1 single with the 2013 earworm "All of Me." In September he became the first black man to ever EGOT, winning the Emmy for his role as a producer of Jesus Christ Superstar Live! — the NBC live broadcast of the Andrew Lloyd Webber musical that Legend also starred in this past spring. (He literally played Jesus Christ, and not badly.)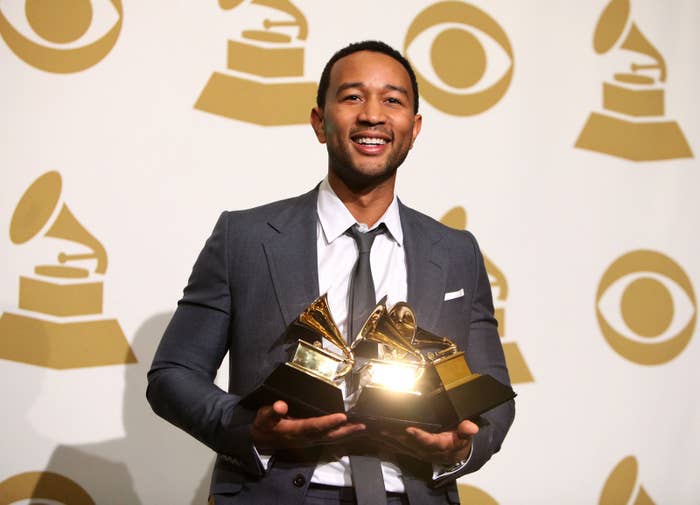 Legend's marriage to Chrissy Teigen has helped introduce him to a wider audience (their family exploits are now covered enthusiastically by People magazine and other tabloids); and as his visibility as a public figure has grown, some interesting contradictions have come into view. He's a strange mixture of things: a guarded, old-fashioned R&B artist in a genre in which specific, confessional lyrics and vulnerability are prized; an affable celebrity with outspoken, politically progressive views; a man whose quiet arrogance doesn't activate obvious asshole alarms. He's strategically prolific, releasing new music every two to three years, even as each album's quality has fluctuated, never quite tapping into his full potential as an obviously talented musician.
Today, Legend makes a big play for pop ubiquity with the release of his first holiday album, A Legendary Christmas. (He will also be starring with Teigen in an NBC holiday special, A Legendary Christmas with John and Chrissy, later in November). The holiday album is a mainstay for many musicians, but it does reveal the extent to which Legend seems no longer interested in making thought-provoking music. His anodyne public and artistic persona, wedded as it is to progressive politics, feels increasingly like a feat in 2018, when the polarization of public figures has resulted in stars as dispositionally muted as Kendrick Lamar and Beyoncé nevertheless being flamed by conservatives as radical leftists. How has Legend managed to remain unscorched? And does his crossover appeal (read: white people know who he is) come at the cost of making interesting music?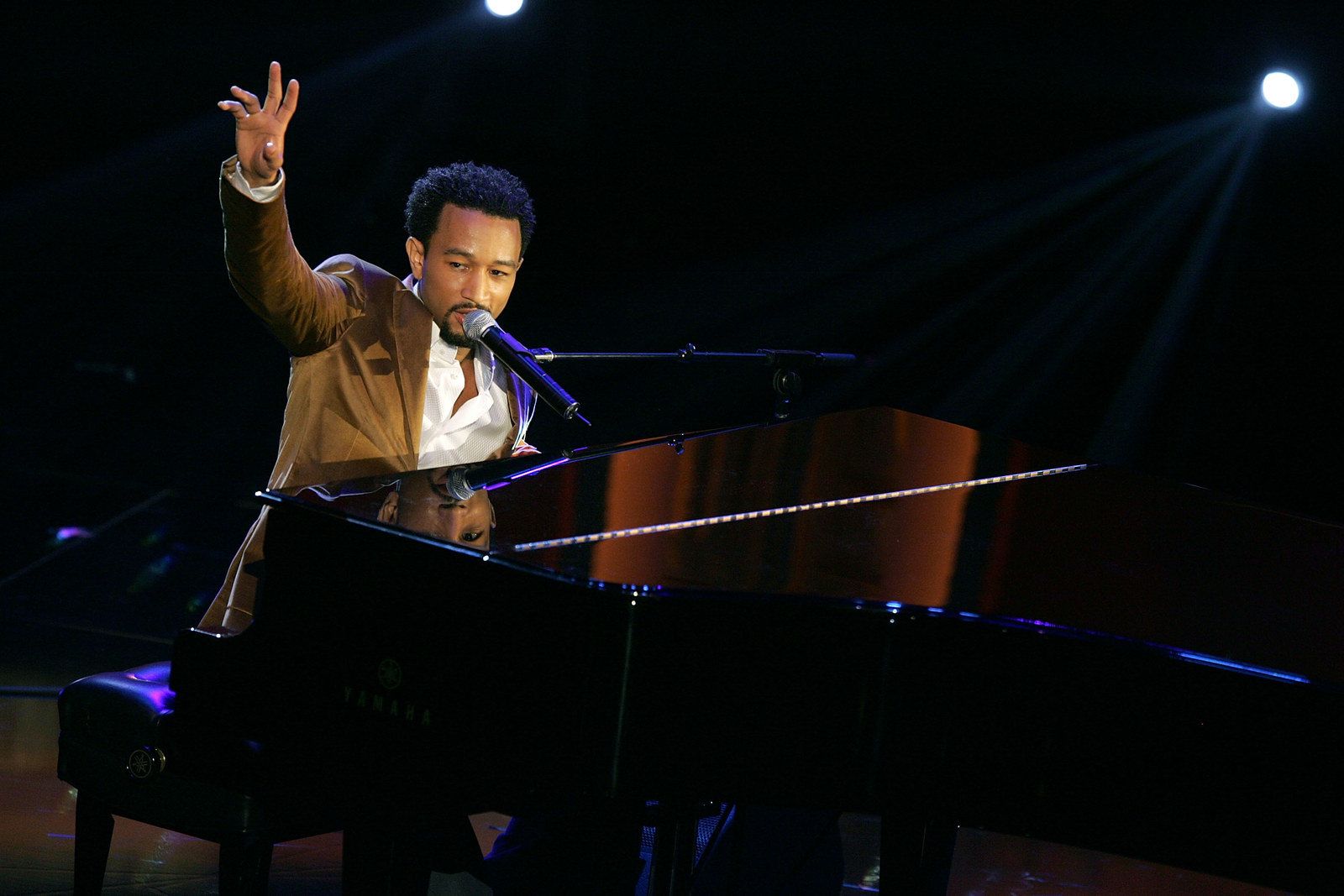 Like many a young, confident musical upstart, Legend says he was always convinced of his talent. "As soon as I started singing and playing, I wanted to be doing it on TV," he told the Guardian in 2005, "and I knew I would." He grew up the son of a seamstress and a factory worker in Ohio, and sang and played piano at church. He was gifted academically, graduating from high school at 16 and going on to attend the University of Pennsylvania, where he majored in English. He was also a choir director at his church. One of his choir members introduced him to Lauryn Hill, and he ended up playing piano on her single "Everything Is Everything" when he was just 19.
After graduation, Legend moved to New York and worked as a consultant while playing shows and recording music at night and on weekends. He self-released two albums as John Stephens, and worked as a session musician for artists like Alicia Keys, Janet Jackson, and Talib Kweli. A former college roommate introduced Legend to Kanye West, then a mouthy, confident producer whose album The College Dropout would come out in 2004 and change the trajectory of both of their careers.
Legend and West were a natural musical fit (if not always a comfortable one: "We challenge each other," said Legend in that same Guardian interview. "We really go at it sometimes."). Both had a deep appreciation for the classic R&B and soul music of the '60s and '70s. Both favored warm, gospel-influenced vocals. Legend even sang backup for a bulk of West's debut album. So it made sense that Legend's Get Lifted was the first album to come out on West's label imprint, G.O.O.D Music, in December 2004. The record was a throwback to the grooves, live instrumentation, and gospel-indebted background vocals of soul music. It wasn't sleepy, like so much of the "neo soul" then on the radio — your Bilals and your Musiq Soulchilds — and with his signature grainy voice, featuring something I call the John Legend rasp, the music was good, though not groundbreaking. "Ordinary People," the breakout track from Get Lifted, was a piano-driven ballad about what happens after "the infatuation phase." There was a hip-hop braggadocio to a lot of the tracks: Snoop Dogg even made an appearance on "I Can Change" to remind everyone that in 2004 people said things like "she's off the hizzle."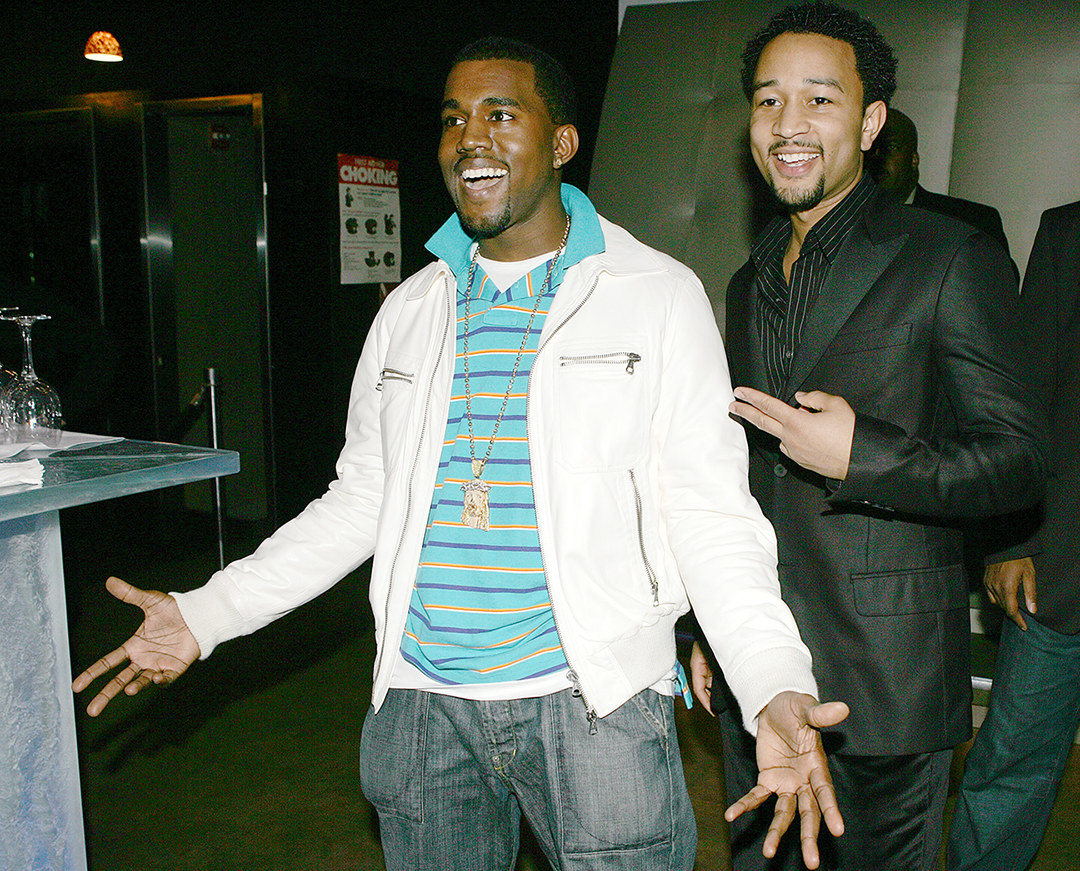 But it wasn't just the sound of the album that made it old-school, the kind of music Legend would insist, in profiles, "didn't get played on the radio." Legend was interested in writing frank songs about love, and a good number on the album explored infidelity. In fact, post "All of Me," it may be difficult to remember just how much of a cad Legend sounded like in his early songs. The album's third single, "Number One," is a promise not to cheat on his girlfriend — again. (It also features some classic Kanye lines: "Thinkin' my heart don't got nothing to do with my penis / He got a mind of his own and he just be seeing shit.") Other songs from the album include "She Don't Have to Know," which — self-explanatory. And music videos for his first two albums usually featured Legend shirtless, rubbing up on an interchanging bevy of scantily clad women, including his future wife, Chrissy Teigen.
Legend freely admitted that he had a bit of a reputation. In a mid-aughts interview with an outlet called PartyPeeps2000.com, he confesses: "People like to focus on only the good parts of my songs, but I talk about some of the bad parts of relationships too. I like to be completely honest."
During his earlier live shows, there was always a moment when Legend would step out from behind the piano and invite a woman onto the stage to slow dance with him as he serenaded her. (Sometimes, things got heated, and more than just the temperature rose.) Never quite as torrid as Bobby Brown or as explicitly sexy as D'Angelo, Legend's early persona was nevertheless that of a hot, talented player who almost exclusively dated models.
But then came Teigen. They officially met on set of the music video for "Stereo," the fourth single off his second album, Once Again. But they took their time making it official, dating for seven years until their wedding in 2013.
At the beginning of their relationship, Legend was the more famous partner. Teigen started out as a model who appeared on the cover of Sports Illustrated and in Victoria's Secret runway shows. But then she discovered social media. She was an early adopter of Twitter and good at it. She loved to eat and cook and posted Instagram photos of her stretch marks. Women's publications wrote about her breathlessly: "People love Chrissy Teigen because she's real," explains Rosa Heyman, the social media editor for Marie Claire. "...she shows her bitchy side on Twitter... Whereas some celebrities appoint themselves to an untouchable status, Chrissy Teigen seems like a friend." Legend, meanwhile, cameoed in her Snapchat stories as the unfazed mate, happy to take off her jewelry when she was too drunk to do it herself, and supported her when she spoke out about their struggles to get pregnant.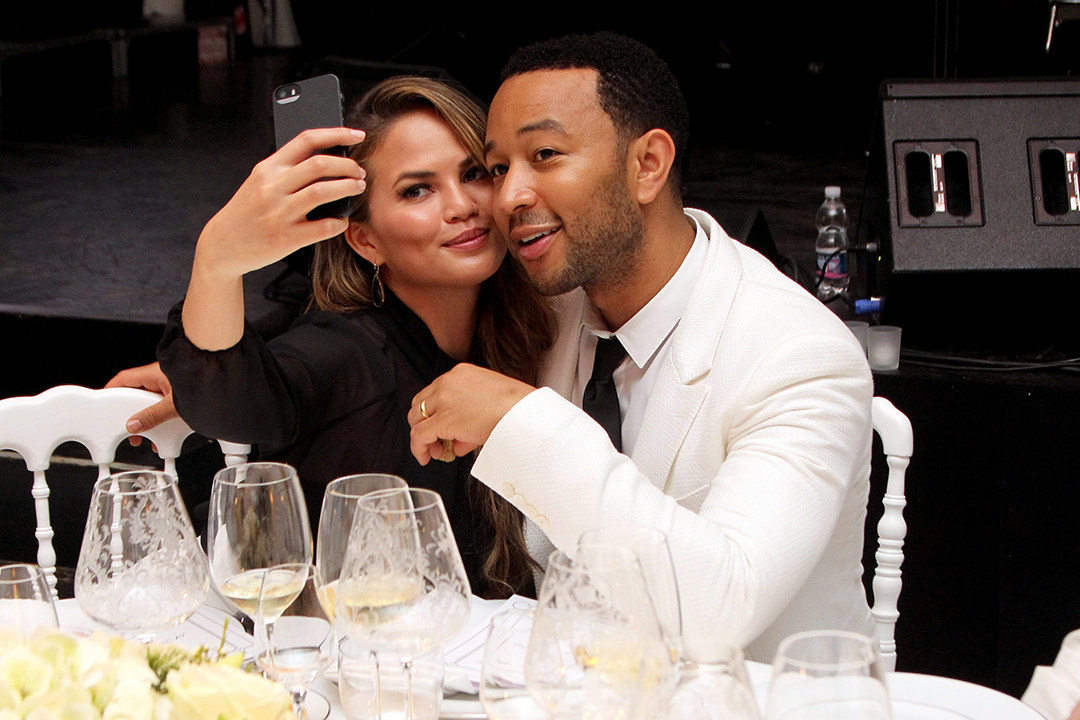 Their collective fame reached new heights when Legend released the music video for "All of Me," the mega-hit love ballad from his fourth album, 2013's Love in the Future. "All of Me" is Legend's most successful single to date: his first and only Billboard Hot 100 No. 1 single and the second-best selling song of 2014 in the US. He even sang it at Kim Kardashian and Kanye West's wedding. The spartan black and white music video features Legend and Teigen happily booed up, as Legend croons about her "perfect imperfections." It was saccharine, it was cheesy, it was the antithesis of the grit and grain of "Ordinary People." But it made Legend famous in a way he hadn't been before. The combination of that song and Teigen's growing media appeal — she eventually corralled her charm into a cookbook deal, a gig cohosting Bravo's Lip Sync Battle, and various guest TV appearances — turned the couple into irresistible tabloid fodder.
But even as John and Chrissy were making forays into Middle America (Teigen has now published two popular cookbooks, and just launched a new kitchenware collection with Target), Legend's political activism remained staunchly progressive. He was firmly and outspokenly against the Iraq War from the beginning of his career, and he's done a number of activist-y things: he wrote a song inspired by Barack Obama's presidential campaign, which he performed at the 2008 Democratic National Convention; he teamed up with the Roots to make the 2010 album Wake Up!, which covered socially conscious soul numbers from the '60s and the '70s; he read in support of Howard Zinn; he bought food for protesters during the spate of demonstrations against police brutality in 2014. He's appeared on Chris Hayes' MSNBC show, advocating for the end of cash bail, and just this week teamed up with the songwriter Linda Perry to release a song encouraging people to vote during the midterm elections. His outspokenness dovetails strangely with his seemingly bland, affable persona, but doesn't seem to attract any lasting hostility from more moderate or conservative voices.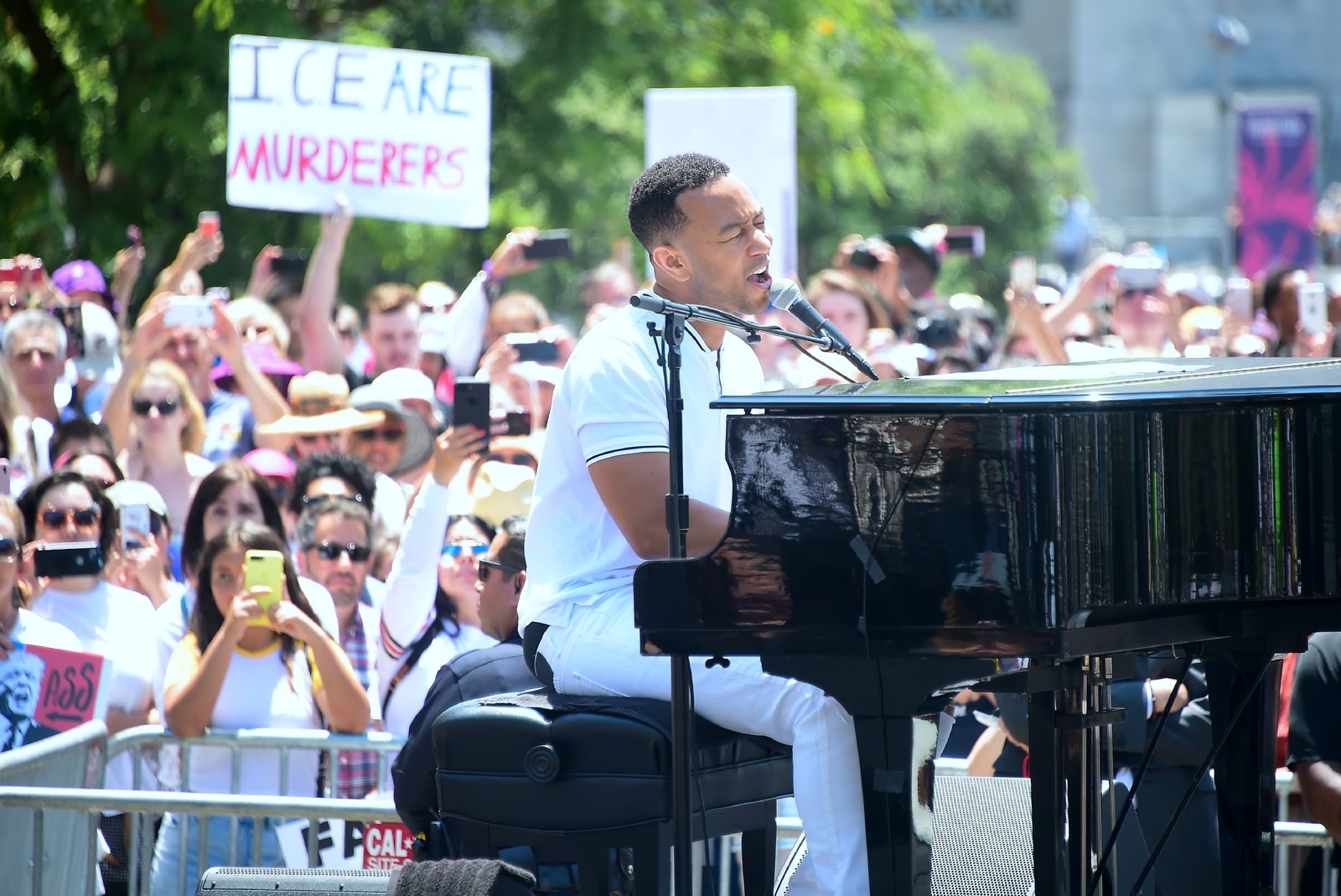 During the 2016 election campaign, for example, Legend tweeted to Donald Trump Jr. that his father was a racist, sparking a back and forth. Later that year, during the height of the NFL anthem protests, Legend said "The Star-Spangled Banner" was "weak," sharing an Intercept article that referenced the third stanza condoning slavery. After some users criticized him, Legend doubled down: "For those defending the current anthem, do you really truly love that song?" Legend tweeted. "I don't and I'm very good at singing it. Like, one of the best." It's a comment that reveals both his steadfast confidence and his progressive point of view. (And yet, despite the fact that Beyoncé isn't nearly as publicly outspoken as Legend is, he's still not as politically polarizing as her!)
Musically, though, Legend has sounded kind of directionless. Get Lifted remains his best album, 14 years later. Once Again was a fine sophomore effort with some good jams ("Save Room" and "Slow Dance"). It eschewed the standard soul sound he had been going for, with songs that flirted with bossa nova and even Jeff Buckley-indebted grunge. 2008's Evolver earned Legend his then highest-charting single with "Green Light," an upbeat bop with a guest verse from Andre 3000. But 2013's Love in the Future was an overly long, treacly dud. Legend's songwriting lacks the glimpses of confession and vulnerability that have made recent albums by the likes of Beyoncé, Frank Ocean, and SZA so refreshing.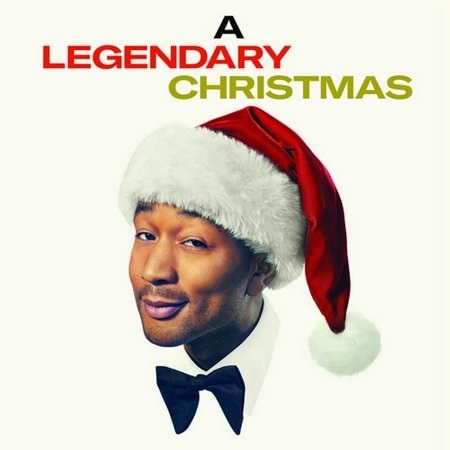 His last album, Darkness and Light, came out in 2016. "Legend is just a name / I know better than to be this proud," he croons on the opening track, "I Know Better." The album is a better effort than Love in the Future, with minimal-sounding production by Blake Mills and guest features from Chance the Rapper, Brittany Howard, and Miguel — all three genre-agnostic artists who showcase the dextrous nature of R&B. But the songs on the record are all over the place; they never cohere into a unified whole. Darkness and Light is Legend's lowest-charting album so far, peaking at No. 14.
Legend's new holiday album, then, feels like the first step in a more deliberate capitulation to market forces. It's not a bad album, and when he's covering classics like "What Christmas Means to Me" and "Silver Bells" you can hear the faithful channeling of the soul legends who've sung these songs before him. (Stevie Wonder even plays the harmonica on the first track.) But it's not risky. You will comfortably hear this at Starbucks across America. Legend will also be a judge on The Voice this coming spring, which feels like another way to secure the bag and another effort to further cement his claim on the mainstream. And to be clear, there is nothing wrong with that. But given his talent, his point of view, it still feels like there's some untapped artistic potential, new heights he could reach if that's what he wanted.
Instead, at 39, Legend occupies that weird space between rising upstart and elder statesman. But he's become an industry stalwart, someone who has managed to make a name and a career for himself — legends be damned. ●