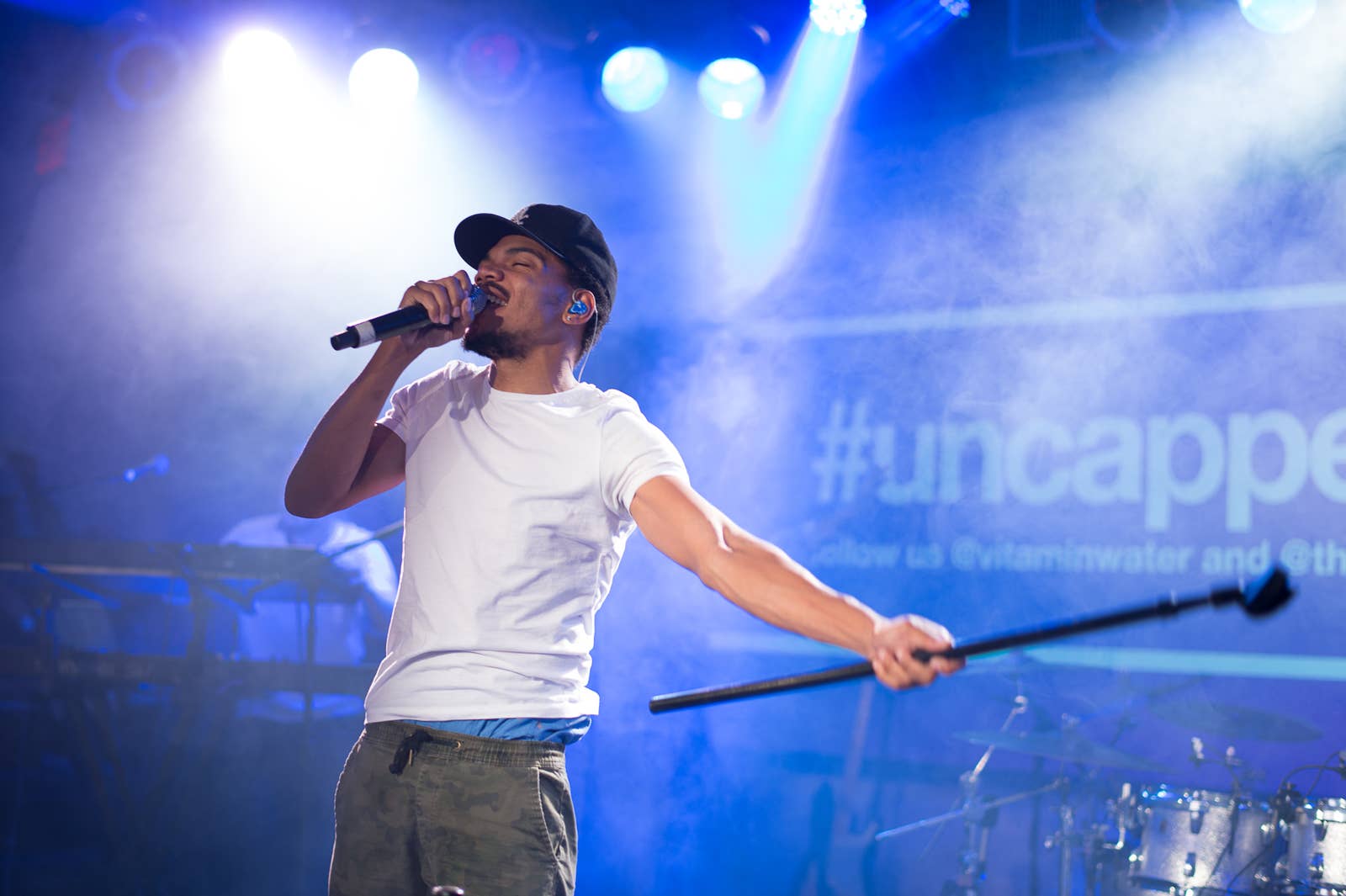 Last July, Chance the Rapper headlined Pitchfork Music Festival in Chicago. It was a coronation of sorts, the hometown hero making good. In three short years, Chance had gone from favored child of the city's thriving independent hip-hop scene to a major festival headliner, all on the strength of two free mixtapes and a collaborative album with his influence all over it.
His set, fittingly, was a thrilling tribute to Chicago; he bopped, he juked, he brought out the Chicago Bucket Boys.
Toward the end of the night, Chance announced that he had a special guest. He had been teasing one all weekend, with a consensus among fans pointing to Kanye West. Instead, as Chance's backup vocalists, newly clad in white robes, began to sing "Rain! Rain! Rain!," out jumped a diminutive man in a tight shirt and beige pants from the wings of the stage. It was Kirk Franklin, gospel superstar, and composer of "Melodies From Heaven," the song the backup singers were belting out with full force.
It was a surreal moment; a profound mingling of the sacred and the secular.
The Pitchfork audience, largely white and secular, didn't quite know how to react, as Franklin, winner of seven Grammys, with a fanbase that stretches from Houston to Lagos, began to command the audience to wave their hands, in his signature gruff baritone. He helped Chance lead a stirring rendition of "Sunday Candy," the standout track from last year's Surf and an ode to Chance's churchgoing grandmother. It was a surreal moment, a profound mingling of the sacred and the secular.
The number of Americans who identify as Christians has declined (down from 78% in 2007 to 71% in 2014, according to this expansive Pew Research Center survey). The demographic driving the decline? People between the ages of 18 and 35, also known as millennials. These are folks who left the church, often for valid reasons, disenchanted with the hypocrisy, the condemnation, the guilt. They're the "nones." But while all Christian denominations have seen some decline, black Protestant churches have seen the least percentage drop among millennials. Black Americans, generally, are much more religious than the larger population. It's a fact that perhaps explains the recent deluge of overtly spiritual, and specifically Christian music — from D'Angelo's Black Messiah to Kendrick's To Pimp a Butterfly — music that speaks to and is precipitated by the recent spate of highly publicized acts of state violence against black people. In a time when justice is nonexistent, black artists, as they've done before, call upon a salvation that this Earth cannot give us.
A Christian rapper is supposed to be an oxymoron. Hip-hop is notoriously, flamboyantly profane, but many rappers attest to a Christian faith, thanking God in their acceptance speeches, crediting Him in their liner notes. The gravitational pull of the black church, its significance on the culture of black life cannot be denied. It is a lodestar, and, for better and for worse, we live under it.
Other big-name rappers before Chance have talked openly about their faith journeys. Kanye notoriously rose to the top of the charts with a song that claimed "You can rap about anything except for Jesus" — an assertion he promptly disproved. But Kanye's allusions to God often take the form of bombastic comparisons (see quite literally: "I Am a God," Yeezus, his 2006 Rolling Stone cover, etc.; though he has occasionally apologized for this). Kendrick Lamar, perhaps the other most openly Christian A-list rapper, espouses a faith that is more troubled, paranoid even. Known for his somewhat monastic lifestyle, Kendrick worries about the pernicious influences of the world around him, eschewing the trappings that come with fame in ways that can sometimes appear dour and humorless.
But Chance's Christianity is one of inestimable joy. It's buoyant, it's grandiose, it's infectious. On Coloring Book, his latest project, faith, and the inspiration he derives from it permeate the album. Even on songs that have nothing to do with Jesus, the gospel imprint is undeniable. Listen to the pitched-up choir singing sotto voce on "No Problem." Hear the chorus of Chris Tomlin's Christian Contemporary music standard (now almost listenable) on "How Great." Note Kirk Franklin's lush harmonies in the second half of "Finish Line, Drown," and the interpolation of the Fred Hammond jam "Let the Praise Begin" in "Blessings."
Chance's Christianity is one of inestimable joy.
It's not a coincidence that Chance leans so heavily on gospel music. The genre as we know it today was born in Chicago. Georgia native Thomas A. Dorsey spearheaded the art form in the historic neighborhood of Bronzeville, the Harlem of the Midwest, in the 1930s. Dorsey penned such classics as "Peace in the Valley" (covered by Elvis Presley, Johnny Cash, and Dolly Parton among others) and "Precious Lord, Take My Hand," which Mahalia Jackson, also a Chicago transplant by way of Louisiana, famously sang at civil rights rallies throughout the country. The Staple Singers, most famous for "I'll Take You There" (perhaps the most orgasmic ode to the wonders that await in heaven), merged Roebuck "Pops" Staples's Mississippi blues guitar and Mavis's growling, grunting contralto with traditional spirituals. As a result of the Great Migration, Chicago became, for a time, an epicenter of gospel's golden era. To this day, the city of Chicago celebrates its gospel heritage with a giant festival every summer. Gospel is in the city's lifeblood, and it's against this backdrop that Chance made his music.
Gospel grew out of faith, and so much of the faith we acquire or disinherit is hereditary, passed down from generations. In a recent Reddit AMA, Chance talked about the inspiration behind "How Great," his favorite song on the mixtape. He recently lost his grandmother, the woman who inspired "Sunday Candy," and hearing his cousin Nicole (charmingly credited as such on Coloring Book) sing "How Great Is Our God" at her funeral "wrecked him" — and compelled him to put it on the album.

"Do not grieve, for the joy of the Lord is our strength," the prophet Nehemiah says. The latter half of that verse, "The joy of the Lord is our strength," has been immortalized in gospel anthems, and it's the guiding principle behind this mixtape, infused with a liberal dose of black liberation theology. On "How Great," he evokes the imagery of faith no bigger than a mustard seed, magnifying God while shouting out Nat Turner's slave rebellion: "Hosanna Santa invoked and woke up slaves from Southampton to Chatham Manor." On "Blessings," Chance raps "Jesus's black life ain't matter / I know, I talked to his daddy," deftly comparing the black lives lost to police brutality with the ultimate death of Jesus. Chance gives his music not for free, but for freedom, freedom from the labels he believes are all too willing to exploit black artists. He'll give the devil a swirly, he'll conquer his Xanax addiction, he knows the difference between "blessings and worldly possessions."
For those of us who remain in the church, wedded somehow in spite of the challenges that make leaving appealing, Chance's ebullience is a reminder of the joy that faith in God can bring. That there's hope and justice, even when evidence seems to be to the contrary. That we serve a good God who is present in our pain and beaming in our joys. "I speak to God in public," Chance tells us, twice at the mixtape's end. He's giving us permission to speak to God too.