On Wednesday night, Serena Williams came back from a distressing upset in the second set to defeat Anett Kontaveit, the No. 2 seed (7–6 (4), 2–6, 6–4). Afterward, Mary Jo Fernandez, an ESPN commentator and a former pro tennis player in her own right, asked Serena Williams a very silly question.

At first, Serena didn't hear her.
"Are you surprising yourself [playing] at your level?" Fernandez repeated. At this, Serena smiled slyly, her eyes narrowing as if to say, "Did you really just ask me that?" To which Fernandez began sheepishly saying, "I know, I know," as the crowd started to roar in support of Williams. "I mean, I'm just Serena," she finally replied with a slight shrug.
I'm going to miss watching her make quick work of my own skepticism, my own disbelief.
Her response was quintessential Serena Williams, her modus operandi, the thing that makes her one of the greatest athletes of all time: a deep, blistering self-belief that she can summon from the depths, whether she's facing down match points, racist crowds, or her own grief.
So much ink has been spilled about Serena's physical prowess — that otherworldly serve, her athleticism and flexibility — but it's her mental fortitude, her ability to come back from a disappointing set, devastating double fault, or unforced error that is her crowning achievement. That belief makes watching her play in the 2022 US Open, which she told Vogue (naturally) will be the last tournament of her singles career, thrilling.
"For years, I've had a target on my back," Williams told Fernandez. Now she's playing like she has nothing to lose, because she truly doesn't. With 23 Grand Slam singles titles, more than any other tennis player currently playing, her legacy is secure. She has an adorable daughter and a doting Wife Guy husband, a venture firm, and a huge international fanbase of people, famous and not, who can gush for hours about her impact and influence.
Williams's first match on Monday had the portent of a goodbye, with people attending just to say they were there when she retired, a narrative she upended by winning so decisively. She hasn't won a Grand Slam since 2017, when she was two months pregnant with her daughter, but Wednesday's match featured the kind of tennis from Williams that had me wondering about what-ifs and probabilities. I mean, to see this remarkable woman, almost 41 years old, slamming cross-court forehand winners, sprinting to the net, serving at more than 110 miles per hour — how can you not root for her? How can you not begin to think…could she? Could she win it all?
It was that flicker of renewed possibility and belief that made me realize just how much I'm going to miss watching Williams play. I felt like I grew up with her; she was the first and maybe only athlete I saw aspects of myself in. I'm going to miss watching her make quick work of my own skepticism, my own disbelief.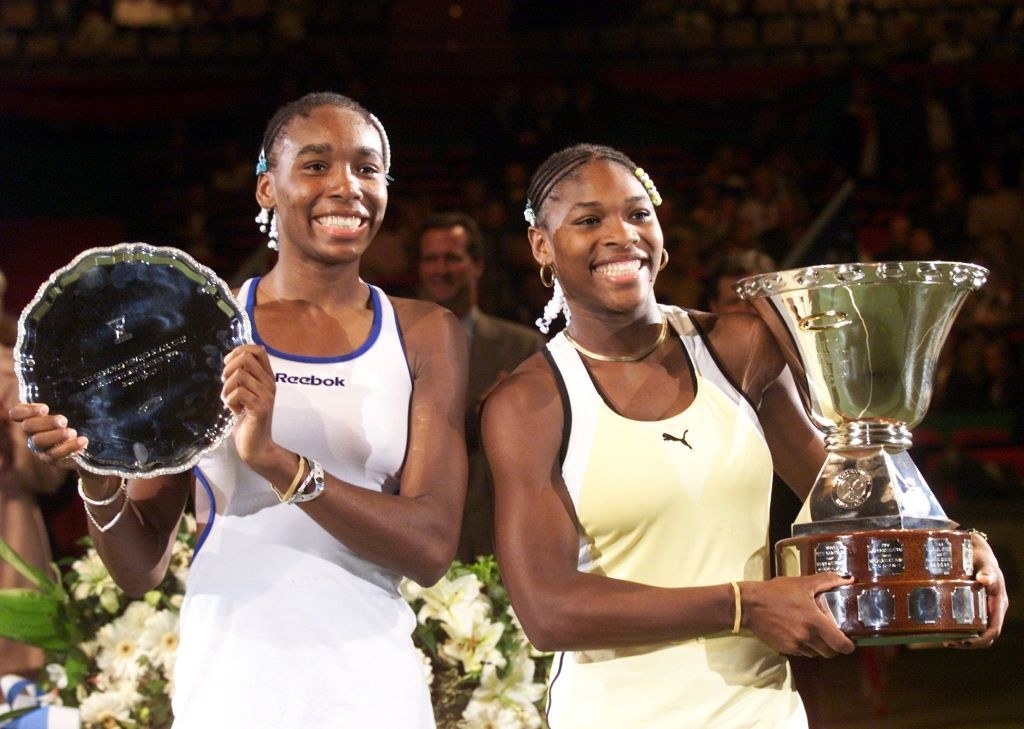 Every Black girl who casually watches tennis has a Serena Williams fan origin story, so much so that it's practically clichéd. Yes, I did not really watch tennis until I started watching the Williams sisters. Yes, I loved their hair, just like mine, beaded and cornrowed; their deep brown skin and wide noses, also like mine.
I claimed Serena, because she was the younger sister, like me (admittedly only by 23 minutes).
As I grew up, so did my self-identification with Serena. In middle school and high school, as my thighs thickened and my butt expanded, I found comfort in Serena's body even as it became the site of grotesque misogynoir. When sportswriter Jason Whitlock famously told Serena to lose weight, I felt his insults roil deep in my own gut. Her body was like my body.
Every Black girl who casually watches tennis has a Serena Williams fan origin story, so much so that it's practically clichéd.
I kept up with Serena, watching her matches with my fist in my mouth, biting down when she wasn't playing well, pumping it in the air when she was. To this day, there's no other athlete that I feel such visceral emotion for.
In 2018, my sister and I decided last minute to splurge on tickets for the US Open women's final, to watch Williams attempt to match Margaret Court's record for the most Grand Slam wins. She was playing against a 20-year-old Haitian Japanese player named Naomi Osaka. The sports experts assured us the odds were in Williams's favor.
But it was a terrible night. First, I got to Flushing egregiously late. I was the one with the tickets, so we missed a good chunk of the first set and my sister was absolutely livid.
Second, and worst of all, the match was infamously horrible. Williams was making a lot of unforced errors. She knew she wasn't playing well; we knew she wasn't playing well. So when the umpire gave her three code violations, which ultimately cost her a point and a game, it set her off. "You're going to take this from me?" she yelled at the event referee. Her tears of rage and frustration on that court made my own eyes water. The match ended with a despondent Osaka receiving her trophy amid thunderous boos from the crowd. Williams tried to course-correct; she told the crowd not to boo Osaka, it wasn't her fault, but I felt the bitter aftertaste of that defeat.
After that moment, I quietly wrote Williams off. I decided she didn't have it in her to win. But I also couldn't bear to watch a less dominant Serena, a Serena whom young European women I'd never heard of could now beat commandingly, women who no longer feared her. My sister and I mordantly joked that whenever we watched her she lost, so maybe we should stop.
Fast-forward to this week. I didn't watch Monday's match; I was too conflicted. But then friends started texting me to ask if I was watching, and I decided that if Wednesday night was the last match of her career, the least I could do was witness it. So I did. And she confounded my expectations yet again. Watching her play with nothing to prove to anyone, but still with that fire and determination in her belly, all my adolescent belief and thrill at the talent of her play came flooding back.
On Friday night, she competes against Ajla Tomljanovic, an unseeded opponent. They have never played against each other before.
Serena could beat her. She has the capability and no doubt the will. But even if she loses, she's indomitable. I mean, she's Serena. ●