The year was 2002. George W. Bush was president. Trucker hats were a thing. My family had just moved to Rhode Island from England. I was an evangelical Christian who journaled semi-regularly.
We went to the library every week to borrow CDs and DVDs that would eventually ruin our all-in-one TV/DVD player. One day on a whim, I checked out Come Away With Me by Norah Jones. I liked jazz and it was in the jazz section. I was intrigued by the album cover of a pretty woman looking away from the camera, cascades of long black hair framing her face. She was beautiful in a manner that did not seem contrived or calculated and I wanted to look like that.
When I got home, I took the portable CD player to the room I shared with my sister and pressed play.
"I waited till I saw the sun / I don't know why I didn't come," sang a woman, in a voice tinged with melancholy. The voice resonated with me immediately. It was sweet and lilting, a little breathy but not in an annoying way. I listened to the album in one sitting and then played it again. I read the liner notes so I could sing along in my own approximation of Jones' soothing voice. I relished the feeling of vague discontent the album seemed to summon within me, even though I didn't really understand what she was singing about (What was the "house of fun?" Who was this hazy, undefined "you" she wanted to paint?). I was 11 years old and having a hard time adjusting to the particularities of the American middle school ecosystem. With the hubris of misunderstood preteens everywhere, I felt utterly unique in my love for Norah Jones.
With the hubris of misunderstood preteens everywhere, I felt utterly unique in my love for Norah Jones.

But I was not alone. 2002 was a banner year for Jones, who transformed from an unknown 22-year-old college dropout into the media-dubbed savior of adult contemporary music. With little radio play, Come Away With Me eventually went double platinum. (That the album was released on the venerable but relatively obscure jazz label Blue Note Records made her album sales all the more remarkable.) Jones won eight Grammys, including Album of the Year and Record of the Year for "Don't Know Why." The New York Times compared her to Sarah Vaughan and Aretha Franklin. By 2007, she had sold more albums than any other female singer of the decade.
In a Times profile of Jones that came out just a week after Come Away With Me dropped, she talked about how "she thought she would have to move out of her $1,000-a-month apartment in Williamsburg, Brooklyn, for a cheaper place," convinced that the album wouldn't be a big hit. Though she was clearly, evidently ambitious — she attended Booker T. Washington High School, the Dallas performing arts school that counts Erykah Badu and the late jazz trumpeter Roy Hargrove among its graduates, went to the highly selective Interlochen Center for the Arts summer camp, and got into the University of North Texas's jazz program — she never wanted to be famous.
Referred to by one critic as the "white Cassandra Wilson," Jones was the most successful of that flock of women singer-songwriters the early aughts churned out in dutiful measure, from Vanessa Carlton to Michelle Branch. And yet, critical reaction to her music was mixed. Reviewers said she relied too much on covers; her songs were too slow, she didn't take risks. She was music for the Starbucks generation — "Snorah Jones." But how could they deny her impact!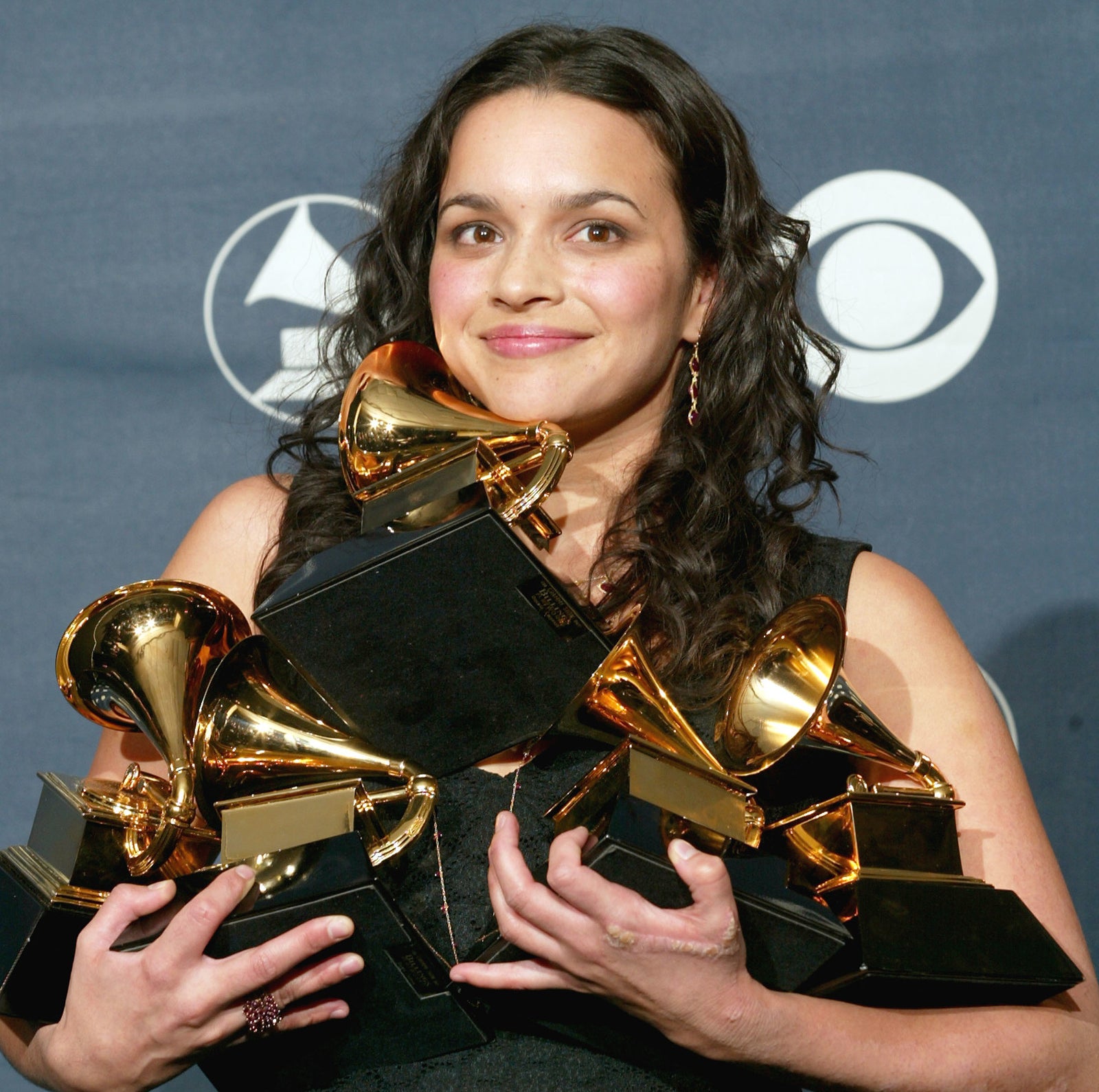 In the lead-up to the release of her second album, 2004's Feels Like Home, journalists spoke of the "Norah Jones" effect: "If you're a talented singer, a bit jazzy, a bit soulful, and mindful of tradition, then you're in Norah's shadow, like it or not," wrote the Guardian, after mentioning three promising Norah Jones acolytes: "Jamie Cullum, Amy Winehouse and Katie Melua." (Amy Winehouse! In Norah Jones' shadow!)
But despite all the acclaim, or perhaps because of it, Jones was self-effacing to a fault. A video of her awkward 2003 Grammy acceptance for Best New Artist is quite the time warp; note Alicia Keys doing the most with Cyndi Lauper behind her while a nervous Jones alternates between shouting and whispering her gratitude in a manner that rivals Office-style cringeyness. She hated doing press. She was visibly uncomfortable during live performances.
She notoriously compared sweeping the Grammys to feeling like she "went to someone else's birthday party and ate all their cake." She shut down any questions about her famous father, the Indian sitarist Ravi Shankar, from whom she was mostly estranged. (When he died in 2012, Jones' public statement was brief: "My dad's music touched millions of people. He will be greatly missed by me and music lovers everywhere.")
But her public reticence only endeared her to me further. In fact, I listened to her sophomore effort, Feels Like Home, probably even more than Come Away With Me ("Don't Miss You at All" and "Carnival Town" were my jams). There was something noble-seeming about her ability to have achieved all that fame while also keeping it at arm's length. I was someone desperate for attention — from my more popular classmates, from boys, from the world. And here was Norah, rejecting those impulses outright. I envied that level of power and control. But of course, such stratospheric fame never lasts.
In the 16 years since her debut dropped, Jones has yet to come close to the level of success or cultural ubiquity she had from 2002 to 2007. Occasionally, throughout the years, she'll show up in random places: singing the hook to a Q-Tip song, cameoing in Ted as one of the bear's sexual conquests, duetting with Willie Nelson. She'll bubble up in the press only to promote her albums. (Her most recent one came out in 2016, and some of her other more recent albums are good, people have told me. I wouldn't know. I have not listened to them.) She lives in an undisclosed city with her undisclosed partner and son and daughter.
I don't begrudge her likely sanity-saving retreat from the public eye. In time, I moved on to other women singer-songwriters — Regina Spektor, Lauryn Hill, India Arie (another essay for another time!) and criminally late, Joni Mitchell. But whenever I stumble upon a Norah Jones song, yes, in a coffee shop or at a mall, I remember those feelings of wistful melancholy, those awkward attempts to figure out what I liked and who I was as a young person. And the answer is: somebody who isn't as uniquely special as she thinks she is. And I'm thankful for it. ●