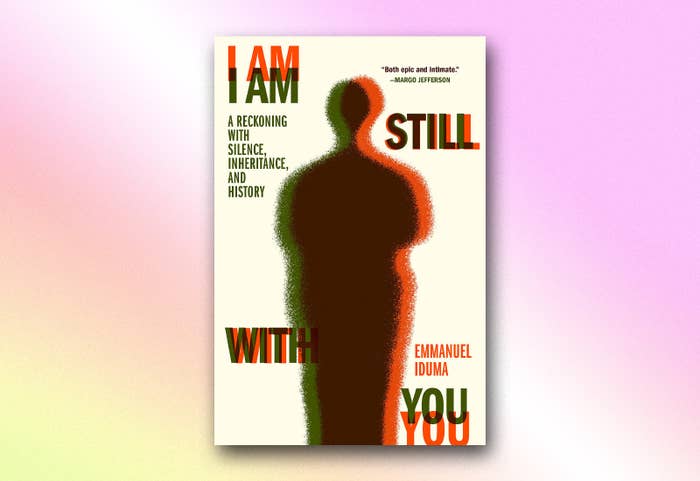 This is an excerpt from BuzzFeed News' culture newsletter, Cleanse the Timeline! You can subscribe here.

Welcome to Read This, where we recommend something old or new to add to your ever-growing book pile.
I Am Still With You: A Reckoning With Silence, Inheritance, and History by Emmanuel Iduma
Fifty-three years after the Biafran War ended, the impact of the devastating Nigerian civil war remains mostly undercovered in the public imagination save for Chimamanda Ngozi Adichie's 2006 novel, Half of a Yellow Sun.
Iduma, a writer born after the war, grew up knowing only that one of his uncles, his namesake, fought in the war and never returned home. In this melange of reportage and memoir, Iduma sets out to learn more about his uncle, and by extension his family. Having just moved back to Nigeria after spending some years in New York, he travels throughout Igboland to talk to relatives and family friends who might have stories to share. Interspersed with these reporting trips, which are mostly futile, Iduma reflects on his family life — his father recently died — and on the origins of the war, sharing research and photographs about his findings.
It becomes clear early on that a lot of the big questions Iduma has — what happened to his uncle chief among them — will remain unanswered, as many of the people best equipped to answer them are now dead. That sense of loss permeates the book; the author lost his mother as a child as well.
Iduma arrives in Nigeria as the End Sars protests against police brutality are gaining momentum and as a pro-Biafra separatist group called the Indigenous People of Biafra or IPOB agitate for separation. "How long will the agitations for Biafra last?" Iduma asks toward the end of the book. "It will take as long as Igbos feel the vanquishment of the war is yet to be acknowledged and atoned for." Here, the oft-cited Faulkner quote seems applicable: "the past isn't dead. It's not even the past." —Tomi Obaro ●