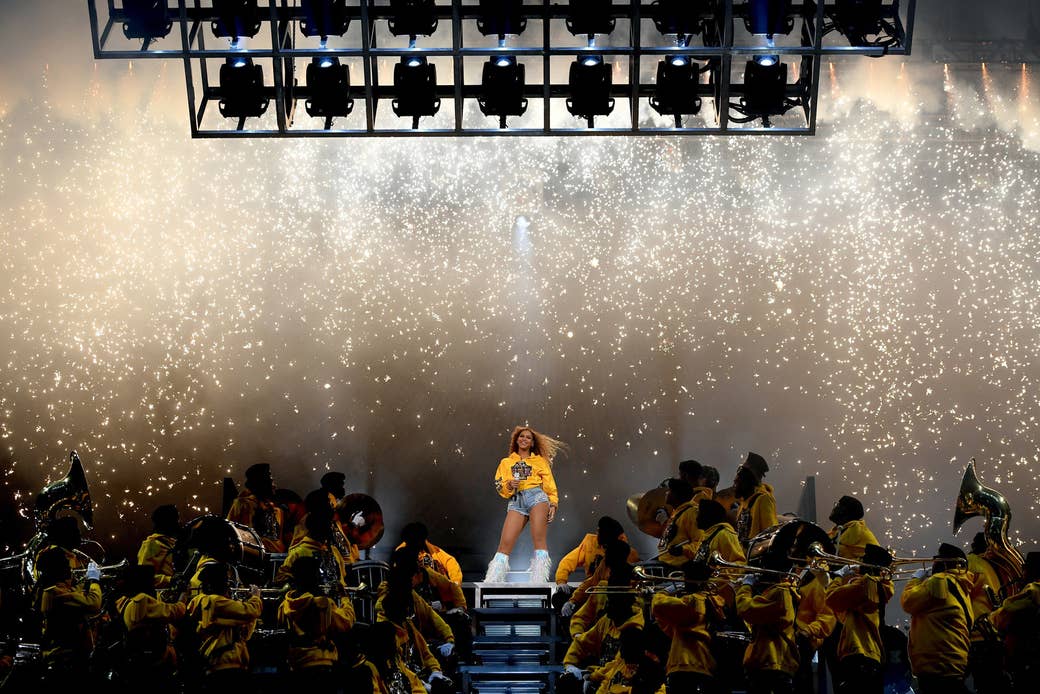 Not very long into her scorching, historic debut as the headlining performer at Coachella on Saturday night, Beyoncé began singing the opening lines to "Drunk in Love" while standing atop a giant crane suspended over the middle of the audience. It's a moment that lingers, not just because it confirms the daredevilish lengths to which Beyoncé will go to innovate a performance. (This is a woman who once voluntarily started her set at the 2003 VMAs singing upside-down while hanging in the air.) "I can see you, I can see you all the way back there," Beyoncé announced, looking over the Coachella crowd, and the camera cut to a sea of pink hands and faces awash in the festival lights.
I recognize those pink hands. Those pink hands are the cornerstone of most music festivals in the United States today. According to Nielsen, 69.2% of festivalgoers are white. And a self-reported survey of Coachella in 2013 revealed that only 4.9% of festivalgoers were black. The owners of those pinks hands gather in a field, or a desert valley or a grassy nook, young and flush; they wear booty shorts and crop tops, or no shirt at all; they are drunk or maybe high or maybe both; their teeth are slick and newly straightened. They are there to have a good time, to try some hallucinogens, perhaps, to listen to Migos or Chance the Rapper or Vince Staples. They are ready for #chella or #lolla or #bonnaroo. Their phones are fully charged at the beginning of the day as they prepare to Instagram their experience.
I've seen those pink hands at Lollapalooza, which I covered two times while working at a magazine in Chicago. I once watched those pink hands fall slack at their sides, as their owners waited impatiently for Outkast — then performing a truly resplendent version of "International Players Anthem" — to get on with it and play "Hey Ya." Those pink hands sometimes wave yellow glowsticks in the air and shout "Nigga" in unapologetic abandon as they rap along with the black artist onstage.
Beyoncé's performance on Saturday night acknowledged that most of the hands raised in the midnight air, in thrall of the Queen, would be pink. That they would perhaps not fully understand or grasp what she was trying to accomplish with her epic set. But because they were young people, she decided to teach them something.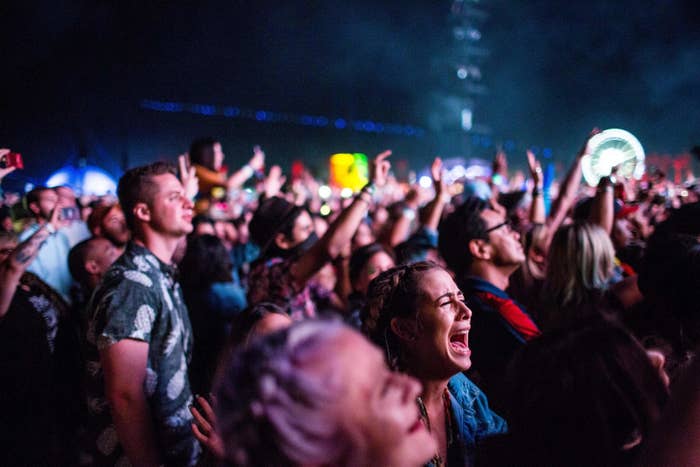 Beyoncé sang the first half of "Drunk in Love" on top of the crane, and then, for those of us watching at home, the camera suddenly cut to two people, a man and a woman, onstage. As Nina Simone's "Lilac Wine" played, they danced in kinetic motion, clearly trained as modern dancers, their muscles taut in tension and release. Bathed in white spotlight, they rendered the aching melancholy of Simone's tear-fIlled voice in vivid, compelling physicality. And then, just like that, they were gone. Beyoncé made her way back onto the stage, and the sunflower-colored Beyoncé Delta Kappa marching band reprised the 'surfboard' portion of "Drunk in Love" before segueing into the rousing chorus of F.L.Y.'s 2009 single "Swag Surfin'."
That transition from Nina Simone, who was inducted into the Rock and Roll Hall of Fame that same night, to the silly, jubilant glee of that improbably durable 2009 banger encompasses so much of what Beyoncé set out to do at Coachella. Part history lesson, part celebration, she was giving a primer to the owners of those pink hands in the audience, while celebrating and acknowledging the far fewer brown hands also in attendance and the many more watching the livestream at home.
Beyoncé's performance deliberately evoked the historically black college or university. All of her musicians and background singers sported marching band attire with the initials BΔK, a fictionalized nod to black Greek organizations, and she performed the first third of her set clad in typical college attire — denim cutoffs and a yellow hoodie with BΔK emblazoned on the front. In the middle of her performance of "Sorry," she and a group of female dancers teased a group of black male "pledges" as the audience watched in what seemed like confused silence.
Beyoncé's performance on Saturday night acknowledged that most of the hands raised in the midnight air, in thrall of the Queen, would be pink.
By using this HBCU theme throughout the performance, Beyoncé was both paying homage to an explicitly black education apparatus that is in many ways under siege while also preparing us for the knowledge she was about to impart: a black music history lesson for the masses, as she, in the words of New York Times critic Jon Caramanica, "performed musicology in real time."
From her a capella rendition of the black national anthem "Lift Every Voice and Sing," to Fela Kuti's "Zombie" horns playing shortly after her performance of "Deja Vu," to her quick, seamless cover of Jamaican artist Dawn Penn's "No No No" and the musical allusions to Sister Nancy's "Bam Bam," Beyoncé's black music history lesson was wide-reaching and diasporic.
Her performance was also a survey of her own discography, a reminder of the sheer breadth of singles she has cooked up in her 20 years as a performer, already a veteran at 36. And she dug deep. She rapped "Kitty Kat's" bridge. There were instrumental renditions of great songs that don't get a lot of love and attention outside of her avid fan base, like "Ego," "Greenlight," and "Why Don't You Love Me?" She brought out Kelly Rowland and Michelle Williams from Destiny's Child and thrilled with a gorgeous interpolation of "Say My Name" that reminded viewers that they were all singers first and foremost, who used to make a cappella arrangements of church hymns like "Amazing Grace." She danced with her sister Solange to "Get Me Bodied," the 2006 club anthem that never quite took off the way it should have, in a sweet reversal of the time Beyoncé came out and danced wordlessly with Solange during the latter's Coachella set in 2014.
Beyoncé also brazenly called out the fact that she is the first black woman headliner during Coachella's 19 years of existence: "Ain't that 'bout a bitch?"
During the European leg of her 2016 Formation Tour, Beyoncé wore her hair in braided extensions that cascaded down her back. They gave her a lot of trouble, constantly flying in her face. In one grainy video a fan took, you can see her mouthing "Shit," as a braid hits her mouth. But there was something clearly subversive, in my mind anyway, about Beyoncé wearing braids in some of the world's whitest cities. Usually sporting billowy locks of golden hair, the braids felt in a way like an announcement of her blackness, an imprimatur of it.
Earlier today, Beyoncé's mother, Tina Knowles Lawson, admitted in an Instagram post that she was afraid that "the predominately white audience at Coachella would be confused by all of the black culture." Beyoncé's response, according to her mother, was that she "wanted to do what's best for the world." That rendering might sound arrogant — but Beyonce's decision to steep her set in black images, to offer a sample course of the rich history of black music, even at the risk of occasionally confusing or even alienating her white audience, is radical.
In 2011, Beyoncé was the first black woman to headline the Glastonbury Festival, and the livestream of her performance played during the BET Awards; that, too, was a very intentional act and acknowledgment of her black fanbase. As live performances increasingly become the most reliable way for artists to make money, more black artists are forced to confront the unbearable whiteness of most music festivals and concerts. And here Beyoncé offers a solution.
Her Coachella performance, sure to go down as the best in history, was her way of saying to those few brown hands in the audience, and the millions more around the world: I see you. I see you. ●