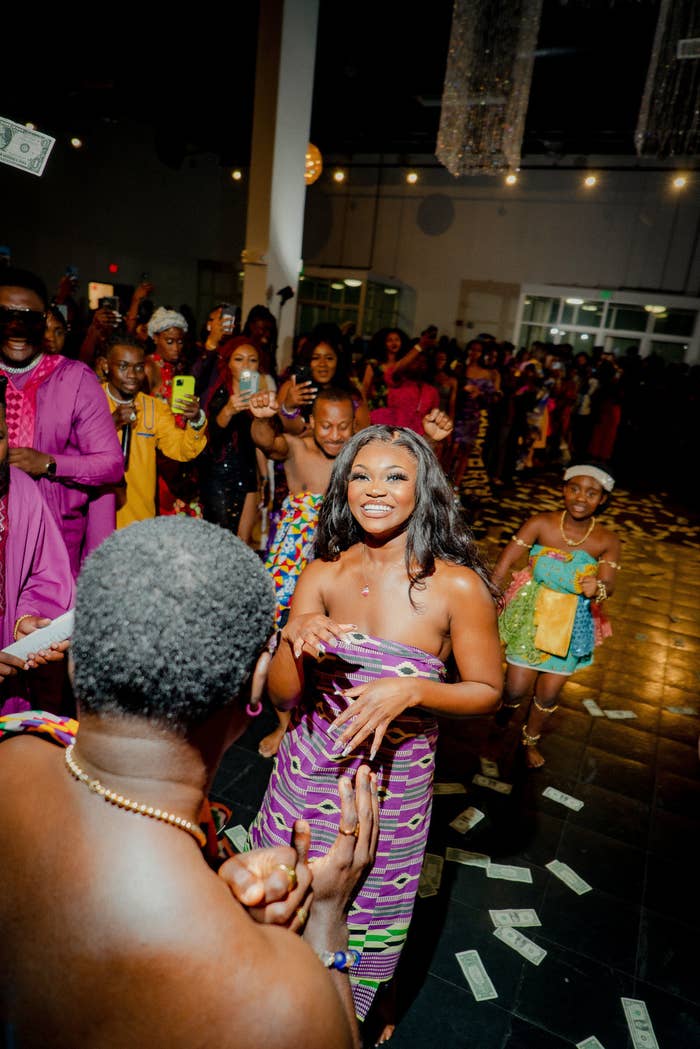 "We threw a fake African traditional wedding and here is how it went," read the overlay text on the first video I saw. Clips played in rapid succession: of young men and women wearing bright coral beads and colorful kente cloths, dancing to Afrobeats in a banquet hall; of a handsome couple decked out in traditional Igbo attire, kissing on a bedazzled loveseat.
To say I was immediately intrigued is an understatement. I have always thought that Nigerian weddings were ripe for dramatic reinvention, so much so that I wrote a novel that hinges in part on an opulent Lagos wedding. And I've been going to Nigerian weddings since I was a child — I have a lot of cousins who are older than me.
I have a complicated relationship to the festivities. They are fun; the music is excellent, the dancing unparalleled; the food — when it finally arrives — usually hits the spot. But you also have to tolerate a lot of waiting around, instrumental Ed Sheeran covers, odd "jokes" about the fertility of the bride, interminable prayers, wonky sound systems. And marriage in general, especially the kind of marriages Nigerians idolize, tends to include a lot of self-sacrifice on the woman's part (because all Nigerian marriages are heterosexual, of course).
Still, I thought it was an interesting concept for a party, though just a fluke, a one-off idea by some inventive zoomers. But TikTok's For You page kept serving me more. This time, the video was of a fake African wedding in Houston. Masqueraders shimmied on the dance floor; groomsmen wearing red Igbo caps and walking sticks strutted in front of the camera.
I did a rudimentary search of fake African weddings on TikTok and discovered that there had been at least a handful of different events all over the country: New Jersey, Boston, Houston. The taglines said they were "African" weddings, but I could see the unmistakable influence of Nigerians. I knew I had to learn more.
"I haven't gone to a wedding in four years. None of my friends want to get married. I thought I might as well make a fake one."
After DM'ing the TikTok and Instagram users who were posting these videos, I was directed to Ini Owotade, known as Ini Cash by his 21,000 Instagram followers. A 23-year-old who lives in Pennsylvania and works in IT, he makes humorous YouTube videos catered toward young Nigerians. He is also the founder of The Wedding Party, a series of fake wedding events he started throwing about a year ago, during the pandemic. Not all of the fake wedding party videos I've seen on TikTok have been orchestrated by him, but thanks to his savvy team of fellow creatives — a group of five Nigerian twentysomethings with robust social media followings who call themselves the Vibes and Trips Crew — his parties are among the most well known.
"You can go to three weddings in a week when you're back home in Nigeria, but in America you don't get that vibe," Owotade, who grew up in Nigeria and moved to the US in 2014, told me when I first got him on the phone. "I haven't gone to a wedding in four years. None of my friends want to get married. I thought I might as well make a fake one." He posted about throwing a fake wedding on Instagram, and he found out he "wasn't the only one that missed the vibes." One of his friends, Dammy Jinadu, a 24-year-old data analyst with a little event planning experience told him he should do it and she would help plan it. They held the first event in June 2021.
Owotade played the groom and recruited friends to play groomsmen and bridesmaids. He DM'd Iyanuoluwa Adediran, a 24-year-old make-up artist from Staten Island he had met at a Nigerian beauty pageant, to see if she would play the bride. At first, she thought he was hitting on her. "I was like, OK, so random, but sure, fine," Adediran told me. "I didn't know what I was signing up for."
Their first event was "a regular degular Nigerian wedding," according to Adediran, or a white wedding, as Nigerians call a wedding's church portion. She didn't wear white, though; a designer based in Nigeria made her a gold dress and headdress and shipped them to her, while Owotade and his groomsmen rented blue tuxes.
I asked Adediran if it felt like she was at a wedding, and she said it did. "We did all the stuff you would do at a real wedding," she said. Adediran and Owotade had an engagement shoot before the festivities and one of his friends played the pastor. Adediran even wrote her own vows. "I wanted to make it funny. I said, 'Just so you know, I'm only going to get pregnant once, I'm keeping this body.'" The first event sold out; more than 200 people attended. The first 50 tickets were free, and then they went up to $50. (Tickets included free food and an open bar.) Though the AC was broken, the vibes were lit, Owotade said in a video he posted shortly after the event. But it was the second wedding, held in August of last year, that really took off.
"It became more about the culture and how to showcase our culture in a good light," Jayson "Jay the Entertainer" Okanlawon, another member of the Vibes and Trips crew who is 22 and from Long Island, told me about the second event. It was a traditional Yoruba wedding. Owotade hired a real alaga, or Yoruba MC, who presides over the proceedings, introducing the groomsmen to the bride's family, testing the groom's strength by making him lift the bride, and generally antagonizing the groomsmen. The wedding party wore traditional Yoruba clothing shipped from Nigeria, and a live band played Yoruba music. When a video of the groomsmen dancing to a WizKid song made the rounds on Nigerian social media, Vibes and Trips' fake African wedding parties became must-attend events. They launched a third party, a traditional Igbo wedding, in Houston in November.
When I talked to Owotade back in May, he told me they were planning a summer party in Maryland.
I had gleaned a decent amount of information from my phone call with Owotade but I was still curious. How real did these fake weddings feel? Why did guests want to go? Did they worry about making a mockery of the real act? Did any of these young people — it seemed like the median age was under 26 — want to get married themselves? So I told Owotade I was going to come and bought a train ticket to Maryland.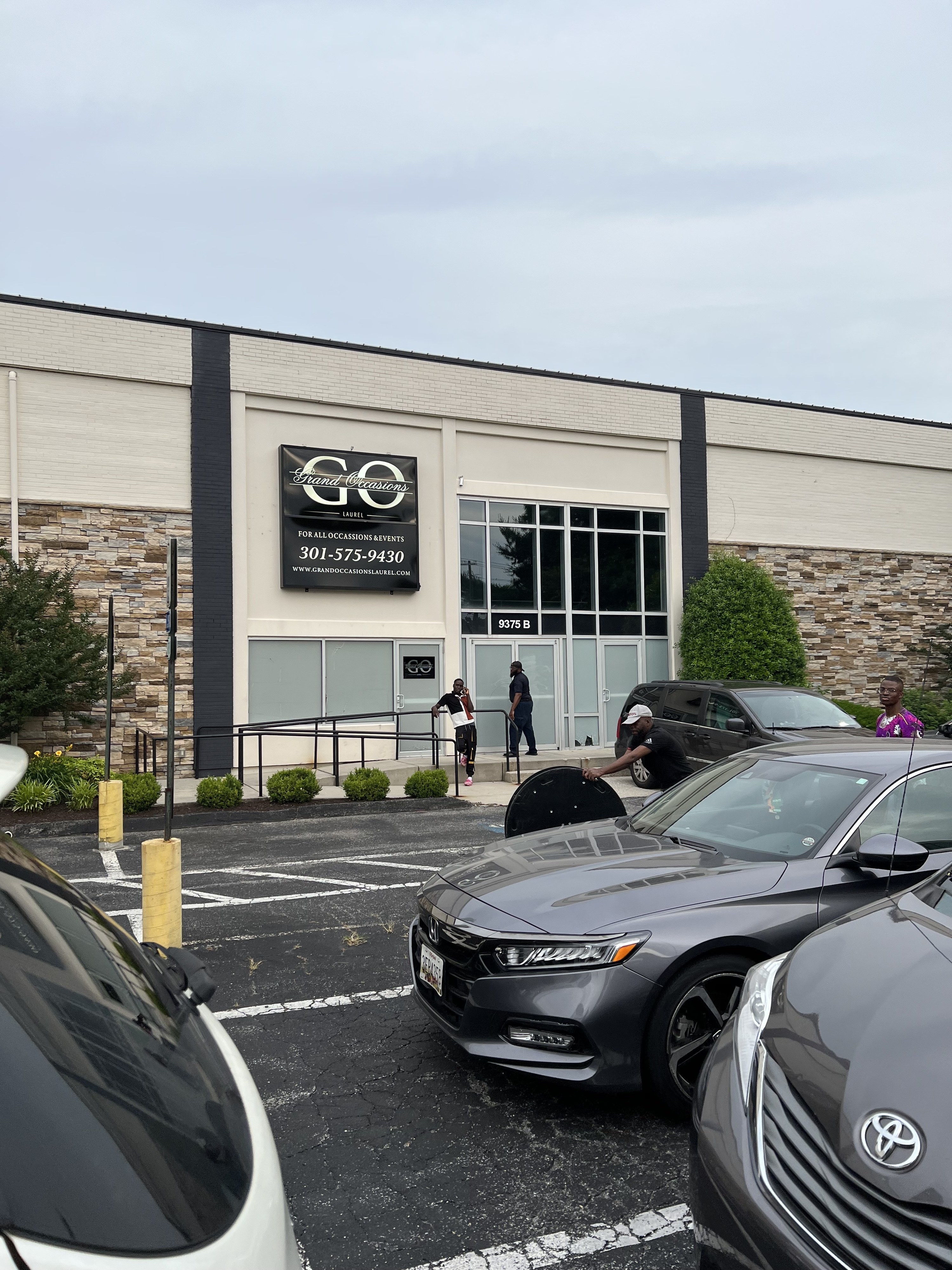 Laurel, Maryland, is about 25 miles away from Baltimore, and its famous ex-residents include the rapper Biz Markie and the actor DeWanda Wise. It also hosts a significant Nigerian and Ghanaian community, which was why Vibes and Trips decided to throw a fake wedding there.
I met up with Owotade at an Airbnb Vibes and Trips had rented for the weekend, not too far from the University of Maryland's campus. When my Uber pulled up, he was already outside, wearing a Gucci do-rag, a black T-shirt, and shorts, with his phone pressed to his ear.
Okanlawon was with him, and they led me to the backyard to talk. Owotade explained that they were doing a Nigerian/Ghanaian fusion event. "I had to learn so much from planning a Ghanaian wedding because it's not really my culture," Owotade said. I asked whether they worried about their fake wedding events appearing sacrilegious to the millions of devout Christian and Muslim Nigerians around the world. "I see people getting married in movies and you watch them for entertainment, so why can't you just attend one for entertainment?" Owotade countered. Fair enough. Adediran was there too, although she wasn't playing a major part this time ("Ini said, How could I be a bridesmaid after playing a bride twice?"). Owotade and Okanlawon told me they had to do some errands for the wedding. I asked if I could tag along.
Owotade told me they spent around $20,000 on the event.
We got into Okanlawon's car and, judging by the frantic way both guys began making calls, I ascertained that they were in the middle of a logistical nightmare. It turns out that planning a fake wedding is just as stressful as planning a real one. "We should call ourselves the 'Jesus, Take the Wheel' crew," Okanlawon joked. The decorator for the venue had come down with COVID and the custom-made bridesmaids' dresses, which were supposed to have been delivered to New Jersey for Owotade to drive down to Maryland, were stuck at a DHL office in Ohio. "If I had known earlier, I would have driven there myself," Owotade said, seeming exasperated.
Fake weddings can be just as expensive as real ones too. Owotade told me they spent around $20,000 on the event. But since they were charging $70 a ticket for a venue that fits 300 people, the sold-out event made them a slim profit.
We made pit stops at Home Depot, for small boxes to wrap to look like dowry gifts from the groom's family to the bride's, then Jo-Ann Fabrics for baskets to use as gifts as well. At the mall, we saw a store called African Fashions, and Owotade hoped it might have a particular style of beads, needed for the bridesmaids' makeshift new outfits. He showed the store clerk a picture, but no dice. But they got the balloon arch for the photo room for free, Owotade confirmed triumphantly on the car ride back to the Airbnb.
I went to my hotel to change into something more festive (although, in a knit Urban Outfitters dress and sneakers, I was criminally underdressed, in hindsight). The invitation had said that the event would start at 7 p.m., but by the time I got there at 7:30, security weren't letting people into the venue yet. ("I expected the African lateness," one woman told me.) Groups of attendees were already pulling into the parking lot, wearing sparkling geles and matching ankara outfits.
A young man stood chatting with a young woman in the parking lot. Mebo, 21, was Ethiopian and had never been to a Nigerian wedding. I asked her what she was expecting. "I don't know, Afrobeats?" she said with a trailing laugh. She had come with Tenioluwa, 20, who was Nigerian and heard about the event via TikTok. "I'm a college student so it's usually just study, study, so I came out to have a good time," he said.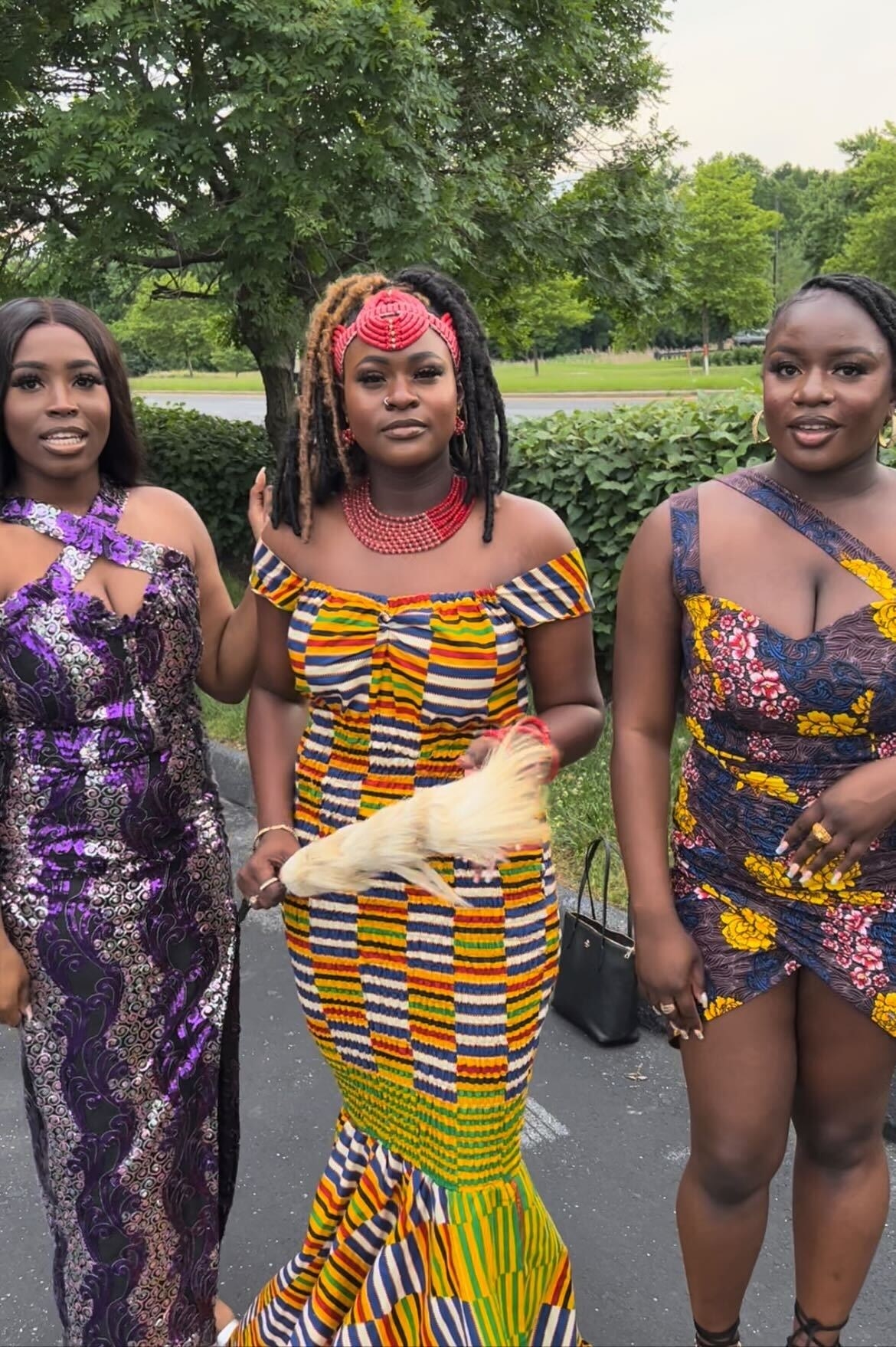 Three women who had been taking photos of themselves when I approached had driven from Delaware. They had attended the New Jersey "wedding," which they had heard about through TikTok too. They were hoping for "vibes, straight vibes" (probably the word I heard most that weekend). "We want everybody to bring energy, we want everybody to dance," said one woman, who wore a beaded coral headpiece and had a wedding horsetail in her hands. "Money everywhere," a couple in matching purple outfits told me. "Everybody turnt up and having fun."
Another group of six young women, in sleek, fitted ankara gowns, were milling about the parking lot by their cars. Two of the attendees in the group had come all the way from New Mexico for the wedding. They weren't the only ones who had gotten on a plane to come. I later chatted briefly with two Somali hijabis who had flown in from Minnesota. Like virtually everyone else, they had heard about the wedding on TikTok.
I was struck by how young the attendees were. There were college kids with braces and one actual baby, a girl who was carried in by her dad, her head resting on his shoulders. One of the attendees said as much. "It's like a regular traditional Nigerian wedding, but with a spin to it with our generation," he told me. "We get to control how much fun we have but we still have the cultural vibe to it."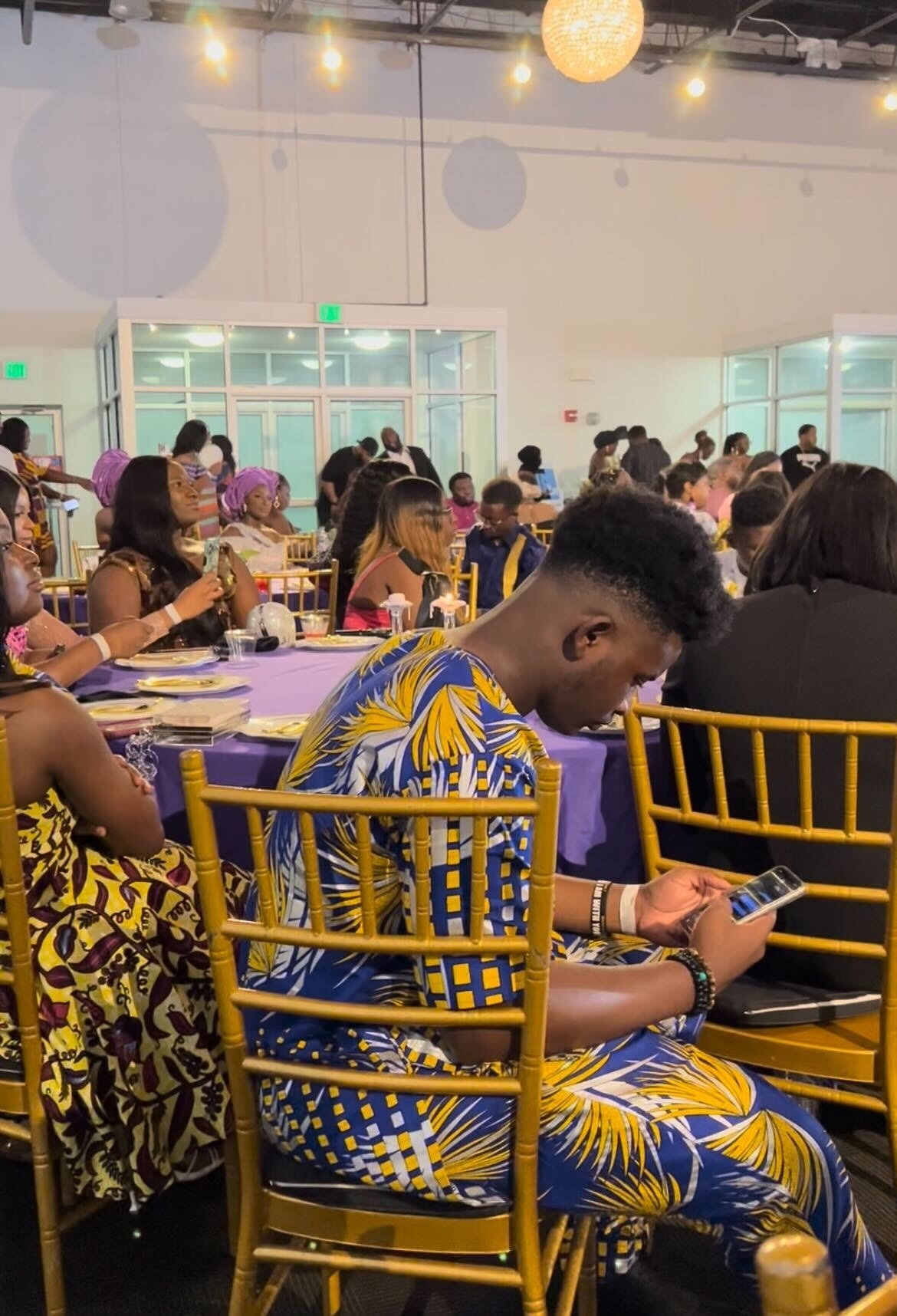 At around 8:15, we were finally allowed into the banquet hall. Hundreds of thin glass panes hung from the ceiling, catching the light. Purple tablecloths covered 25 round tables, which seated 12 people each. The chairs had been painted gold and each table had centerpieces of candles or artificial flowers. There was a DJ booth, and a live band called Harmony Sensations was playing; they had driven from New Jersey for the event.
"It's like a regular traditional Nigerian wedding, but with a spin to it with our generation."
Whenever someone strode to the center of the room with a microphone, a wave of anticipation would ripple through the hall, only to recede again when the person announced that the event would be "starting soon." I chatted with my tablemates, three college juniors who lived in Maryland and had heard about the party through TikTok. They told me they were most excited about the food. It was past 9 p.m., and the wedding hadn't started yet.
Funnily enough, it was the waiting around that made the party feel most like a Nigerian wedding. Lateness is a given at any Nigerian function; it's clichéd because it's true. Even though most of the guests were clearly bored, they appeared game to wait it out.
It was 9:47 p.m. when the "bride's" family finally made their entrance, dancing into the venue just like all important people at Nigerian weddings do. The hall became a sea of cellphone camera flashes as people rose from their seats, ready to film their "I Went to a Fake African Wedding" TikToks.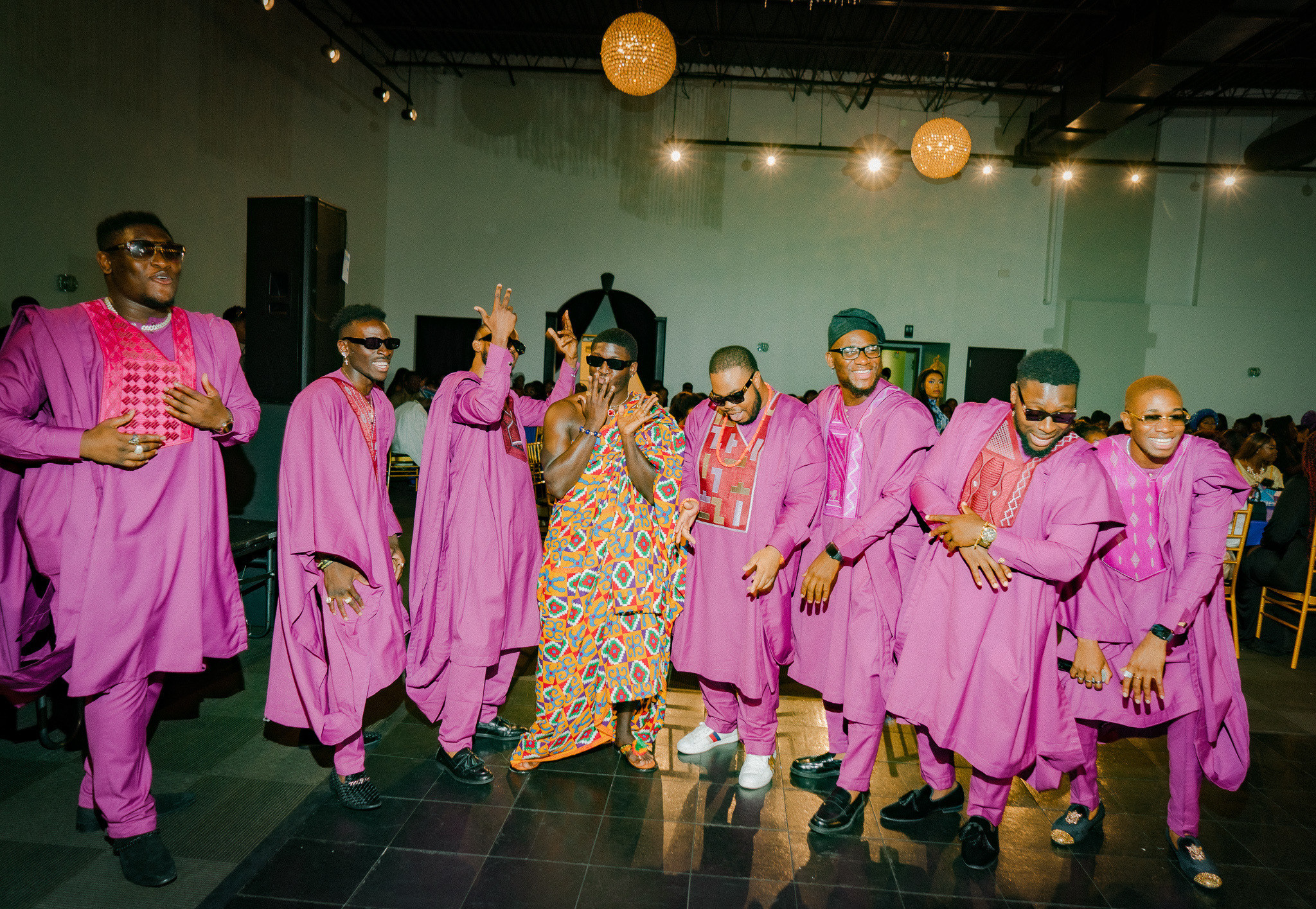 Then the groomsmen danced in, followed by the groom, a 24-year-old Nigerian from New Jersey named Silas Johnson. Another member of the Vibes and Trips crew, he had played the pastor at the first wedding back in 2021. "I think it's a beautiful idea because this generation is not hell-bent on getting married," Johnson told me later that night. "So we're bringing this for people to see that, yo, it's a beautiful thing for two people to come together and choose love for the rest of their lives."
Despite everyone's relative youth, that sentiment was not an uncommon one that night. It was the Vibes and Trips party line: These fake weddings weren't just fun; they were also educational and informative. Maybe they felt they had to have a nobler reason beyond "vibes" to justify throwing a fake wedding. Or maybe that's what they earnestly believe. I felt uncomfortable, because it reminded me of the socially conservative views I used to hold as a twentysomething Nigerian American. That said, at least one member of the bridal party told me that this fake wedding was the closest they'd get to experiencing a traditional wedding, because they were queer and weren't out to their conservative family members.
It was time for the bride to enter the hall. Everyone flooded the main dance floor, despite Owotade's express instructions not to do so. A young woman in a traditional Asante attire danced in time to Ghanaian music, followed by the bride herself, who wore a purple wrapper.
Maame Ama Deegbe, a 21-year-old college junior from Maryland, told me she had gone to the New Jersey and Houston fake weddings, and wanted to be a "bride," but "had been too afraid to shoot her shot." This time, she had DM'd Owotade and got the role. "It's been a bit stressful; it's been a bit hectic, but the vibes are good, the food is good," Deegbe said.
It was hard to hear what was going on, so the actual wedding ceremony was easily the most anticlimactic part of the night. (Another checkmark in the "feels just like the real thing" column.) The groomsmen presented the dowry gifts; traditionally the groom's family pays the bride's family for taking a woman away from her home. The father of the bride, Nicholas Assibu, 26, told me that he decided to get involved because he was Ghanaian and Liberian and "felt it was only right to stand in and represent for my culture." He played up his Ghanaian accent for the role while examining the gifts and then asked Deegbe if she wanted him to receive the gifts and be married. "Yes, yes, yes!" she said, and then the bride and groom hugged.
With the bride and groom now united, dancing and the spraying of dollar bills began. Spraying is perhaps the most iconic aspect of a Nigerian wedding. It's considered a blessing, and it's also most definitely a flex. (Earlier in the day, Owotade had ended one of his frantic wedding planning calls with the directive to "bring singles.")
Owotade went to great pains to remind people that there was a change table where people could exchange their larger currency for dollar bills. People sprayed their friends, their partners, and the live band, who had begun playing with a vengeance, riling up the young crowd, who danced to traditional Yoruba music just like their elders would. Assistants with brooms swept up the wads of cash on the floor.
Dinner was served just after 11 p.m. It was a typical wedding feast, with rice (jollof and fried), Scotch egg, pounded yam, egusi soup, puff-puff, and meat pie, but the queue was very long. People danced in line as they waited. In fact, guests generally danced a lot and with great enthusiasm, which was the highlight of the night for me. That and the exquisite fashion; people took the formal African attire dress code extremely seriously. I saw floor-length gowns, capes, towering geles — plus two women inexplicably wearing horse heads and holding sticks covered in fringe, flanking a man wearing a sequined fila and agbada.
Unsurprisingly, the event was very social media–friendly. Guests could get their pictures taken with a ring light attached to a dolly that spun 360 degrees in an adjoining room. A steady stream of people came in and out, including at least one fairly prominent Nigerian American influencer.
Just before midnight, the bride and groom danced back into the hall after an outfit change, Deegbe looking resplendent in a purple and gold form-fitting ankara dress and festive horsetail, and Johnson in a white agbada that he promptly had his groomsmen pull off so he could execute some exuberant dance moves.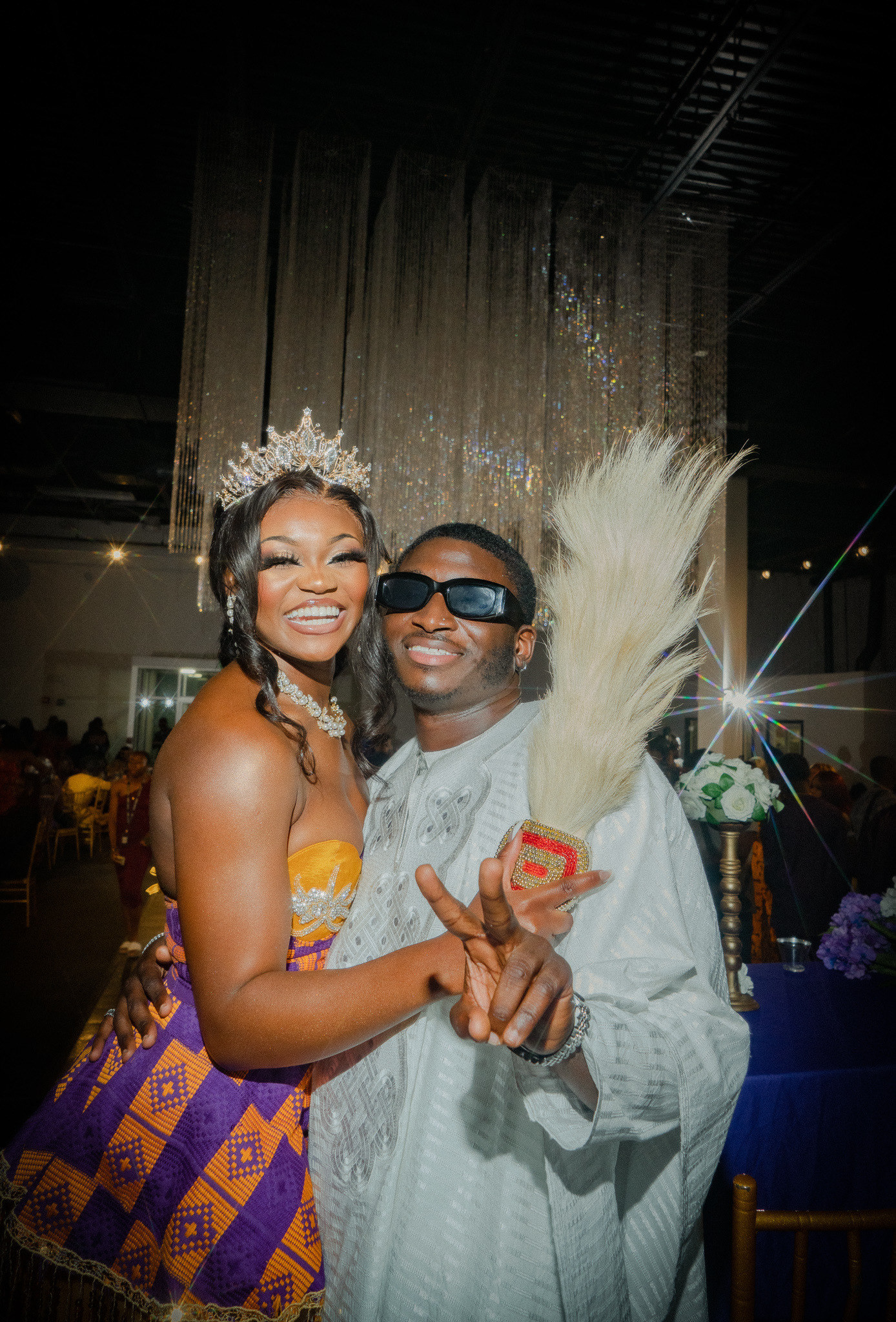 By 1:30 a.m., I was knackered and on my way out the door. While the dance floor was still quite lively, other people had begun to leave too. Standing in the parking lot waiting for my Uber, I asked one attendee how she thought it went. She sucked her teeth. "A waste of my money," she said and kept walking.
I checked in with Adediran who had come outside with some friends to take some photos. "How do you think this one went?" I asked her. "I think the first two were the best, but this event was pretty good," she said, then added, "I was the bride at those two."
In many ways, the event had felt like the real deal, if I had gone to a wedding where I didn't really know the bride and groom (not an impossibility at Nigerian weddings). The festive spirit was certainly there in full. And I was impressed with these young people's unabashed willingness to cultivate and celebrate our customs, the same way I find it generally amazing to hear Nigerians my age and younger rapping in Yoruba and Igbo with a sense of pride, after years of popular Nigerian acts trying to sound like their American brethren. But weddings dredge up complicated feelings for me personally, of societal pressure and constricting gender roles, of hypocrisy and religiosity.
I was curious to know if these festivities made any of the folks involved feel that way. But they were uniformly pro-marriage.
"Of course, when God permits," Okanlawon said when I asked him if he wanted to get married. He and his girlfriend make YouTube videos about being a couple. Adediran said the fake weddings had only deepened her desire to get married and to have a big wedding at that.
"I've gotten married twice," Owotade said when I asked him. "Fake married, but yes, definitely, I want to get married." He just wasn't sure if he would have a wedding as big as the one he just threw. But to him, the rest was clear. "Marriage is a beautiful thing." ●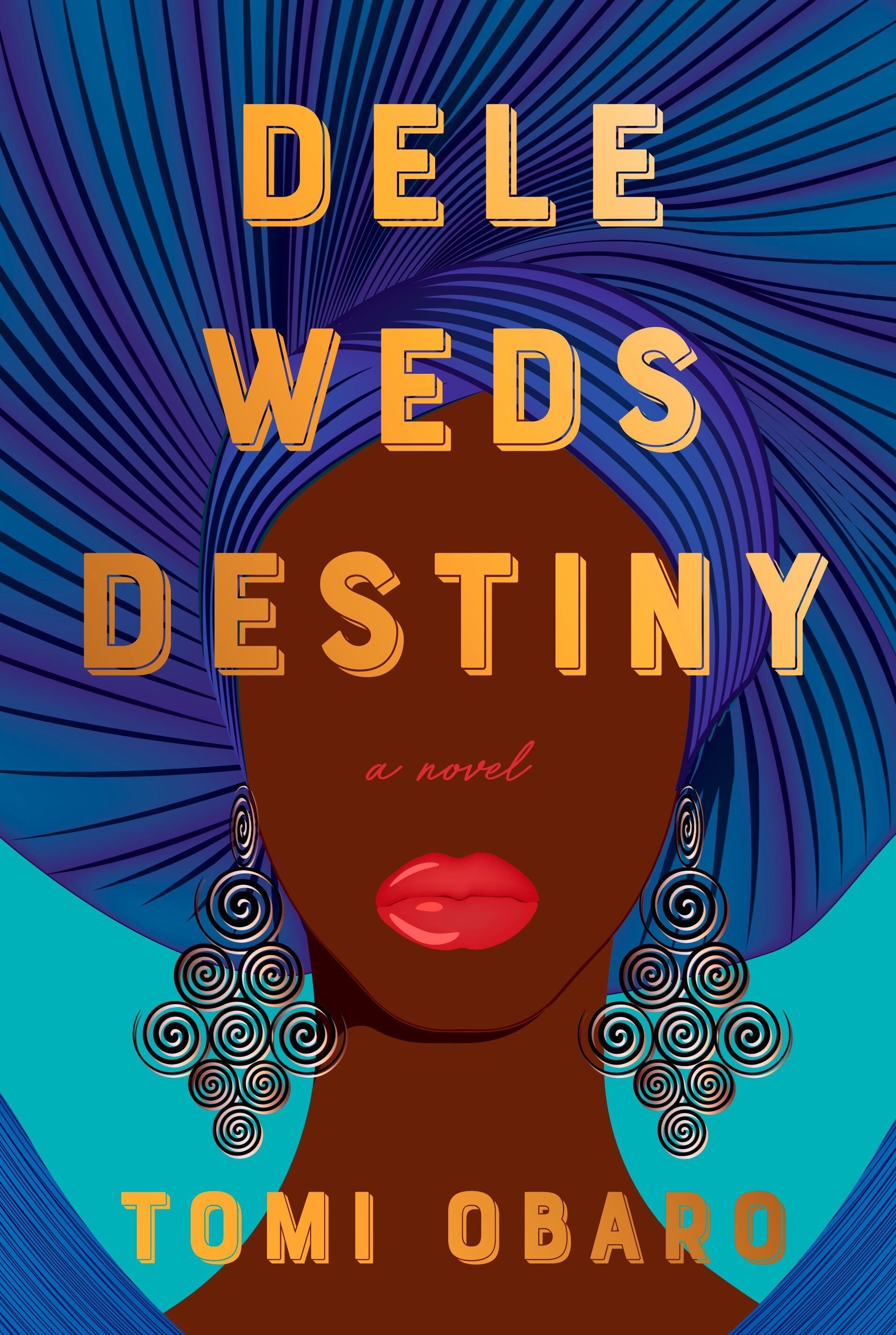 Tomi Obaro is the deputy culture editor at BuzzFeed News and the author of the novel Dele Weds Destiny.