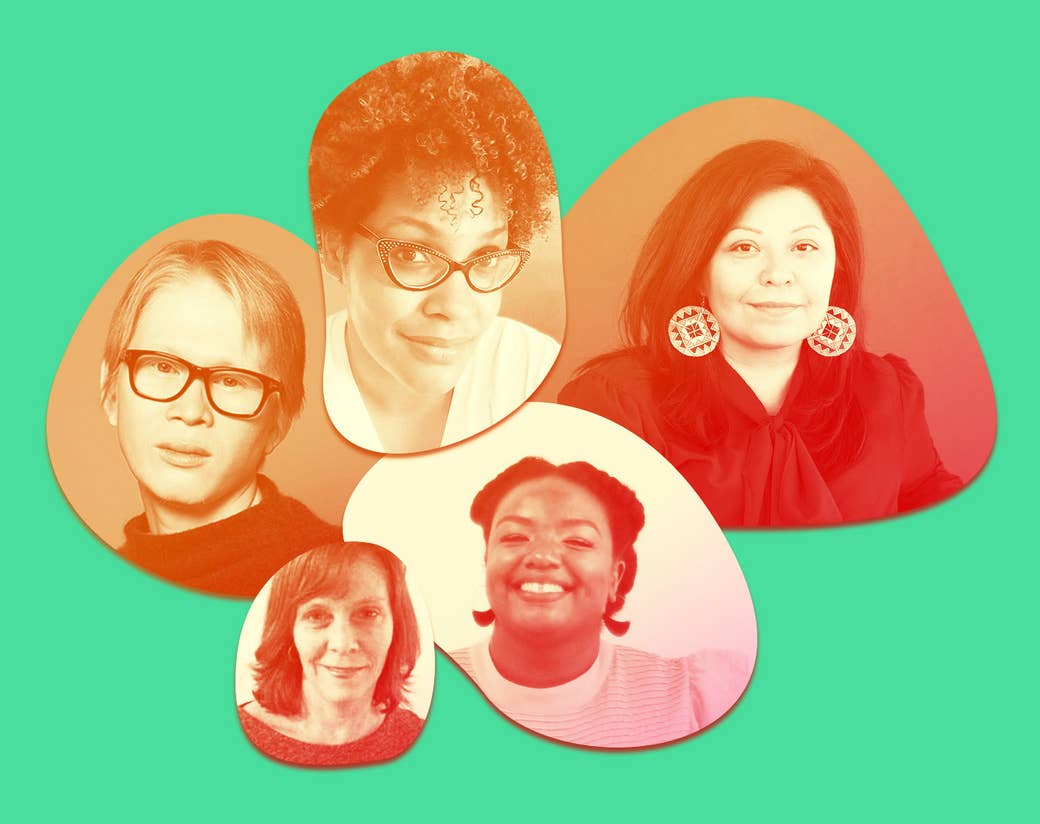 Tell us who you are, what you do, and how long you've been in publishing.
TMM: I'm Terese Marie Mailhot from Seabird Island Band (rez). I've been publishing and editing for three years. I'd classify myself as a writer, but I got my first real start as Saturday editor at the Rumpus, and since then I've been able to include original voices into several different projects and collectives, and I've been able to publish a book with Counterpoint Press and Doubleday Canada.
MT: I'm Meredith Talusan, a first-generation immigrant Filipino trans writer, journalist, and editor who is also albino. I'm currently the executive editor of them., Condé Nast's queer digital platform, and author of the forthcoming memoir Fairest from Viking Books at Penguin Random House. I've been publishing pieces on minority issues, especially trans and race, since 2014, including at BuzzFeed where I was a staff writer.
KB: My name is Kathryn Belden, and I'm an executive editor, working on fiction and nonfiction, at Scribner. I've been in the industry for 30 years, at companies of all sizes: small independent, midsize, and large corporations.
IO: I'm Ijeoma Oluo. I'm a writer, speaker, and editor-at-large at the Establishment. I've been in writing and publishing for about five years now and I work primarily on social issues — especially issues of race and gender. [Editor's note: Her New York Times best-selling first book, So You Want to Talk About Race, was released January 2018 with Seal Press.]
KJ: Kima Jones here. Founder of Jack Jones Literary Arts, a Los Angeles–based book publicity company that works exclusively with black writers and writers of color and arts nonprofits serving marginalized communities.
Do you think it's accurate to say that there has been a recent upswing in the selling and promotion of nonfiction books (memoir or essays) that are explicitly about race and gender identity?
TMM: I think there has been an upswing. I think some people knock the door down. I'm so grateful when I see it, and so are my students. We're looking at writers like Joshua Whitehead and Alicia Elliott, and my students can see a space for themselves in the world. Whitehead's work is lyrical fiction, but the discourse coming from that book (full-metal indigiqueer) is encouraging, and it expands what we can do with nonfiction. Elliott has been an essayist I've admired for some time, and the way she's putting the pressure on the Canadian literary community to be more inclusive, more original, and more interesting by proxy — it's wonderful for me to see.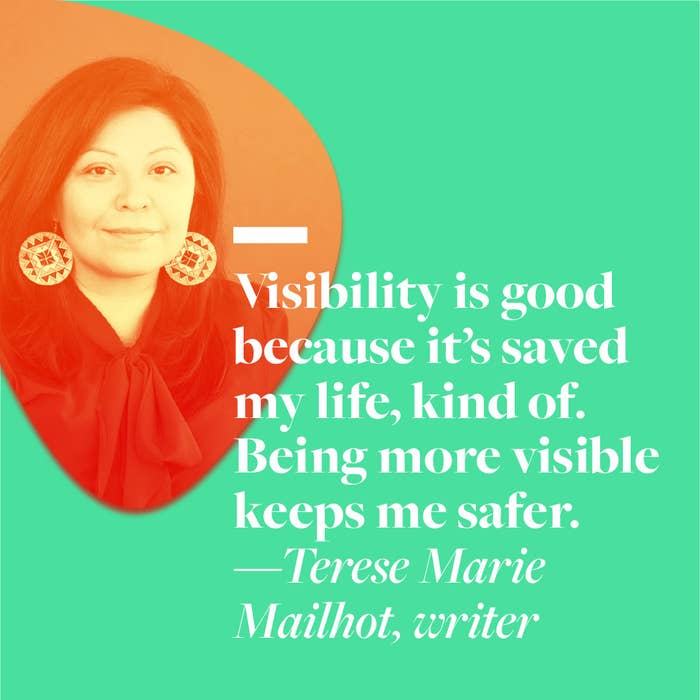 MT: I would say so. I'm sure different people would have different touchstones in terms of what has brought on this recent spate of nonfiction books related to race and gender, but the books that I think of as the ones that showed how personal writing by minorities can be big successes are Roxane Gay's Bad Feminist and Ta-Nehisi Coates's Between the World and Me. Among trans memoirs, Janet Mock's Redefining Realness came out in February 2014 and it definitely influenced my own decision to write on trans issues.
KB: I have absolutely been seeing a lot more submission in these areas in the last decade. I noticed the increasing numbers on the topic of race first and gender identity more recently. (I'm now seeing a larger number of submissions on the issue of class and white poverty as well.) I have the sense there are more books being published — but minus any actual data, it could also be that the books are receiving more attention. Or both. There's been great writing coming out of these communities for decades, including personal stories. Perhaps when the topics of the books relate to the national dialogue (or the topics of the books reflect the national dialogue), there's a bigger pop in terms of attention and sales. And then other writers follow, and publishers see there's more opportunity. I hope it's a widening embrace. Whatever the reason, it's exciting to witness.
IO: Yes, I would say that there has definitely been an increase in nonfiction work on race and gender. I think that there is finally more recognition of a market for broader representation of lived experiences in nonfiction and a lot more first-person portrayals of life that was once fictionalized by privileged writers who did not actually live it.
KJ: Certainly the viral first-person essay has influenced this upswing.
Do you think this has been beneficial overall for marginalized writers' careers (in terms of visibility, size of book deal, etc.)? Are there any drawbacks to this trend?
TMM: Visibility is good because it's saved my life, kind of. Being more visible keeps me safer. Tokenization, and the romanticization of people and our plights, is bad, and those are the types of things that occur when marginalized communities get attention.
MT: It can't hurt, right? At least not economically. In the month or so since I've gotten my book deal, I feel like doors have opened for me in ways they didn't prior to being granted a certain kind of institutional credibility by the mainstream publishing industry. I haven't gone around and asked minority writers I know if the same has been true for them, but I have certainly observed them making strides careerwise, like Morgan Jerkins making the NYT best-seller list with This Will Be My Undoing and great buzz for books like Porochista Khakpour's Sick, Nicole Chung's All You Can Ever Know, and Sarah McBride's Tomorrow Will Be Different. The media attention translates to other opportunities like speaking and media engagements, and just generally being more influential.
Do I see drawbacks? Yes, of course. For me, the main one as a writer, and again not having spoken to people directly about this so this is more me projecting and speaking from my own experience, is maintaining the strength of my perspective while writing for an increasingly wide audience. My origins as a writer come from challenging the establishment, which, in a lot of ways is actually less tricky than continuing to do that while increasingly being part of the establishment. It's important to me to utilize the new resources I have while maintaining the integrity of my voice, since expressing my unique experience is so much of why I write in the first place.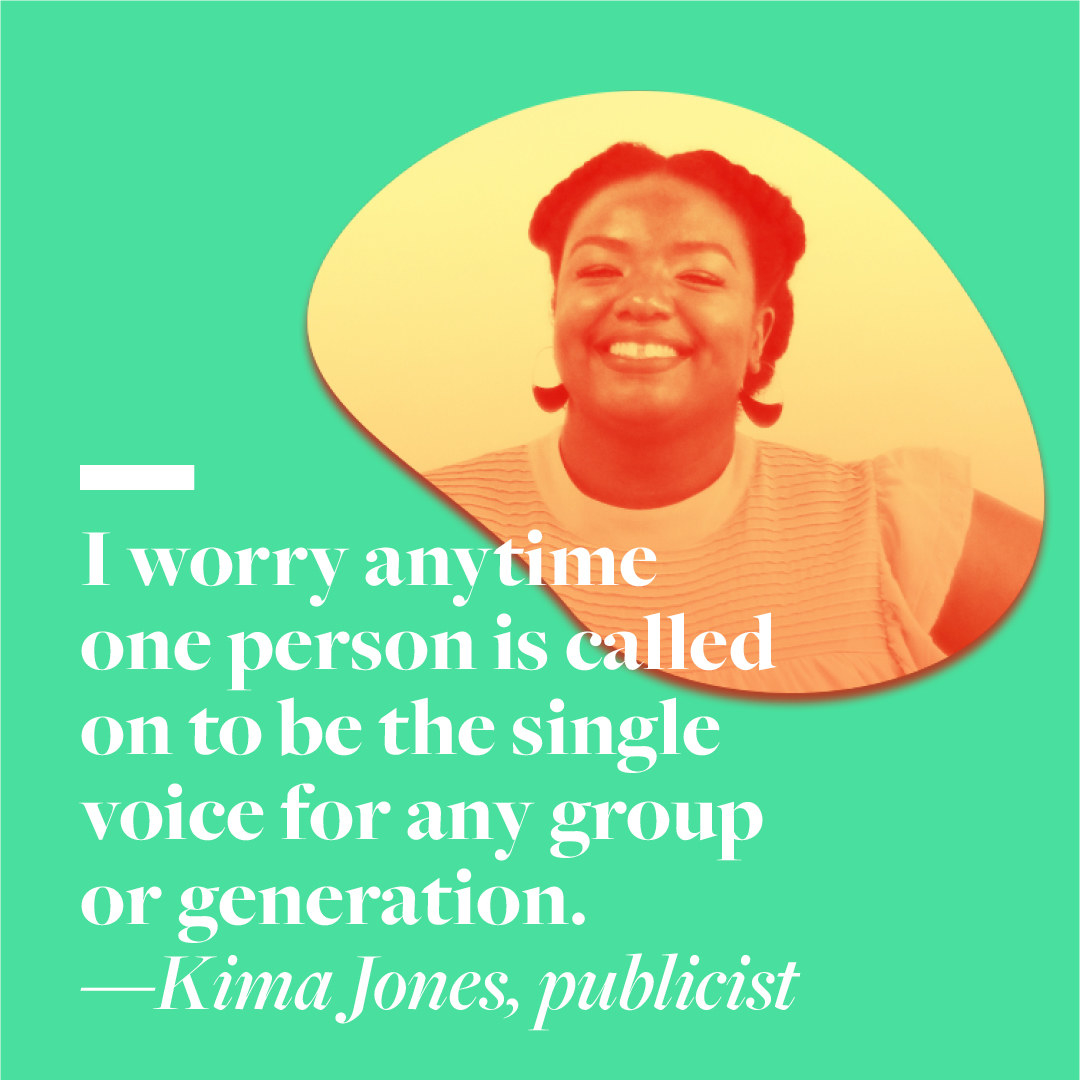 KB: To my mind, the more the industry opens up to acquiring books from a wider array of voices and experiences, and the more the market responds positively to reading these works, the better for everyone: for book sales, for the world of literature, for cultural understanding. Within the industry we think about trends as we acquire books, but I prefer not to think of the expansion of the market in this way. That diminishes the work. That allows people to think, for example, when one of the major awards is dominated by writers of color, as it was one year in the recent past, that it's a response to a trend, when it's about the high quality of the work being produced.
Anecdotally, I have seen the very positive impact publishing books can have on individuals. While publishing can be a disappointing process when the sales and attention don't meet expectations (this happens a lot), a book can have a significant impact on career opportunities, acknowledgment by peers, and financial stability.
IO: I definitely see the benefit to marginalized writers. Anything that has us telling our own stories is of benefit. I don't necessarily see any drawbacks, but I do see real limitations that need to be addressed. These books are often not taken seriously by booksellers or reviewers. Often, memoirs or essay collections are hidden in the back of bookstores where they keep their "feminist studies," "gender studies," "women's issues," or "race and ethnicity" books — even when the books are selling well or are written by more popular writers, unless they are new releases by Ta-Nehisi Coates or Gloria Steinem, they don't get any front-shelf placement.
I also do not see much of this increased demand for nonfiction work on race or gender translating into increased demand for other writing from writers of color, women writers, or trans and nonbinary writers. While there is increased demand for our work in this small field, rarely are publishers seeking out these different viewpoints and talent in fiction, poetry, mystery, and nonfiction subjects not based in memoir or identity. I find that many in the business think that this (writing on identity and social issues relating to identity) is all that we have to offer the literary world.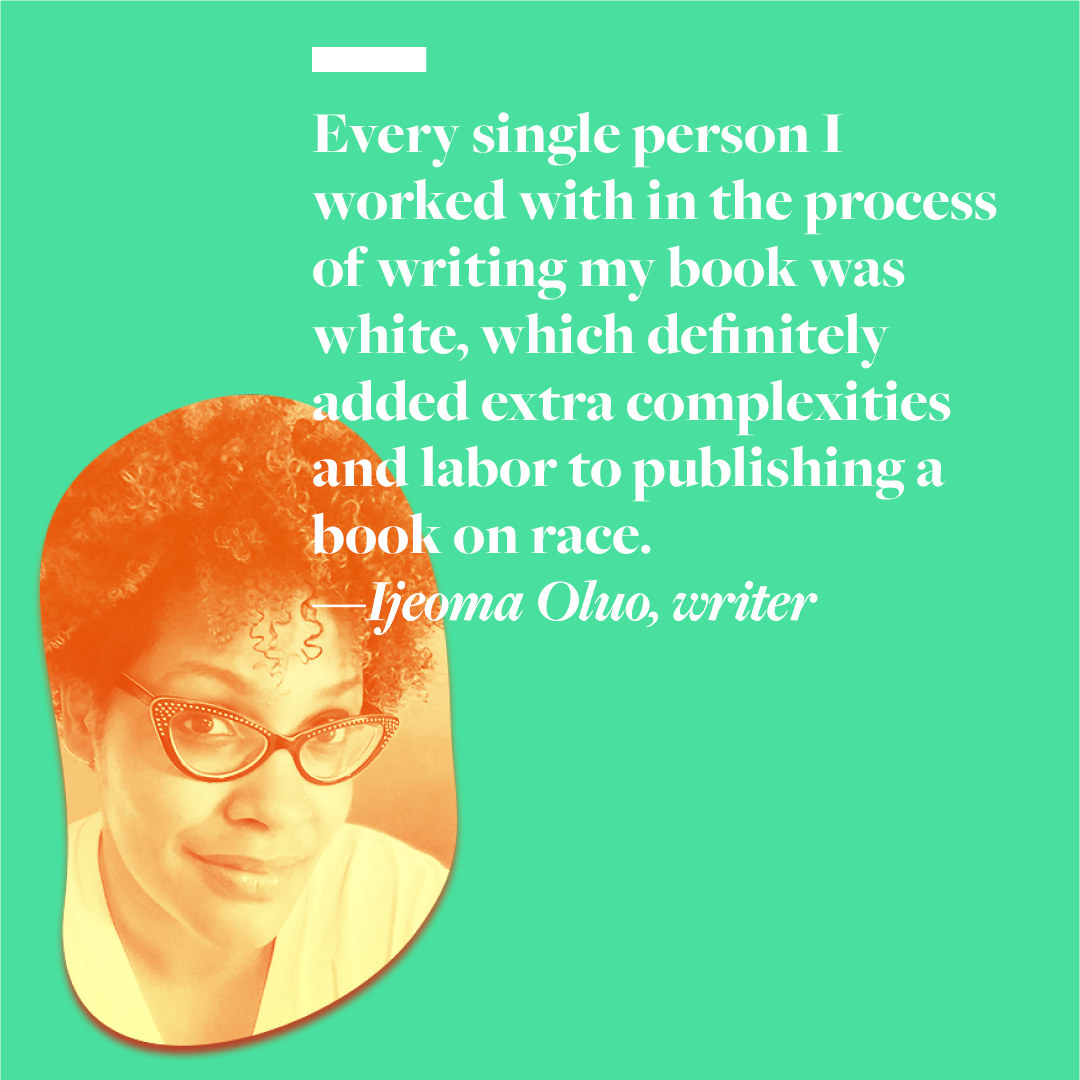 Finally, even with the increase in book deals, the upper management of most major publishers are still white, cis, abled men, and most editors are still straight, white, cis, abled women. This means that your book, even if geared toward a minority audience, has to appeal to gatekeepers from privileged communities who may not be your target audience or may not yet understand due to lived experience why your work is necessary. Every single person I worked with in the process of writing my book was white, which definitely added extra complexities and labor to publishing a book on race. There is a lot of translating and bargaining in order to keep your voice as a writer from a marginalized community that more privileged writers do not have to go through.
KJ: I always return to this Imani Perry essay where she calls the slave narrative the first black memoir. I think about that historical context, regarding the Black American memoir, in terms of how black writers have always written toward this tradition so what do we do when it's considered a trend. I definitely see a drawback. Unfortunately, there are some memoirs and essay collections by minority writers that exploit and tokenize and lean into the white gaze. I also worry anytime one person is called on to be the single voice for any group or generation. It's troublesome, and my hope is that nonfiction writers will push back against editors and publishers and media outlets that want to make them some kind of singular savior for the _______ community. A lot of it, most always, feels exceedingly classist. I'm not a fan of exceptionalism, so I'm generally suspicious anytime publishing or media are trying to explain how different or better or shinier the exceptional apple is when compared to the other apples. It usually looks like, "Yes, she's an apple, but not like those apples. This apple went to that school. Or did this thing. Or won this award. Or speaks these languages." That said, there are several memoirs and essay collections that continue to renew my hopes for publishing: Jesmyn Ward's Men We Reaped, Jessica B. Harris's My Soul Looks Back, Aisha Sabatini Sloan's Dreaming of Ramadi in Detroit, Terese Marie Mailhot's Heart Berries, Margo Jefferson's Negroland, Alexander Chee's How to Write an Autobiographical Novel.
Kima, as the founder of a publicity agency that predominantly represents women of color, how does each writer's identity influence the way you promote their work? Do you try to avoid centering their identity or do you deliberately evoke it?
KJ: It really depends. I worked with a lesbian novelist who explicitly did not want to be THE LESBIAN NOVELIST. For other clients, right down to the blurbs, they only want to work with folks who identify the way that they do. It's a discussion I have right up front before we talk contracts. I need to know if the writer is happy with her publishing journey so far. Is she being edited in a way that she feels respects her voice and intention? Is she happy with the communication between her and her in-house team? Like an agent, my advocacy is for the author. I don't work for the publishing house (unless they hire me directly), so my allegiance is to how my client wants to represent herself and not what the marketing team thinks is best.
I think there's a way to center identity and center the central themes of the narrative (if they aren't race or gender or sexuality). For example, when talking about client Renee Simms' forthcoming debut short story collection Meet Behind Mars, I describe it as a quintessential collection about the lives of displaced black women — a collection about the interior lives of black people — mostly from the Southwest and West, free from trauma or pathology. In that description you get literature outside of New York; black people in the Southwest!; ideas of uprooting and dislocation; the minutiae of the human experience. When talking about client Natalia Sylvester's Everyone Knows You Go Home, we pushed down hard on the immigrant experience and the idea of borders. For Leesa Cross-Smith's Whiskey and Ribbons, we had a conversation we hadn't had before: This was an African American novel that was not an up-from-slavery story, it was not a multigenerational family story, and it was not an urban hardship story. Some outlets have trouble wading through the water when the conversation pockets don't feel familiar. It's my job to guide them.
Kathryn, how do you navigate editing with an eye toward clarity for a broader, often white readership, while honoring the work and specific language of a minority writer?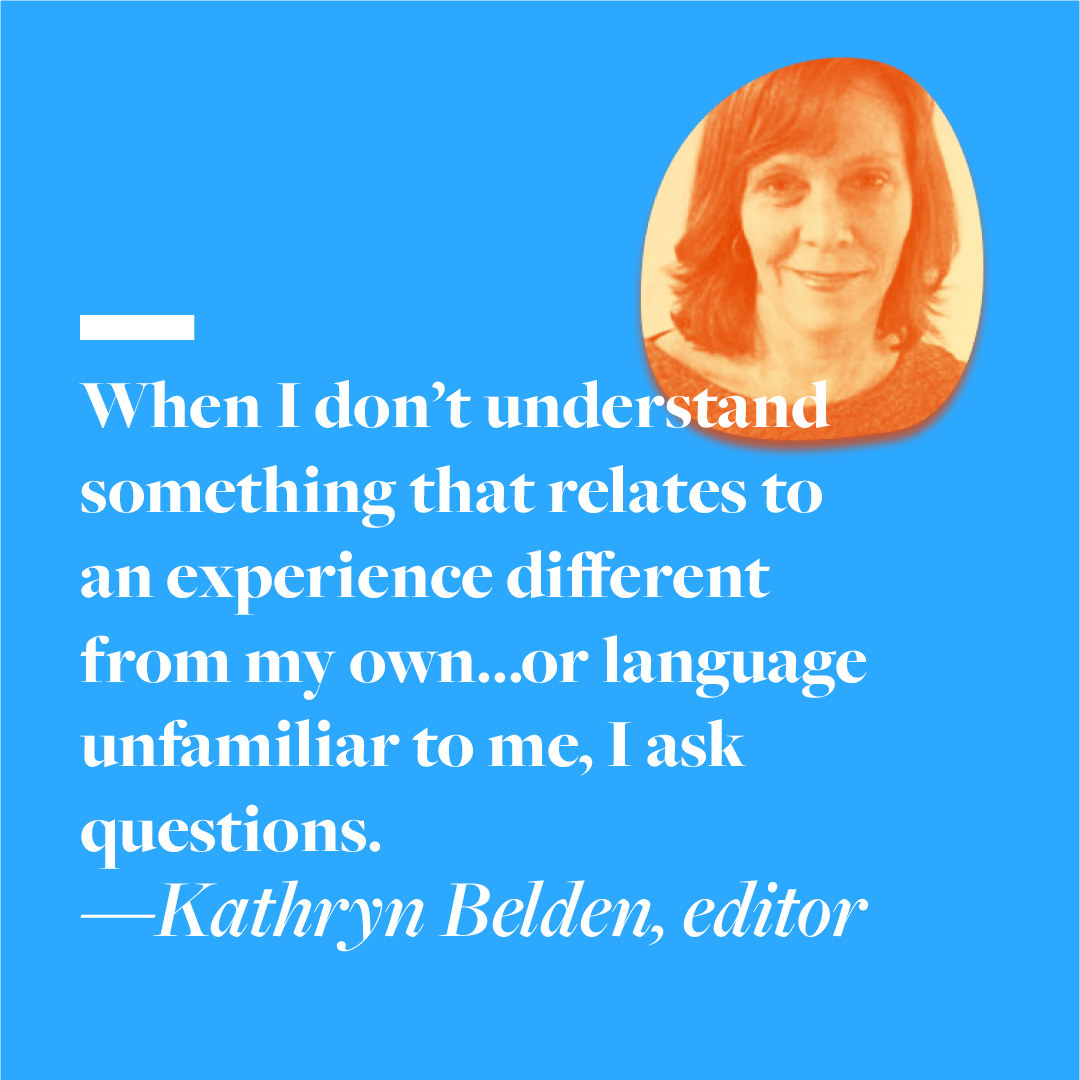 KB: I don't intentionally edit for a broader white readership, but since I am a white reader, I know I end up looking for clarity from my reading perspective. Whether it's intended or not, I understand that I am imposing my perspective on the work. I make efforts to minimize this. I view my role as one of service. It's my job to help the writer realize what they want, not what I want. When I don't understand something that relates to an experience different from my own (and this can relate to all manner of things: region, religion, class, race, gender, sexuality, age, disability) or language unfamiliar to me, I ask questions. I don't insist on changes nor do I expect writers to agree with me all the time — and they don't. I worked with John Edgar Wideman on his last two books. I remember asking a question about a word or an expression. He responded that it would be understood by black readers. That's all I needed to hear. The language stands. Maybe a less experienced writer wouldn't feel as empowered to say this. I don't know. Ideally, there's mutual trust in the editorial process; ideally, it's a conversation. For example, when reading the first draft I had seen of Jesmyn Ward's memoir Men We Reaped, I felt the structure was problematic and asked her to reconsider. This was our second book together, so I had some understanding of the artist and person. She said, please, no. This is how she had always envisioned the book and would I help her make it work. I said yes. There was no other answer. Naturally, she was right. There was power in her idea, and I can't imagine it any other way now.
If there were more diversity within publishing (more than the few great editors I know or know of — several of whom work in my building), writers like John and Jesmyn could choose to work with editors who bring a different level of understanding, an understanding that comes through shared experience. (May we all be part of making those changes to the industry!) Ultimately, however, as a reader and an editor, I am drawn to voices, not of a particular style, but distinctive and artful voices, and most often to stories that reflect experiences different from my own. So I come to the work with a strong interest in the specific language and narrative that defines the individual writer and her experience. That's often what I love most about a book — that specificity. I try to guide in the ways I can, but when it comes to voice, I do my best to stay out of the way.

For the writers, Ijeoma, Terese, and Meredith: What was the editing process like for your books? Were/are you concerned about being tokenized during and after the book publishing process?
TMM: The editing process was geared toward my vision for the book.
I'm not concerned for myself when it comes to tokenization. People have been trying to tokenize me, or use me for their data collection or research, or to diversify whatever my whole life. I am concerned for my friends and students, because some of them can't afford to speak out in the way they want to. I don't want people to ruin good work by trying to make it more accessible or digestible. I don't want people to be scared to write something because they're worried a white woman won't go on the journey with them as a reader. I'd like them to know that we're all here and we'll go.
I don't like events where I'm the only Indigenous author, or the only one from a marginalized community, and I address that when I can. When I think it's safe, I talk to the organizer, and if they're decent they'll be cool about it. They'll be better next year. Sometimes it's bad. Sometimes, I raise concerns about an all-white panel of editors or authors, and then I get grief from a ton of people who say their great-grandmother was Cherokee, and then it's like, wow, we're never going to move forward if these people don't stop.
My main concerns going in with my book weren't about tokenization, they were about preparedness. I mean, I knew I would be put in some compartment like "Native American Authors." I am not concerned with that, because I know my work. I push against a lot of that artistically, but the onus isn't on me to change them — if they want to do right, they will change.
About preparedness, I didn't feel like I was smart enough, or well-dressed enough, or well-read enough to be in the literary circle. There weren't many high school dropouts or single moms or people from small reservations like I was. So, I felt insecure and looked up images of old, white man writers (like YouTube interviews), and I just felt like I could do this. I gave myself permission to be as elusive as Cormac [McCarthy] or as discerning as David Foster Wallace. I made room for myself and my type.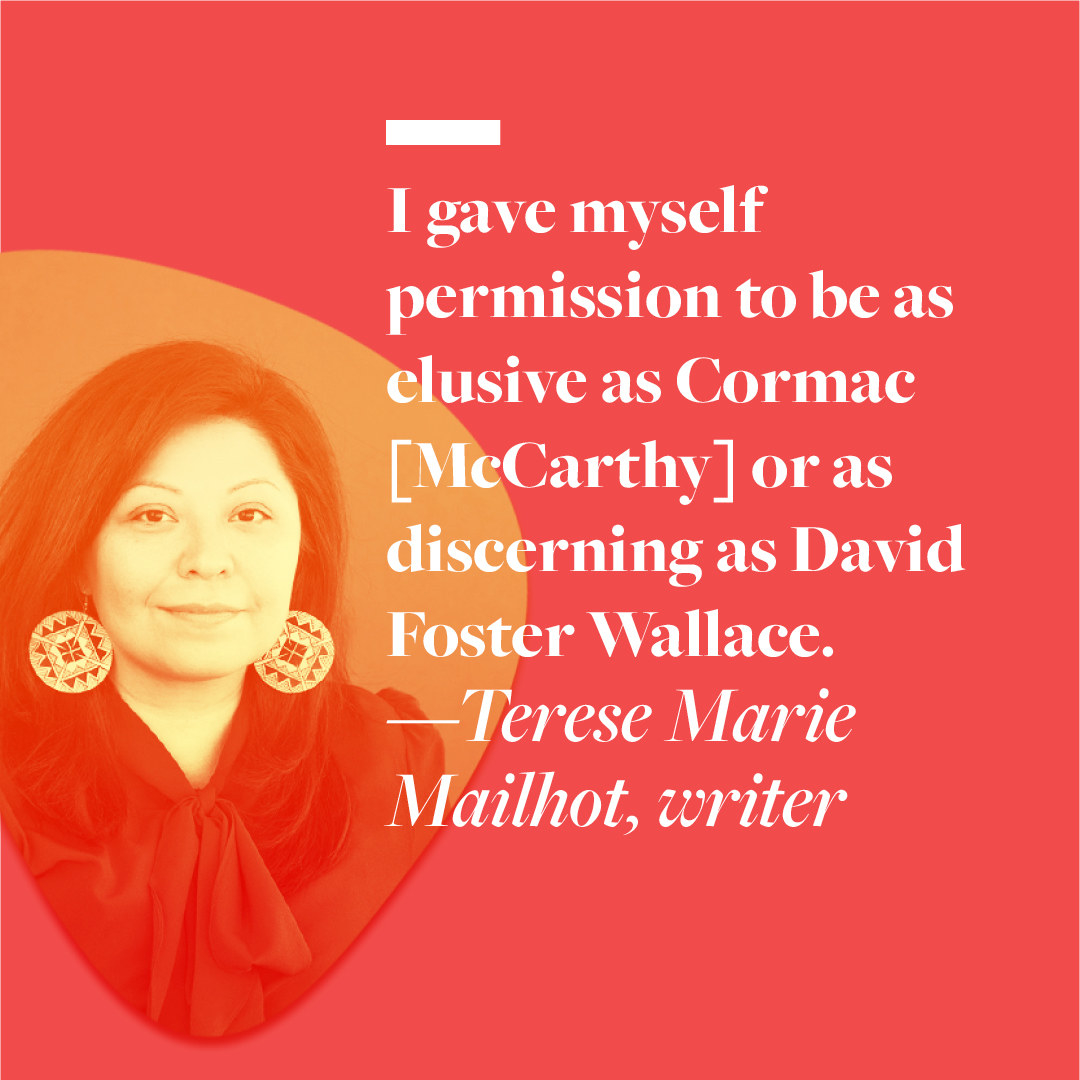 MT: For my memoir I only just started working with my editor Elda Rotor, though the fact that she herself is one of the (relatively few) racial minority editors in publishing definitely gives me a lot more confidence about not feeling tokenized as part of the process, actually not just as a person of color, but also as a trans person. In my experience, it's more likely for people who come from minority backgrounds to be able to feel empathy around other minority experiences they don't have (except white, gay men sometimes haha), and that's definitely been the case in terms of my and Elda's relationship so far.
I've been lucky enough to have essays in two collections prior to my book, Samhita Mukhopadhyay and Kate Harding's Nasty Women: Feminism, Resistance, and Revolution in Trump's America and Roxane Gay's Not That Bad: Dispatches From Rape Culture, and in those cases I did have some apprehensions about how my trans experiences would be read in relationship to largely or exclusively cisgender narratives. There have definitely been points of discussion along the way, and even an argument or two, but these amazing editors have all handled my concerns especially around issues outside the compass of their experience, with enormous respect, including my semi-irrational desire not to put quotation marks around the term Asian Glow. I feel incredibly fortunate.
IO: As I said above, every single person I worked with in the process of publishing my book was white. This means that I had to spend a fair amount of time translating my work and advocating for words that may necessarily make some white people (including white editors) uncomfortable. I was very lucky in that my editor wanted my book, because she did indeed want my voice, which meant that I encountered far fewer issues in the editing process than many of my fellow black writers have with their books. But still, knowing that every person involved in the process of your book was going to find your words to be foreign and your needs unfamiliar was at many times exhausting.
Now that I'm in the process of promoting the book, I'm once again coming across issues that arise when everyone but you in the process is white. My first interviews about the book were set up exclusively with white interviewers and were often call-in shows with exclusively white callers. The majority of my speaking engagements have been to predominantly white audiences. I've had requests sent to me to promote my work with websites and businesses that have been publicly antagonistic and even abusive toward black people, and I've had to explain why I cannot interview with them or write for them.
My saving grace has been my agent, Lauren Abramo, who is white, but knows me well enough and understands the racial politics of the industry enough to fight to increase diversity in my book's promotion and try to keep me from overly hostile promotion situations. But the entire process can be very draining. And even with this all, I'm aware that my publishing team is actually more progressive and caring than most when it comes to these issues. I hear horror stories from other black writers and I shudder.
What has been challenging or rewarding about working on projects that explicitly deal with your identity? Do you see yourself continuing to write essays or memoirs about this, or would you like to write in other modes?
TMM: The challenges are rewarding. It's really interesting that the language keeps shifting concerning Indigenous identities and our work. I will keep writing essays and memoirs, and I am also working with fiction right now. I have a lot of freedom and it's wonderful. I want to share that.
MT: My experience is really complicated — I'm dealing with multiple identities across really divergent contexts, trans to immigrant to whitepassing to disabled, etc., rural Philippines to Harvard to Europe, etc. — so the biggest reward I've felt about working on Fairest has actually been being able to reflect on my life for a long period of time and having the space to explain myself to myself. In a lot of ways the prospect of other people reading my work is just this huge bonus when I think about how much insight I've gained and how beneficial that has been for my personal growth, just by working on the book over the past three years.
My personal history is so complicated that I can't imagine ever keeping myself from writing about it, though I've written and continue to write in modes other than memoir. I still write a reasonable amount of criticism that doesn't have a lot to do with my experience at all, and I've been dipping in and out of a narrative nonfiction project on Jennifer Laude, a trans woman who was murdered by a US Marine in 2014, as well as the process of filming a documentary that tracks my work on this case, called Call Her Ganda, that's premiering at Tribeca Film Festival in April. Though right now I have this impulse to write fiction (I did my fiction MFA at Cornell), inspired by these uncanny interactions in Lisa Halliday's Asymmetry, which is making me realize how much I miss writing characters that do absolutely unbelievable yet deeply relatable things.
IO: I hope that anybody who wants to engage with these issues in good faith will read my work — and when it comes to writing on race, that ends up being a fairly small demographic. But although I hope that my work will be useful to all of these people, I write first and foremost for black women. I do not write anything without first thinking of how it will impact black women, as there are so few of us with a platform to get our words out to a broader audience. I take that responsibility very seriously.
For all of you: Do you think this current moment is a bubble? How long do you think this phase will last?
TMM: I don't think it's a bubble. I think it's a flood. I like it.
MT: I honestly don't think it's a bubble. I think this is the point when minority experience is becoming fully integrated into the concept of what it means to live in America. We can't be complacent, obviously; we need to keep underlining that we need to be treated as equal within the publishing industry. There might be ebbs and flows, but given how even the number of books by minorities in the current moment, such as it is, doesn't even begin to come close to reflecting the actual demographics of America, I see this as the beginning of something much bigger rather than a phase.
KB: I don't think it's a bubble. The door has been opened a little more, and I hope we can kick it open wider. We will all be richer for the broadening of our literary culture.
IO: I don't think it's a bubble. I think that it was very easy for a long time for a straight, cis, white male publishing world to convince everyone that they were the ultimate authorities on the written word, because they were the gatekeepers and they ensured that we were only acclimated to one voice.
But in the age of the internet, people have been able to find authentic and diverse voices beyond the reach of publishing gatekeepers. Once you read authenticity for yourself, you can no longer be fooled into accepting facsimiles. In the age of fake news, people are desperate for real voices, and that is what we provide.
KJ: All trends come and go. A few years back you could only publish a memoir if you had cancer and your husband cheated on you, or you were a newly divorced white woman off to India for enlightenment. I don't say that to be coarse. I say that to say the spiritual quest memoir and the personal memoir aren't being published at the same rate right now. Praise God.
You're asking if the Race Memoir, the Gender Memoir, or the Sexuality Memoir will survive market trends. I don't know, but if I put your question in context with Imani Perry's idea then yes, it will endure. Will it always be "trending"? No, but it will endure.
How do we make sure there's a diversity of voices being published while making sure we're not tokenizing or exploiting writers in the process?
TMM: I'd like to mentor the way I see Roxane Gay mentor. She publishes a lot of writers and promotes their work, and she's given me advice, and her own creative work is also inspiring and original. I'd like to keep editing, and mentoring, and helping other writers any way I can. I think we need more people in positions of "power," where they can amplify original voices who could really use an opportunity to shine. I think we should challenge reading lists, and question the way work is being talked about, and we should be reaching out to writers and asking them what we can do.
MT: Ultimately, we need more people not just as writers but in decision-making positions in media and publishing, who are empowered to speak with their genuine perspectives rather than just visually and socially represent their minority positions, which is the very definition of tokenism. For many years I defined myself as a writer and reporter who had neither the desire nor the inclination to become an editor. It took a white man who happens to be very nice and persistent (them.'s chief content officer Phillip Picardi) to convince me that I had the talent and personality to be a highly positioned editor, and I am unendingly grateful that he did.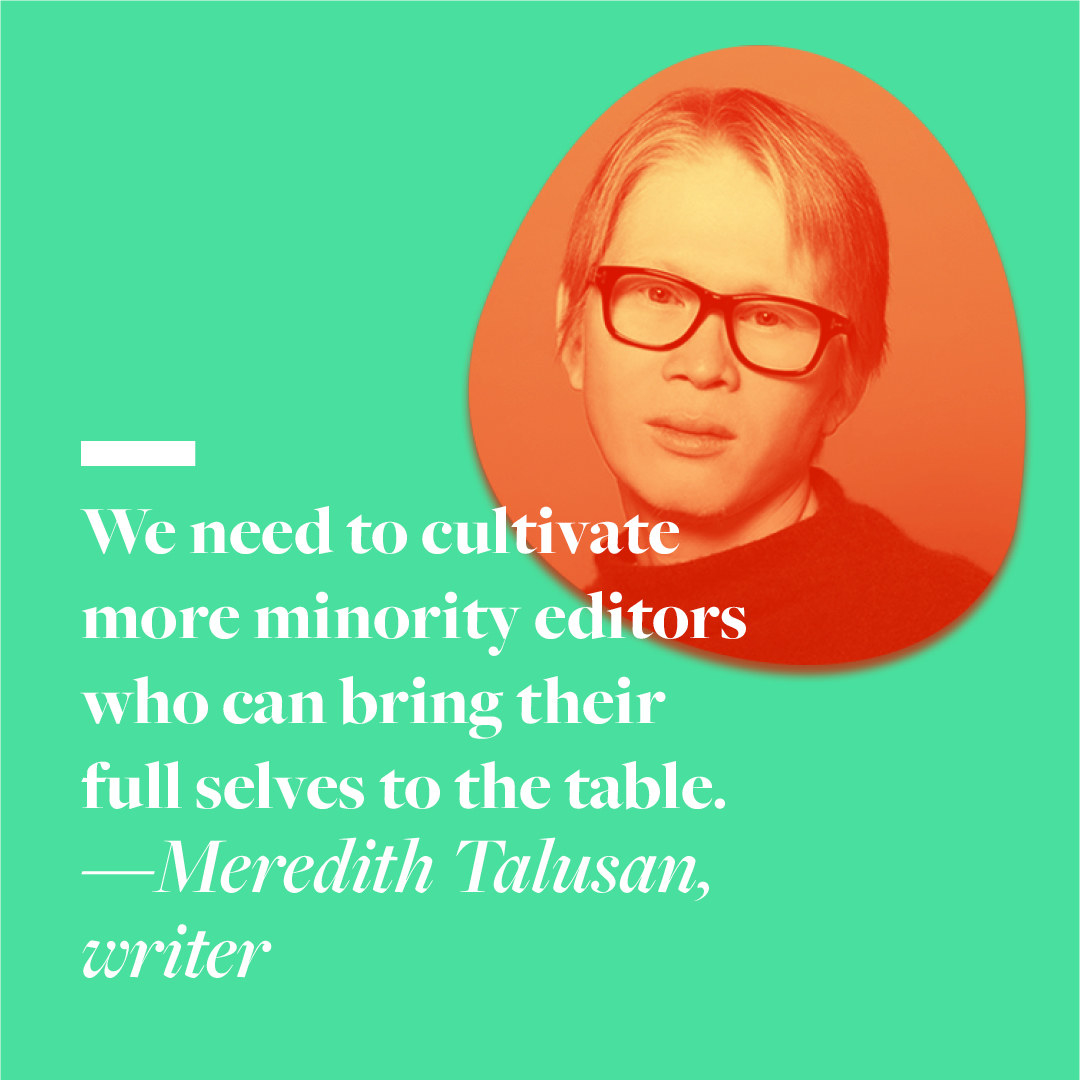 Playing both the writer and editor role simultaneously, I see the benefits of both, and know for sure that we need more minority editors, because editors, like everyone else, are human, and we tend to gravitate toward authors and books that are more similar to our experience (even though many of the best ones don't). There's also the even more understandable impulse of wanting to work on projects where we feel like we can do an author's work justice. I'm willing to take a chance on new authors who don't have a lot of experience when I know I have enough personal resources to edit them, and I'm more likely to have those resources if the author is also trans and/or a racial minority. Extrapolating from my experience, I imagine that it's easier for cis, white editors to take chances on authors like them compared to minority authors because they can mold work about lives that are familiar to them in ways that are a lot harder when the author's life is far from their own personal experience. But if it's a lot more likely for an editor to be cis and white in publishing and media, then it's a lot more likely for cis and white authors to get published. So if we want more permanence in terms of having a diverse set of writers and books, we need to cultivate more minority editors who can bring their full selves to the table, not just to have a seat, but to use that seat to champion and support other minorities.
KB: More diversity of expression serves our society in many ways. There are clear, moral reasons for us to strive to do better. In strictly business terms, there are markets for all kind of books, and we could sell more books if we served more audiences. It is no coincidence that when book publishing was a white man's world, the primary readership was white men. Now the book publishing work pool is something like 77% white women. Lo and behold, we are told that white women are the largest readership, in terms of numbers. (Also to note, black, college-educated women are the most likely to read a book of any group according to Pew Research.) To reach more readers, to expand people's worldviews, and to sell more books — we publishers need to make a bigger effort to seek out diverse voices. We also need to work hard at recruiting and retaining a diverse work pool. (Chris Jackson, publisher of One World, has great things to say on this topic in an essay entitled "Widening the Gates," which appeared in What Editors Do, edited by Peter Ginna.) I've been at this a little while, so I can say there have been changes over time. Some specifics: Interns are being paid and the intern pool has expanded as a result; the base salary for editorial assistants recently increased, although if you have student loans, the starting salary would particularly rough; and there's generally a growing awareness of the necessity of change throughout the ranks. But awareness doesn't always lead to action, and the few changes I mentioned — as well as change in general on this issue —have been incremental and mighty slow. We need to do better.
IO: We need more editors and publishers of color with the distribution capabilities to get books to a wider audience. We also need more staff writing jobs for writers from underrepresented communities so that they will have the financial security needed to focus on their craft. We need to increase the range of topics that we seek out marginalized voices for. We need more fiction, science fiction, mystery, business, poetry, and more from marginalized writers. We also need to do better at breaking down white supremacist, xenophobic, and ableist language hierarchies that dismiss the language of writers of color, immigrant writers, and writers with disabilities. We need to embrace the flexibility of language and recognize that language that serves marginalized communities is just as valid as the language that serves white men.
KJ: It is my job and Kathryn's job and the job of our colleagues to recruit and mentor publishing professionals who are black and of color who are committed to a culture shift. The same thing has to happen in journalism and media. Representation isn't enough. Having an inclusive list of writers isn't enough. The folks making executive decisions and the folks writing the checks should not only be minorities, but they have to take the risk of leading their teams differently than their predecessors. So much of corporate work culture is predicated on abusive and exploitative labor practices. While Jack Jones is a part of traditional publishing, we do not participate in publishing in ways that I feel are predatory to young people with ideas. We are not just black women representing, but we are the actual culture shift.
At Jack Jones, my staff is comprised of two black women [Allison N. Conner and Amanda Choo Quan], MFA graduates who have never worked in NYC publishing before, but are writers in their own creative practices. They care about literature and the market and they want to help influence how books are talked about and which books get propped up. At Jack Jones we don't have an internship program. I pay my staff, I mentor my staff, I send them to New York for meetings without me, and they liaise and negotiate on behalf of our clients. I don't need anyone to push papers around a desk for me, or bring me coffee, and I'm not spending payroll dollars for my staff to secure things that don't matter like blog tours. I don't believe in busywork or grunt work. The publishing culture shift has to include giving young professionals work that's respectful of their full capacity to execute and grow. My staff makes decisions with me and sometimes for me because I am traveling and growing out the business. I hired my team because they are capable, and I'm curious about their ideas and visions. I want to help them curate programs. I take on writers and books that they want to work with, and I think we're a better team for their input. New York publishing has a lot of women doing a lot of tired, thankless work. I say let's start there. ●