The World's Most Valuable Company Could Soon Go Public
Saudi Arabia's state oil company is sitting on 260 billion barrels of oil and 288 trillion cubic feet of natural gas, suggesting a valuation in the trillions.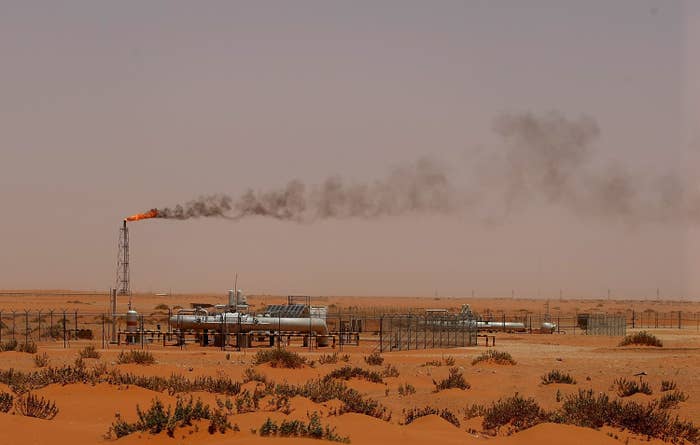 There are big public companies, and then there are very big public companies, and then there is Apple. And then, in a different universe of bigness, there is Saudi Aramco, the state oil company of Saudi Arabia, which sits on the rights to an estimated 260 billion barrels of oil and 288 trillion cubic feet of natural gas.
ExxonMobil, by comparison, controls the equivalent of about 24 billion barrels of oil. It is currently valued at $323 billion.
This massive Saudi company could soon go public. An IPO of Aramco "is something that is being reviewed, and we believe a decision will be made over the next few months," Saudi Deputy Crown Prince Muhammad bin Salman told The Economist. "Personally I'm enthusiastic about this step. I believe it is in the interest of the Saudi market, and it is in the interest of Aramco."
If a Saudi Aramco IPO happens, it could create the world's most valuable public company in the process.
Back in 2010, the Financial Times did a back-of-the-envelope valuation of Aramco based on its oil reserves alone, and estimated the company was worth something in the vicinity of $7 trillion. That's well over ten times the size of Apple, currently the world's most valuable public company, which has a market cap today of $560 billion.
This isn't an apples-to-apples comparison — Aramco shareholders are unlikely to ever have control over the state-owned company in a way comparable to shareholders in U.S. listed companies like Apple or ExxonMobil. Saudi Arabia is an absolute monarchy and its oil reserves are the royal family's most existentially important asset. And investor protections are limited, with the Saudi legal system more famous for its vigorous prosecution of witches and sorcerors than it is for due process.
But it's still a massive company however you want to look at it, and the Saudi government seems keen to send a message that the company is taking a new approach to the economy. With oil prices below $35 a barrel — they were above $130 in 2014 — the Saudi government is facing huge economic pressures, running a $100 billion budget deficit in 2015, the largest in its history.
Falling oil revenues sting the government particularly hard, because Saudi Arabia has no income taxes and 90% of government revenues come from oil exports. In response to low oil prices the government is looking both to cut spending — it recently raised the price of the country's famously cheap gasoline — and raise new revenues from foreign investment and privatization.
Is the country entering a period of Margaret Thatcher-style economic reforms sparked by low oil prices, The Economist asked the Deputy Crown Prince? "Most certainly," he said. "We have many great, unutilised assets."