Starbucks Introduces Delivery, Mobile Ordering
In an interview with BuzzFeed News, Starbucks CEO Howard Schultz discussed two new services of supreme importance for customers sick of waiting in line for their lattes.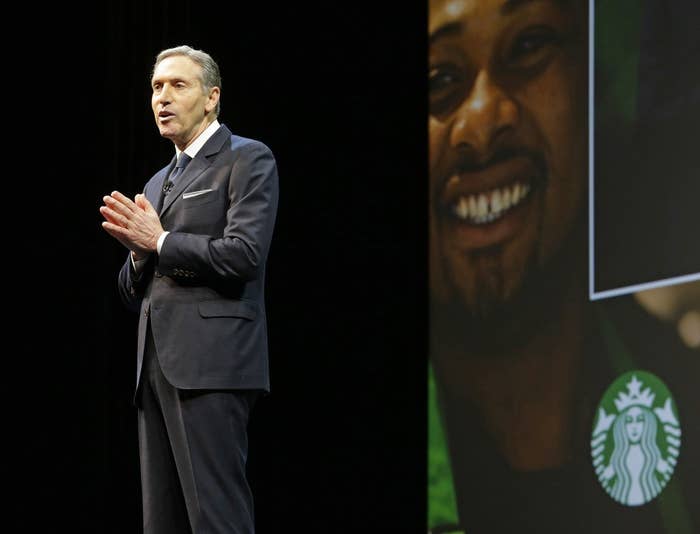 Starbucks is launching two new services of supreme importance for customers sick of waiting in line for their lattes: First up, mobile ordering and payment will roll out nationwide this year, meaning the only thing users of the Starbucks mobile app will have to do in the store is walk to the front of the line and pick up their coffee.
And second, the company has announced details of its long-awaited delivery service, which will roll out in a limited way this year in Seattle and New York City.
"It is mind-boggling to me how many of our customers want Starbucks delivered, even when there is a Starbucks in the lobby of their building," CEO Howard Schultz told BuzzFeed News in an interview. "I think it's going to be wildly successful; we've figured out how to do it, and it is going to create jobs, no question."
The delivery service will be pretty limited in its scope, at least in 2015. The company says it will roll out a "Green Apron" delivery service for some office buildings in New York, where baristas from Starbucks outlets nearby (as Schultz mentioned, there are plenty of office towers with a Starbucks inside the building) will deliver directly to office workers.
And in Seattle, it will team up with Postmates, an on-demand delivery startup that connects users with a network of independent delivery people, much like Uber lets users hail a ride its network of independent drivers. "A Postmate is like a friend who can stop by a restaurant or store" is how the company describes it.
"Working together, we will enable Starbucks customers to order their favorite Starbucks products and have it delivered to them without leaving their home or office," Postmates said in an announcement today.
Both these delivery pilots will begin in the second half of 2015, Starbucks said.
But for the majority of customers who aren't in Seattle or a select few New York office towers, mobile ordering and payment will be the more important way Starbucks is eliminating the queue this year.
The company's app is already incredibly popular, with 8 million customer transactions a week being made through the system. "We have the most successful mobile retail transaction app in the world," Schultz told BuzzFeed news. "Almost 18% of tender right now is on the Starbucks mobile app."
Once the mobile ordering and payment system is rolled out — the company says it will be done nationwide this year — users will be able to key in their order and pay via the app, before heading to the store. On arrival, all they will need to do is pick it up.
The service, particularly when combined with delivery, turns Starbucks into one more company chasing the instant-gratification trend that has driven the success of so many mobile- and web-based businesses. Press a button, get the thing you want, no cash changing hands, minimal human interaction.
It has already reshaped the way we order food for delivery and hail a cab, and Schultz expects it to reshape his business too. "This is just the beginning," he told BuzzFeed News, "and I would say on the macro level, you can't be in any industry today, let alone a consumer business, and not integrate the business through the lens of seamless technology."