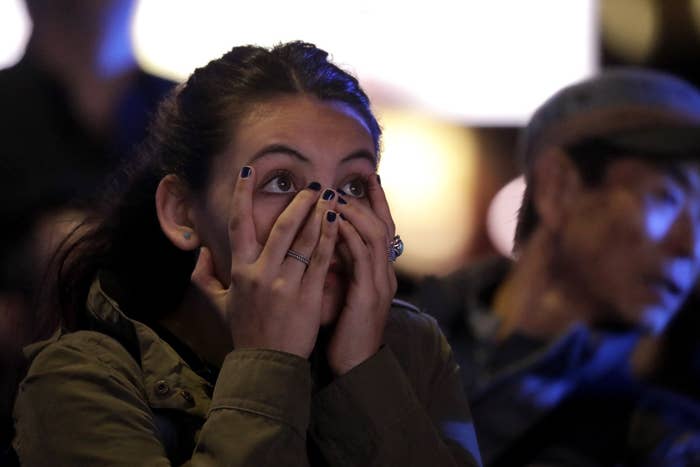 Three Senate races:
In Arizona, Republican Martha McSally has a one-point lead — less than 17,000 votes — over Democrat Kyrsten Sinema with 97.7% of precincts reporting. Getting a final result could take some time — on Wednesday, election officials in Maricopa County, the state's most populous, will begin counting paper ballots cast on Election Day, and "that's going to take days," spokesperson Murphy Hebert told the Arizona Republic. (Update: on Monday evening the race was called for Sinema.)
In Montana, incumbent Democrat Jon Tester is running neck and neck with Republican Matt Rosendale, with less than 2,000 votes separating the two. Tens of thousands of votes remained to be counted as of Wednesday morning, KRTV reported. (Update: On Wednesday the AP called the race for Tester.)
In Florida, Republican Rick Scott is running ahead of incumbent Democrat Bill Nelson by a margin of slightly over 50,000 votes. Scott claimed victory on Tuesday night, but Nelson's campaign said it was waiting for all the votes to be counted (Decision Desk HQ has called the race for Scott). But the closeness of the race — more than 8 million votes were cast — may trigger an automatic recount; that would mean manual vote counting and close scrutiny of "overseas and military ballots, provisional ballots and vote by mail ballots that have defects such as a missing or non-matching signature," the Miami Herald reported.
One governor's race is still in play:
In Georgia, Republican Brian Kemp has a two-point lead over Democrat Stacey Abrams. Abrams did not concede the race on Tuesday night, and her campaign told CNN that it expects at least 77,000 more votes to be counted from Democrat-leaning districts. If Kemp ends up with less than 50% of the total vote (he currently has 50.6%) then Georgia law would require a runoff election between the two candidates.
There are still a number of House seats to be declared. Among them:
In California, where a bunch of races have yet to be called, Republican incumbent Dana Rohrabacher is running a little under 3,000 votes behind Democratic challenger Harley Rouda in the 48th District. (Update: On Saturday, the race was called for Rouda.)
In Georgia's 6th District, in what could be one of the biggest upsets of the election, Democratic challenger Lucy McBath has a lead of fewer than 2,000 votes over incumbent Republican Karen Handel. (Update: On Thursday morning, McBath declared victory and Handel conceded.)
And in Maine, US election history could be made in a race where the candidates are currently separated by less than 200 votes: With both incumbent Republican Bruce Poliquin and Democratic challenger Jared Golden both hovering around 45% of the vote, the state's new ranked-choice congressional voting system — the first of its kind in the nation — could be used to decide the race.
The system lets voters rank candidates in order, rather than just tick a box for one of them, and if no candidate secures more than 50% of the vote, people's second choice votes come into play. Such systems are used in democracies around the world, but it would be the first time such a vote has elected someone to the US Congress.
CORRECTION
Jon Tester and Jared Golden's names were misspelled in an earlier version of this post.