McDonald's New Promotion: We'll Trade Our Fries For Your Love
After pushing back against reports of a new "Lovin' Beats Hatin'" advertising slogan, McDonald's has released its lovin'-themed marketing campaign.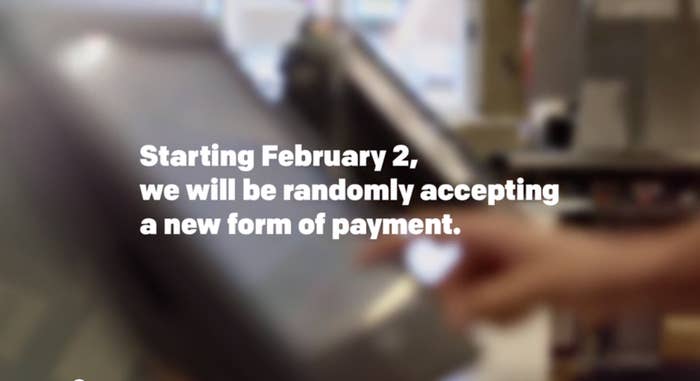 Love might not be able to conquer all, or save ousted McDonald's CEO Donald Thompson's job. But for a limited time, it will be accepted, occasionally, as legal tender in exchange for a burger and fries at McDonald's outlets.
In late October, the Wall Street Journal reported McDonald's would soon roll out a new advertising campaign built around the slogan "Lovin' Beats Hatin', a play on (but not a replacement of) its long-running "I'm Lovin' It" line. A Super Bowl ad would help kick off the campaign, the report said.
The internet responded with a healthy round of ridicule, and McDonald's claimed there had been some degree of "misreporting" around the story, without fully denying it.
"It's highly speculative and premature to talk about Super Bowl ads and future campaigns," a McDonald's spokesperson said at the time.
But it's no longer highly speculative: Here's the McDonald's Super Bowl ad. There's no Lovin' Beats Hatin' tagline, but it's all about the lovin', most specifically a cloyingly sweet central premise involving giving people free food in return for them showing some love to the people closest to them.
Starting Monday, Feb. 2, McDonald's will be randomly accepting a new form of payment. Customers who enter participating McDonald's restaurants* across the US at randomized, predetermined times between Monday, Feb. 2 and Saturday, Feb. 14 from 6 a.m. to 6 p.m. local time each day will be selected to participate to Pay with Lovin'. Once a selected customer has completed his or her order and presented a method of payment, the restaurant Guest Service Manager or Lovin' Lead will explain that McDonald's is doing something special that day, and the customer will be given the option to pay for his or her order with an act of Lovin' instead. For instance, breakfast might cost a friendly fist bump to the crew member on duty, lunch could be paid for with a call to a loved one and dinner could go for a compliment.