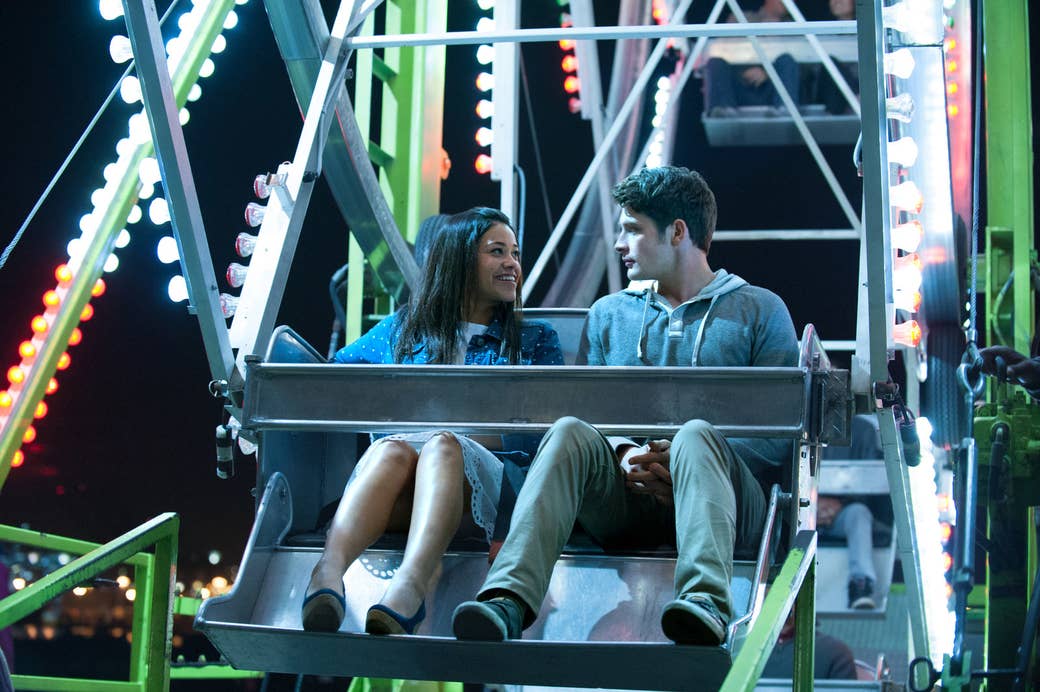 In the second season of the CW show Jane the Virgin, 25-year-old Jane Villanueva (Gina Rodriguez) is finally ready to stop safeguarding her virginity. She has a crush on her writing mentor, Professor Jonathan Chavez (Adam Rodriguez), and eventually the two begin exchanging steamy texts that send Jane rushing to his house, wearing only a T-shirt and a pair of panties. Because of her Catholic faith, Jane wanted to wait until marriage, but after being accidentally artificially inseminated and giving birth, Jane decides it's absurd to hold on to her virginity. When she arrives at Professor Chavez's to have sex — casual sex at that — she suddenly starts pulling her shirt down in a late attempt at modesty. He immediately pulls her inside and says, "I want you so badly," before pushing her against the nearest wall and kissing her until their mouths are swollen from the urgency. But when he directs her to the bedroom, condom wrapper in hand, Jane becomes overwhelmed and begins to cry. He asks if she's okay and she keeps kissing him, assuring him between sobs that she's fine; she really wants this. But Jane clearly isn't sure. Professor Chavez kisses her forehead, holds her close, and sends her home in a pair of his sweatpants.
Jane may not have been able to go through with her decision to have sex for the first time, but her willingness to take her life into her own hands and begin exploring her sexuality are worthy of recognition and praise. Much like Jane the Virgin, the British show Chewing Gum tackles themes about a virgin moving past a strict religious upbringing to explore her sexuality. In the opening scene of the premiere season, Tracey Gordon (Michaela Coel) becomes distracted from her prayer session with her fiancé Ronald (John Macmillan) because she's so engrossed in staring at his crotch. She's tired of being a virgin and has begun to question the need to wait for marriage. Unlike Jane, who has experimented with her fiancé Michael, Tracey is completely ignorant about physical intimacy. She's never even kissed anyone before. Over the course of Chewing Gum's first season, Tracey stumbles her way through learning about sex and who she is outside of her conservative Christian household.
Televised portrayals of sex still remain largely focused on white bodies (See Girls and Fleabag). And though more people recognize that sexual identity exists on a spectrum, women who are sexually conservative and aren't mocked or caricatured for it on TV is still pretty rare. (One notable exception is Unbreakable Kimmy Schmidt: The main character is sexually naïve but it's compounded by the trauma she experienced after being held prisoner in a doomsday cult.) In the midst of today's current television landscape that features women exploring sexual freedom, a more conservative point of view still relies on the experience of white women. Jane the Virgin and Chewing Gum provide women of color the opportunity to see themselves as conservative and learning as well.
This display helps expand what we think owning one's sexuality looks like and break down the stereotype that women of color — particularly black and Latina women — are oversexed and hypersexualized. Why does sexual empowerment always have to come with the price of promiscuity? Feminism relies on the freedom of choice.
Sexual identity and its expressions have played a major part in the feminist movement. With each new wave of feminism, comedies like The Mary Tyler Moore Show, its spinoff Rhoda, and Maude tackled controversial subjects such as birth control use, abortion, and living with a male romantic partner without being married. Golden Girls and Sex and the City celebrated friendships between women and exposed women's sexualities as a spectrum from the conservative, naïve friend (Rose, Charlotte) to the promiscuous, man-hungry one (Blanche, Samantha). Shows dedicated to black women's friendships such as A Different World and Living Single followed a similar pattern with Whitley and Synclaire as the more sexually conservative women waiting for someone special to marry and "go all the way" with.
The television show Girlfriends was one of very few black-led ensemble shows that featured all of its female leads with healthy, active sex lives, regardless of their relationship status. Joan, Toni, and Lynn all began the series as single but dating. Maya was the only married friend, but even in her marriage, she and her husband experimented with roleplay to keep their sex life fresh. Today, shows like How to Get Away With Murder, Scandal, and Being Mary Jane all have black women protagonists who make no secret of their desires and who go after what (and whom) they want. However, the leads in those shows also frequently have extramarital affairs. Shows like Jane the Virgin and Chewing Gum have protagonists who are conservative but able to explore their sexuality in ways that don't compromise their morals or ethics.
Shows like Jane the Virgin and Chewing Gum have protagonists who are conservative but able to explore their sexuality in ways that don't compromise their morals or ethics.
Jane the Virgin, a CW remake of the Venezuelan telenovela Juana la Virgen, gives audiences a protagonist who is feminist and traditional without shaming her for the decisions she makes about her love life. Jane's grandmother's strict religious upbringing and her mother's carefree lifestyle and promiscuity contribute to Jane wanting to wait until marriage to have sex. Showrunner Jennie Snyder Urman knew she wanted to portray how three generations of women allow religion to affect their lives, with Jane in the middle of two extremes.
But although she is a virgin, Jane is not sexually inexperienced. "I wanted her to be a virgin, not a prude," Urman has said. When Jane the Virgin first began in 2014, Jane was two years into her relationship with her fiancé, police officer Michael Cordero (Brett Dier). During what was supposed to be a routine visit to the OB-GYN, she was accidentally artificially inseminated with the sperm of a wealthy hotel magnate, Rafael Solano (Justin Baldoni). After discovering her pregnancy and opting to continue it, Jane and Rafael began to get to know each other and formed an intense attraction, creating a love triangle. By the middle of Season 2, Jane has tried to move on from Rafael and Michael, hence her dalliance with Professor Chavez. Before Jane's marriage at the end of Season 2, she and Michael engaged in sexual activities, some of which led to orgasms for Jane. Before the accidental insemination, and throughout her pregnancy, Jane and Rafael shared some steamy kisses and makeout sessions. Jane is also a big fan of romance novels that come with plenty of erotic material, so she's no shrinking violet when it comes to sex. Because of her long-term commitment to Michael, Jane has been comfortable exploring her sexuality and figuring out what she likes.
Jane the Virgin allows Jane to learn about her body so that when she finally does consummate her relationship with her husband in season three, she knows what works for her and what doesn't. When Jane finally does have sex, it's not perfect, even with the man of her dreams. Jane is a rare character — a sexually conservative woman who still holds onto her principles without being hectoring or a crude archetype.
Even though Jane may have somewhat traditional values when it comes to her love life, she's adamant about pursuing her education and her career as a writer. She refuses to give up even when life throws her unexpected obstacles like an accidental pregnancy. And though Jane's sex life may be part of the title of the show, she is so much more than her sexual status. In some ways, she's a 21st-century version of Mary Tyler Moore, updated, but still grappling with the same feminist concerns.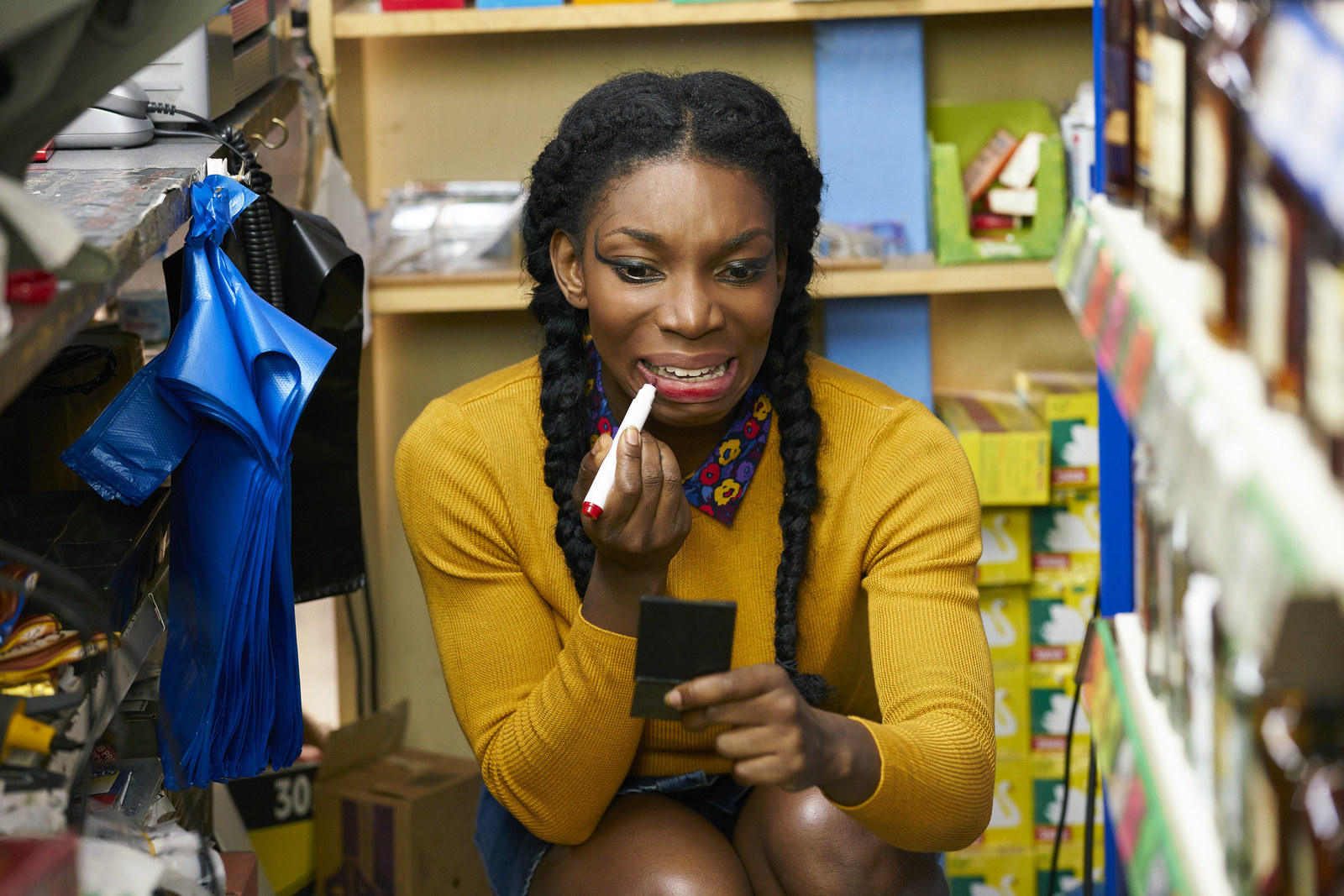 In Chewing Gum, Tracey is a 24-year-old virgin whose evangelical Pentecostal upbringing leaves her ignorant to the desires of her body. She's engaged to Ronald, a closeted gay man who uses religious fervor as an excuse to avoid physical intimacy. Shortly after the series begins, she attempts to seduce him using advice from her more sexually adventurous friend Candice (Danielle Isaie), but Ronald shames Tracey and gets hit by a bus as he tries to escape. Tracey realizes she needs to be more proactive in the pursuit of an active sex life and begins dating her neighbor Connor Jones (Robert Lonsdale), a terrible would-be poet who lives with his mother.
One night, Candice throws a party and eventually, Tracey and Connor find themselves in one of the bedrooms. They start to make out but Tracey has no idea how to kiss; her naïve enthusiasm leads her to lick and bite Connor's nose, eyebrows, and hair. Remembering some of Candice's earlier advice, Tracey decides to sit on Connor's face during sex, but she doesn't know she should take off her underwear or that it's a pretty overt euphemism for cunnilingus. Connor remains patient throughout all of Tracey's fumbling, letting her set the pace and respecting her need to figure out his body and hers.
Tracey's sexual exploration within a relationship serves as a strong example for many women who feel left out of sex-positive movements that seek to destigmatize promiscuity. Not all feminist women are interested in having multiple sex partners or engaging in sex with partners they don't feel connected to. Sexual exploration does not have to include promiscuity. It can be a part of a committed relationship, but communication is essential.
Feminist campaigns such as slut walks and sex-positive media have done a lot to help women reclaim their own sexual agency. But as people begin to recognize that sexuality can present itself across a spectrum, more conservative and traditional people get left out of the discussion, particularly if they're conservative because of their faiths. Shows like Jane the Virgin and Chewing Gum help women of color with more traditional views about sex feel connected to the larger movement that insists on amplifying the sexual progress of white women. That's because Jane and Tracey allow women of color to see themselves and the various ways one can learn about desire while remaining true to one's moral beliefs.
Choice is an essential part of feminism. Women can and should be whatever they want. However, if there is only a limited version of what a feminist looks like and how a feminist acts, it can be restricting in a different way. Hopefully shows like Jane the Virgin and Chewing Gum make room for various portrayals of feminist heroines. Feminists aren't always badasses with overt sexualities. Showcasing women choosing to embrace their conservative sex lives shows there is no one way to be a feminist, no one way to be a woman.
Want more of the best in cultural criticism, literary arts, and personal essays? Sign up for the BuzzFeed Reader newsletter!