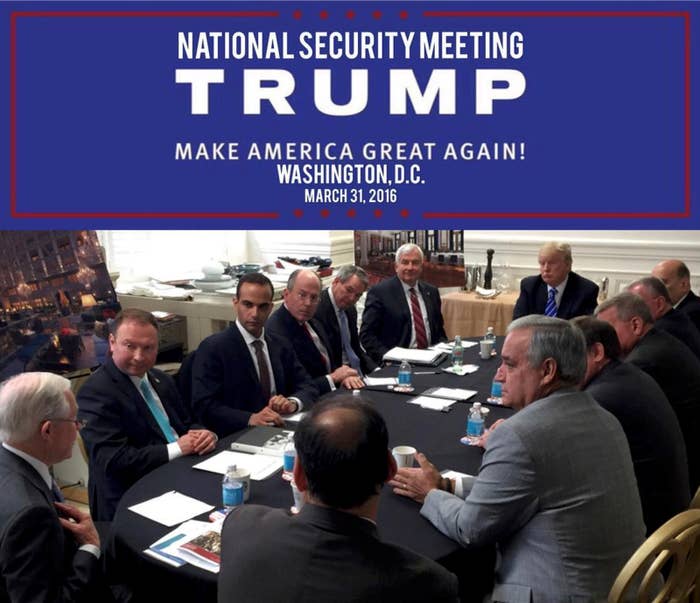 A series of meetings between Russians and three Trump campaign advisers in a six-week span last year provide the strongest evidence yet that the Kremlin had mounted an intelligence operation aimed at infiltrating the campaign, according to former intelligence officials and experts.
The recent acknowledgments by advisers Carter Page and George Papadopoulos that they talked with Russians and Russian officials around the same time that Donald Trump Jr. met with a Kremlin advocate indicates a coordinated effort to recruit Trump associates, possibly for eliciting information and conveying messages, intelligence experts told BuzzFeed News.
"I don't think there can be any doubt now that the Russians were targeting the Trump campaign, and there were members of the Trump campaign who were receptive to those approaches," said Asha Rangappa, a former FBI counterintelligence agent in New York who now lectures at Yale University's Jackson Institute for Global Affairs.
The failure of both Trump Jr. and Papadopoulos to inform US authorities that their Russian contacts said they had incriminating information about Hillary Clinton would have emboldened Russian intelligence to continue reaching out to Trump associates, the experts told BuzzFeed News.
"Their overtures weren't rejected, and there was presumably no reporting of the [Trump Jr.] meeting by the Trump side to the appropriate authorities. They would have felt confident they weren't dealing with a reluctant partner," said Rolf Mowatt-Larssen, who was a CIA intelligence officer for 23 years and director of intelligence and counterintelligence at the US Energy Department.
The contacts illustrate the overlooked role in the 2016 election of Russian intelligence, which has flourished under Putin, a former spy. While President Donald Trump continues to say he's skeptical that Russia interfered in the election and denies that there was any collusion between his campaign and Russian authorities, outside experts say they believe there can now be little doubt that the Russian government was trying to penetrate the campaign.
The timing of Russia's outreach was critical to the way the probe into Russia's election meddling has unfolded.
Foreign policy advisers Page and Papadopoulos revealed in recent congressional testimony and court documents that between April 2016 and July 2016 they met, spoke, and exchanged emails with Russians who gushed about Trump and wanted to bring him closer to Russian President Vladimir Putin.
In May 2016, as Trump sealed the Republican presidential nomination and expressed optimism about relations with Putin, he installed as campaign chairman Paul Manafort, a Republican operative who consulted for a Russia-friendly Ukrainian political party from 2006 to 2015.
In June 2016, in the so-called Trump Tower meeting, Trump Jr. met a Kremlin-connected Russian lawyer who he'd been told wanted to share incriminating information about Hillary Clinton. Manafort and Trump's son-in-law Jared Kushner also attended the meeting.
The FBI launched a counterintelligence investigation one month later, reacting to what former CIA director John Brennan told Congress was growing alarm over "contacts and interactions between Russian officials and US persons involved in the Trump campaign." The investigation became special counsel Robert Mueller's probe into possible coordination between the Trump campaign and Russia's meddling in the 2016 presidential election.
The Russian outreach to Page, Papadopoulos, and Trump Jr. brims with hallmarks of Russian intelligence, including the use of nongovernment intermediaries, or "cutouts," whose unofficial status would let the Kremlin deny involvement, the experts said. It also shows the ambition of Russian intelligence, which has been overshadowed by reports of its social-media efforts to influence the 2016 election.
"This just smacks of a classic intelligence operation," John Sipher, a retired CIA officer who lived in Russia in the 1990s and was deputy of the CIA's Russia program in the early 2000s, told BuzzFeed News.
US officials have not said what contacts triggered the investigation into Russian intelligence efforts. On Sunday, former national intelligence director James Clapper Jr. told CNN's State of the Union that he had he not known while in office that Trump Jr. agreed to meet with a Russian lawyer promising dirt on Clinton or that a professor had told Papadopoulos that "the Russians" had damaging information on her as well as emails.
If Page, Papadopoulos, or Trump Jr. detected anything suspicious about the motives of their Russian contacts, there's no record of it. Brennan noted in congressional testimony in May that "frequently, people who go along a treasonous path do not know they are on a treasonous path until it's too late."
Trump, who has questioned the US intelligence community's assessment that Russia interfered in the election, said Saturday that he believed Putin's statement to him at a summit in Vietnam that Russia did not meddle.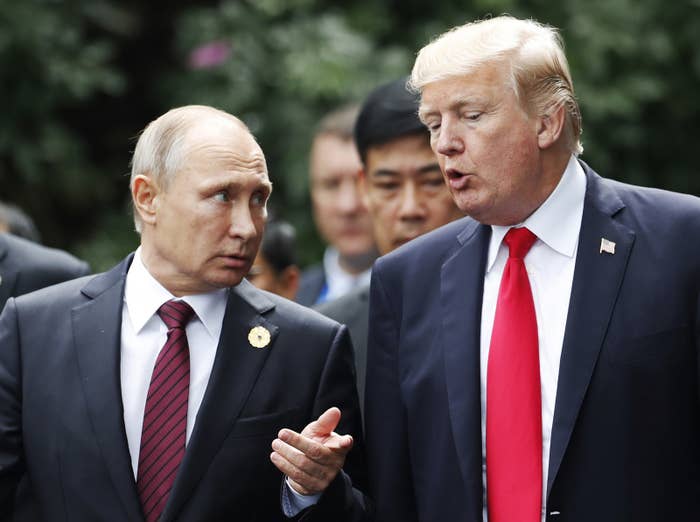 Papadopoulos's lawyers did not respond to a request for comment for this story. Page declined to answer questions from BuzzFeed News and referred to previously released letters in which he denies any wrongdoing in Russia. Trump Jr. has said his meeting with a Russian was insignificant.
The interactions of all three men with Russians, however, followed a rudimentary pattern pulled from an intelligence playbook: Each was drawn into contacts by seemingly trustworthy people with no apparent intelligence connections.
Papadopoulos was introduced to two Russians with supposed political connections by a professor he had met in Italy.
Page met with Russians such as oil- and gas-company officials when he traveled to Moscow in July 2016 at the invitation of the head of a university where he gave a speech.
Trump Jr. received an email from a publicist he knew, Rob Goldstone, who said a Russian prosecutor wanted to give the Trump campaign documents that would incriminate Clinton "and her dealings with Russia." Goldstone told Trump Jr. he was reaching out on behalf of a client, Russian pop star Emin Agalarov, whose father is a real-estate tycoon and helped Donald Trump bring his 2013 Miss Universe contest to Moscow.
"There was an intense effort to get Donald Trump and Vladimir Putin together, and there was an intense effort to get ahold of Hillary Clinton's emails," Rep. Eric Swalwell, a Democrat on the House intelligence committee, told BuzzFeed News.
Papadopoulos's interactions came first. He met the professor, Joseph Mifsud, in March 2016 shortly after Trump named him an adviser. Mifsud quickly introduced him to a supposed relative of Putin and an official connected to Russia's foreign affairs ministry.
Told of Russia's support of Trump and a desire for a meeting between Putin and Trump, the inexperienced adviser appeared to take the bait. He relayed the messages to top campaign officials, boasted about the possibility of a "history-making" meeting, and assured the Trump campaign that "he had connections" to make the meeting happen, according to FBI records.
Papadopoulos pleaded guilty in October to lying to the FBI about his exchanges in an effort to minimize them.
"Papadopoulos was showing such a willingness, he was almost pushing the Russians to try to move the relationship along," said Sipher, the former CIA officer. "Maybe in a subtle way they were trying to create a quid pro quo."
In late April 2016, Mifsud raised the stakes. Meeting Papadopoulos for breakfast at a London hotel, Mifsud said he had recently met senior Russian officials in Moscow and learned that Russians had "dirt" on Clinton, including "thousands of emails," according to the FBI.
Papadopoulos never collected any dirt or emails. But he also apparently did not tell authorities about Mifsud's statement — an omission that could have sent an important signal to Russia, the experts say.
Six weeks later, after hearing about a Russian official with records that would damage Clinton, Trump Jr. met Russian lawyer Natalia Veselnitskaya at Trump Tower in Manhattan.
Trump Jr. has minimized the June 9, 2016, meeting as standard opposition research and called it useless because Veselnitskaya "had no meaningful information."
Four weeks later, Carter Page flew to Moscow at the expense of the New Economic School, which had invited him in the spring to give a speech.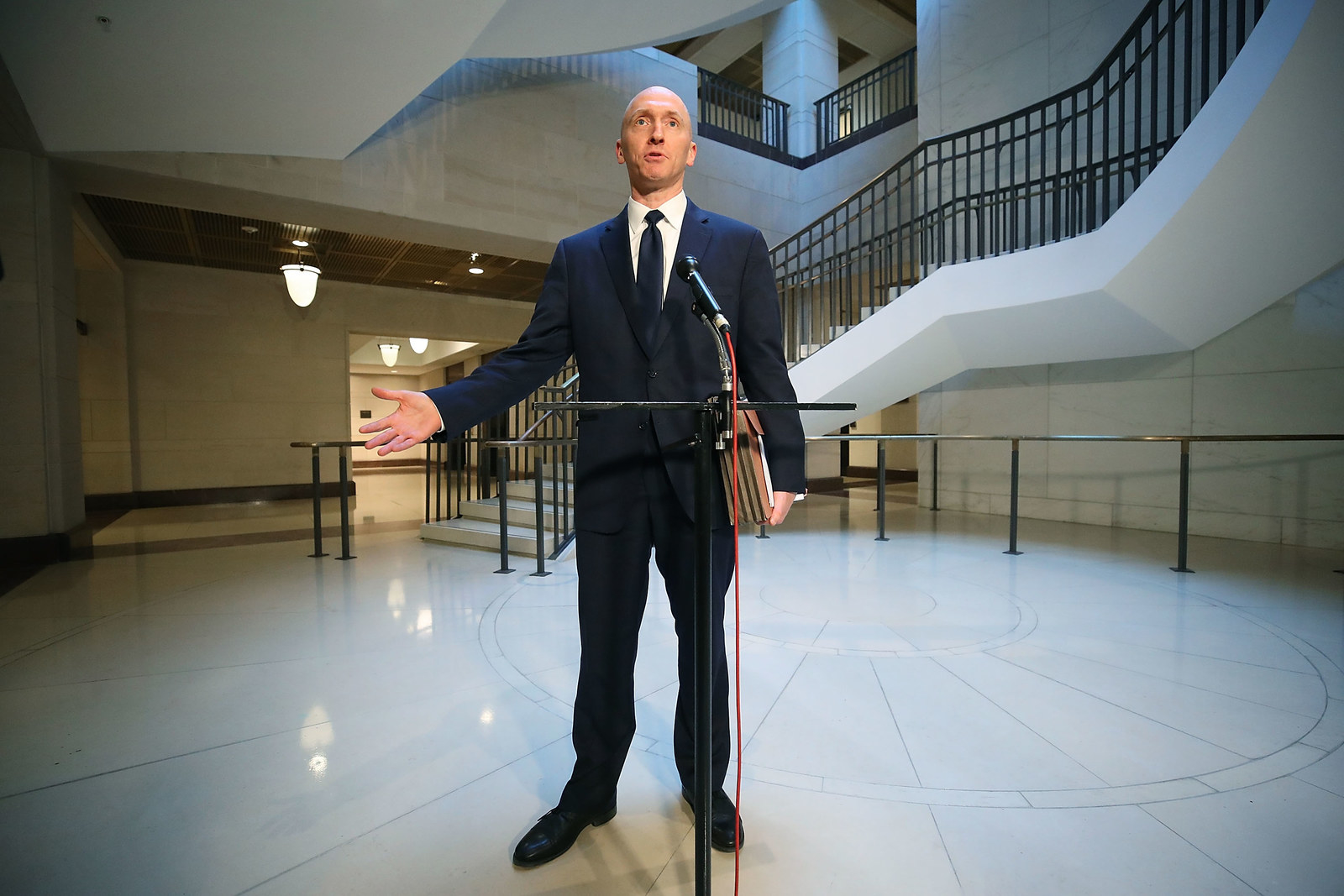 Russian intelligence would have certainly known Page, who lived in Moscow from 2004 to 2007 while working for Merrill Lynch and had consulted for Gazprom, a Russian natural-gas company. A Russian spy tried to recruit Page in 2013 when Page was an energy consultant in New York City, prompting the FBI to intervene and warn Page off.
"Certainly the Russians would have interpreted his arrival in Moscow with his status in the campaign as a response to the initiatives they were taking," said Mowatt-Larssen, the former CIA and Energy Department official.
Page has insisted that he went to Moscow as a private citizen — not as a campaign representative — to deliver a lecture and meet with Russian academics. But some academics are known to work for Russian intelligence, and could have been using Page without his knowledge.
FBI special agent Robert Gibbs said in an affidavit in Papadopoulos's criminal case that the Russian government "has used individuals associated with academia and think tanks" as intelligence intermediaries.
"That is a very routine matter for the Russian intelligence services to use individuals like that as go-between," said former Defense Department special counsel Ryan Goodman, who is now a professor at New York University law school.
And Page would be "the very kind of target the Russians would seek out, especially given his statements against the United States and in favor of Putin and Moscow," Goodman added. "It would almost be a dereliction of their responsibilities to not try to target him."
Page confirmed to the House intelligence committee Nov. 2 that he sent two effusive emails to campaign officials in July 2016 after meeting Russians in Moscow, where he had been invited to speak at a university. In one email he gushed about "outreach I've received from a few Russian legislators and senior members of the Presidential administration here."
Page boasted in the other email about his "private conversation" with Deputy Prime Minister Arkady Dvorkovich, who expressed "strong support for Mr. Trump and a desire to work together" on international affairs.
Sipher, the retired CIA officer, said the exchanges suggest to him that Russian operatives "were courting [Page] to have him bring messages back and forth" between Russian intelligence and the Trump campaign.
While the recent revelations appear to make clear the efforts of Russian intelligence, they do not answer the central question about collusion.
"I think we have proved beyond all doubt that the Trump team was eager and willing to work with the Russians," said Swalwell, the House intelligence committee member. "Now we are trying to understand, what was the extent of that relationship? Was it an active working partnership with an exchange of information? Was money exchanged? Were any promises made?"