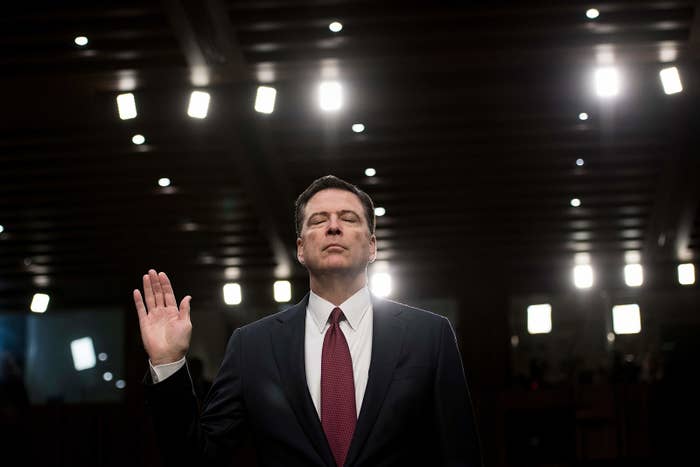 An FBI agent accused of being biased against President Donald Trump may have played a role in helping elect Trump by working on a memo shortly before Election Day 2016 announcing that the FBI was reopening an investigation into Hillary Clinton.
The agent, Peter Strzok, has been sharply criticized for exchanging emails with another FBI employee in 2016 ridiculing Trump and seeming to hope for a Clinton victory. The discovery of Strzok's email exchange with lawyer Lisa Page led special counsel Robert Mueller to dismiss Strzok from his investigation into Russian meddling in the 2016 election.
But newly released emails show that Strzok helped draft an announcement in October 2016 that the FBI had received new information about Clinton's emails and was reopening an investigation it had closed in early July 2016 after finding no criminal wrongdoing. Strzok was a lead investigator on the FBI's probe into whether Clinton broke the law as secretary of state by sending official emails through a personal server. The new emails were first reported by CNN.
Clinton wrote in her latest book, "What Happened," that Comey's announcement on Oct. 28, 2016 – 11 days before Election Day – was the biggest factor in her loss to Trump. She said last year on TV, "If the election had been on Oct. 27, I would be your president." Some election experts have concurred, saying that Clinton's lead in national polls began to shrink in the campaign's final days, and that late-deciding voters favored Trump by a substantial margin.
The newly disclosed documents include an Oct. 27, 2016, email that Strzok sent to FBI colleagues with a subject line, "Draft of Congressional notification." The email includes a proposed FBI statement and a note from Strzok calling the draft a "first cut" written by "Jon and me." Jon appears to refer to FBI agent Jonathan C. Mofofa, who is copied on the email.
The draft statement written by Strzok closely resembles the wording then-FBI Director James Comey used in his Oct. 28, 2016, letter to eight members of Congress. Both the draft and the final statement note that the FBI "learned of the existence of new emails" possibly related to the investigation into Clinton's use of a private email server and would investigate to determine if they contained classified information. The "new emails" were found on a laptop computer used by former Rep. Anthony Weiner, who had been married to Huma Abedin, a close Clinton aide.
But there were several changes to the draft written by Strzok. In Strzok's draft, Comey's letter begins, "In previous Congressional testimony, I referred, under oath, to the fact that the Federal Bureau of Investigation had completed its investigation of former Secretary Clinton's personal email server."
Comey's final letter removed the phrase "under oath."
Comey's final letter also added a clause not included in Strzok's draft stating, "I cannot predict how long it will take us to complete this additional work."
FBI determined that the new emails were not relevant and announced on Nov. 6, 2016 – two days before the election – that it stood by its earlier conclusion that Clinton had not violated any law. Clinton has said that Comey's statement occurred too late in the campaign to undo the damage inflicted by the Oct. 28 letter.