More than one-fifth of Donald Trump's US condominiums have been purchased since the 1980s in secretive, all-cash transactions that enable buyers to avoid legal scrutiny by shielding their finances and identities, a BuzzFeed News investigation has found.
Records show that more than 1,300 Trump condominiums were bought not by people but by shell companies, and that the purchases were made without a mortgage, avoiding inquiries from lenders.
Those two characteristics signal that a buyer may be laundering money, the Treasury Department has said in a series of statements since 2016. Treasury's financial-crimes unit has, in recent years, launched investigations around the country into all-cash shell-company real-estate purchases amid concerns that some such sales may involve money laundering. The agency is considering requiring real-estate professionals to adopt anti-money-laundering programs.
All-cash purchases by shell companies do not by themselves indicate illegal or improper activity, and they have become more common in recent years in both Trump buildings and other luxury home sales across the United States. Developers such as Trump have no obligation to scrutinize their purchasers or their funding sources.
But federal investigations "continue to reveal corrupt politicians, drug traffickers and other criminals using shell companies to purchase luxury real estate with cash," Treasury's former financial-crimes chief Jennifer Shasky Calvery said at a Capitol Hill hearing in 2016.
Treasury's Financial Crimes Enforcement Network (FinCEN) broadcast that concern in an August 2017 advisory to the real-estate industry warning that all-cash real-estate purchases by shell companies are "an attractive avenue for criminals to launder illegal proceeds while masking their identities."
Neither the White House nor the Trump Organization responded to repeated requests for comment. A former longtime Trump Organization official who asked not to be named said that all-cash shell-company purchases are common among rich buyers, particularly foreigners trying to put their money in safe investments.
Trump condo sales that match Treasury's characteristics of possible money laundering totaled $1.5 billion, BuzzFeed News calculated. They accounted for 21% of the 6,400 Trump condos sold in the US. Those figures include condos that Trump developed as well as condos that others developed in his name under licensing deals that pay Trump a fee or a percentage of sales.
Hundreds of Trump condo sales have characteristics that experts warn may be indicative of money laundering.
Some of the secretive sales date back more than three decades, long before recent worries that Russians tried to influence Trump by pouring millions of dollars into his businesses.
But a months-long BuzzFeed News examination of every Trump condominium sale in the US shows that such sales surged in the late 2000s and early 2010s, when some Trump businesses were in financial trouble and when Donald Trump Jr. made his now-famous remark about the Trump Organization seeing "a lot of money pouring in from Russia."

The surge was driven by the opening of 11 Trump condo buildings between 2008 and 2010 as Trump shifted his real-estate business from developing high-rises to licensing them. Nine were Trump-licensed, and they drew hundreds of shell companies that paid an average of $1.2 million in cash for a condo. In six of the licensed buildings, cash-paying shell companies bought at least a third of the condos, records show.
It's not clear how much Trump received from the sale of Trump-licensed condos, but when Trump announced his candidacy in 2015, he said his "real estate licensing deals" and other brands were worth $3.3 billion.
At the Trump SoHo Hotel Condominium New York in Manhattan, 77% of the sales were to shell companies that paid cash. One of the project's Russia-born developers was convicted of money laundering in the 1990s. A pending lawsuit calls Trump SoHo a "monument to spectacularly corrupt money-laundering and tax evasion," though it says in a footnote that "there is no evidence that Trump took any part in, or knew of, their racketeering."
Trump was a minority owner in the project, whose developers have denied any impropriety.
Hundreds of the secretive Trump condo sales contain additional characteristics that FinCEN and experts warn may be indicative of money laundering.
More than $205 million in sales were to corporations based in foreign jurisdictions known for keeping corporate records and banking information secret. The corporations were based mostly in the British Virgin Islands and Panama, two places the Treasury Department has linked to money laundering. Other jurisdictions include Bermuda, Cayman Islands, Cyprus, Gibraltar, Guernsey, Hong Kong, Isle of Man, Jersey, Luxembourg, Monaco, Netherlands Antilles, Switzerland, and St. Vincent and Grenadines.

Corporations registered in Delaware, which FinCEN says provides "the least transparency" with corporate records of any state, bought an additional 75 Trump condos in all-cash sales that totaled $129 million. "If the corporation is set up in places where there's some level of confidentiality, which includes Delaware, that's another red flag," John Madinger, a retired Treasury official and IRS special agent who investigated financial crimes, said, speaking generally about property sales.
Eighty-three percent of the secretive sales occurred in markets that FinCEN is investigating for possible money laundering in real estate sales. In those markets – Manhattan, South Florida, and Honolulu – FinCEN is examining every luxury-home sale to a shell company that paid cash.

At least 28 shell companies resold their Trump properties within six months of buying them in cash. The National Association of Realtors says that immediate resales can indicate money laundering, "especially if the resale price is significantly higher or lower than the original purchase price."

At the Trump International Hotel and Tower in Manhattan, a shell company bought a nine-room condo for $2.26 million on Sept. 10, 1997, and sold it eight weeks later to another shell company – for $3 million, a 33% gain.
In Miami-Dade County, Florida, a shell company bought a two-bedroom condo in a Trump-licensed building on Aug. 12, 2010, for $956,768. The company sold the condo to another shell company for $525,000 that same day.
Half of the secretive sales – with a total value of $769 million – were made to a particularly opaque type of shell company called a limited-liability company, or LLC, which FinCEN says is "inherently vulnerable to abuse."

Thirty-nine secretive sales were for more than $5 million in current dollars – an amount that one anti-money-laundering advocate says should prompt a seller to scrutinize the buyer. All but four of the sales were in buildings that Trump developed, earning him $241 million.

"It's not that common for someone to buy expensive real estate with cash, and if it's a shell company, you want to find out who the buyer is and the sources of their funds," said Shruti Shah, vice president of programs and operations at the Coalition for Integrity, an anti-corruption group. "It could be illicit money from foreign corruption, drug trafficking, human trafficking – all sorts of bad things."
With their soaring glass facades, top-flight amenities and bold Trump logos, the condo buildings are the most visible symbol of the president's multi-billion-dollar business empire. They've been a steady income source for Trump even when other enterprises such as casinos, an airline, and a pro football team foundered.

Nine of the buildings are in Manhattan, seven are in South Florida, and one each is in Chicago; Honolulu; Las Vegas; Jersey City, New Jersey; Stamford, Connecticut; and White Plains, New York.
New York City Properties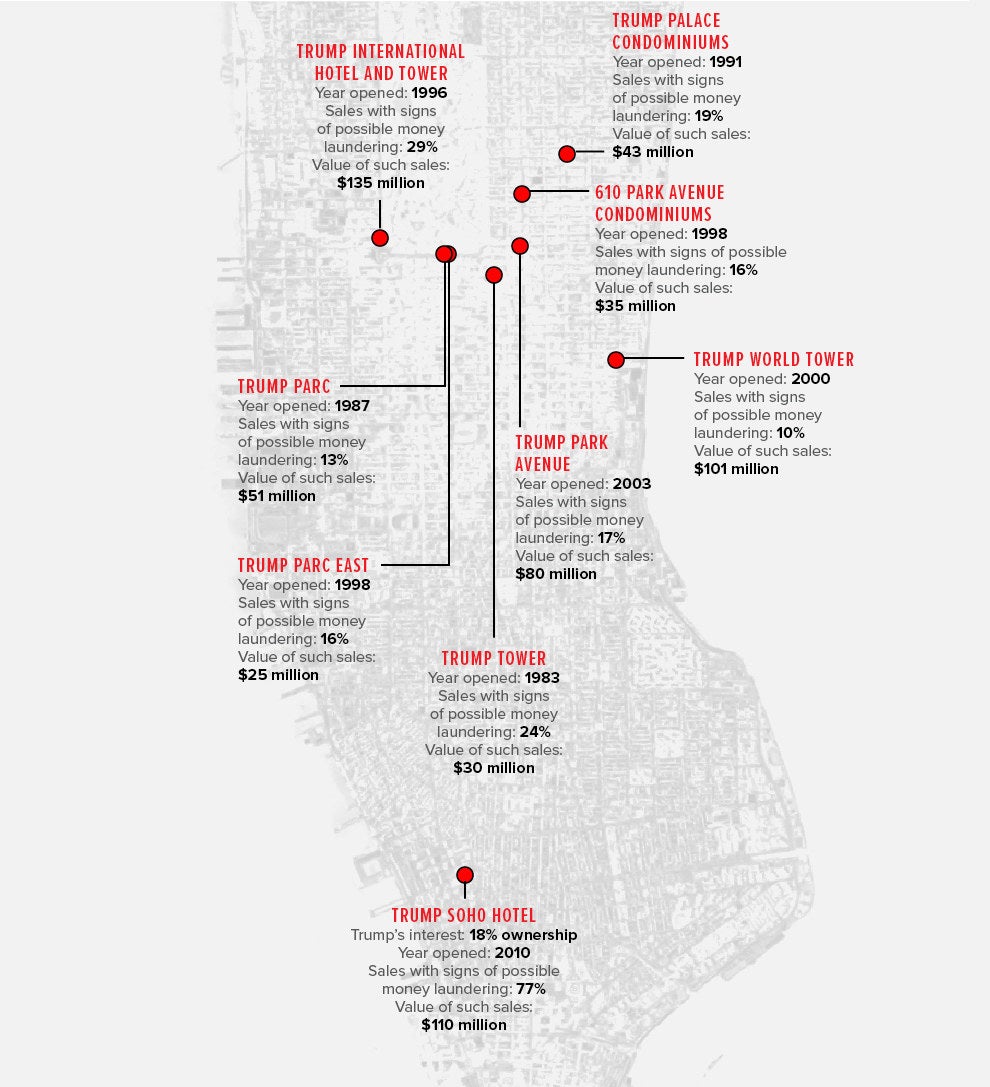 BuzzFeed News' months-long investigation is the first to examine sales of Trump condominiums for indicators of possible money laundering and the most comprehensive analysis to date of all 22 Trump condo towers in the US.
BuzzFeed News examined Trump condo sales using online property records to determine the original buyers of each unit and whether they obtained a mortgage or paid cash. For buyers that were legal entities and not people, BuzzFeed News analyzed them using corporation records, property records, and other online documents to determine whether they were established businesses or shell companies, which typically generate little economic value.
The investigation identified 1,326 all-cash sales – some involving more than one condo unit – to shell companies.
The property records analyzed by BuzzFeed News would not by themselves reveal money laundering – only warning signs. And Trump is not unique in selling condos to cash-paying shell companies. BuzzFeed News examined non-Trump buildings in Manhattan and South Florida and found that roughly the same percentage of units were sold to shell companies in all-cash transactions as in Trump buildings.
Such sales are increasingly common in the expensive real estate markets where Trump has operated such as Manhattan and Florida's Miami-Dade County. Rich investors often buy expensive homes through shell companies for legitimate purposes such as tax advantages, legal protection, and privacy.
Florida Properties
Trump has been selling condos to secretive buyers for decades, the property records show.
When the signature Trump Tower opened in Manhattan in 1983, shell companies based in secretive foreign jurisdictions such as Panama, Cayman Islands, and the British Virgin Islands bought 43 condos in cash, BuzzFeed News found. Delaware-based corporations bought another six condos in cash.
The State Department says the British Virgin Islands has "significant money laundering risks," Panama is "an attractive target for money laundering," and in Cayman Islands, money laundering mostly involves "fraud, tax evasion and drug trafficking."
Delaware is "a haven for transnational crime," according to the anti-corruption group Transparency International, because "extreme corporate secrecy enables corrupt people, shady companies, drug traffickers, embezzlers and fraudsters to cover their tracks when shifting dirty money from one place to another."
Trump has not developed a condo building in Manhattan since 2003.
Trump himself signed the deed for each secretive sale at Trump Tower and collected $28 million.
Understanding how much Trump made from all-cash sales to shell companies is complicated by a shift in the way Trump did business. Before the shift, Trump developed the buildings himself, keeping the profits. But in the 2000s he began licensing the use of his name on buildings for a fee or a percentage of sales or both, leaving the construction and sales to others. Of the $1.5 billion in secretive sales documented by BuzzFeed News, $870 million – 58% – came from such licensing deals.
Despite his association with Manhattan, Trump has not developed a condo building there since 2003, when he opened the Trump Park Avenue. He has developed just two condo buildings in the US since 2003 – high-rises in Chicago and Las Vegas. At the same time, he has licensed 12 Trump-branded towers: seven in Florida, four in the New York City area and one in Hawaii.

Neither Trump nor his licensees have disclosed terms of the agreements. Trump also has declined to release his tax returns, breaking a precedent followed by presidents since Richard Nixon.
Trump's federally required financial disclosures for 2015 and 2016, however, give a glimpse into his real-estate licensing business and show that it generates significantly less revenue than his condo sales. The disclosures show that Trump received $69 million from condos that he sold and between $500,000 and $5 million from condos sold by licensees in the US.

The developer of a Trump-licensed condo building in Hollywood, Florida, said there was nothing unusual about its sales, which occurred between 2009 and 2013. BuzzFeed News found 43% of the buyers there were cash-paying shell companies that spent $136 million buying 85 units.

"There are many reasons for setting up entities to own real estate, especially for estate planning and the purchase of a second home, which is extremely common in South Florida," Betsy McCoy, general counsel of The Related Group, the Florida company that developed the project, told BuzzFeed News.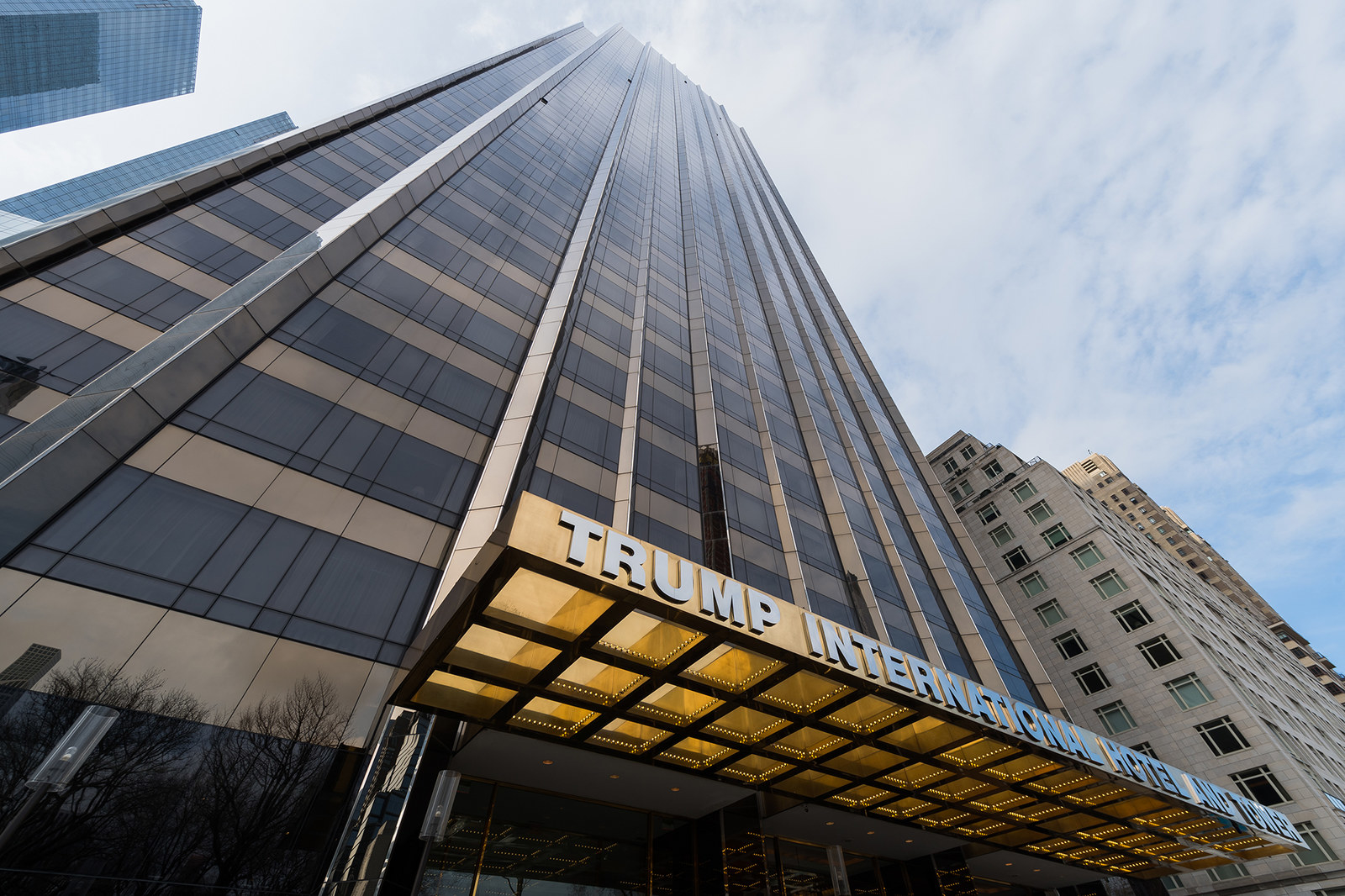 Secretive Trump condo sales surged initially in 1997 and 1998 as most Wall Street banks stopped lending to Trump after two of his Atlantic City casinos filed for bankruptcy. Trump reported $916 million in business losses in 1995, according to his 1996 tax return, which was leaked to the New York Times in the final weeks of the 2016 campaign.
The surge occurred when Trump opened his fourth high-rise, the Trump International Hotel and Tower, in Manhattan in December 1996. Shell companies bought 92 of the building's 322 units in cash – 29% – including eight of the 12 units that sold for more than $5 million, records show.
The sales amounted to $134 million – more than Trump had received in secretive sales from his three other buildings combined.
From 1999 through 2007, secretive sales leveled off at an average of $23 million a year – 11% of units sold – before rising starting in 2008 during a crucial period for Trump. BuzzFeed News found that in the five years from 2008 through 2012, shell companies spent $890 million buying 823 Trump condos in cash – 25% of units sold. That's $178 million a year on average. More than 87% of those sales were in Trump-licensed buildings.
In 2008, as the Great Recession cooled real-estate markets, Trump could not make a payment on a bank loan that he had guaranteed personally for $40 million. Trump Entertainment Resorts, which owned the Trump Taj Mahal casino in Atlantic City, faced a $53-million payment to bondholders. Trump forestalled the bank payment by suing the lender, Deutsche Bank. The casino filed for bankruptcy in 2009.
At the same time, Trump became financially entwined with Russians. In March 2008, a Russian billionaire paid Trump $95 million for a Palm Beach, Florida, estate that Trump had bought four years earlier for $41 million. Donald Trump Jr. told a Moscow real-estate conference in June 2008 that his father's company, the Trump Organization, was planning to build condos and hotels in Russia. And he told a New York conference in September 2008, "We see a lot of money pouring in from Russia."
Trump Jr. was executive vice president of development and acquisitions at the Trump Organization, which opened two major condo towers in early 2008 after a four-year lull. By the time Trump Jr. made his now-famous comment in September 2008, cash-paying shell companies had bought $43 million worth of condos at the Trump International Hotel and Tower Chicago and at the Trump International Hotel Las Vegas.
At a Trump-licensed condo building in Miami-Dade, cash-paying shell companies had bought $32 million worth of condos.
During this time, the future president and his children also were heavily promoting the Trump SoHo, a lower Manhattan high-rise that has been mired in controversy. In his September 2008 remarks, Donald Jr. cited the project: "In terms of high-end product influx into the US, Russians make up a pretty disproportionate cross-section of a lot of our assets; say in Dubai, and certainly with our project in SoHo and anywhere in New York."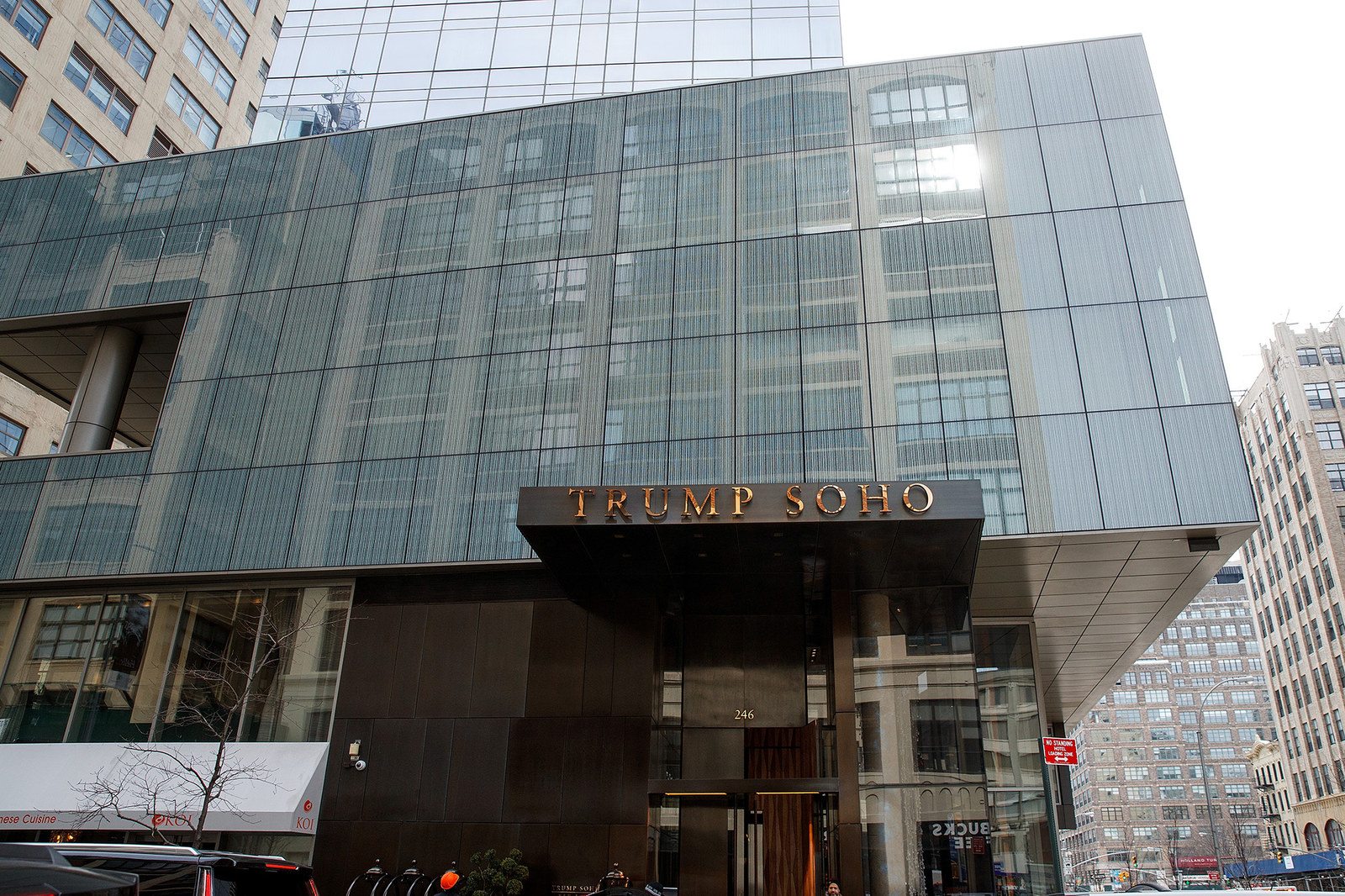 The Trump SoHo was a troubled project from its inception, as two Soviet-born developers envisioned a residential tower in a Manhattan neighborhood that did not allow such buildings. They signed on Trump as a minority partner in the mid-2000s to capitalize on his popularity, driven by his TV show "The Apprentice."

The controversies have been widely publicized – including a criminal investigation – but it has not been disclosed until now that the Trump SoHo units were bought overwhelmingly by cash-paying shell companies.
Secretive sales generated $110 million between 2010 and 2013, records show. The buyers were largely LLCs with names such as 3002 Trump Soho Condo and Soho 3211 that were formed just weeks or days before buying a unit.
One real estate lawyer, Martin Jajan of Manhattan, handled more than half of the secretive sales, records show. As the buyers' representative, Jajan signed deeds of transfer, created the shell companies and listed himself as the agent for the shell companies. The transactions provide little or no clues about the actual buyers – with a few exceptions.
On four of the deeds, the LLC listed Moscow addresses, which were crossed out with a pen. The address of Jajan's Manhattan law office was written in their places.
Another three units were bought by a former oligarch from Kazakhstan with money he allegedly stole from the former Soviet republic, according to a California lawsuit filed in 2014 by Kazakhstan's largest city, Almaty. The lawsuit says that a former mayor of Almaty, Viktor Khrapunov, and his family stole hundreds of millions of dollars in city assets during his tenure between 1997 and 2004, fled to Switzerland in 2007 and began buying property in New York City and California to launder the money.
The still-pending lawsuit says Khrapunov and his relatives bought three Trump SoHo units for $3.1 million in cash through newly formed LLCs in April 2013. Records show the LLCs sold all three units within a year or two at a slight loss. Khrapunov has denied any wrongdoing and says he is being persecuted for political reasons.
Jajan did not respond to requests for comment. In a 2014 New York magazine article, Jajan said it's not uncommon for him to buy for clients he's never met, and that a lot of his work involves setting up entities such as LLCs for buyers to avoid estate taxes, potential lawsuits, and public exposure.
The Trump SoHo sales alarmed Ross Delston, a Washington, D.C., lawyer and money laundering expert who has consulted for the Justice Department.
"The circumstances of the sales and the fact that three of the properties were allegedly related to money laundering in Kazakhstan raise questions about the process by which units were sold in the Trump SoHo," Delston told BuzzFeed News. "Having 77% of the transactions to anonymous buyers raises the probability that there are red flags for money laundering and other financial crime."
Trump did not develop Trump SoHo or sell its units. But as an 18% owner, Trump stood to profit from the 46-story tower and promoted the building so vigorously that some early purchasers accused him, his son Donald Jr., his daughter Ivanka, and others in a 2010 lawsuit of exaggerating the number of sales to boost prices.
The Manhattan District Attorney investigated the activity of Donald Jr. and Ivanka at the Trump SoHo in the early 2010s and brought no charges, according to news reports. Trump, abandoning his public posture of not settling lawsuits, agreed to refund $2.8 million in deposits to six purchasers, according to a news article.

The Trump SoHo deal was canceled in November, and the building is now called the Dominick Hotel and Spa.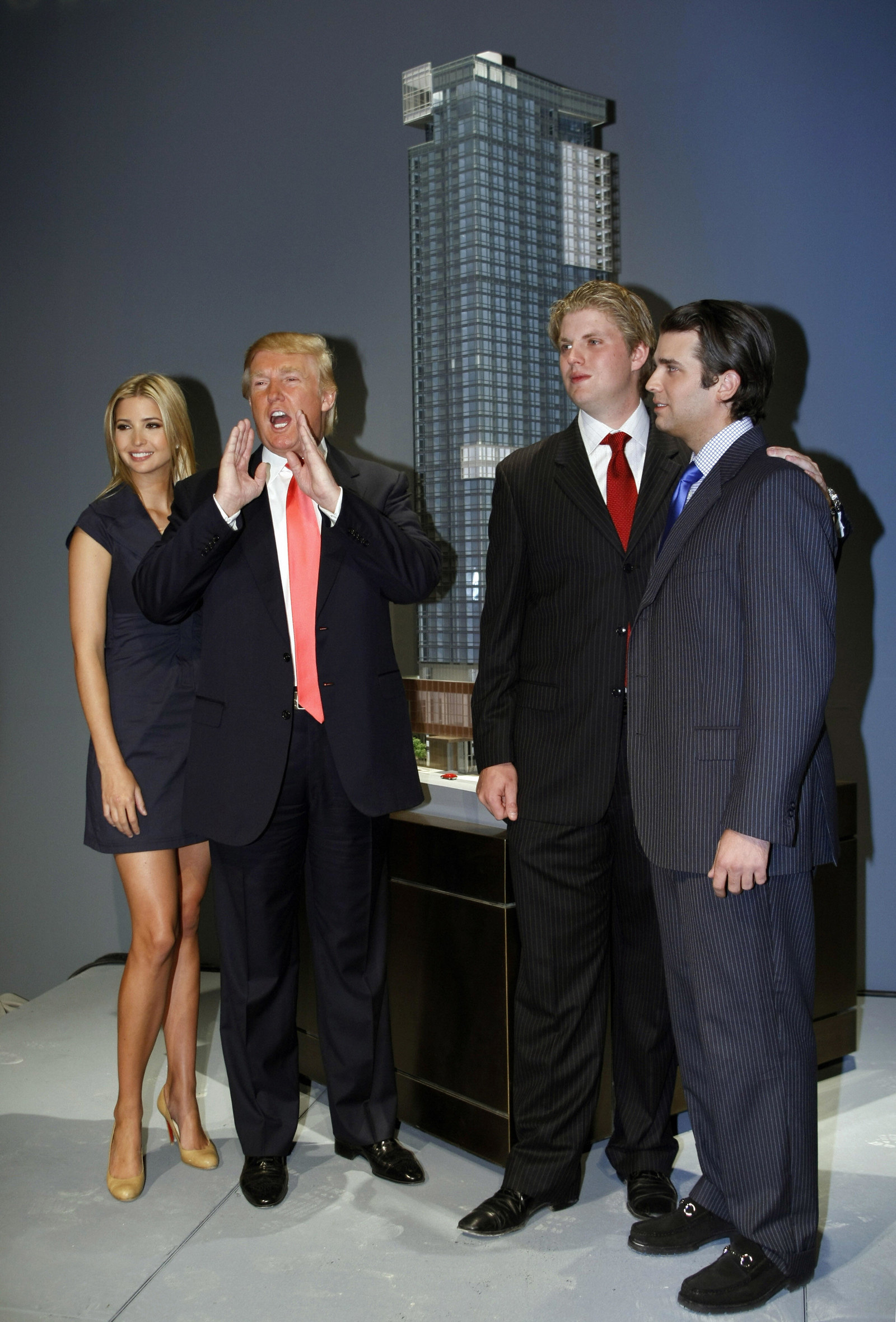 The growing interest in Trump condo sales comes amid unprecedented scrutiny of possible money laundering through real estate. The Trump administration will likely face a decision on whether to crack down on the kind of all-cash, shell-company purchases that have enriched him.
Money laundering entails blending "dirty" money into the financial mainstream through a series of transactions and legal entities that conceal its origin. The United Nations estimates that $800 billion to $2 trillion is laundered each year.
The growing interest in Trump condo sales comes amid unprecedented scrutiny of possible money laundering through real estate.
"High-end real estate has effectively become a safety deposit box for laundered money because there is a no-questions-asked way of doing business," said Clark Gascoigne, deputy director of the Financial Accountability and Corporate Transparency Coalition, an international anti-corruption group.
That's particularly true in the US, where surveys by the National Association of Realtors show that 21% of homebuyers were LLCs in 2016, up from 5% in 2007. For sales over $3 million, LLCs bought 42% of the homes in 2016, the Realtors found. The association doesn't know how many of those purchases were cash.
Gascoigne calls the United States "the easiest place to set up an anonymous company to potentially launder your money."
Manhattan real estate lawyer Adam Leitman Bailey, who filed the lawsuit over Trump SoHo sales, acknowledged as much. He said he does not ask where his clients, who include "heads of states," get their money: "I don't know where the money comes from. I don't ask where the money comes from. If they're trying to move money to hide it, I'm the last person they're going to tell about it."
"Unlike securities brokers, we do not have a know-your-customer rule," Bailey added. "We're just agents for how people buy homes — I'm sorry, buy investments."
"Unlike securities brokers, we do not have a know-your-customer rule."
The Treasury Department has been under pressure for years from Congress and international groups to crack down on money laundering that occurs through all-cash real-estate purchases. FinCEN has been considering a regulation since 2003 that would require people involved in real-estate closings, such as sales agents, lawyers, appraisers and title insurers, to scrutinize transactions for money laundering.
In a 2016 report on US anti-money laundering efforts, the Financial Action Task Force on Money Laundering, the leading intergovernmental body fighting money laundering, said that without such scrutiny, "There is a significant risk that high-end real estate is used for money laundering purposes."
FinCEN took a first step in March 2016 when it began to investigate all-cash shell-company purchases of luxury homes in Manhattan and Miami-Dade County, Florida, which are the two markets where Trump has been most active. The agency defined luxury homes as those selling for at least $3 million in Manhattan and $1 million in Miami-Dade.
In July 2016, FinCEN released a startling finding: more than a quarter of the people who controlled the shell companies in Manhattan and Miami-Dade had at one time engaged in "possible criminal activity."
"That's a lot," said Pawneet Abramowski, a New York City financial-crimes expert who was an FBI intelligence analyst and a fraud investigator for the New York State Attorney General's office.
FinCEN has expanded its investigation to Los Angeles, San Diego, Honolulu, San Antonio, the San Francisco area and other parts of South Florida and New York City. More than 5,000 Trump condos have been sold in the markets that FinCEN is targeting but it is unlikely FinCEN is analyzing any of the Trump sales because they occurred before the agency began its investigation.
Trump condo sales reportedly are under scrutiny by special counsel Robert Mueller, whose team includes Justice Department prosecutor Kyle Freeny, a money-laundering expert. Mueller is investigating Trump's connections to Russia and Russia's interference in the 2016 presidential election. He charged former Trump campaign chairman Paul Manafort in October with laundering millions of dollars he received for work in Ukraine before joining the Trump campaign.
A spokesperson for Mueller declined to comment.
Trump-Russia investigators in Congress also are interested in the timing of any money laundering and whether it coincided with periods when Trump could not get conventional loans.
"I'm focused on following the money. That's where you connect the dots."
The Senate intelligence committee has sought records in its Trump-Russia probe from FinCEN, which monitors possible money laundering. "Cash transactions are an increasingly important part of what needs to be examined," Sen. Ron Wyden, a Democrat on the Senate intelligence committee, told BuzzFeed News. "I'm focused on following the money. That's where you connect the dots."
Rep. Adam Schiff, the House intelligence committee's ranking Democrat, said BuzzFeed News' findings "concern me a great deal." The committee should investigate whether "financial entanglement was one of the active measures the Russians used in the United States," Schiff said. "It was one of the measures they've used in other countries."
Bloomberg News has reported that Mueller is investigating the Trump SoHo as well as "Russian purchases of apartments in Trump buildings." Several news outlets have reported that one of the Trump SoHo developers, Russia native Felix Sater, who pleaded guilty to racketeering in a money laundering case in 1998, testified recently before the House intelligence committee but details of his testimony are unknown.
Former White House strategist Steve Bannon is quoted in Michael Wolff's new book saying that Mueller's investigation "is all about money laundering." And the two founders of a research firm that commissioned a controversial intelligence dossier wrote in a New York Times op-ed that their investigation of Trump found "widespread evidence" that Trump had worked with "dubious Russians in arrangements that often raised questions about money laundering."
At least two Trump Tower condos have been linked to money laundering, although there is no evidence that Trump or the Trump Organization was involved.
The Haitian government claimed in the 1980s that ousted dictator Jean-Claude Duvalier laundered stolen treasury funds when he bought Trump Tower apartment 54-K for $446,875 in August 1983. Duvalier used a Panama shell company called Lasa Trade and Finance to buy the apartment in cash. Trump signed the deed of sale.
In 1984, federal prosecutors charged a Russian native living in Brooklyn with taking part in a massive gasoline bootlegging operation and buying five Trump Tower condos for $4.9 million to launder the proceeds. The suspect, David Bogatin, pleaded guilty in 1987. He was released from federal prison in 1998.
In a separate matter, a Trump casino, the Trump Taj Mahal, was charged with violating anti-money-laundering regulations 106 times in 1990 and 1991 by failing to file timely reports identifying gamblers who bought or cashed out $10,000 or more in chips. The reports aim to spot gamblers who might be laundering money. The casino paid the Treasury Department a $477,000 fine in 1998 without admitting wrongdoing.
Stefan Cassella, a former deputy chief of the Justice Department's Money Laundering and Asset Recovery Section, said it's difficult to discern secretive sales that are done for legal reasons from those that hide criminal activity.
"If a money launderer is doing his job well, he's making the transaction look legitimate," Cassella told BuzzFeed News. ●
Correction
Clark Gascoigne's name was misspelled in an earlier version of this post.
John Templon and Kevin Collier contributed additional reporting to this story.