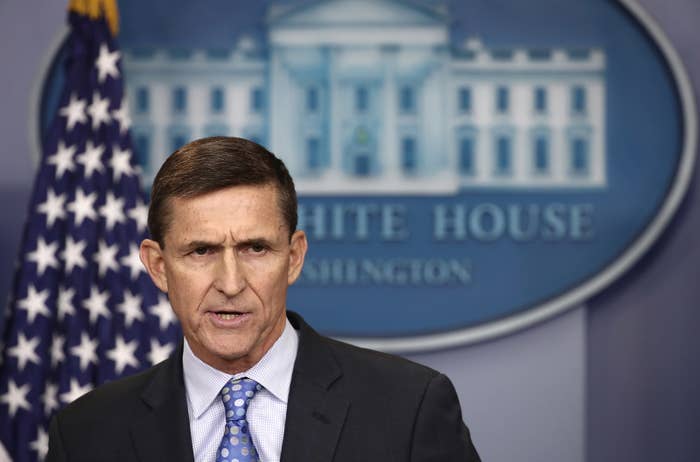 WASHINGTON — Former national security adviser Michael Flynn appears to be under investigation for his activities while he ran the Defense Intelligence Agency during the Obama administration, according to a letter the agency sent to BuzzFeed News.
The disclosure suggests that special counsel Robert Mueller is looking more broadly than previously thought at Flynn, whom President Donald Trump fired in February after 24 days as his top security adviser.
Mueller's investigation previously has been reported to include a probe of Flynn's activities after he was ousted from the DIA in 2014 and traveled to Russia, lobbied for the Turkish government, and joined Trump's presidential campaign. Until now, however, there has been no indication that Mueller was looking into Flynn's two-year tenure as head of the nation's leading producer of foreign military intelligence.
The DIA suggested otherwise in a Nov. 15 letter to BuzzFeed News that denied a reporter's three-year-old request for Flynn's emails, job evaluations, and other records related to his work as the agency's director. The letter to reporter Jason Leopold says that releasing Flynn's records could "interfere with ongoing law enforcement investigative activities."
The letter does not describe the investigative activities, and a DIA spokesperson declined to elaborate. Federal law allows government agencies to withhold from the public "investigatory records compiled for law enforcement purposes."
Legal experts said the letter is the first public indication that Mueller is investigating Flynn's stormy leadership period at the DIA, which ended when he was forced to retire earlier than planned amidst criticism over his leadership.
"It certainly suggests that Flynn is being investigated not just for conduct that postdated his departure" from the DIA, said University of Texas law professor Stephen Vladeck.
"I think there has been this suspicion since during the [2016] campaign that for all his plaudits and achievement, General Flynn has been part of some pretty shady dealings," Vladeck said. "I don't think it's shocking if some of those dealings in fact predated his departure from the government."
Flynn's lawyer, Robert Kelner, did not respond to a request for comment. A spokesperson for Mueller declined to comment.
It is unclear what Mueller might be investigating about Flynn when he ran the DIA. Although Flynn was reported to have been forced out after clashing with other Defense Department leaders, there has been no public indication of scandal or criminal activity during his 33-year military career. He retired as an Army lieutenant general.
Mueller might simply be casting a wide net, said Jens David Ohlin, a criminal law professor at Cornell Law School. "You could imagine a scenario where Mueller's team is doing their due diligence and wants all his emails during this period because they're investigating his relations with Russia and Turkey," Ohlin said.
Or Mueller could be looking into any possible conspiracy involving Flynn that may have started years ago, Ohlin said.
"Conspiracies sometimes exist for months, if not years," Ohlin said. "It's certainly possible that he could have committed a crime and is being investigated for a crime after his government service, but there is a lot of evidence going back to when he was in government service. That doesn't necessarily mean a crime occurred while he was a government employee."
In 2015, more than a year after he left the DIA and shortly before he joined the Trump campaign, Flynn was paid $33,000 to speak at a gala in Moscow where he sat next to Russian President Vladimir Putin.
In 2016, after joining the Trump campaign, Flynn was paid $530,000 by a Turkish businessperson for advocacy work in the US on behalf of the Turkish Republic. Flynn's initial failure to disclose his work has exposed him to possible criminal charges similar to those Mueller has brought against former Trump campaign chair Paul Manafort.
During the transition period after Trump's election, Flynn spoke several times with Russia's US ambassador but lied about those exchanges to the FBI and to Vice President Mike Pence. Trump fired Flynn when Flynn's misleading of Pence became public.
The DIA sent its denial letter to BuzzFeed News at roughly the same time that Flynn's lawyers told Trump's legal team that they would no longer share information about Mueller's investigation into Russian meddling in the 2016 election and possible coordination with Trump associates. The notification by Flynn's lawyers suggests that Flynn is cooperating with Mueller as he investigates whether the Trump campaign coordinated with Russia's efforts to undermine Hillary Clinton.
Leopold, the reporter, had requested records pertaining to Flynn on May 1, 2014, while Flynn was still in charge of the DIA but a day after the Washington Post reported that he was being forced to retire because of his management style and resistance within the agency to his plans for change.
In denying Leopold's request, the DIA said its refusal is not necessarily "long-term" and that it will "reassess future requests" for records pertaining to Flynn "at the conclusion of the present investigative activity." There was no immediate explanation for the delay in responding Leopold's request.
DIA spokesperson Navy Cmdr. William Marks said he did not know how long the investigation would take. "Some investigations take years, some only take a few weeks," he said.