The indictment of 13 Russians by special counsel Robert Mueller should erase doubts that Russia meddled in the 2016 presidential election, but it does not resolve the bigger question of whether they got help from President Donald Trump's campaign, according to experts and lawmakers.
The details laid out in the indictment's 37 pages describe Russians' use of social media to strengthen Trump and weaken his political opponents, the most intricate accounting of meddling in the 2016 presidential election, which was first described without details in a January 2017 report by US intelligence agencies.
The indictment says Russians created Facebook and Instagram groups to agitate on hot-button issues such as immigration, encouraged minorities not to vote, and promoted rallies aimed at boosting Trump and weakening Hillary Clinton. And Russian internet trolls picked their targets carefully, working against Trump's two strongest Republican opponents, Sens. Ted Cruz and Marco Rubio, and advocating for Sen. Bernie Sanders, who gave Clinton a surprisingly strong challenge in the Democratic primaries, and for Green Party candidate Jill Stein.
It also cites a handful of unnamed Americans, including members of the Trump campaign, who helped the Russians by giving them political advice, such as to focus on swing states, and helping organize pro-Trump rallies.
"The level of detail is staggering," said Nina Jankowicz, a Russia scholar who has studied Russian disinformation campaigns. "This [indictment] shows the operation was very sophisticated."

Deborah Pearlstein, a constitutional law scholar at Cardozo School of Law in New York, said Trump "can no longer call into question the reality of Russian interference in the election without compromising the effectiveness" of Mueller's investigation.
In a statement, Trump appeared to soften the doubts he has long expressed about whether Russians meddled, saying, "We must unite as Americans to protect the integrity of our democracy and our elections." Trump, who is known for his sharp and personal criticism of opponents, said it was time to "stop the outlandish partisan attacks…which only serve to further the agendas of bad actors, like Russia."
"Even the president appears now willing to concede that Russians interfered with the election. It's a remarkable reflection on how far the goalposts have moved," said Stephen Vladeck, a national security expert at the University of Texas law school. "Now the only remaining question is whether members of the campaign were knowingly involved."
In June 2016, Russians posing online as Americans contacted "a real US person affiliated with a Texas-based grassroots organization" and learned that they should focus on "purple states like Colorado, Virginia & Florida," the indictment says. Two months later, they emailed the same person to report that they had followed his advice and "this is what we're organizing in FL."

In August 2016, Russians posing as Americans exchanged emails with the chair of the Trump campaign "in a particular Florida county" and asked for help organizing rallies. "We organized rallies in New York before. Now we're focusing on purple states such as Florida," said the Russian email, sent from "joshmilton024@gmail.com."
They also exchanged email with real Trump campaign workers in Florida, identified as Campaign Official 1, Campaign Official 2, and Campaign Official 3 about plans for pro-Trump rallies.
Those Americans did not know they were dealing with Russians who had created fake American identities, according to the indictment. They were "unwitting members, volunteers, and supporters of the Trump Campaign involved in local community outreach, as well as grassroots groups that supported then-candidate Trump."
But the indictment leaves open the possibility that others in the Trump campaign "knowingly played a role in Russia's active measures," Rep. Adam Schiff, the ranking Democrat on the House Intelligence Committee, said in a statement.
Former federal prosecutor Renato Mariotti said on Twitter that "the only Americans mentioned had no knowledge of the underlying activity. It remains to be seen whether there is more to come."
Trump and others seized on the absence of allegations against Trump associates as an exoneration. Trump's personal attorney John Dowd, asked by POLITICO about the indictment, said in an email, "Very happy" but did not elaborate.
A White House statement issued said Trump "is glad to see that the Special Counsel's investigation further indicates – that there was NO COLLUSION between the Trump campaign and Russia and that the outcome of the election was not changed or affected."
Speaking to reporters, Deputy Attorney General Rod Rosenstein, who is overseeing the special counsel, made a more nuanced statement about the election. "There is no allegation in the indictment that the charged conduct altered the outcome of the 2016 election," Rosenstein said.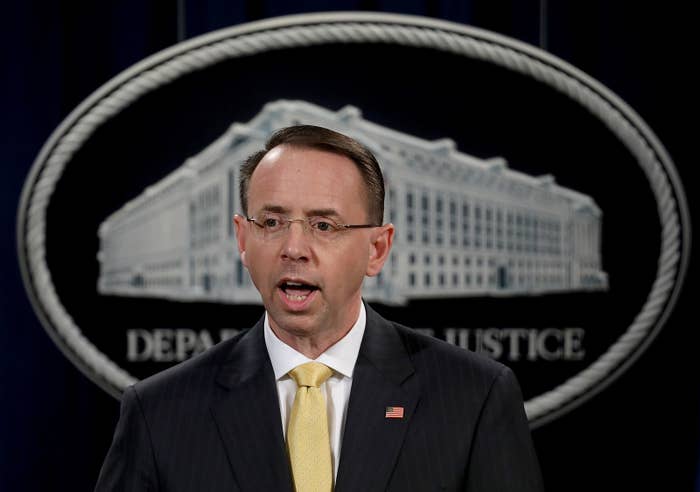 With its painstaking detail, including dates of Russians' activities and names of Russians and their shell companies, the indictment could weaken Republican attacks on the Trump-Mueller investigation and force them to confront what happened in 2016 — and what US intelligence leaders say could happen again in November.

"This puts them in a jam," said longtime Clinton advisor Philippe Reines, referring to congressional Republicans who have attacked Mueller and his investigation. "It is very hard for someone to hear what Rosenstein just laid out and not be appalled and alarmed, not just retrospectively but also prophylactically."
"In the last three months, they've done yeoman's work undermining Mueller and creating all sorts of conspiracy theories," Reines said.
Jankowicz, the Russia scholar, said the indictment should awaken Americans to the tactics Russians have used for a decade to undermine democracies in central and eastern Europe. "This is the type of thing they've done since 2007," Jankowicz said, recalling fake news Russia planted in Germany in 2015 to weaken Chancellor Angela Merkel and foment strife over the influx of refugees.
"We are so busy fighting amongst each other right now, in some ways our entire government has been rendered impotent by this scandal, and that's perfect for Russia. It makes us look impotent on the world stage," Jankowicz said.