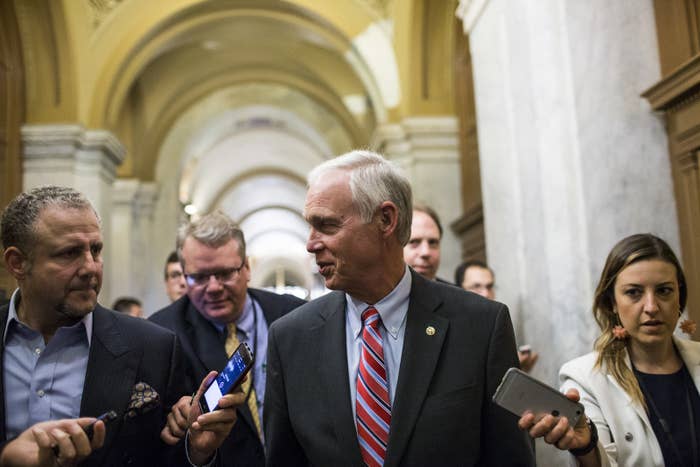 The Justice Department inspector general's office said Thursday that it had recovered missing text messages between two FBI officials who are under scrutiny for their criticism of President Donald Trump.
The office said it had used "forensic tools" to retrieve text messages between FBI agent Peter Strzok and FBI lawyer Lisa Page from over a five-month period, December 2016 to May 2017.
The discovery came just six days after the Justice Department told Congress that it could not find the text messages because the FBI-issued cell phones had failed to capture them. The department's inability to find the texts outraged many Republican lawmakers, some of whom said it caused them to question the FBI's credibility and objectivity.
The reaction was muted after the inspector general's office told Republican Sens. Ron Johnson and Charles Grassley that it had recovered the text messages. Johnson, who has criticized the FBI in recent days, posted the inspector general's letter on Twitter with a brief message saying only that "some missing FBI text messages have been recovered."
Republican lawmakers critical of the special counsel investigation into Trump and Russian meddling in the 2016 election had used the missing texts as more evidence that the probe might be biased against Trump. They've pointed to texts exchanged by Strzok and Page in 2015 and early 2016 that sharply criticized the then candidate and have suggested the missing texts might hold more evidence of bias.

Both Strzok and Page worked briefly for special counsel Robert Mueller after he was appointed in May 2017. Mueller removed Strzok after discovering the text exchange, and Page left on her own. Strzok was also the lead FBI agent on the Hillary Clinton email probe conducted by the FBI in 2016.
It is unclear how many text messages the inspector general recovered between Strzok and Page. The letter by Inspector General Michael Horowitz says the "effort to recover any additional text messages is ongoing."
On Wednesday, the FBI said that thousands of bureau-issued phones had similarly failed to capture texts.