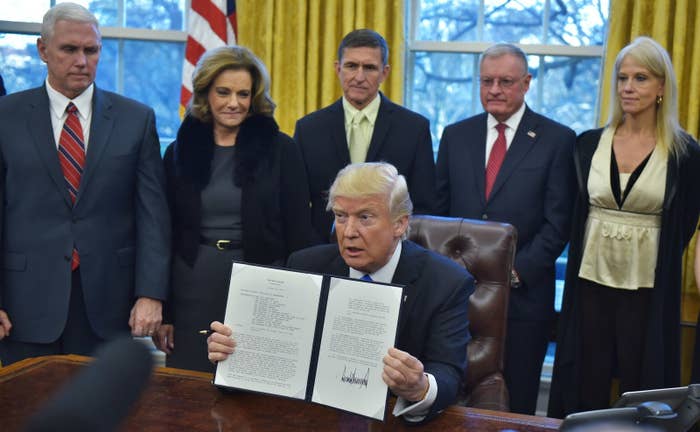 WASHINGTON – Special counsel Robert Mueller's agreement to let former White House adviser Michael Flynn plead guilty to just one count of a routine criminal charge suggests that Flynn has valuable information on senior officials in President Donald Trump's administration or in his 2016 campaign, former federal prosecutors told BuzzFeed News Friday.
But the charge to which Flynn pleaded guilty – lying to federal officials – gives little indication of what other people or actions Mueller might be pursuing as he investigates Russia's meddling in the presidential election and possible coordination with Trump associates.
"Mueller doesn't want to give a road map to the other charges that may be out there," said former federal prosecutor Jaimie Nawaday, now an attorney at Kelley Drye law firm in New York.
If Mueller had charged Flynn with a more substantial offense or a certain type of conspiracy, "that would fuel speculation about who's next, who's in Mueller's orbit and what might be coming next," Nawaday told BuzzFeed News.
With only a few Trump associates holding more seniority than Flynn held, it remains unclear whether Mueller would bring additional charges – particularly against Trump himself – or simply give a report to Congress, which could decide whether to begin impeachment proceedings.
Legal scholars have disputed whether an incumbent president can be charged criminally.
"What we really are waiting for is the ultimate chess move by the Mueller team," former federal prosecutor Jennifer Rodgers, who is now executive director of Columbia Law School's Center for the Advancement of Public Integrity, told BuzzFeed News. "Are they really going to look to charge up the chain, or are they charging people to gather damaging facts that will go into a report that goes to the House [of Representatives] and sets out a strong case for impeachment?"
Flynn entered his guilty plea Friday to the exact same charge that one-time campaign adviser George Papadopoulos pleaded guilty to in October. But Flynn's plea is far more significant than Papadopoulos' because Flynn held senior positions in both the Trump campaign and the Trump administration.
A former director of the Defense Intelligence Agency, Flynn was Trump's national security adviser for 24 days at the beginning of the year until he was fired when his contacts with Russian Ambassador Sergey Kislyak became public. He'd been a key figure in the Trump campaign since February 2016.
Flynn's close relationship to Trump makes him valuable to prosecutors seeking information and evidence on Trump's closest aides and on the president himself. Flynn likely will receive a vastly reduced sentence if prosecutors conclude he has provided "substantial assistance" in their investigation, according to court filings.
"They wouldn't sign him up if he didn't have anything of substance to give them toward a prosecution," Rodgers said.
The conduct underlying Flynn's guilty plea suggests a possible violation of the Logan Act, an obscure law dating to 1799 that makes it illegal for private citizens to negotiate with foreign governments. Flynn admitted speaking twice to Russia's ambassador to the US in December, weeks before Trump was inaugurated, about Russia's response to international events at the time.
But noting that the Logan Act has never been used to prosecute someone, Rodgers said it would be "highly unusual to break it out at this stage" and possibly charge Trump.
The charges against Flynn were mild considering all the actions he took since retiring as head of the Defense Intelligence Agency in mid-2014, some analysts said.
In 2015, shortly before he joined the Trump campaign, Flynn was paid $33,000 to speak at a gala in Moscow where he sat next to Russian President Vladimir Putin. In 2016, after joining the Trump campaign, Flynn was paid $530,000 by a Turkish businessman for advocacy work in the US on behalf of the Turkish Republic, but he did not initially disclose his work to the Justice Department.
Court records filed by Mueller note that even when Flynn belatedly filed disclosure reports with the Justice Department in March, he "made materially false statements and omissions" about his advocacy and the Turkish government's supervision of his work. Although Mueller could have charged Flynn with violating federal disclosure laws, he simply included Flynn's disclosure violations as an example of false statements he made to federal officials.
"This deal was very good for Michael Flynn," former federal prosecutor Renato Mariotti told CNN this afternoon. "That tells me Mr. Mueller believes he's getting very substantial assistance…that would lead to the prosecution of somebody very significant."