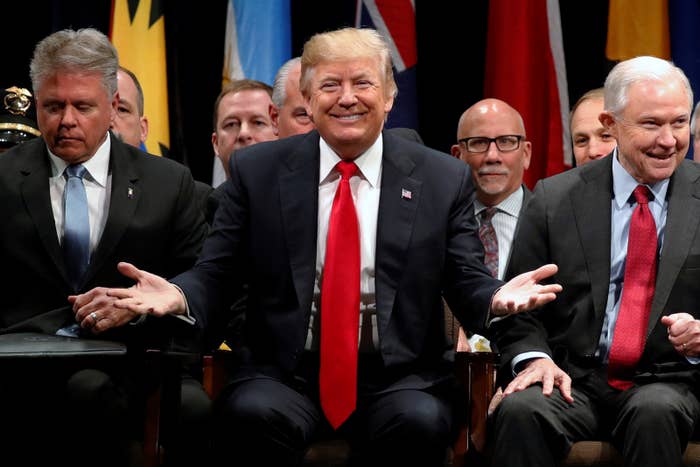 The technical problem that caused the loss of five months of text messages between two FBI officials under Republican scrutiny affected thousands of FBI cell phones, a Justice Department official confirmed to BuzzFeed News.
The department said late Wednesday that "thousands" of FBI cell phones failed to store text messages between June 2016 and May 2017. That includes the phones used by two FBI officials on special counsel Robert Mueller's team who exchanged text messages in early 2016 that often disparaged President Donald Trump.
Republicans critical of the special counsel investigation into Russian election meddling and possible cooperation with the Trump campaign expressed outrage after the FBI admitted this week that it had lost text messages between FBI agent Peter Strzok and attorney Lisa Page from December 2016 to May 2017.
But the Justice Department assertion that it had encountered widespread problems retrieving text messages from other cell phones could protect the FBI from accusations that it is engaged in a cover-up involving Page and Strzok.
Strzok was the lead FBI agent on both the Hillary Clinton email probe and the initial stages of the FBI's Trump-Russia investigation, and Republicans say other texts retrieved by the FBI suggest they were biased against President Trump.

In a statement Monday, three top Republican House members had said the loss of text messages between Strzok and Page "cause us to further questions the credibility and objectivity of certain officials at the FBI." The statement was issued by House Judiciary Committee chair Bob Goodlatte of Virginia, House Oversight Committee chair Trey Gowdy of South Carolina and House Intelligence Committee chair Devin Nunes of California.
The lost text messages are considered important because they were exchanged as the FBI investigation into Russian contacts with Trump campaign officials gained steam in the opening months of the Trump administration. The original batch of text messages between Strzok and Page covered a period from August 2015 to December 2016.
President Trump referenced the missing texts when talking to reporters Wednesday when he was asked about whether he would be willing to testify in Mueller's probe.
"When you look at the five months worth of missing texts, that's a lot of missing texts and, like I said yesterday, that's primetime," Trump told reporters. "So you sort of look at that and say, 'What's going on?'"
Strzok and Page reportedly were involved romantically when they worked for Mueller's investigation, which began in May 2017. Mueller removed Strzok in July after learning about texts criticizing Trump. Page had already left the investigation when the text messages were discovered.
Attorney General Jeff Sessions has said the Justice Department "will use every technology available to determine whether the missing messages are recoverable from another source."
CBS News and Fox News were the first to report that the Justice Department said thousands of its phones failed to store text messages.
Salvador Hernandez contributed to this report.