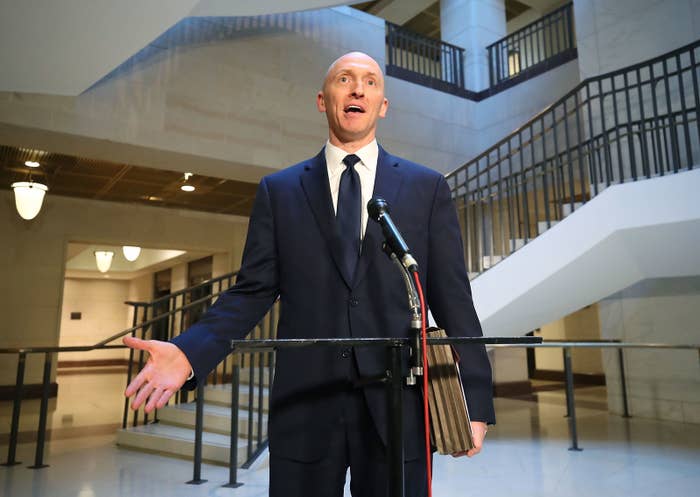 The Republican memo released Friday about the federal investigation of President Donald Trump makes two points that some legal experts say support the integrity of the investigation and undermine Republican attempts to discredit the FBI.

The memo clarifies that the FBI investigation into the 2016 election was triggered not by a controversial dossier financed by Democrats, but by information about George Papadopoulos, a Trump campaign adviser who met with Russians in early 2016 and is now cooperating with special counsel Robert Mueller.
The memo also reveals that a federal judge renewed a surveillance warrant on another Trump campaign adviser, Carter Page, three times after the initial approval in October 2016.
Warrants granted under the Foreign Intelligence Surveillance Act (FISA), such as the one approved for Page, are valid for only 90 days and can be renewed only if a judge is convinced the warrant has yielded valuable intelligence.
"The fact the the FISA warrant was renewed three times suggests to me that the FBI was getting foreign intelligence out of this warrant, as it suspected it would," said Robert Litt, a former general counsel for the director of national intelligence and now an attorney for Morrison & Foerster law firm.
FISA permits the government to monitor suspected foreign intelligence agents. FISA proceedings are classified, and the Republican memo was classified until President Trump declassified it over the FBI's objections.
The memo says the FBI persuaded a federal judge to approve electronic surveillance of Page on Oct. 21, 2016, three months after Page traveled to Moscow while he was a volunteer for the Trump campaign.
But the memo does not explain what other information about Page the FBI included in its application for the warrant.
"The public has been given kind of half a loaf," said R. Stephen Stigall, a federal prosecutor in the Justice Department's national security unit from 2002 to 2017. "You don't know what else was in those warrants."
"The memo seems to be sort of self-defeating in acknowledging how much other material was involved in triggering this investigation."
House Republicans said the memo shows the FBI abused its authority by relying on the so-called dossier about Trump and Russia to monitor Page, and not telling the FISA court that the dossier was funded by Hillary Clinton's presidential campaign and the Democratic National Committee. The memo says the dossier "formed a critical part of the Carter Page FISA application" and that "material and relevant information was omitted" from the FBI's application to monitor Page.
A Democratic memorandum that may be released disputes that, according to a person familiar with that memo. The Democratic memo says the FBI, in its warrant application, informed the FISA court that the dossier came from a politically motivated source, though it did not say that the Democratic National Committee had funded the research.
The dossier was written by former British spy Christopher Steele, who had been hired by Fusion GPS, a Washington, DC, research firm that Democrats commissioned in 2016 to investigate Trump's business dealings in Russia.
Page, an unpaid foreign policy adviser to the Trump campaign from March 2016 to September 2016, went to Moscow in July 2016 and gave a speech critical of US policy toward Russia. Page acknowledged in November 2017 testimony to the House Intelligence Committee that, while in Moscow, he also met with Russian officials, including the deputy prime minister.
The memo makes no mention of other information about Page that the FBI might have included. Page had been interviewed by the FBI in 2013 in connection with an investigation into a Russian diplomat who was later charged with espionage.
"Carter Page may not be a pivotal player," said former federal prosecutor Renato Mariotti, who is a Democratic candidate for attorney general in Illinois. "You're left wondering, why did this guy have any significant role in the presidential campaign? It's hard to understand."
The memo is clear, however, that information about Papadopoulos "triggered the opening of an FBI counterintelligence investigation in July 2016." Papadopoulos has pleaded guilty to lying to the FBI about his contacts with a mysterious professor who'd told him the Russians had "dirt" on Hillary Clinton. Papadopoulos is cooperating with special counsel Robert Mueller's investigation.
Papadopoulos's role in sparking the investigation also "underscores how much stuff the FBI was working with," said Stephen Vladeck, a University of Texas law professor.
"The memo seems to be sort of self-defeating in acknowledging how much other material was involved in triggering this investigation," Vladeck said. "That concession is stunning to me."
Other aspects of the memo are sure to be disputed. The memo says, for example, that FBI Deputy Director Andrew McCabe told the House Intelligence Committee that "no surveillance warrant would have been sought" without the dossier.
But Rep. Eric Swalwell, a Democratic member of the committee, said that is a mischaracterization of McCabe's testimony. "They've seriously mischaracterized his testimony. If that's what he said, they would have quoted directly from the transcript of his testimony, that they possess," he said.
Litt, the former national intelligence counsel, said that he suspects the statement attributed to McCabe is "a paraphrase and out of context."
"I suspect what Andrew McCabe said was not that the Steele dossier was critical to giving probable cause [against Page], but that when the FBI got the information from Steele, who is trusted and respected, it increased the FBI's interest in moving forward," Litt told BuzzFeed News.
McCabe left the FBI this week under criticism from Trump and possible scrutiny for his role in investigating Hillary Clinton's use of a private email server while she was secretary of state.
Rep. Adam Schiff, the top Democrat on the intelligence committee, also disputed the memo's assertion about McCabe. "The investigation would have begun and continued even if Christopher Steele wouldn't have come along," Schiff said.
The possibility that the Steele dossier was biased because it was funded by Democrats would not automatically disqualify it, said Stigall, the former federal prosecutor.
"Most federal judges, when they review things, they understand fundamentally that most witnesses and informants have some type of bias anyway," said Stigall, now a lawyer at Ballard Spahr. "People come to law enforcement with some type of baggage. Everybody has it."
Steele took his findings to the FBI in mid-2016 while he was still working for Fusion GPS, the research firm that Democrats paid to investigate Trump's business dealings in Russia.
Stigall said concerns about Steele's funding source would have been offset by his background working for the British intelligence agency as a Russia expert. "You don't get to be an MI6 officer unless you're fully vetted and found to be credible," Stigall said.
Still, opponents of the Trump-Russia probe saw the memo as damning.
"It's a pretty devastating blow to the Justice Department, the FBI and the Mueller investigation," said Tom Fitton, president of Judicial Watch, a conservative legal group that frequently sues the federal government for records. "We learned there is no Russia-collusion story without the dossier, and if there is no Russia-collusion story, there should have been no special counsel."
Emma Loop contributed additional reporting to this story.