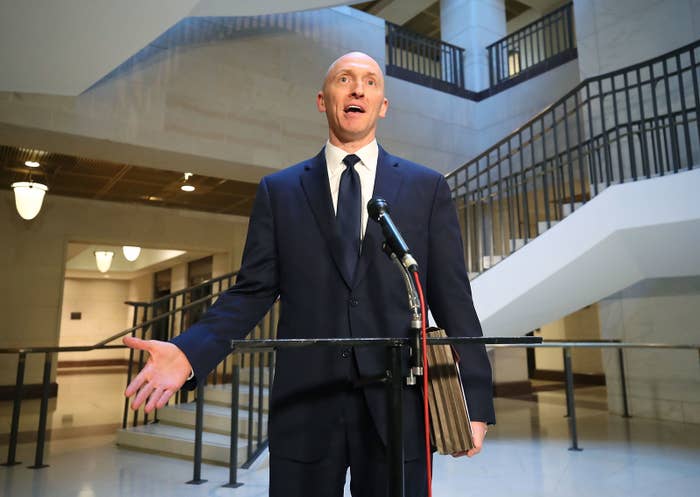 By the time the FBI received court approval to monitor Carter Page, it knew that Page had traveled recently to Moscow, had interacted with a Russian spy in New York City in 2013, and had lived in Moscow from 2004 to 2007.
The FBI would almost certainly have made note of Page's Russia ties when it asked a special court in October 2016 for permission to monitor the former campaign adviser to Donald Trump, legal experts say.
But experts, lawmakers, and the FBI fear that the extensive background the agency likely compiled on Page will be minimized and distorted by a House Republican memo asserting that the FBI relied on a so-called dossier commissioned by a Washington research firm working for the Democratic Party.
"I just can't imagine they would have relied only on the dossier," Asha Rangappa, a former FBI counterintelligence agent who has applied for surveillance warrants, told BuzzFeed News. "There would have been a massive case file that could have been open for months or years with surveillance logs and interviews with sources."
The four-page memo has ignited a ferocious battle in Washington between House Republicans, who want it released, and the FBI, which opposes the disclosure. President Trump is likely to approve release of the classified memo "probably tomorrow," a senior administration official told reporters Thursday.
The FBI, in an extraordinary public statement on Wednesday, said it has "grave concerns about material omissions of fact that fundamentally impact the memo's accuracy." Democrats in Congress say the memo aims only to discredit the federal investigation, now led by special counsel Robert Mueller, into Russian meddling in the 2016 presidential election.
The FBI began the investigation in July 2016 when it became concerned that Russians were trying to influence members of Trump's campaign to act on behalf of the Kremlin.
House Republicans and their allies say the memo will show that the FBI abused its authority by using the dossier to convince a federal judge to authorize surveillance of Page, and not disclosing the background of the dossier. The dossier, written in 2016 by a former British spy, was commissioned by a Washington research group under contract to Hillary Clinton's presidential campaign and the Democratic National Committee. The research group, Fusion GPS, assigned the spy to look into Trump's business dealings in Russia.
"They went to the court and didn't tell the court it came from the Hillary Clinton campaign and the DNC. That is a scandal of grave proportions. And that's why the DOJ and the FBI fought tooth and nail to keep the underlying records away from the House," said Tom Fitton, president of Judicial Watch, a conservative legal group that frequently sues to get government records.
The Republican memo draws attention to the secret process the FBI and other agencies use to get permission to conduct surveillance on suspected foreign intelligence agents. So-called FISA applications — named after the Foreign Intelligence Surveillance Act — go before a special court for review and approval.
The court proceedings and records are secret to protect the release of intelligence information including confidential sources. But legal experts say warrant applications undergo extensive review by both the Justice Department and the court, and would require far more documentation than the dossier provides about Carter Page.
"The FBI would want to know more than what was contained in the dossier. And the FISA court would certainly want to know more than what was contained in the dossier," said Deborah Pearlstein, a constitutional-law scholar at Cardozo School of Law in New York.
Rangappa, the former FBI agent who now lectures at Yale University's Jackson Institute for Global Affairs, said that if a FISA warrant were to be approved based on weak evidence, "You would need literally every person in the entire chain of events to be on board with something that was completely flimsy, including the lawyers who are there to make sure it's not flimsy and a judge. It's totally implausible."
Rangappa also noted that FISA warrants are valid for only 90 days, and can be renewed only by showing a judge that the warrant generated intelligence showing that the target was working on behalf of a foreign power.
Although the process for getting a FISA warrant is intended to be rigorous, records show judges routinely approve them. A court report shows that in 2016, judges approved 79% of the applications, and approved another 19% after they were modified. Fewer than 2% were rejected in part or in full.
"The standard for obtaining a FISA warrant is not that high," Pearlstein said. "It's not like the FBI has to show proof beyond a reasonable doubt that this guy is an agent. It only has to show it has a reasonable basis to believe this guy is an agent of a foreign power."
The 35-page dossier mentions Page in two sections, dated July 19, 2016, and Oct. 18, 2016 (the Washington Post has reported the FISA warrant was issued Oct. 19).

Both sections refer to a trip Page made to Moscow in July 2016, when he gave a speech at a university that criticized US policy toward Russia and met with Russian officials, including deputy prime minister Arkady Dvorkovich.
Page was an unpaid foreign policy adviser to the Trump campaign at the time. His trip and speech were publicly reported, though his meetings with Russian officials were not known officially until Page confirmed them in testimony to the House Intelligence Committee in November.
The dossier states that while Page was in Moscow, he met with two senior Kremlin officials, Igor Sechin and Igor Diveykin, and a close associate of Sechin. Page supposedly discussed compromising information the Russians had on Clinton, who had recently sealed the Democratic presidential nomination, and obtaining an ownership stake in Russia's state-owned oil company, Rosneft, in exchange for Trump lifting sanctions against Russia.
None of the dossier details about Page have been substantiated, though they are intriguing because they suggest that Russians were using Page to convey messages to the Trump campaign and trying to cultivate him as an intelligence source. Page also acknowledged in his House Intelligence Committee testimony that he met with a top official from Rosneft, but said he could not remember details of their conversation.
But the FBI may have already been monitoring Page, who'd lived in Moscow from 2004 to 2007 when he worked for Merrill Lynch. In 2013, when Page was an energy consultant, a Russian spy posing as a businessman approached Page at an energy conference in New York City.
Page did not know that the Russian was a spy, and found out months later when the FBI interviewed him. Page told the FBI he and the Russian, Victor Podobnyy, exchanged emails over a period of months about the energy business, and Page gave the Russian documents about the energy business. Podobnyy was charged with espionage but avoided prosecution because he had diplomatic immunity and left the US.