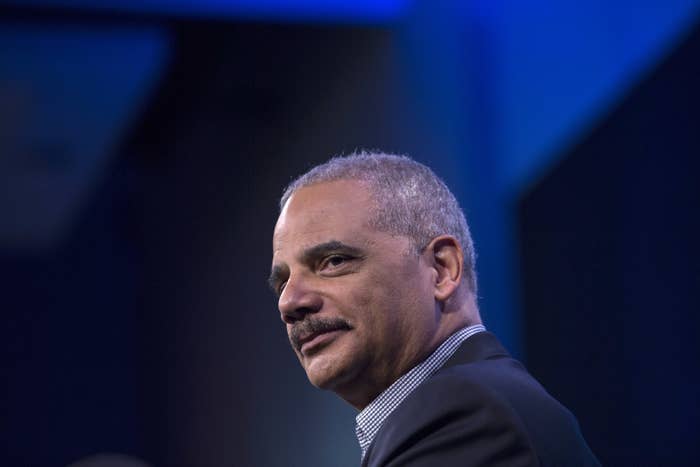 Former attorney general Eric Holder on Tuesday compared Russian interference in the 2016 presidential election to the Japanese attack on Pearl Harbor and to the Sept. 11, 2001, terrorist attacks.
Holder, who was attorney general for six years under President Barack Obama, made the comparison during an interview at the Washington Post as he assailed Trump for declining to impose new sanctions on Russia for its election meddling.
"This is [Franklin] Roosevelt after Pearl Harbor saying, 'you know, OK, take it easy, we got this' — and not doing anything," Holder said. "It's George W. Bush after 9/11 doing nothing."
Holder was referring to the administration's decision in late January not to impose new sanctions despite a new law that seeks to penalize Russia's election meddling. Administration officials said at the time that the law, which Congress passed in July with overwhelming bipartisan majorities, was having its intended effect of hurting sales of Russian defense equipment without imposing new sanctions.
While Democrats assailed Trump's inaction last month, Holder's criticism was especially pointed. The Japanese attack on Pearl Harbor killed 2,403 Americans and drew the US into World War II. The 9/11 terrorist attacks killed 2,753 people and led the US to invade Afghanistan.
Holder took other sharp positions during a 50-minute interview with the Post's Jonathan Capehart. He said he believed Trump could fire special counsel Robert Mueller, who is investigating Russian meddling and possible coordination with the Trump campaign. He also said that an incumbent president could be indicted.
Holder, who was attorney general from 2009 to 2015, is chair of the National Democratic Redistricting Committee, an organization focused on changing how congressional districts are drawn. He has entertained questions about running for president in 2020.
Among Holder's comments:
Trump could stop the Mueller investigation by eliminating the regulation that establishes the special counsel's office. Holder doubted that Justice Department leaders would follow a presidential order to fire Mueller.

Prosecutors could "make a pretty good technical case" that Trump obstructed justice based on his explanation of why he fired then-FBI director James Comey in May and other actions. But, Holder added, "I'm not at all certain that at this point you've got a case you'd want to bring to court. And my guess is Bob Mueller is in the process of putting together as strong a case as he possibly can."

Although Justice Department written opinions say a president must be removed from office before he can be indicted, Holder does not "have as much confidence in them as I once did … I'm not at all certain that a sitting president could not be indicted."

Mueller's investigation is "in its relatively early stages" and will likely take 18 to 24 months. Mueller was appointed in May.

Holder made his comment about Pearl Harbor and 9/11 in response to a question from Capehart, a Post editorial board member who read Holder a comment Holder made Feb. 20 on Twitter sharply criticizing Trump on Russian sanctions.
Russian threat to our upcoming elections: do something! Do anything. Impose sanctions overwhelmingly approved by even this dysfunctional congress. Are you simply unfit, without the necessary nerve or do they have something on you? We were attacked!

— Eric Holder (@EricHolder) February 20, 2018
"Yeah, I mean, this country was attacked," Holder said, explaining his vitriol. "I mean, you know, it was electronically attacked. It was hacked. The most basic part of who we are as Americans — our electoral system — was attacked."
Predicting that Russia would interfere in upcoming elections, Holder criticized Trump for declining to impose new sanctions. "This is absurd. This is absurd," Holder said as the audience applauded. "This is a dereliction of duty."
The White House did not immediately respond to a request for comment.