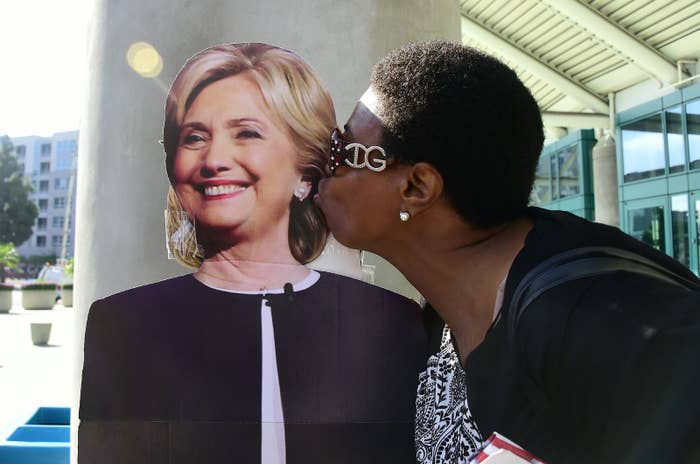 Russia's effort to discourage minorities from voting for Hillary Clinton — described in a federal indictment released Friday — revives the mystery of why turnout among black voters declined so substantially from 2012 to 2016.
The indictment of 13 Russian trolls lays out a surprisingly sophisticated social media campaign to turn minorities, and black people in particular, against Clinton. Details of the campaign show that Russians understood both the significance of those voters in the election and the language of black social media.
"Russians understood how important minority voters were to Hillary Clinton's chances in this election. They were able to read the situation and say, 'If we demobilize this community, it could have enough of an impact,'" said Bernard Fraga, an Indiana University election expert who studied black turnout in 2016.
Fraga's research found that black turnout dropped most substantially in Michigan and Wisconsin — two states that Clinton narrowly lost and had expected to win.
The overall percentage of black Americans of voting age who cast a vote in 2016 fell to 59.6% in 2016 from 66.6% in 2012, the first decline in 16 years. Many experts say the decreased turnout severely hurt Clinton, who won 89% of the black vote, according to exit polls.
The indictment by special counsel Robert Mueller does not say that any Russian effort influenced the election results.
But the indictment does reveal that in the final months of the 2016 election campaign, Russian internet trolls "began to encourage U.S. minority groups not to vote" or to vote for a third-party candidate such as Jill Stein of the Green Party. Stein's 51,500 votes in Michigan exceeded the 10,700-vote differential between Clinton and Trump. Her 31,000 votes in Wisconsin exceeded the 22,000-vote differential between Clinton and Trump.
President Donald Trump publicly thanked black voters a month after Election Day, saying they were "great to us" and that black people who did not vote were "almost as good" as those who voted for him.
The Russian effort to weaken Clinton's support among black voters as spelled out in the indictment appeared sophisticated. Russian trolls used terms such as "Killary" — a Twitter hashtag created to insult Clinton — and formed an Instagram account called "Woke Blacks."
Another Russian Instagram account, "Blacktivist," bought an ad on Nov. 3, 2016, stating: "Choose peace and vote for Jill Stein. Trust me, it's not a wasted vote."
"This was pretty sophisticated in terms of using language that's current, like the term 'woke,'" said Christopher Anders, deputy director of the Washington legislative office of the American Civil Liberties Union.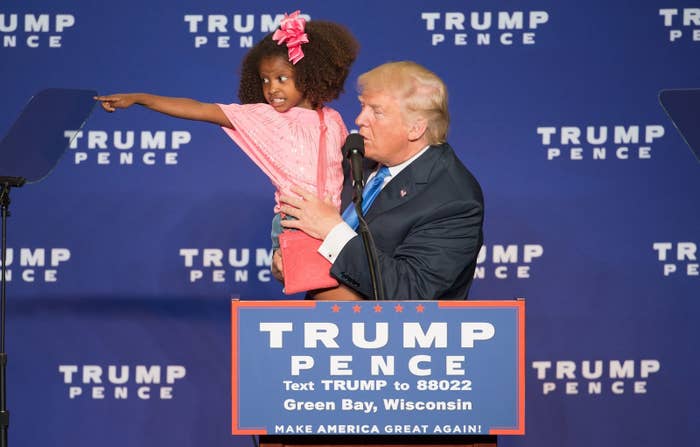 The indictment lists two postings by Russian trolls aimed at discouraging black voters from supporting Clinton. A third posting, by "United Muslims of America," said that "most of the American Muslim voters refuse to vote for Hillary Clinton because she wants to continue the war on Muslims in the middle east [sic] and voted yes for invading Iraq."
Chryl Laird, a government professor at Bowdoin College in Maine who studied the 2016 election, doubts that Russian trolls decreased black turnout. Instead, she attributed the decline to black voters having less enthusiasm for Clinton than for President Barack Obama, the nation's first black president.
"Hillary Clinton had a history from when she was first lady, senator, and secretary of state that could be problematic for African Americans, or at least not energize them to turn out for her," Laird said. She noted Clinton's use of the term "superpredator" in a 1996 speech — a phrase that haunted Clinton during the 2016 campaign and elicited an apology after Black Lives Matter activists confronted her.
Laird said black turnout in 2016 should be compared to 2004, when Sen. John Kerry was the Democratic nominee and 60.3% of voting-age black Americans cast votes. "Obama would be considered a statistical outlier," Laird said.
Fraga of Indiana University said black turnout in Michigan and Wisconsin might have fallen so substantially because of a weak Clinton campaign presence in those states. "Maybe Michigan and Wisconsin should have received a little more attention, especially attention to shore up what was low African American turnout," Fraga said. His research shows that black turnout fell by 12.4% in Michigan and 12.3% in Wisconsin — far more than in any other state.
But, Fraga said, the indictment "forces us to take a look at the possibility that low enthusiasm for Clinton's candidacy might have been one of the reasons black turnout was so low. Maybe we need to look at her 'superpredator' comment. Maybe this narrative was more entrenched in the black community than we thought it was."
Jeremy Singer-Vine contributed reporting.