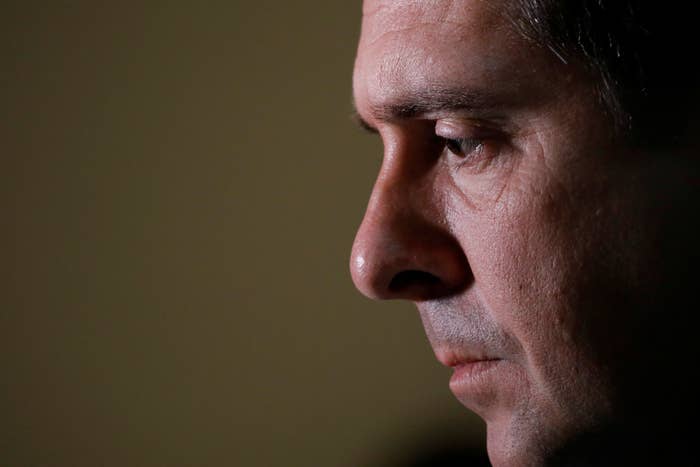 A government-ethics group on Thursday accused House Intelligence Committee chair Devin Nunes of improperly leaking information about the company behind the intelligence dossier concerning President Donald Trump and Russia.
The six-page complaint filed by the Campaign for Accountability charges that Nunes, a California Republican, violated House ethics rules in October when he allegedly gave journalists private information about Fusion GPS in retaliation for the firm's work.
The complaint does not state definitively that Nunes leaked information, but says instead in several instances that "it appears" Nunes or his staff was the source of news reports and inquiries about Fusion.
The complaint was filed with the Office of Congressional Ethics and came seven weeks after the House Ethics Committee cleared Nunes in an earlier probe over his alleged leak of classified information. The nonpartisan ethics office does preliminary investigations and refers cases for full investigation to the ethics committee.
The initial Nunes probe began in April when two watchdog groups charged that he disclosed classified information in violation of House rules. Although Nunes criticized the complaints as politically motivated, he stepped aside from leading the House Intelligence Committee's probe of Russian meddling in the 2016 presidential election.
A spokesperson for Nunes did not respond to an email seeking comment.
The new complaint arises from an ongoing fight between the House Intelligence Committee and Fusion GPS over the firm's banking records. In early October, a subpoena signed by Nunes asked Fusion's bank for "all documents sufficient to identify Fusion GPS's banking transaction history" since August 2015. Fusion sued in federal court to block the subpoena. That case is still pending.
The subpoena came at a time when many Republican lawmakers wanted to know who paid Fusion GPS to hire a former British spy to research Trump — an engagement that led to a series of reports alleging longstanding ties between Trump and the Kremlin. Weeks later, news reports revealed that Fusion GPS was paid during the Republican primaries by a conservative website, Washington Free Beacon, and during the general election by Hillary Clinton's campaign and the Democratic National Committee.
But shortly before those revelations, there were several indications that Nunes or his staff had revealed private information, according to the ethics complaint. The Washington Examiner published the name of Fusion's bank. Wall Street Journal columnist Kimberley Strassel disclosed details of a private House Intelligence Committee hearing at which two Fusion executives appeared. And ABC News reporter Matthew Mosk asked a Fusion lawyer if "House subpoenas" sought Fusion's bank records.
"There are now several documented instances in which it appears Rep. Nunes and/or members of his committee staff, likely acting under the congressman's direction, misused confidential information by leaking it to the media," the complaint states.
The details of the complaint largely follow a timeline described in Fusion's lawsuit that seeks to block the House Intelligence Committee subpoena. Daniel Stevens, executive director of the Campaign for Accountability, told BuzzFeed News, "We definitely looked at those filings. That's definitely what we relied on." Stevens said his group did not coordinate its complaint with Fusion GPS, however.
The Campaign for Accountability started in 2015 and has four employees who seek to "expose misconduct and malfeasance in public life." The nonprofit group does not reveal its funders.