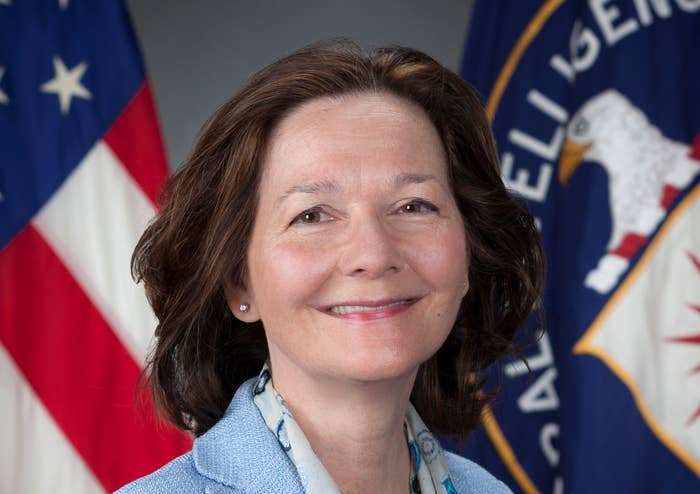 A US intelligence official denied Thursday that President Donald Trump's nominee to run the CIA taunted and ridiculed a terror suspect being held overseas in 2002, according to a statement given to BuzzFeed News.
The statement contradicts comments made Wednesday by Sen. Rand Paul, who called nominee Gina Haspel "the head cheerleader for waterboarding." It also contradicts an article last year by ProPublica that was the basis for Paul's remarks.
Paul's comments "are not only inaccurate but contradicted by the very source material he relies on," the official told BuzzFeed News.
Court documents reviewed by BuzzFeed News support the official's statement and indicate the CIA official whom Paul called a cheerleader was actually a man.
ProPublica issued a correction to the story late Thursday, signed by its editor-in-chief, Stephen Engleberg. Earlier in the day, it had removed the story, which was written by Pulitzer Prize-winner Raymond Bonner, from its homepage, where it had been prominently displayed since Wednesday. The subsequent correction was displayed at the top of its homepage.
"It is now clear that Haspel did not take charge of the base until after the interrogation of Zubaydah ended," the correction said, referring to the prisoner, Abu Zubaydah, who was waterboarded at the site in Thailand 83 times.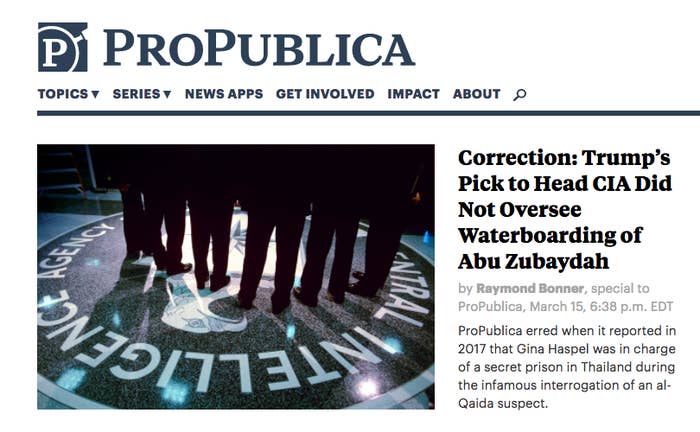 Despite the ProPublica's correction, Paul remains opposed to Haspel's elevation to CIA director because of her role in running a CIA prison in 2002 in Thailand where terror suspects were subject to government-approved torture, according to a statement from his office.
"Regardless of the origins of the quote from Bonner's story, the fact remains that Gina Haspel ran a black site in Thailand, it was used for torture and remains a disqualifying aspect in regards to her nomination," the emailed statement said.
The article describes an interrogation in 2002 at which the "chief of base" at the CIA's Thailand interrogation center told terrorist suspect Abu Zubaydah that he was faking symptoms of distress and "congratulated him on the fine quality of his acting."
ProPublica wrote that the chief of base told Abu Zubaydah, "Good job! I like the way you're drooling; it adds realism. I'm almost buying it. You wouldn't think a grown man would do that."

The article also said the chief of base "allowed the most brutal interrogations [of Zubaydah] by the CIA to continue for nearly three weeks" even though they were not yielding helpful intelligence. In addition to waterboarding, declassified government documents say that Abu Zubaydah was thrown against walls repeatedly.

ProPublica's account was based on a book written by a CIA contractor who helped design the "enhanced interrogation" used on terror suspects held overseas after the Sept. 11 attacks. Although the book does not name the "chief of base," ProPublica said in its story that three former government officials told Bonner that the person was Haspel.
But the "chief of base" at the Thailand interrogation center was a man, not a woman, according to the book, which refers to the chief as "he."
The book's author, psychologist James Mitchell, also disputed Paul's references to Haspel in an interview on Fox Business late Wednesday.
"Someone misinformed Sen. Paul," Mitchell said. "That chief of base was not Gina, and that's the way that they're going to attack her. They're going to take things out of context and distort them."
In its correction, ProPublica said it had been confused by Mitchell's reference to the chief of base in Thailand by both "he" and "she."
"We erroneously assumed that this was an effort by Mitchell or the agency to conceal the gender of the single official involved; it is now clear that Mitchell was referring to two different people," ProPublica said.
In legal documents reviewed by BuzzFeed News, Mitchell's business partner, psychologist John Bruce Jessen, referred several times to the chief of base as "he."
In a deposition in 2017 for a lawsuit against him and Mitchell, Jessen was asked, "You have some kind of interaction with the chief of base?"
"I did. I worked with him," replied Jessen, who worked with Mitchell in Thailand developing interrogation methods used on Zubaydah and other detainees.
The chief of base's name is not known.
Haspel is facing particularly sharp scrutiny for her role in overseeing torture under guidelines that had been approved by the administration of President George W. Bush. While she did not lead the CIA base in Thailand during Abu Zubaydah's interrogation, she was in command when another al Qaida suspect, Abd al-Rahim al-Nashiri, who is accused of planning the bombing of the USS Cole in 2000, was waterboarded three times.
On Thursday, Sen. Dianne Feinstein, the senior Democrat on the Senate Judiciary Committee, asked the CIA to declassify "pertinent agency documents related to Ms. Haspel's role" in the CIA torture program "in order to fully and fairly review her record and qualifications."
The ProPublica story was published initially in February 2017, shortly after Trump named Haspel, a veteran CIA officer, the agency's deputy director. On Thursday, editor Engelberg apologized for the error.
"This error was particularly unfortunate because it muddied an important national debate about Haspel and the CIA's recent history," he wrote.
Four other senators announced their opposition to Haspel on Wednesday — Republican John McCain and Democrats Ron Wyden, Tammy Duckworth, and Elizabeth Warren.