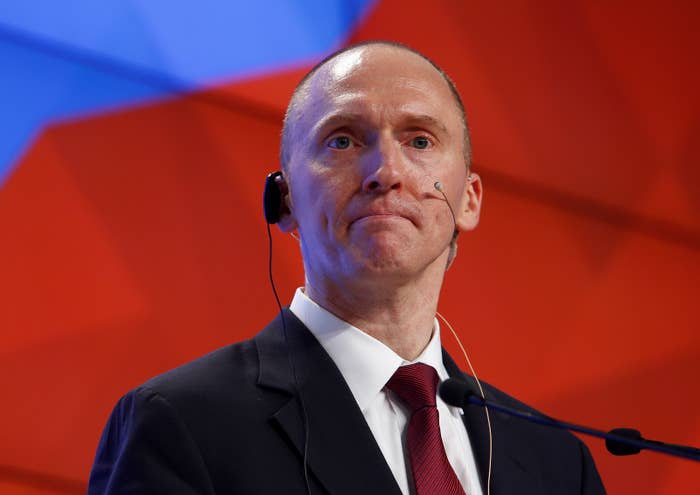 WASHINGTON – Part-Faulkner, part-Alice in Wonderland, Carter Page tried for six hours to filibuster his way past exasperated House members last week only to end up disclosing contacts with high-level Russian officials that he'd previously denied.
The apparent contradictions by the former Trump campaign foreign-policy adviser could fuel charges that Trump associates are covering up their Russian interactions.
The contents of what likely will go down as the most surreal encounter of Election Investigation 2016 emerged Monday night with the release of a 243-page transcript of Page's private Nov. 2 testimony before the House Intelligence Committee. One committee member called the hearing "loopy" and Page "eccentric."
Page told the committee he does not believe Russia tried to interfere with the 2016 US presidential election, contradicting a US intelligence assessment. He said allegations about him in an intelligence dossier that did not fully emerge until January 2017 were more likely to have affected the 2016 election than any Russian efforts.
And that was in just the first hour.
More significantly, the self-employed energy consultant acknowledged, after repeated questions, meeting several Russian officials during a trip to Moscow in July 2016. They included the country's deputy prime minister; a top official at Russia's state-owned oil company, Rosneft, whose CEO has been under US sanctions since 2014; and an employee at Gazprom, the large, privately held Russian natural-gas company.
Three days before testifying, Page had told MSNBC as part of an unusual publicity blitz that in Moscow, "I had no meetings, no serious discussions with anyone high up or at any official capacity." His encounters were "just kind of man-on-the-street."
Page's trip to Moscow has drawn scrutiny from the FBI and congressional committees investigating Russia's meddling in the 2016 presidential election and any coordination with Trump associates. Trump named Page as an unpaid foreign-policy adviser in March 2016.
Although Page has long insisted he traveled as a private citizen — and not as a campaign official — to speak at a Moscow university, he acknowledged in his testimony that before departing he mentioned the trip to then-senator Jeff Sessions, a top Trump campaign adviser whose own contacts with Russians have come under scrutiny.
Page said he had seen Sessions talking to then Russian Ambassador Sergey Kislyak at the Republican National Convention in the summer of 2016, one of two contacts Sessions failed to mention during his Senate confirmation hearing to become Trump's attorney general.
Page also testified that his campaign position "may have been part of the reason" the New Economic School invited him.
Lawmakers from both parties struggled to elicit details about Page's meetings with Russians and to rein in his meandering testimony. Page initially identified one of the people he met, Arkadiy Dvorkovich, as a "Russian government official" before acknowledging under repeated questioning that Dvorkovich is the country's deputy prime minister. "I believe he might be, yes," Page said.
Page called his meeting with Dvorkovich a "brief, less-than-10-second chat," and his interactions with Russian legislators as "shaking hands…just a nice hello, brief hello."
But in an email to campaign officials on July 8, 2106, Page said he'd received "incredible insights and outreach from a few Russian legislators and senior members of the Presidential administration here."
Asked about a meeting with Rosneft's head of investor relations, Andrey Baranov, Page said it was "two old friends getting together to have a chat" at a Moscow bar to watch a soccer game. But Page said he couldn't recall how he communicated with Baranov to set the meeting up, the details of their conversations, and whether they had been in touch after he left Moscow. Yet he'd already told the committee moments before that he'd seen Baranov a second time when he returned to Moscow in December.
Democrats on the intelligence committee pounced on Page's apparent contradictions and marveled at his stream-of-consciousness monologues that made ample use of the phrases "I can't recall" (72 times), "to the best of my recollection" (36 times), and "I don't recall" (24 times).
At various points when asked whether he and Russians discussed US sanctions, Russia's role in the Middle East, or Russia's possible possessions of hacked emails from Hillary Clinton, Page said those topics "may have come up."
"I've been doing this for a while, and it was one of the weirder depositions I've sat through. Seven hours of really eccentric behavior," Rep. Jim Himes of Connecticut told MSNBC Tuesday morning. "And by the way, I think it was Lincoln who said, 'He who represents himself has a fool for a client.'"
Page had no attorney at the hearing and insisted the transcript be made public.
Rep. Adam Schiff, the intelligence committee's top Democrat, told the AP on Tuesday that "it was apparent right from the very beginning of the hearing that what Carter Page had been saying publicly was completely at odds with what he would later testify to, and the documentary evidence that we were already in possession of."
Schiff, one of Page's leading interrogators, seemed to blindside the witness with his own emails. After Page testified that he had exchanged only greetings with Dvorkovich, the deputy prime minister, at a Moscow university where the two men gave speeches in July 2016, Schiff read an email Page sent Trump campaign officials just after the encounter.
"In a private conversation, Dvorkovich expressed strong support for Mr. Trump and a desire to work together toward devising better solutions in response to the vast range of current international problems," the email reads.
"Dr. Page, did you write that?" Schiff asked Page, who has a PhD from the University of London, an MBA from New York University, and an MA in national security studies from Georgetown University.
"I did," Page replied. "It was a general sentiment of, you know, hope for the future. That's all he expressed in that brief hello."
"Dr. Page—" Schiff interjected.
"It was literally — it could not have been more than — it was well less than 10 seconds, probably closer to five seconds than 10 seconds in terms of that interaction," Page said.
Schiff repeatedly tried to rein in Page, exhorting him to "focus on the question I'm asking" and admonishing Page for "going way beyond my question."
Page seemed to acknowledge his meandering in response to a question about his Russian language skills: "I'm not a smooth Russian speaker. Maybe you could say that about my English as well."
Toward the end of the hearing, he said, "I am the biggest embarrassment surrounding the campaign."
Page has drawn scrutiny because his speech in Moscow criticized US policy toward Russia and because he developed contacts in Russia when he lived there from 2004 to 2007 working for Merrill Lynch. In 2013, Page struck up a brief friendship with a Russian diplomat in New York City and discussed energy issues. The diplomat turned out to be a Russian spy looking for intelligence on US energy policy.
Both Page and Trump have minimized Page's role in the campaign. Page told the intelligence committee that he was "a low-level junior guy in this informal group" of foreign-policy advisers, and that he went to Moscow as a private citizen, invited by an official at the New Economic School just after he had joined the Trump campaign.
Page's inclusion on Trump's initial five-people team of advisers, along with George Papadopoulos, hinted at the campaign's desperation to fill out its foreign policy expertise. Papadopoulos pleaded guilty in October to lying to the FBI about his contacts with Russians during the campaign and is cooperating with special counsel Robert Mueller's investigation.
Before Page joined the campaign, he was virtually unknown in foreign policy circles. A Navy veteran and the founder of an investment fund called Global Energy Capital, he claimed to have extensive experience in the energy sector and in Russia.
Page's erratic style, and marked pro-Russia stance, appear to have been clear for decades before the Trump campaign plucked him out of obscurity. His stint at the Eurasia Group consulting firm in 1998 was abruptly cut short after just three months due to his strong pro-Kremlin views. The group's president, Ian Bremmer, in April called him "the most wackadoodle Eurasia Group alum in history."