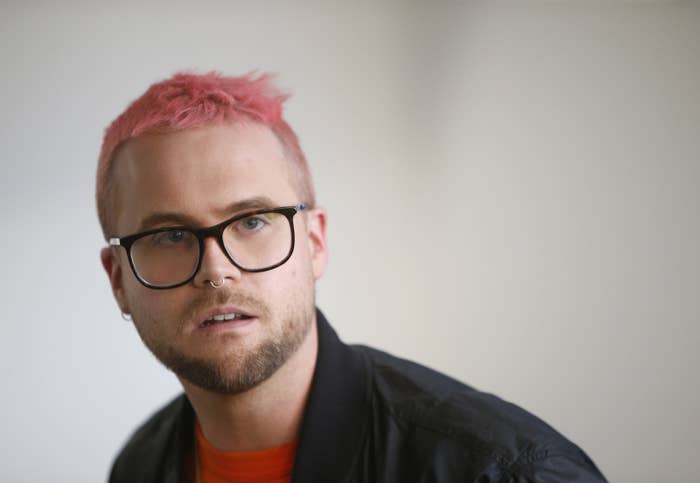 A prominent supporter of Britain's Conservative Party and backer of the country's European Union withdrawal resigned as a director of Cambridge Analytica's parent company the day after whistleblower Christopher Wylie told British lawmakers that an affiliated company had broken the law in its pro-Brexit campaign, BuzzFeed News has learned.
Roger Gabb resigned from SCL Group and two affiliated British companies, according to a filing April 3 with the British government's corporate registry, Companies House. Gabb's resignations were effective March 28, the day after Wylie testified that a Canadian company had violated campaign spending laws in swaying the 2016 Brexit vote and had "undermined democratic institutions in all kinds of countries."
Wylie was referring to AggregateIQ, a Canadian company that he called a "franchise" of SCL. The company received millions of dollars to encourage voters to approve the 2016 referendum that requires the United Kingdom to leave the EU.
Gabb's resignations bring to three the number of SCL officials who have left or been suspended following recent disclosures about Cambridge Analytica. Gabb could not be reached for comment, and it was unknown why he had resigned.
Steve Tatham, a retired British Royal Navy commander who specialized in psychological operations and became a contractor for SCL's defense subsidiary, said he was "appalled" by revelations from Wylie and British news media and would no longer work with SCL. "These are not our values and standards, and we condemn them unreservedly," Tatham said in a statement on his company's website. "We have now withdrawn from all work with SCL."
Tatham did not specify which disclosures appalled him. Neither Gabb nor the SCL Group gave a reason for Gabb's resignations, which were not announced. An SCL spokesperson did not immediately return an email seeking comment.
Cambridge Analytica's New York office issued a statement Monday evening saying that the company "did not work at all on the Brexit Referendum." The company said it subcontracted "some software development" to AggregateIQ.
While Wylie's testimony focused largely on the work of Cambridge Analytica and SCL Group, he also gave graphic descriptions of an intimidation campaign that he said AggregateIQ ran in Nigeria during that country's 2015 presidential election. Wylie said the company, distributed "threatening and violent video content" online, including videos of people being dismembered, "with the intent of intimidating voters." Wylie said SCL created AggregateIQ as its Canadian "franchise."
AggregateIQ said in a statement that it had never been part of SCL and never signed a contract with the company. On Friday, Facebook suspended AggregateIQ from its platform because of reports the company may have improperly obtained personal information about Facebook users. Facebook previously had suspended Cambridge Analytica, SCL, and Wylie from its platform.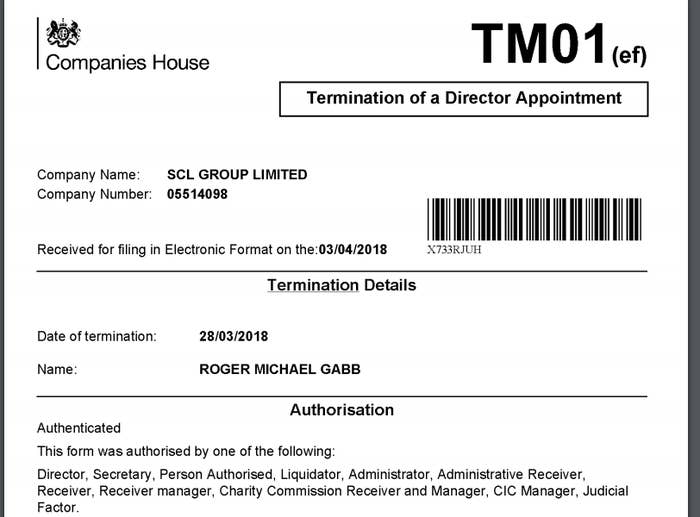 The departures of Gabb and Tatham come as Conservative Party politicians have been trying to distance themselves from SCL Group. Prime Minister Theresa May said allegations against SCL and Cambridge Analytica were "very concerning."
One critic of SCL and Cambridge Analytica told BuzzFeed News that Tatham's strongly worded dissociation was significant.
"The company is unraveling and people who still have a reputation to save are trying to save it," said David Carroll, a media design professor at Parsons School of Design in New York City who has filed suit in the UK to reclaim data that Cambridge Analytica may be holding. Carroll said Tatham's departure would make it difficult for SCL to get military contracts. "It can't recover from losing a guy like him," Carroll said.
Gabb also is a former British military officer, according to a Bloomberg report.
Gabb has long been active in conservative politics in the UK, donating nearly 720,000 British pounds — more than $1 million — to the Conservative Party since 2004, British election records show. He supported the 2016 Brexit vote, signing a letter with scores of British business executives stating that "Britain's competitiveness is being undermined by our membership of a failing EU." He was fined 1,000 pounds (about $1,400) in 2016 by the UK's Electoral Commission for not disclosing his role in purchasing pro-leave advertisements during the Brexit referendum.
Gabb, 79, had been a director of SCL Group since October 2005, shortly after it was formed in London. He is a major SCL shareholder, owning between 25% of 50% of its stock and controlling 25% to 50% of its voting rights, according to a public filing with Companies House. Gabb also had been a director of two affiliated companies — SCL Analytics, which was formed in 2015, and SCL Insight, which was formed in 2016, records show.
A public filing in 2015 shows that Gabb was one of four directors of SCL Group.
Gabb's resignations come at a tumultuous time for Cambridge Analytica as investigators in the US and the UK probe its activities during major 2016 elections in both countries.
Eight days before Gabb resigned, Cambridge Analytica suspended CEO Alexander Nix following the airing of videotapes on which he bragged about using sex workers to blackmail political candidates. Nix also is a key figure in the probe of special counsel Robert Mueller, who is reportedly seeking emails from 2016 in which Nix sought unsuccessfully to help WikiLeaks release copies of Hillary Clinton's emails.
Cambridge Analytica's work for Trump's campaign also is under scrutiny as lawmakers try to determine if the campaign used improperly acquired personal details of Facebook users to target voters and gave data to Russians to help them target US voters. Both the campaign and Cambridge Analytica have denied using Facebook data and say the company analyzed records only from the Republican National Committee and the campaign itself to identify "persuadable" voters.
In the UK, Wylie told the House of Commons's Digital, Culture, Media and Sport Committee that AggregateIQ received millions of dollars from Vote Leave, the organization that led the 2016 campaign favoring a British withdrawal from the European Union. The firm was paid for social media advertising.
Nothing appears to link Gabb to Cambridge Analytica's work in the US. Democrats on the House Intelligence Committee did not name him on a list of dozens of potential witnesses, including several from Cambridge Analytica, who they think have information about possible coordination between the Trump campaign and the Kremlin in the 2016 election.
Gabb made a fortune as a wine distributor in the UK.