Unsafe Needle Practices During Vampire Facials At A Spa Have Prompted Health Officials To Offer HIV And Hepatitis Tests
Health officials closed the VIP Spa in Albuquerque, New Mexico, after an inspection found unsafe handling of needles.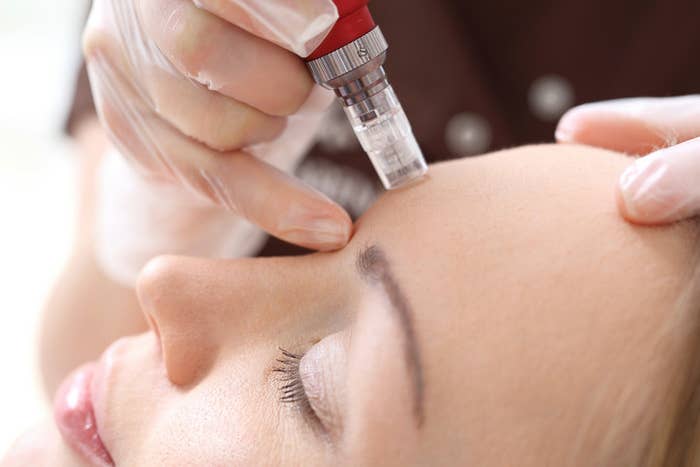 A New Mexico spa was closed by health officials after an infection was possibly linked to a vampire facial procedure.
After a patron of the VIP Spa in Albuquerque, New Mexico, came down with an undisclosed infection that may have resulted from a procedure, health officials closed the salon and are offering free testing for HIV, hepatitis B, and hepatitis C to other clients.
In particular, they are recommending testing for people who had any injection-related service at the spa, including the vampire facial — an antiaging treatment that involves collecting a person's blood and injecting some of the components back into their face.
An inspection found that unsafe handling of needles at the spa could possibly have spread bloodborne infections such as HIV, hepatitis B, and hepatitis C to clients, a spokesperson from the New Mexico Department of Health (NMDOH) told BuzzFeed News.
"Upon inspection, officials from the New Mexico Department of Health and New Mexico Regulation and Licensing Department discovered issues with needle storage, handling, and disposal," the spokesperson said.
You can find out more about the free and confidential testing by calling 505-670-8615 or 505-827-0006, according to the Department of Health.
"It is very important that anyone who received a vampire facial or other injection related service at the VIP Spa in May or June of 2018 come to the Midtown Public Health Office for free and confidential lab testing and counseling," said Lynn Gallagher, NMDOH cabinet secretary, in a statement.
During a vampire facial, which is also known as a platelet-rich plasma facial, a person's blood is collected from his or her arm and placed in a centrifuge. The centrifuge spins the blood to separate out the cells from the plasma, the pale-yellow, watery portion of the blood that contains a variety of proteins.
The platelet-rich plasma, which normally helps with clotting, is collected and injected into a person's face or used as part of a microneedling procedure. In microneedling, a special penlike device is moved over the surface of the skin and tiny needles in the pen are used to rapidly puncture holes in the skin.
Yes, it hurts. Generally, a numbing cream is placed on the skin before the procedure.
The procedure supposedly encourages the skin to produce collagen, and it is used to treat scars, wrinkles, and stretch marks. Microneedling can also be done without the addition of plasma.
Vampire facials can cost $1,000 or more. They have been popularized by celebrities like Kim Kardashian and Bar Refaeli, who have posted about them on Instagram. However, Kardashian also has said that she regretted getting the procedure.
The VIP Spa case is being reviewed by health officials in New Mexico.
The New Mexico Department of Health has not released the number of patrons who might be affected, nor how many people have opted to undergo testing for HIV or hepatitis B or C.
"There is a hearing scheduled as we speak to review the case," the spokesperson said.
BuzzFeed News has reached out to the VIP Spa for comment.