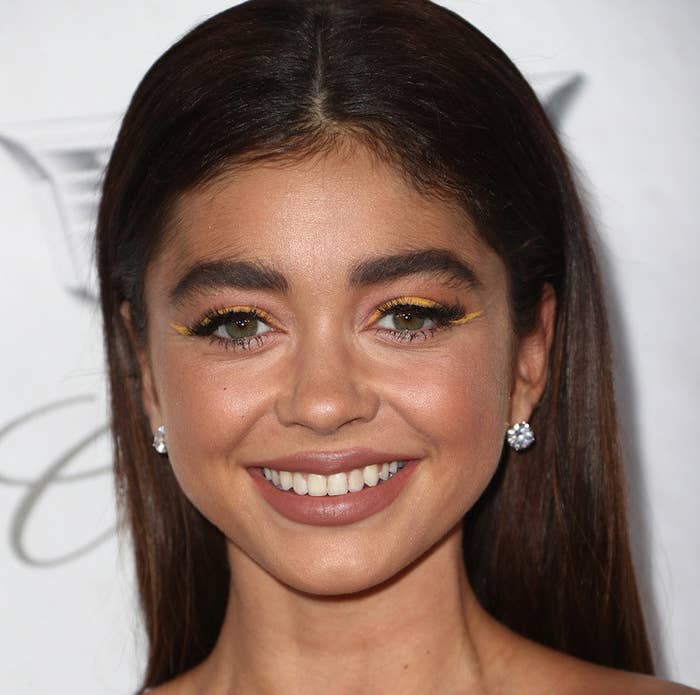 Sarah Hyland of Modern Family had a kidney transplant in 2012, and she's always been open about that and her health issues.
However, in a new interview with Self, she revealed that her health problems were more challenging than most people realized.
She developed organ rejection after the first transplant. In February 2017, she had to undergo dialysis three days a week, four hours at a time, for months because she had kidney failure and needed dialysis to survive.
During dialysis, the blood is removed from the body, filtered to remove toxic waste products, and then returned to the body.
Hyland had to have a port implanted in her chest to connect to the dialysis machine. Her weight dropped, and she had to take immune system–suppressing drugs that caused her face to swell. She had blood pressure spikes and developed sciatica, which causes pain that radiates to the lower back and legs.
She finally had to have the kidney — which had been donated by her father — removed in May 2017.
"At that time I was very depressed, for a long time I was contemplating suicide," she said in a video interview with Self. "I had gone through 26 years of always being a burden, of always having to be looked after, having to be cared for, because I've always had health issues. And it's a really helpless feeling."
Hyland has had lifelong health issues due to kidney dysplasia, a condition that occurs before birth in which fluid-filled cysts develop instead of normal kidney tissue.
Eventually, she underwent a second kidney transplant — this time donated by her younger brother, after he was found to be a suitable tissue match — in September 2017.
"When a second family member, someone who you're supposed to look after like a little brother wants to give you a third chance at life, it's scary, because you don't want to fail them," she said.
Fans reacted with an outpouring of love and support.
They applauded her for talking about this difficult and highly personal health journey and making people with hidden illnesses feel seen.
People who had had kidney transplants themselves shared how the news made them feel.
And others applauded the fact that she was drawing attention to the importance of organ donation.
Some even learned a little more about how difficult it can be to accept an organ from a loved one.
After Hyland recovered from the second kidney transplant, she needed additional surgeries to treat an abdominal hernia and endometriosis. In endometriosis, the tissue that normally lines the uterus can actually escape and grow outside the uterus, causing severe pain, bloating, and in some cases, scar tissue, adhesions, and infertility.
In the spring of 2018, Hyland had endometriosis lesions removed during laparoscopic surgery, a procedure in which instruments are inserted into small incisions in the abdomen. During the procedure, the abdomen is inflated with a gas that can dissipate and cause pain during the recovery, which was the case for Hyland.
"Laparoscopic [surgery is] one of the most painful things I've ever been through in my life," she told Self. After the procedure for endometriosis, she had the hernia repaired a few weeks later.
She still is in pain from endometriosis and may need more surgery in the future to remove additional lesions, she said.
"[This week] I've had a flare-up with my endo," she told Self. "It has been hard to stand up straight, let alone work."
In all, she said that she's undergone at least 16 surgeries, including seven before the age of 4, and showed the scars now crisscrossing her abdomen in the video.
She said she's "never been ashamed to show [her] scars."
"Scars are scars. They are little tally marks of what you have been through as a human being," she said.
She said she is now healed and deeply grateful to her family and friends, as well as her boyfriend Wells Adams, whom she met just days before undergoing her second transplant surgery.
"It was the worst and best year of my life. It started out horrific and ended with a beautiful beginning of not just a new chapter but a new book," she said.