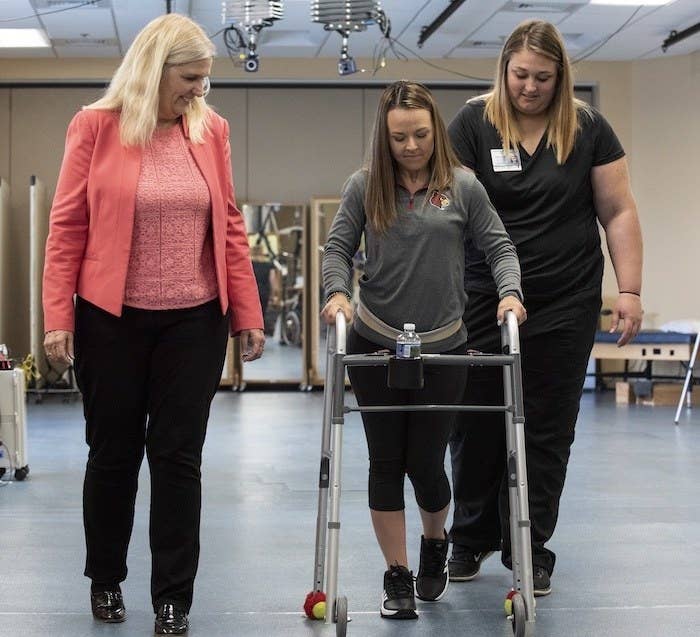 A handful of people who are completely paralyzed from the waist or chest down have been able to stand, take steps, and, in one case, walk with a walker, after getting a device surgically implanted in their spines.
These devices, called epidural stimulators, have been used for years to treat chronic pain. When the epidural stimulator is on, it delivers electrical impulses to the lower spine. That stimulation, combined with an intense rehabilitation program — in one case, 278 sessions in nearly two years — may help sync up the brain's intention to walk with actual movement of the limbs.
So far, the procedures haven't worked for everyone, and they've only been done two to four years after a spinal cord injury, so it's not clear if they can help people who've been paralyzed for a longer period of time. And they're not without risk — one person broke a hip from just attempting to walk on a treadmill.
But they do offer hope, Claudia Angeli, assistant professor with the Kentucky Spinal Cord Injury Research Center at the University of Louisville, told BuzzFeed News.
"These individuals, after their injuries, are always told there is no possibility for recovery. Now we are showing that the spinal cord has that capacity to restore function," Angeli said. "We do not have all the answers and we are not claiming to have all the answers, but we are very hopeful."
Angeli and her colleagues, including Susan J. Harkema, revealed on Monday the results of four people who had the spinal implant. Two of them regained the ability to take steps and two did not, according to their study in the New England Journal of Medicine.
In a second report published on Monday in Nature Medicine, researchers at the University of California Los Angeles and the Mayo Clinic in Rochester, Minnesota, reported that a 29-year-old man who had the epidural stimulator implanted was able to take steps with assistance.
In 2014, the University of Louisville team reported in the journal Brain that four men who had the implant were able to stand and flex their toes, and showed improved bladder, bowel, and sexual function. Also in 2014, there was a reported case of a man regaining the ability to take steps after cells from inside of his nose were implanted in his spine.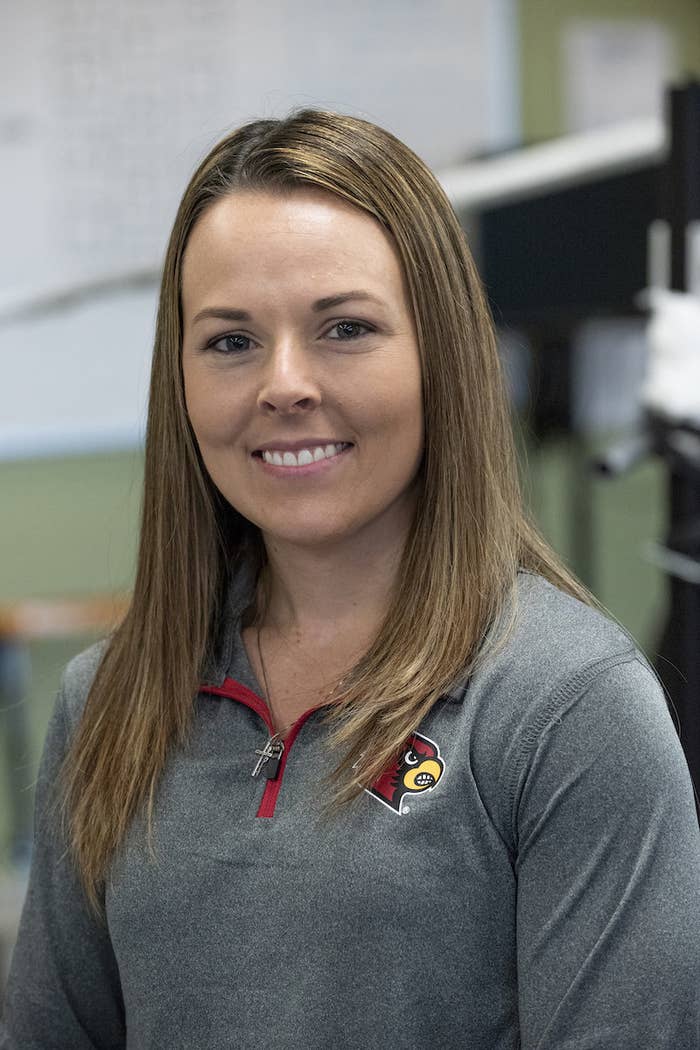 The most stunning recovery presented in the new studies was that of 23-year-old Kelly Thomas of Citrus County, Florida, who received the implant last year at the University of Louisville. Thomas can now switch on the implant and walk around her home using a walker.
"It's a mind-body connection. If I don't consciously think about stepping, I don't step — it's just that plain and simple," she told BuzzFeed News. "The stimulator doesn't work for you, if that makes sense; you have to figure out how to work it. It's definitely a connection but I've figured it out. I've cracked the code."
Once a soccer player, daily runner, equestrian, and rodeo competitor, Thomas had a car accident in 2014 that left her paralyzed from the chest down. However, she did have some sensation in her lower body, which isn't the case in all spinal injury patients. She had the implant in September and participated in 81 rehabilitation sessions over 15 weeks. She worked on sitting, standing, and taking steps in sessions for fours hours a day, five days a week, and for a few hours on the weekend.
"I don't want people to think you just turn it on and you are good to go — that's not the case. It takes hours and hours and hours of dedication," she said. "It's not for the faint of heart … There are days you just want to cry and quit."
The epidural stimulator in her spine is controlled by a device implanted in her abdomen. Thomas can place a magnet on her abdomen and select different programs such as standing, walking, or controlling the trunk of her body. Although not everyone can sense when the implant is on, Thomas says she feels a buzzing sensation.
"I have this continuous, like, buzz that's going on in my body when the stimulator is on," she said. "If I have my phone in my pocket on vibrate I won't feel it because I am already feeling that vibration."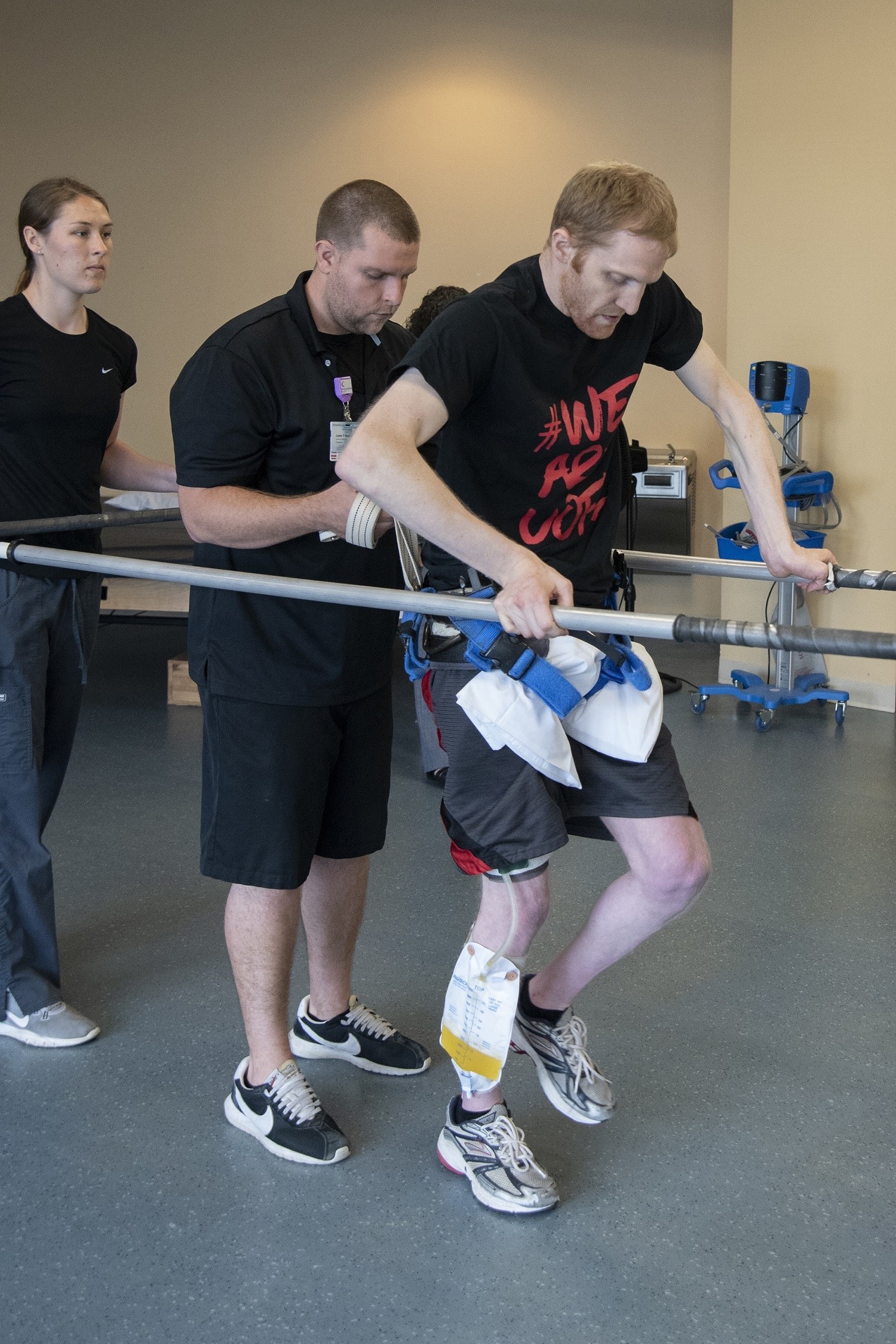 Jeff Marquis, a 35-year-old from Louisville, Kentucky, was paralyzed in 2011 after a mountain bike accident. After 278 sessions over about two years, Marquis was able to take steps using horizontal poles held by trainers, or when holding hands with someone on each side. He's not able to take steps with a walker, however, because of balance issues.
Marquis's injury was more severe than Thomas's, said Angeli. "When the stimulation is off he has no use of his hands, and his trunk control is a lot more challenging," she said. "Can he progress to a walker? We don't know."
Both Marquis and Thomas had some lower-body sensation after their accidents, which may have helped them regain stepping ability.
But even the two patients in the study who did not take steps showed some improvement, Angeli said. They were able to sit up and stand when the implant was on, and they could intentionally move their feet in step-like motions.
"There is still a long way to go for us to learn more about how this is occurring and potentially improving the technology to make it easier to translate this to the clinic," she said.
In the second study, researchers from UCLA and the Mayo Clinic reported on a 29-year-old patient who could not feel or move his lower limbs after a snowmobile accident in 2013. He entered the clinical trial in 2016, and after 113 rehabilitation visits to the Mayo Clinic, he took 331 steps and walked 16 minutes with assistance. He was able to take steps with a front-wheeled walker, with occasional assistance from trainers. For safety reasons, the patient now only takes steps with the assistance from the team.
In a press conference, the Mayo Clinic team said that no one really knows why the spinal stimulation is working. The implant doesn't seem to cause nerves to regrow.
One theory is that there might be some residual fibers remaining in the spine in some patients.
"We speculate that that is ... one of the potential mechanisms of their recovery," said Kristin Zhao, director of Mayo Clinic's Assistive and Restorative Technology Laboratory.
The Mayo Clinic team has done the same procedure on another patient, but has not yet released those results.
Even without steps, the epidural stimulators seem to have other benefits, including an improvement in bowel, bladder, and sexual function.
Thomas said she has noticed an increased ability to sweat (which is a problem for spinal cord injury patients) and less nerve pain in her foot. She can also cough now.
"Before, if I got something stuck in my throat, someone would have to help me," she said. "But now, just because of the stimulator, my core strength has increased," she said.
Angeli said she plans to study if the epidural stimulator improves heart function, like blood pressure control, and if it can help people who have been paralyzed for a longer period of time.
One drawback of the treatment will likely be cost. The patients (or their insurance companies) did not have to pay for their surgery and rehabilitation because they were part of an FDA-approved clinical trial. However, Angeli estimates that the cost, including the surgery and rehabilitation, might be around half a million dollars.
Epidural stimulators are made by several companies including Medtronic, which provided the equipment for the NEJM study but did not otherwise provide funds or input.
"Today is an important day for the millions of individuals living with paralysis who were told that recovery following spinal cord injury was impossible," according to the Christopher & Dana Reeve Foundation, which provided funding for both studies.
"This also falls on the eve of Christopher Reeve's birthday, which is just a happy coincidence," a spokesperson said. "It's a big day for Reeve and the community we serve."