On a crisp, sunny day in Seattle, DJ John Richards is fielding music requests from listeners and also sharing their stories on air. They are darker than the day — deeply personal, emotional, and gut-wrenching accounts of their struggles with depression, anxiety, grief, and more.
Hundreds of messages flood in via text, email, and social media. It's a Music Heals day, one of three to four such days the nonprofit radio station KEXP hosts every year as part of its programming that addresses these and other serious issues head on. This one is for people grappling with their mental health. Others are specifically geared toward addiction, grief, and coping with cancer. People share that they're trying to stay sober. They're the adult survivors of child abuse. Some are coping with suicidal thoughts. Others are trying to get help for children with mental illness.
As the stories come in, Richards plays songs like "Under Pressure" by Queen and David Bowie, "Stay Alive" by José González, "I am OK" by Lea Porcelain, "We are Fine" by Sharon Van Etten, and "This Year" by the Mountain Goats.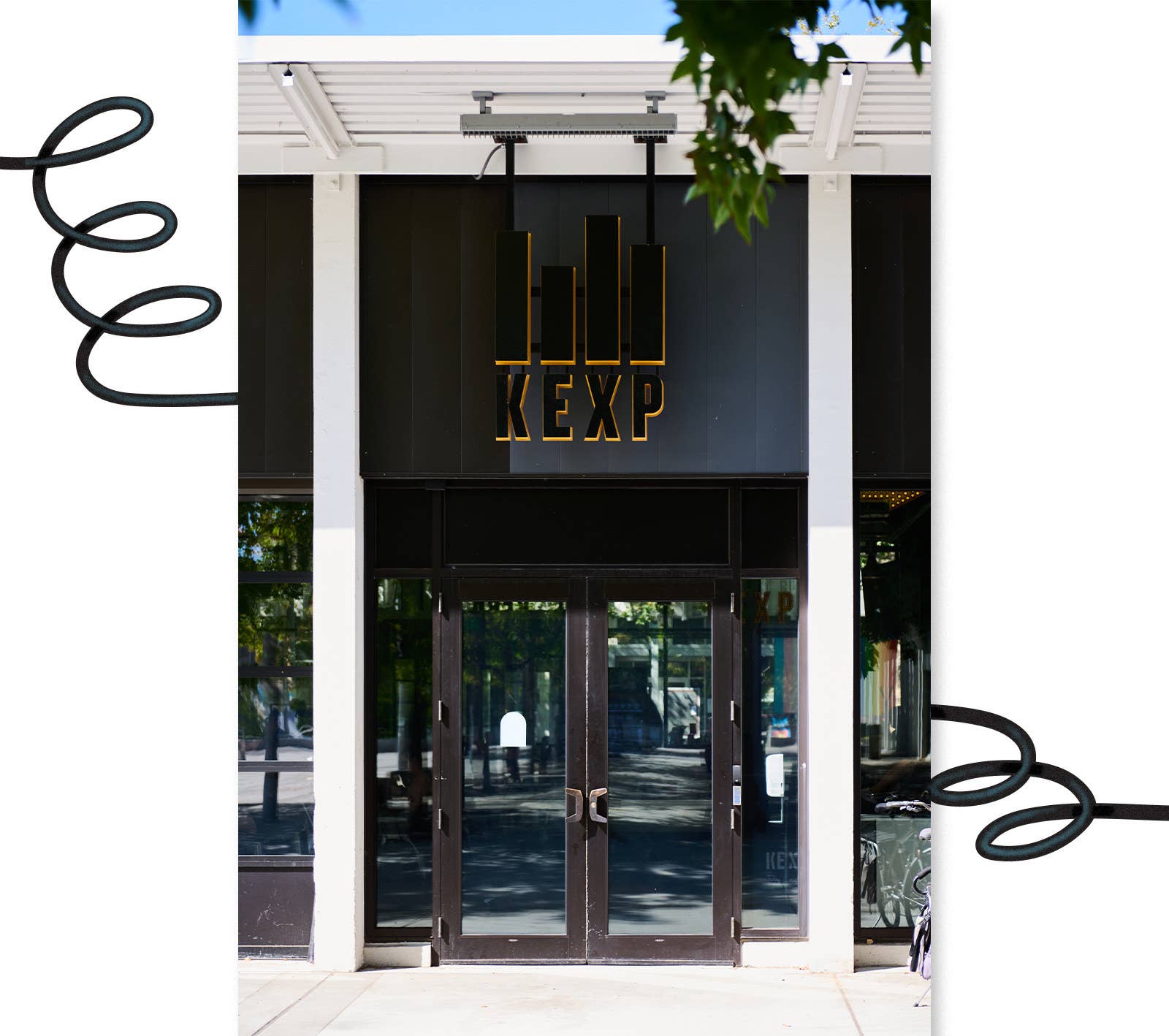 Although the station has been doing mental health–specific programming for years, not only was there an increase in listeners and donations after the start of the pandemic, but the number of hours that people were spending listening to the radio station also increased dramatically, said Dashel Schueler, KEXP's marketing and communications director.
Listener donations hit $7.8 million in 2021, up 16% from the $6.7 million donated in 2020. That included a 27% increase in donors. "Hearing stories from listeners about what they were going through, hearing from DJs about what their experience was and really being real and human and authentic on the radio inspired a lot of people to continue to support KEXP and more people to support it for the first time," Schueler said.
That type of authenticity isn't possible at most radio stations, which are largely owned by corporations, Richards said.
"There's no way they can even program like we do, let alone talk like we do," Richards said. "It's awful. When people talk about radio dying, that's what died."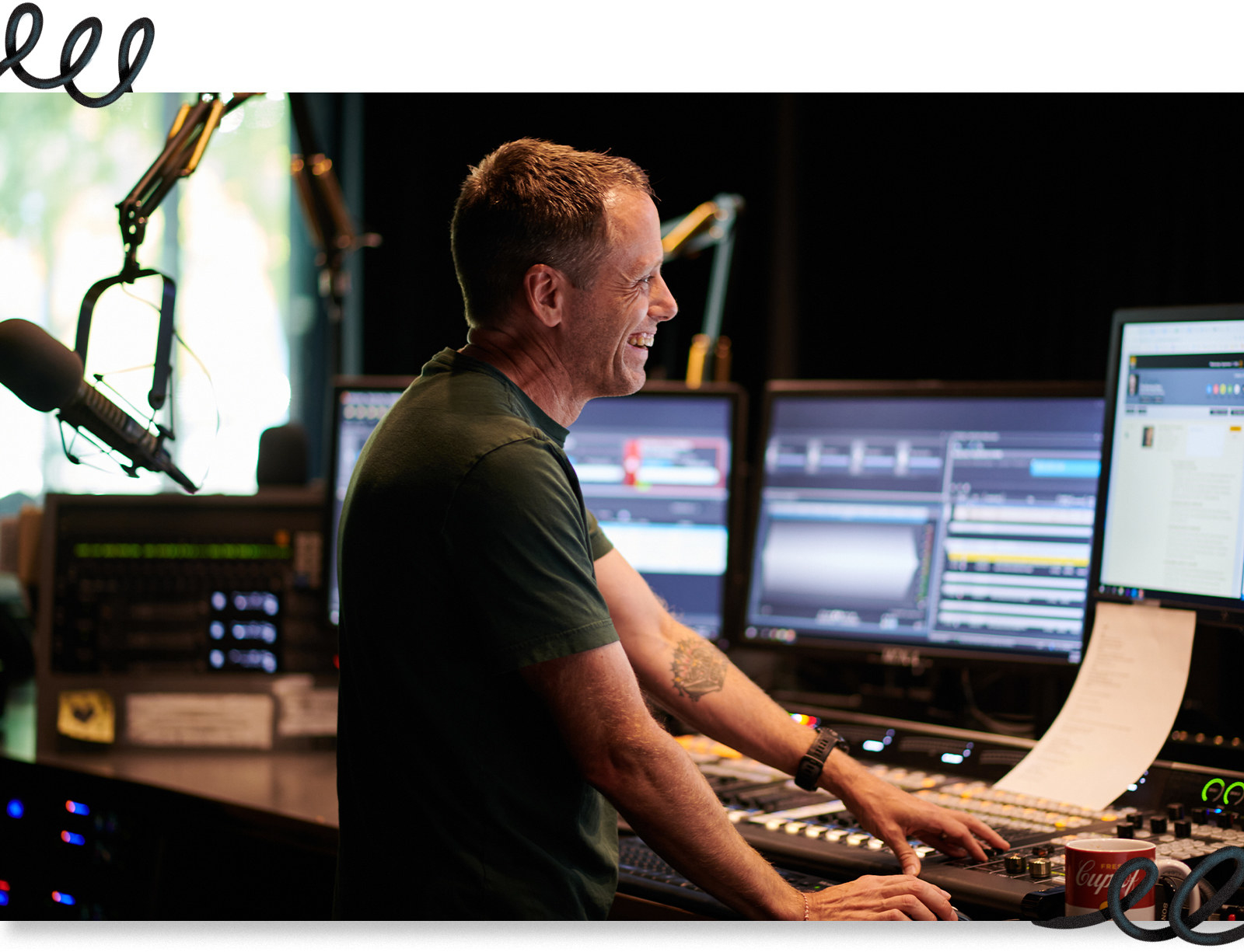 Although it varies, KEXP has about 300,000 listeners who stream or listen to the broadcast every week, and about half of the streaming listeners are from the Puget Sound area, followed by the next biggest audience, New York. The rest are from all over the world.
Donations make up the lion's share of the radio station budget. (Its biggest one-time donation was from a listener, Suzanne, who chose to be identified only by her first name. She left the station nearly $10 million in her will in 2018.) About 65% of the operating budget comes from individual contributions, which is the largest source of revenue for KEXP by a significant margin, Schueler said.
During the tumultuous year that was 2020, including the pandemic followed by the murder of George Floyd and the resulting resurgence in support for social justice movement Black Lives Matter, the station scrutinized its own internal practices even more than it had in the past and switched up programming to be more inclusive.
However, because KEXP was already focused on mental health, DJs felt ready to talk about the challenges people were facing. Their DJs received over 135,000 texts from listeners in 2021.
"We weren't changing what we did, we actually just doubled down on it," Richards said. "When a pandemic happens, you can get on the air and say, oh my god, you guys this is nuts. And then you tune into other stations, there's nothing — nothing! — no mention of our mental health, no mention of our physical health."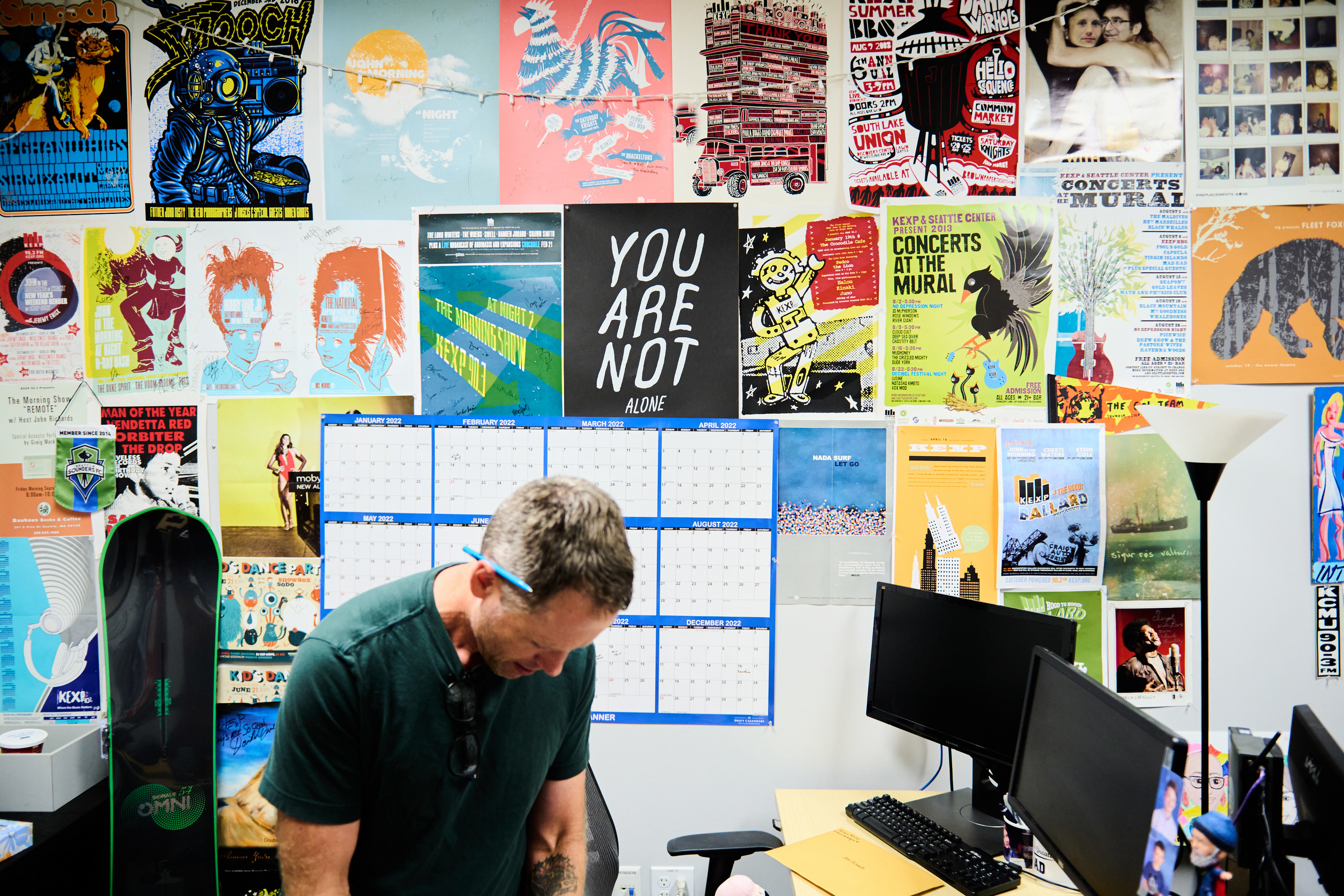 Tasha Golden, the director of research for the International Arts + Mind Lab at the Johns Hopkins University School of Medicine, said her group started hearing from more people seeking help in 2020, so much so that the IAM Lab put together a field guide for how to use the arts to feel better emotionally.
"We've seen increases in anxiety and depression and we have experienced what many consider to have been a collective traumatic event," said Golden, who is a public health scientist who studies the impact of arts, culture, and music on health and well-being. "People have been looking for ways to handle that."
Listeners feel heard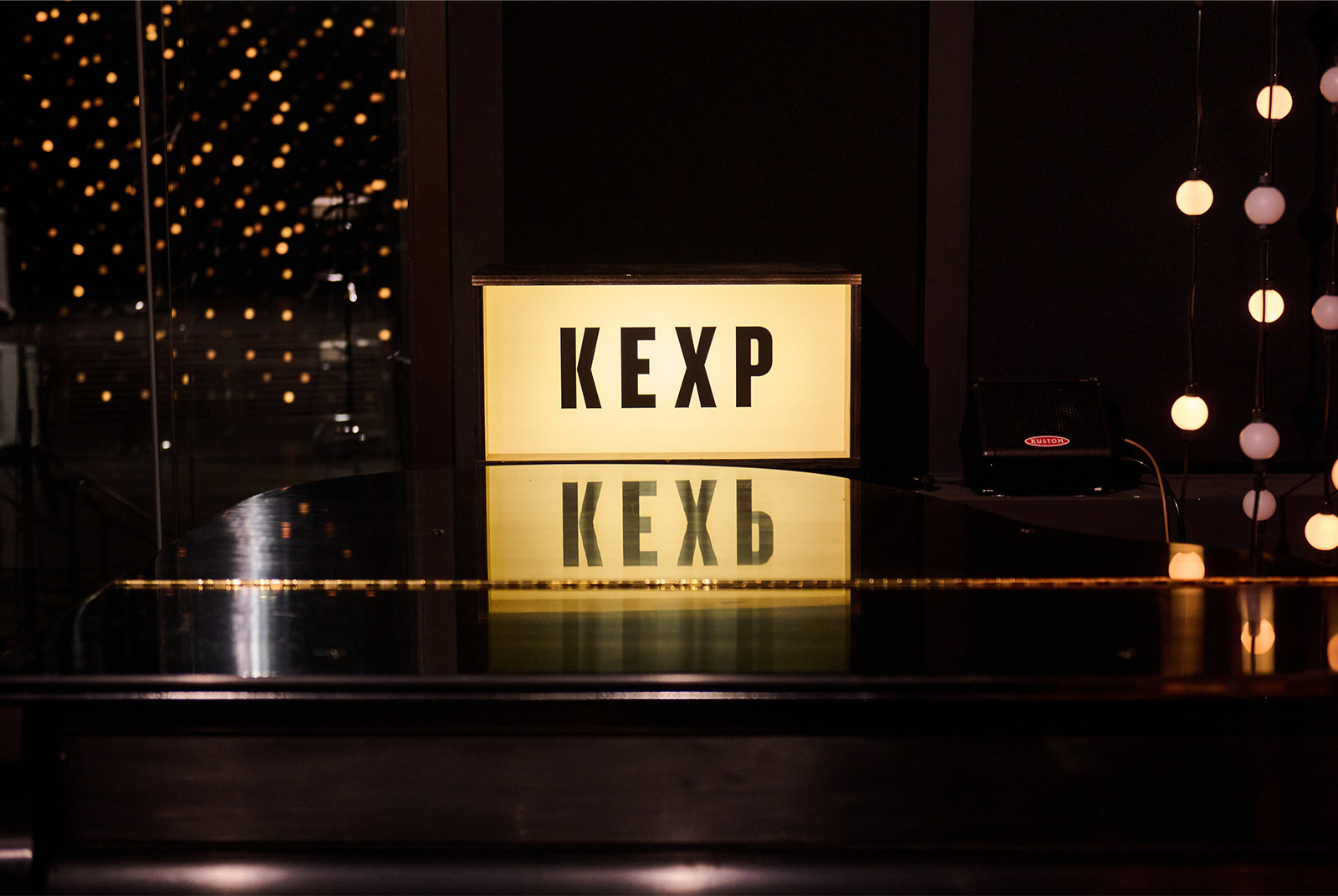 On a recent Music Heals day, a listener, Victoria, dedicated the song "The Mother" by Brandi Carlile to everyone who struggles with postpartum depression. A social worker, Victoria had a traumatic birth and felt guilt and shame because although she eventually got help from a therapist and found joy in motherhood, at first she couldn't find love for her baby.
"I felt nothing except much anxiety," DJ Richards said, as he read her note on air. "I felt so alone and it left me wondering how I could ever be a good parent."
Another listener, Josh, is also a new parent who recently started therapy to deal with conflicts with friends and family members. He's hoping he won't pass his issues onto his baby girl. "I lean on KEXP a lot each year," he said in his note before requesting "People" by David Bazan. "Remember, Josh, you are not alone," Richards said; it's the radio station's oft-repeated tagline.
And that's all before 8 a.m. as Richards, bowl of oatmeal in hand and large cup of coffee close by, gets through the three-hour morning show in KEXP's DJ booth. This particular booth (they have two) is a bit like a fishbowl with big windows that look out on a lounge and coffee shop at the station's location in the Seattle Center, which is an arts, educational, and family gathering area that includes the Space Needle. The DJs are somewhat on display, close enough to give the illusion that you could almost touch them, but separated from the general public by transparent glass.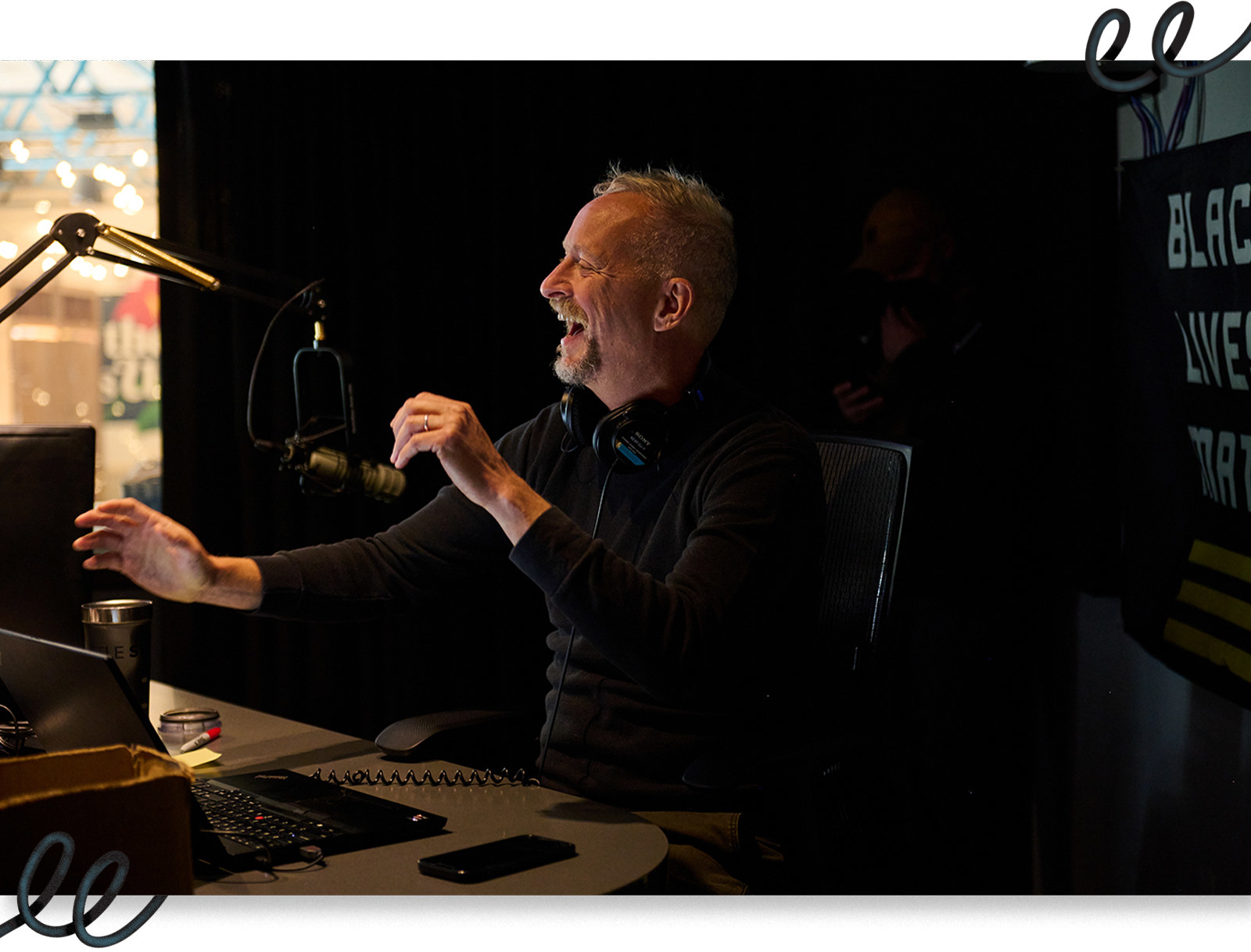 Producer Owen Murphy combs through stories and song requests from roughly 200 to 300 listeners in places like Texas, California, Kentucky, Arkansas, and Idaho, although it's not uncommon to get messages from people all over the world.
Richards, the creative director of on-air programming and host of The Morning Show, which runs weekdays from 7 to 10 a.m., isn't the only DJ fielding listener stories during these special all-day events. Next up is The Midday Show with longtime host DJ Cheryl Waters, who plays "Through the Ages" by Cloud Cult for a listener named Katie whose baby died of SIDS. (Lead singer Craig Minowa's 2-year-old son died in his sleep in 2002.)
Waters, who is also the creative director for live on-air performances, reads Katie's story on air and then has to stop because she's in tears. It's a not uncommon occurrence for KEXP staffers, as well as listeners.
Music Heals days can be challenging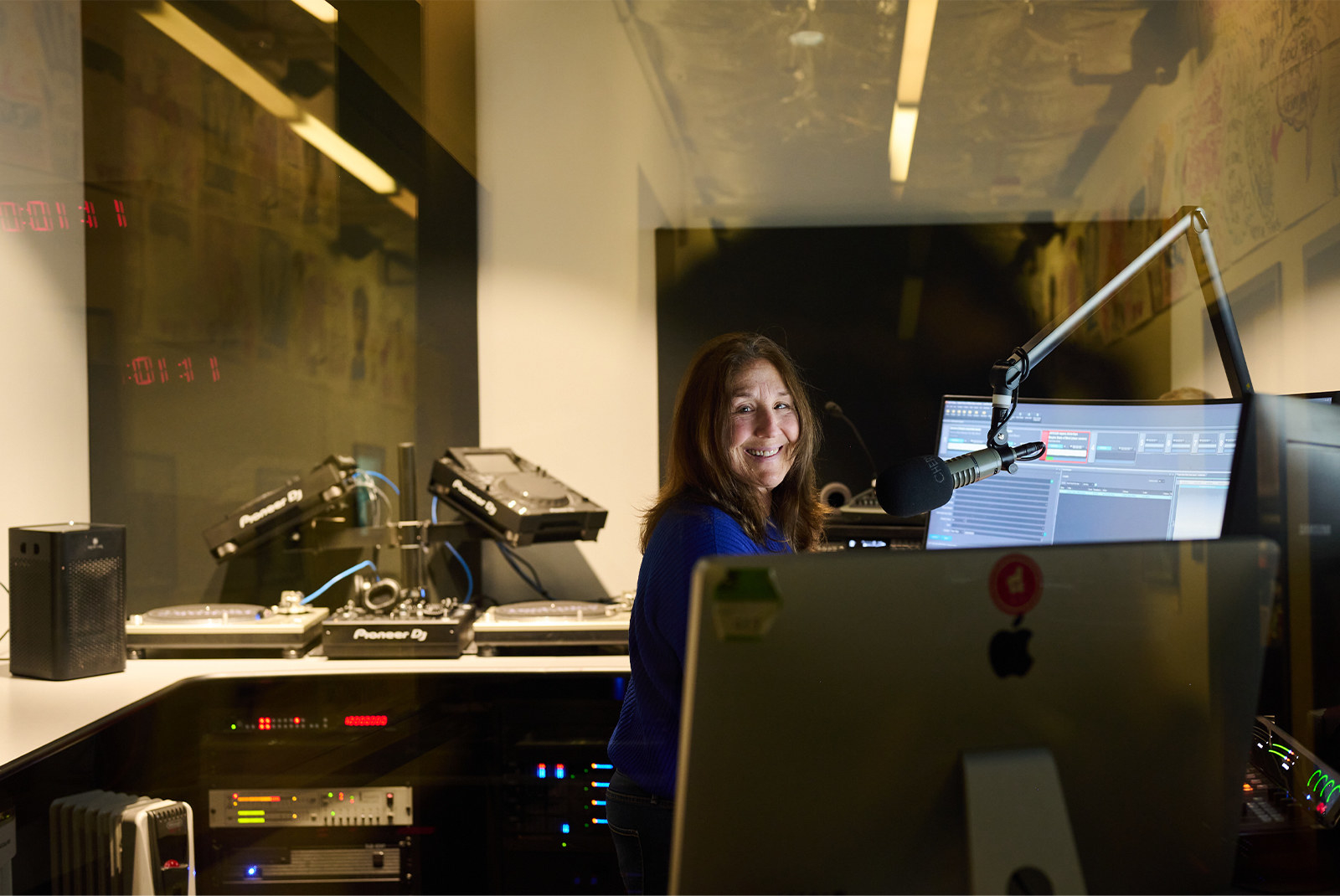 This type of programming isn't for everyone; it can be tough, if cathartic, to listen to. One person, Kristen, wrote in to say that her first thought when she realized it was Music Heals day was "ugh."
"I'm going through my own bout of depression at the moment and I just don't have time to deal with it right now," she wrote in a note Richards read on air. After listening to the show during her hourlong commute from Tacoma to Seattle, however, she started to feel better. "It really felt like that hour was just for me to help me get through the day," she said. "You guys are magical. Thank you."
The DJs tend to follow Music Heals days with upbeat music the next day. (The Morning Show's unofficial Friday song, "Show Me" by Mint Royale, is a listener favorite.)
"Friday is like a notoriously upbeat super positive day," Richards said. "Suddenly it's just dance music and you are not thinking too hard, but just hearing music and just enjoying it."
The staff also sometimes need to take a break after these days of emotionally wrenching programming.
"I realized that part of my work is recovering from my work," said Richards, who has the outgoing but slightly guarded air of a guy who is used to people asking him for things — his time, support, or just to listen.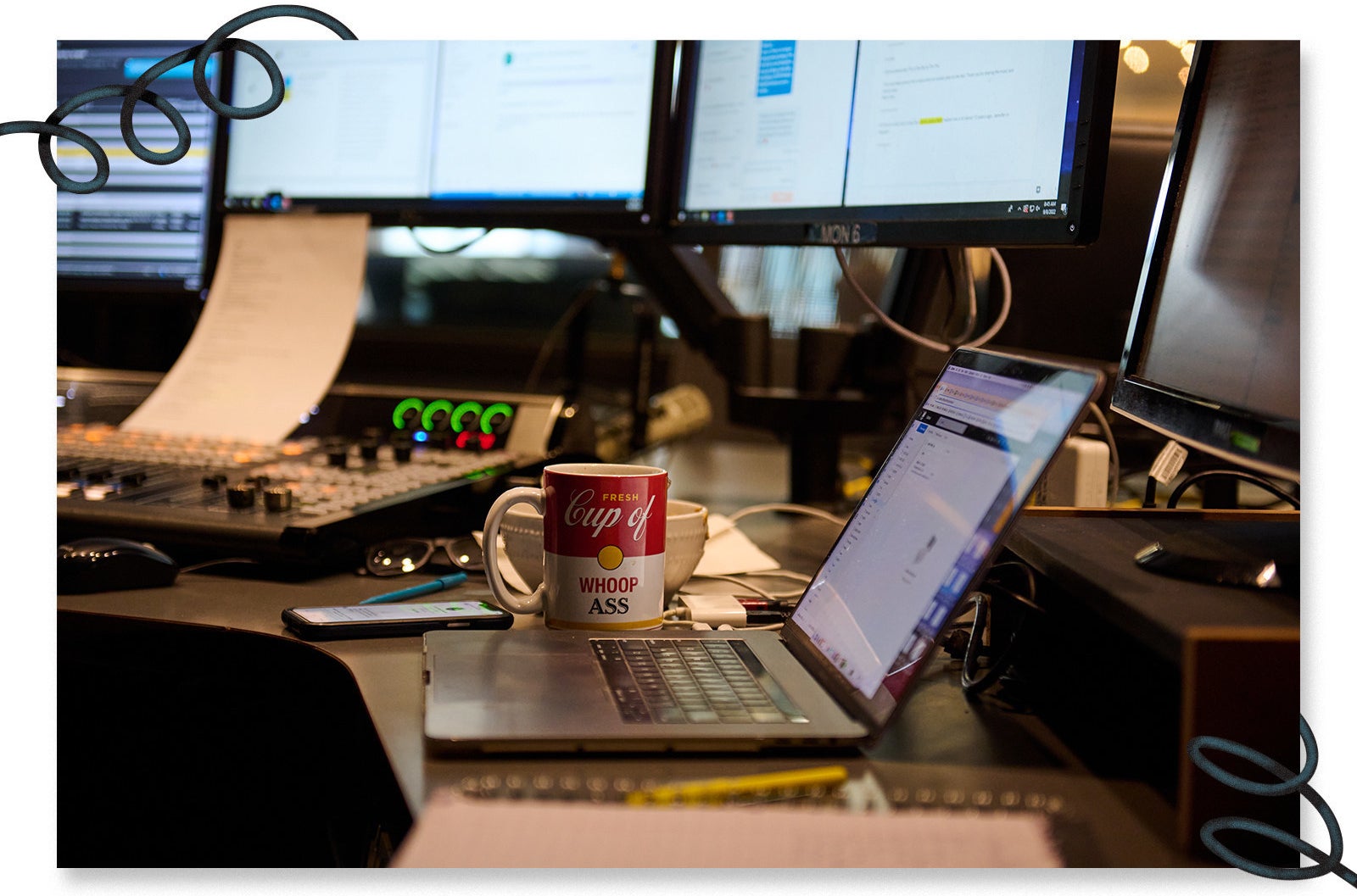 The Music Heals days and so much of the mental health programming on the station got their start because Richards has been extraordinarily open about the emotional milestones in his life, including his own struggles with depression (in between playing some objectively great songs).
As a longtime listener, I remembered when his mother died, the time he went through a divorce, but also when he fell in love and married again. I knew how excited he was when his wife, Amy, graduated from medical school and how much he loves his two sons.
When you know a lot about someone from social media or because they are a bit of a celebrity, you can forget that you truly don't know them at all — or that they have needs of their own.
Richards has struggled with the intensity of sharing his life on air and being an emotional touchstone for a lot of people. Last year, his sister Lee died after spending much of the previous year in and out of hospitals due to alcohol addiction.
Richards said people meant well but often would share their own stories of siblings dying at a time when he was barely getting through the day. In retrospect, he thinks he probably should have taken more time off.
"I thought I could come back and do my show, but I forget that there's more to it," Richards said. "You are going to get these messages, and people care about you, but I really struggled through that."
Richards, who considers himself to be an extroverted introvert, says everyone should wake up and ask themselves: What do I need to be myself today? "That's been kind of my battleground, what does John Richards need today to be that guy?" he said.
Like a lot of people with depression, he uses a variety of approaches to stay healthy, including therapy, exercise (he has a running podcast that curates music for runners), and healthy eating.
To be "that guy" for other people, however, also means listening to his inner voice and taking a break if necessary, which he does with support from his family and the station.
"I need to step away. I need to regroup. I need to not be in meetings sometimes that maybe I should be in and I'm just not prepared for it," he said. "If I'm given that space, I feel great everyday."
During his show, Richards shared that a listener had recently mailed him a package of black-and-white photos of his sister dancing that were taken sometime in the late 1990s.
"She's so happy and so full of life, and it's as if I needed to wait six months from her passing to be able to really see those pictures," he said on air. "So I am going to frame one of those for sure and put it in my home."
All the Music Heals days are tied together, he said, noting how addiction, depression, physical health, and grief can all impact how you feel. His sister's alcoholism stemmed from depression and was a kind of "slow suicide."
"That's what alcoholism was for her and many people, including my father. So these days all touch one another," he told listeners. "I think people see that, so I hope you have a community out there. I have an amazing community that does things like that for me, people I have never even met. So that's pretty great. Thank you."
The station has grown globally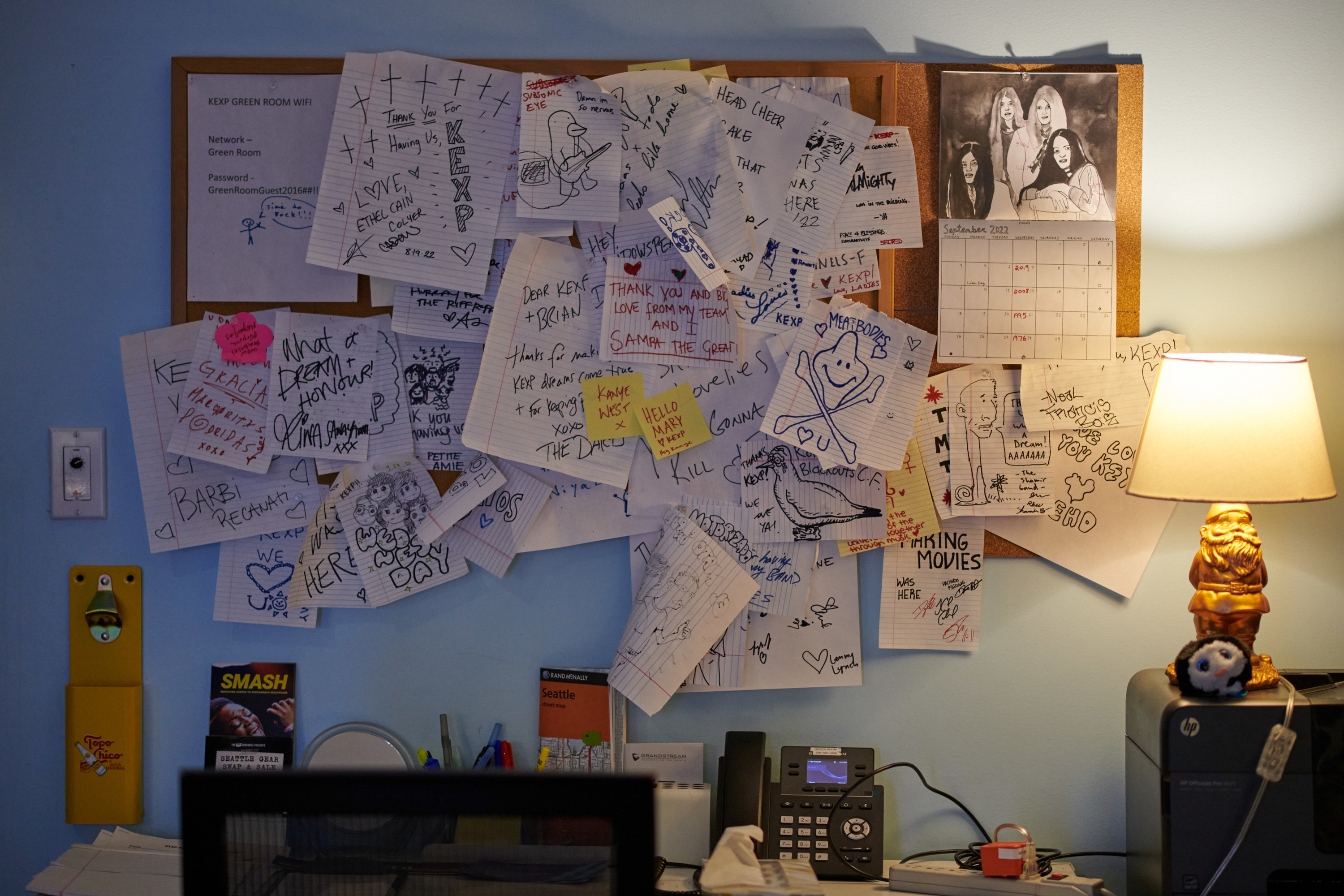 Besides its mental health programming, KEXP is known for some other things. The station, which celebrated its 50th anniversary last year, was founded at the University of Washington in 1972 as KCMU. It became KEXP in 2001 with the help of a $3.6 million donation from Microsoft cofounder Paul Allen, who died in 2018. Allen also helped fund some of the station's new facility at the Seattle Center, which opened in 2015.
The station is known for championing local artists, and musician Damien Jurado wrote a theme song specifically for the morning show. It was one of the first radio stations to play Nirvana and Soundgarden. It also has some pretty interesting on-air station promos, including one from Canadian prime minister Justin Trudeau.
The station's YouTube channel posts live performances and the largest audience is from the US, followed by several European and Latin American countries, including Mexico and Argentina, according to Schueler, the marketing and communications director. The YouTube channel has nearly 3 million subscribers and gets 1.5 million unique visitors each week, The top performing video, Bomba Estéreo performing El Alma y el Cuerpo has 59 million views.
In September, the station did its first weeklong live program and broadcast from Argentina, having already gone live in places like New York and Iceland.
"To see the growth of our community worldwide has just been extraordinary," Waters, who has been at the station for 28 years, told BuzzFeed News.
What is it about music so tied to emotion?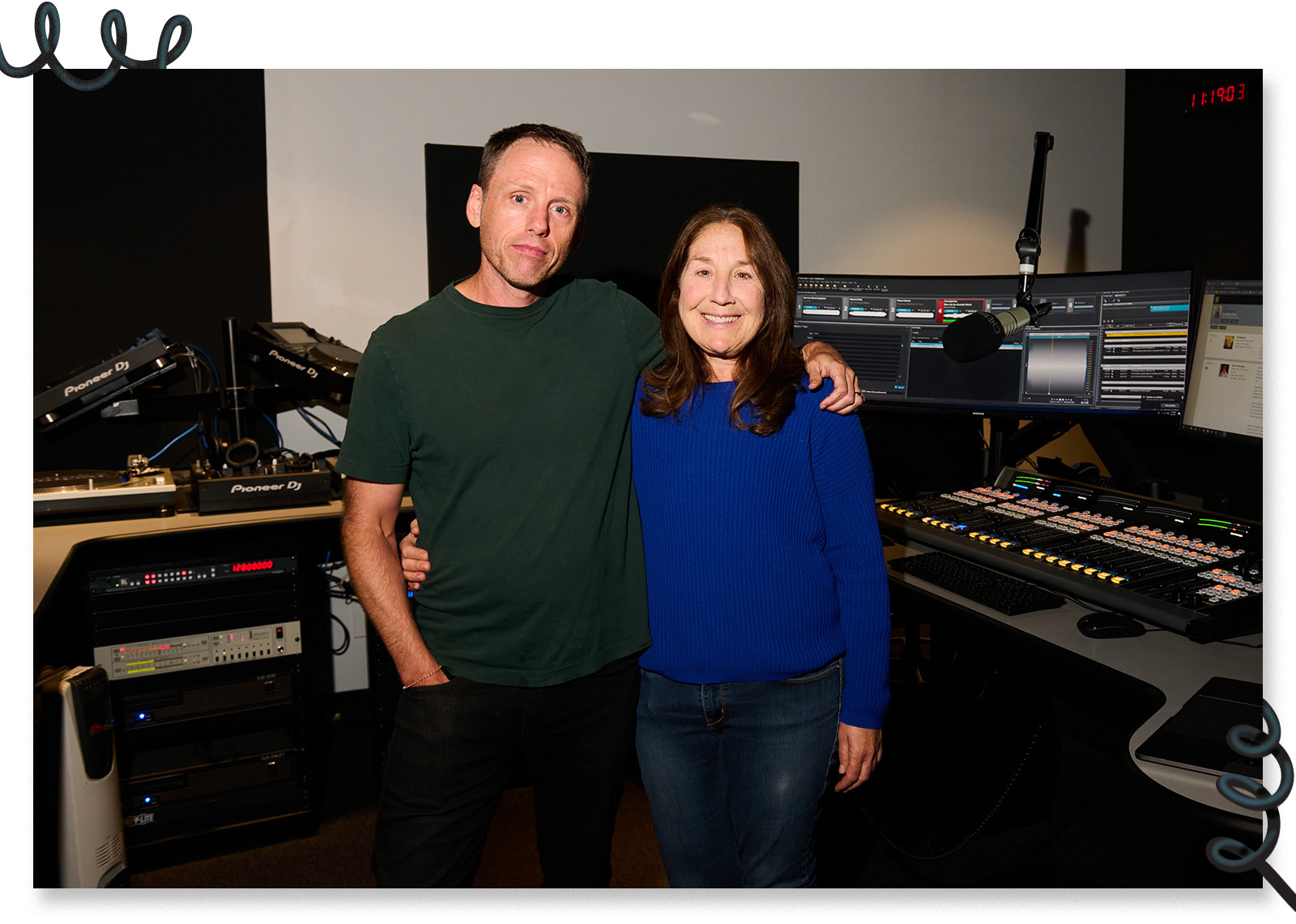 When I first found KEXP while randomly looking for a radio station on iTunes, Richards was talking about visiting his sick mother.
For Richards, coping with the death of his parents, particularly his mother, and talking about it on air was a pivotal moment.
"I just decided on the air that this was it," he said. "I'm just not going to be anything but myself and I'm going to talk about these things and I'm gonna talk about grief and I'm going to talk about what I'm going through."
He told listeners his mother had died and proceeded to play songs that were meaningful to both of them, including ones from his childhood or that he'd played for her on her deathbed. The listener support was tremendous.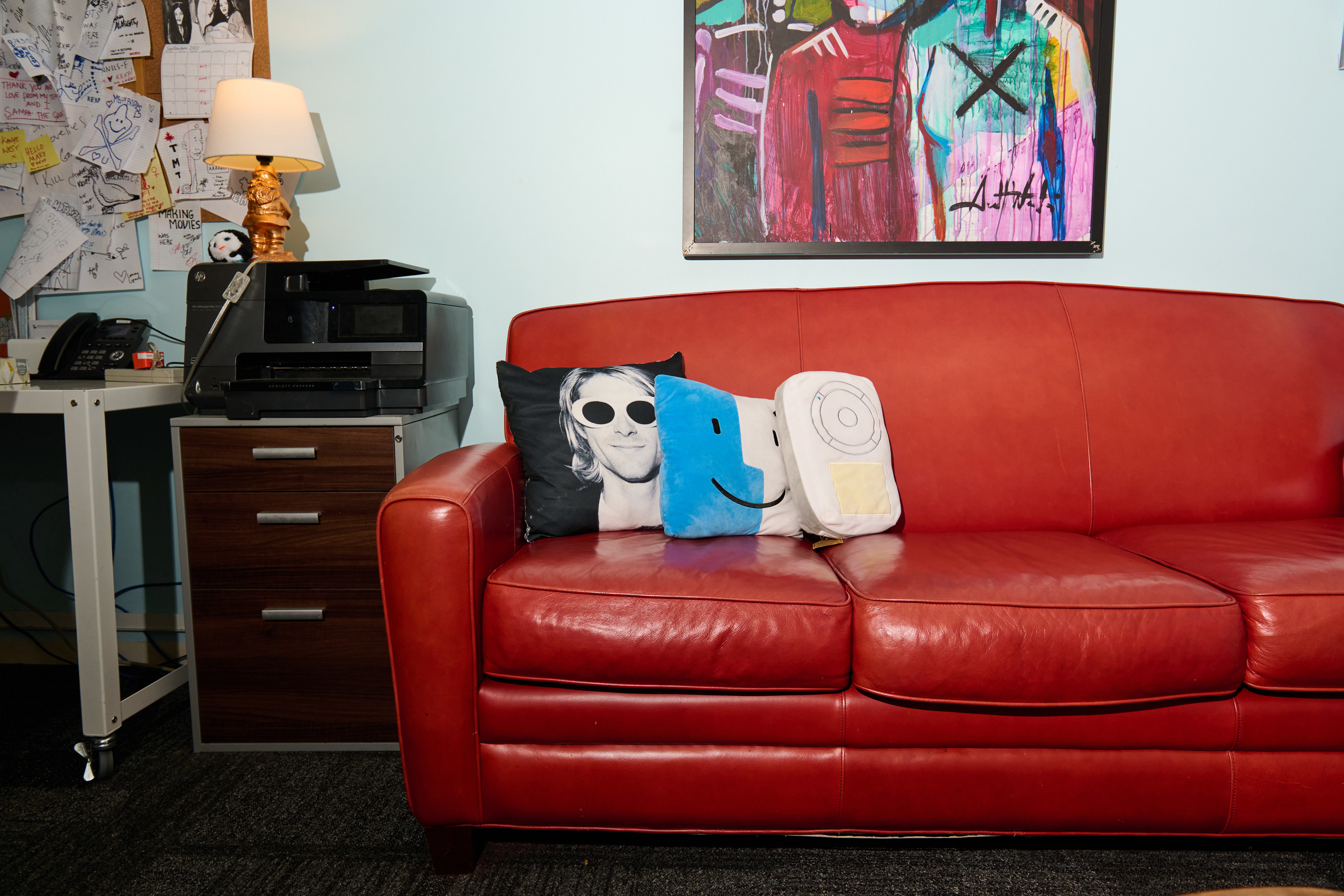 That experience would eventually become the Mom Show, which took place every year on the anniversary of her death on Nov. 13. This would eventually morph into Music Heals: Grief program. (Richards also hosts an in-person event called Death & Music.)
"I realized I'm safe here," he said. "And I'm going to do something that nobody else is doing because I don't hear it anywhere else. I don't hear anyone talking about any of the shit and we're all going through it."
Music has been shown to have mental health benefits, said Golden, the International Arts + Mind Lab research director. It can help people process their emotions, tune into specific memories, or purposely shift their mindset. It can also support meditation or mindfulness experiences, she said.
Golden and her colleagues published a review study in 2021 in the journal Frontiers in Psychology that looked at the benefits of music for people with serious mental illness. In their analysis, they looked at 349 studies where people with major depressive disorder, generalized anxiety disorder, schizophrenia, or other conditions made or listened to recorded music.
"Over two-thirds of the studies reported positive effects from music with the serious mental illness that they were looking at," she said.
Golden says that when we talk about the benefits for mental health, music can't perform some alchemy to transform challenging emotions into something different or better, and that's not always the goal.
"The human experience includes suffering. Emotional pain is real, and you shouldn't try to deny it, and it may not be best to immediately try to turn it into something else," she said.
Music can help us shift moods, but sometimes music is valuable because it helps us acknowledge and process difficult emotions, or share them with someone else.
"I don't think of myself as an arts advocate so much as an advocate of the things we need to be human and to be well and to thrive," said Golden, who is also an artist whose previous career was touring full-time as a singer-songwriter. "In our society, sometimes it's hard to simply have access to those things that allow us to be fully human, for example, rest, social connection, meaningful work, art."
Another way that music may support mental health is that it can remind you that your emotional or psychological world is bigger than a specific moment, she said. "For me, that's one of the more beautiful things about art," she said. "Art doesn't always diminish grief or sadness; it expands us."
As for Richards, there's one more thing that he said he found incredibly helpful for dealing with depression, grief, stress, and the world in general: helping others.
"It almost feels like you are cheating, how good you feel helping others," he said. "I know I sound like a hippie, but I swear to god, it's magical." ●