Allison and Brent live in Madison, Alabama, and they had a baby boy via cesarean section March 29.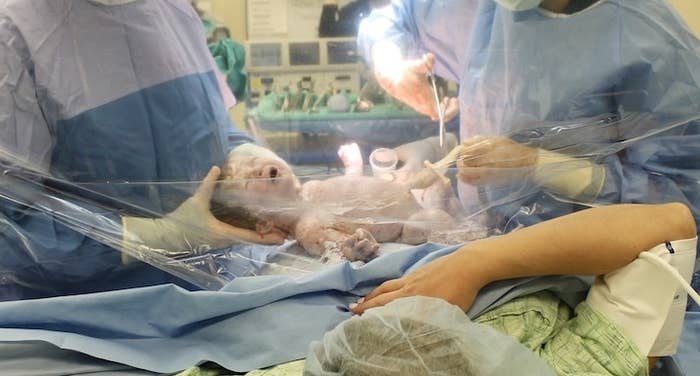 The couple had their first baby, a girl, three years ago. At the time, Allison delivered vaginally and didn't use pain-relieving medication, which overall turned out to be a pretty good experience for Allison. She had hoped to have the same kind of delivery for her second pregnancy, a boy.
However, at her 20-week ultrasound, Allison found out she had placenta previa, a condition where the placenta is covering the cervix, which makes it risky to deliver vaginally due to the risk of bleeding or rupture of the placenta.
Although there was about an 80% chance that the placenta would move out of the way as the pregnancy progressed, that didn't happen.
"Once we found out that it was not moving at all, that it was completely covering my cervix, we were like okay well let's schedule a C-section and see what we can do," Allison told BuzzFeed News.
The couple knew they wanted to have a "gentle cesarean" or "family-centered cesarean."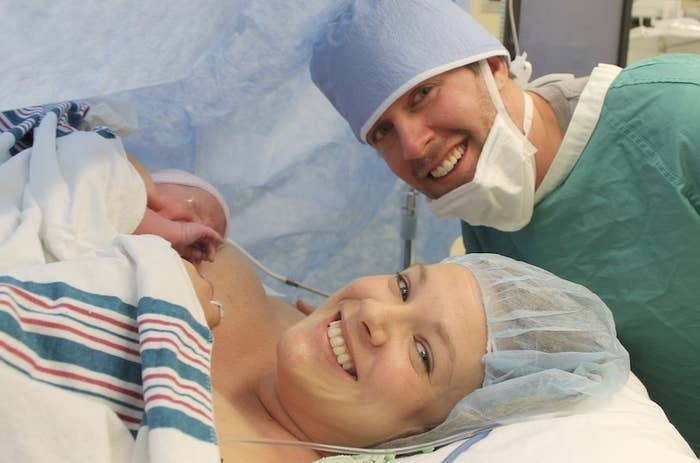 It's a trend in the last few years in which many of the elements of a vaginal birth are incorporated into cesarean births.
Those can include a clear surgical drape that allows mothers to see the actual birth of the baby and witness their first breath, immediate skin-to-skin contact for baby and mom, and the presence of a professionally trained birth attendant, or doula.
"So we knew this was going to be a complete opposite kind of birth, but we still wanted the skin-to-skin, to see him being born, and to have it be as family friendly and as gentle as we could," Allison said.
Abney had a cesarean section herself 13 years ago and didn't have any of the elements now incorporated in "gentle cesareans." Pretty much "everything she hated" about her own delivery is eliminated with these changes, including feeling like she was the very last person in the room to see her baby, Abney said.
Research suggests that, if possible, keeping moms and babies together right after birth is beneficial, hopefully with skin-to-skin contact, Abney told BuzzFeed News. It's sometimes called the "golden hour," and may increase the chance of breastfeeding success and reduce the risk of postpartum depression.
"So that's part of the push in the new trend towards family-centered cesareans, we are getting those benefits of a vaginal birth but in a cesarean," she said. "We don't have to miss out on those as cesarean mothers."
You don't really see anything but the baby while using clear drapes during a cesarean delivery.
Although sometimes people are "freaked out" about the idea of a clear surgical drape, it's not as intimidating as it sounds, said Abney, who is based in Madison, Alabama. "It's not a gory thing," she told BuzzFeed News. "You don't actually watch the procedure or them do the incision."
In fact, a regular opaque surgical drape covers the clear drape, and is only lowered when the doctor actually delivers the baby. The clear portion is covered at the beginning of the surgery, lowered when the baby is born, and raised again when the surgical incision is being closed after the birth.
Because of the angle of the surgery, the mom and her partner or family member generally can't see anything but the baby. "Even when she pulled him out I literally only saw him, his head, and then his body," Allison said.
"My husband is squeamish but he had no issues with him being pulled out, that's all you see is your baby," said Allison. "It's pretty special."
The doctor will often cut the umbilical cord behind the clear drape so the mother can see that as well, Abney said. And usually they will bring the baby back to the mom so she can have skin-to-skin contact immediately after the delivery and while the cesarean is being completed.
Not every hospital offers a clear drape, and if they do, you have to ask ahead of time.
Abney said their local hospitals didn't always offer clear drapes and some women were driving more than two hours away to deliver at hospitals that offered them. It's only when women requested them over and over that hospitals responded to the demand.
"It's not like the hospitals were like, 'here, here's a clear drape,'" said Abney. "Our pregnant women in the community had to really work for those."
Allison said she knew the hospital they selected, Madison Hospital, offered the option so it was pretty straightforward to use them. "They were so gracious, all we had to do when we checked in was say 'hey, we would like a clear drape' and that's exactly what they did," she said.
And it's possible to change your mind if you request them ahead of time and then decide you don't want to use the clear drape. They will just leave the opaque one in place.
"My best advice is to request it and if you change your mind, tell them not to lower the blue drape," said Abney. "If you get nervous, just tell them to leave it up, you can change your mind."
Allison is doing well after the birth of baby Bennett.
"I'm feeling great, each day gets easier and easier," she said.
She recommends that women ask a lot of questions and find out what options are available to them when giving birth.
"I believe every woman who wants a clear drape, wants that skin-to-skin immediately after, wants an extra person in the OR for that comfort for mom and dad, that they should receive that," said Allison. "As long as everyone is healthy and safe I believe that a cesarean birth can be just and beautiful and special as a vaginal birth."