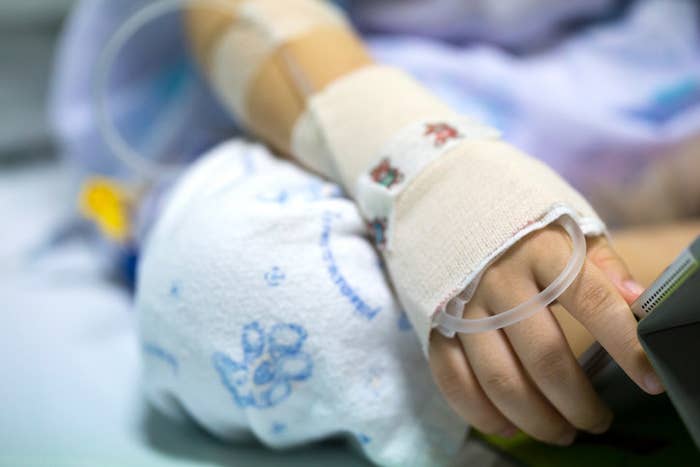 Cases of a rare, paralysis-causing condition seem to spike in the US every two years and health experts can't figure out why.
There has been a spike in cases of acute flaccid myelitis (AFM) in children in recent weeks, with 127 suspected cases now being investigated, according to the Centers for Disease Control and Prevention (CDC).
The condition typically affects children, causing weakness in the arms and legs, and can even cause trouble breathing. Other symptoms can include a weak or stiff neck and a drooping of the face and eyelids.
Of the 127 cases being investigated, 62 people in 22 different states have been confirmed to have acute flaccid myelitis, said the CDC's Dr. Nancy Messonnier at a press conference.
More than 90% of the people with the condition are children ages 18 or younger, and the average age is 4 years old. Some recover quickly, while others "continue to have paralysis and require ongoing care," said Messonnier, who is the director of the National Center for Immunization and Respiratory Diseases at the CDC.
"AFM is a rare but serious condition that affects the nervous system," she said. "It specifically affects the area of the spinal cord called gray matter, and causes the muscles and reflexes to suddenly become weak."
Cases have recently been reported in Minnesota, Pennsylvania, and Illinois.
The CDC emphasized that the condition is rare, affecting about 1 in a million people since 2014, when 120 people were first diagnosed. Since then, there have been about 22 to 38 cases per year, although there was also a jump in 2016, when 149 people were diagnosed.
Given the rise in 2018, there seems to be a pattern with a spike in cases occurring every two years in August and September. Since 2014, there have been a total of 386 cases of acute flaccid myelitis in the US, and one child died of the condition in 2017.
"Based on previous years, as well as 2018, most AFM cases occur in the late summer and fall; the data we are reporting today is a substantially larger number than in previous months this year," Messonnier said. "CDC recently received increased reports for patients suspected to have AFM with onset of symptoms in August and September."
And although some cases have been seen in other countries, only the US has seen a seasonal pattern like this, Messonnier said.
"As far as we know, that is something so far that's only been detected in the United States," she said.
Many states have seen cases, with no obvious clustering in specific states or areas. "We are looking for clues but we really haven't seen anything in the geography," Messonnier said.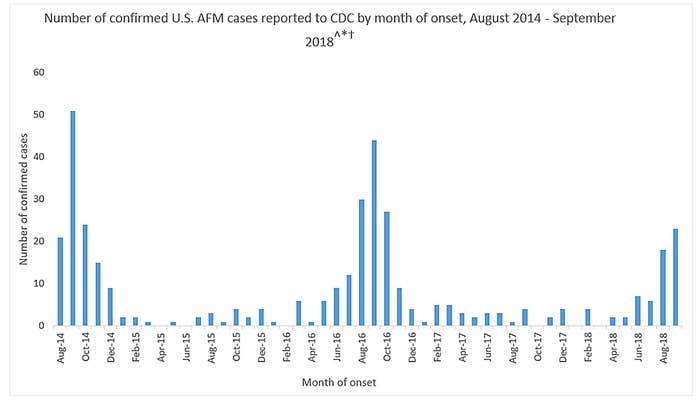 Health experts don't know what's causing the condition but are investigating viruses and environmental toxins as possible causes.
While acute flaccid myelitis can follow a viral infection, public health experts have been unable to conclusively identify a specific germ, toxin, or environmental factor that may be causing the cases.
The 2014 jump in cases was thought to be linked to an outbreak of enterovirus D68 (EV-D68), a viral respiratory illness that can cause a runny nose, coughing, and body aches. However, some cases of acute flaccid myelitis have occurred after infection with other respiratory viruses, such as adenovirus and rhinovirus.
And West Nile virus, which is carried by mosquitoes and often causes no symptoms at all, has also been proposed as a causative agent.
"AFM can be caused by other viruses, such as enterovirus and West Nile virus, environmental toxins, and a condition where the body's immune system attacks and destroys body tissue that it mistakes for foreign material," Messonnier said.
The CDC is looking at all of these factors but has not seen any cases linked to an environmental toxin. Although some people have had EV-D68, not everyone has had it.
"While we know that these can cause AFM, we have not been able to find a cause for the majority of these AFM cases," Messonnier said. "There is a lot we don't know about AFM and I am frustrated that despite all of our efforts we have not been able to identify the cause of this mystery illness."
People who are concerned about acute flaccid myelitis should focus on standard infection-control practices, like hand washing, the CDC said.
"As a parent myself, I understand what it's like to be scared for your child," Messonnier said. "Parents need to know that AFM is very rare, even with the increase in cases that we are seeing now."
She said parents can help protect children from serious diseases by following prevention steps like washing their hands, getting recommended immunizations, and using insect repellent to prevent mosquito bites.
"We do want to let parents know about this illness, so they can be aware of it and know if their child does have a sudden onset of weakness in the arms or legs they need to seek medical care right away," she said.