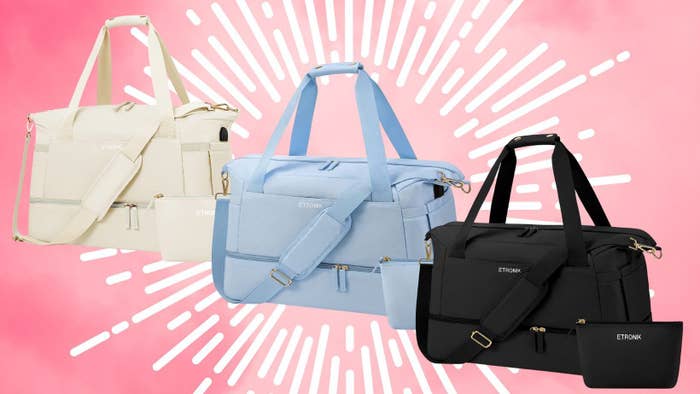 BuzzFeed may collect a share of sales or other compensation from the links on this page if you decide to shop from them. All products were independently selected by our editors, and the prices were accurate and items in stock at the time of publication.
If you've been on TikTok at all, you are probably well aware of the hype surrounding the Béis Weekender, a thoughtfully designed travel bag meant to meet all your globe-trotting needs — for $98.
As is often the case with relatively expensive viral sensations, the internet found a way to deliver affordable alternatives that are loved and adored by the masses. In this case, the original has been most famously replicated by Sam's Club and the Minkars brand on Amazon, both of which have completely sold out.
But before you get travel bag FOMO, you can still shop another popular and convincing lookalike on Amazon for less than half the cost of the luxury version.

You can buy the Weekender bag from Amazon for around $20-$40.
One of the defining features of the Béis is the generous bottom zippered compartment meant to keep soiled clothing or shoes separate from the rest of the interior. This Amazon version from Etronik promises that same vented bottom compartment along with other signature features of the original, such as a trolley strap, an interior laptop pocket and three separate interior pockets for even more organizing potential.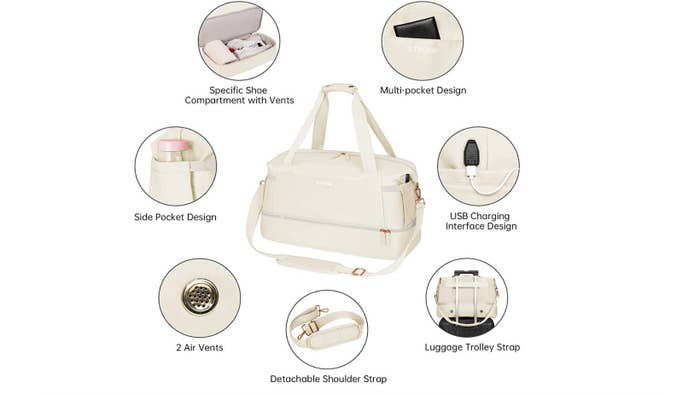 There are also some differences and unique additions to the Amazon duffle, most notably a USB port that can be used to connect an external travel battery and your electronic device so you can charge up your phone without having to open up the bag and dig around for a charger. There are also two slip-in side pockets for storing a water bottle or umbrella, and a separate zippered cosmetics pouch also comes with the bag.
Although both options are made with a water-resistant material, the Etronik bag has less structured, softer sides compared the Béis, which is one thing to take into consideration.
Reviewers claim they love this bag for use as a travel carry-on, for taking short weekend trips and as a hospital bag or gym duffle. And for just a little over $33, you really can't go wrong.
If you're not fully convinced, keep scrolling to see some positive testimonials before taking the plunge.
Promising Amazon reviews:
"Used it for a weekend trip in the mountains and it was amazing!! Felt very organized with the different compartments/pockets. The extra shoe bags and toiletry bag were a huge plus! There was a bit of struggle to fit all the thick sweaters and snow pants, but if it zipped up all my snow clothing, it can zip up a summer wardrobe." — Isabella Hinojosa
"I can't even explain what fit in there. Well I can. I even placed my purse in there to use it as a personal item and it passed. I had makeup, shoes, a straightener and some bathing suits stuffed in and I still had room. The charger on the side is a plus. And can we talk about all the pockets? Yes please, send me another." — Noelani Salvador
"I knew it would be a good size but I didn't really know until I received it! This is the perfect traveling bag and it fits so much, the pockets and compartments it has are super helpful, and I have been questioning myself on where this has been my whole life. So worth it!" — T
"Brought it on United as a personal item. Fit well under seat with extra room left over. Looks nice [and is] comfortable to hold. [It] has a strap you can slide over suitcase handle so you don't have to carry it. Fits a lot. Added my electronics, chargers, shoes, book, wallet, and liquids. Would recommend! It has a ton of side pouches and a bottom compartment." — Jen