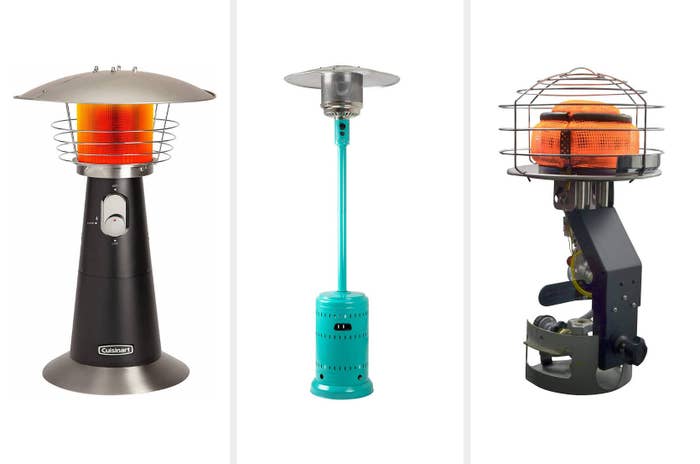 BuzzFeed may collect a share of sales or other compensation from the links on this page if you decide to shop from them. All products were independently selected by our editors, and the prices were accurate and items in stock at the time of publication.
Nothing puts a damper on an outdoor evening like the biting chill of the elements. I love the idea of an outdoor heater to bring up the surrounding temperatures without needing to pile on layers or move the party inside.
Prior to my research, patio and outdoor heaters always seemed expensive and something exclusive to sidewalk cafes or elegant outdoor restaurants. Plus, the idea of screwing in a heavy propane tank or trying to ignite some intimidating gadget felt well out of my comfort zone.
If you also share in my preconceived notion, please keep scrolling to explore all of the toasty options the world of outdoor heaters has to offer. Find portable table-side heaters that run on electricity, easy-to-ignite standing heaters, and even overhead heaters that function like lamps.
1. A bestselling standing heater with wheels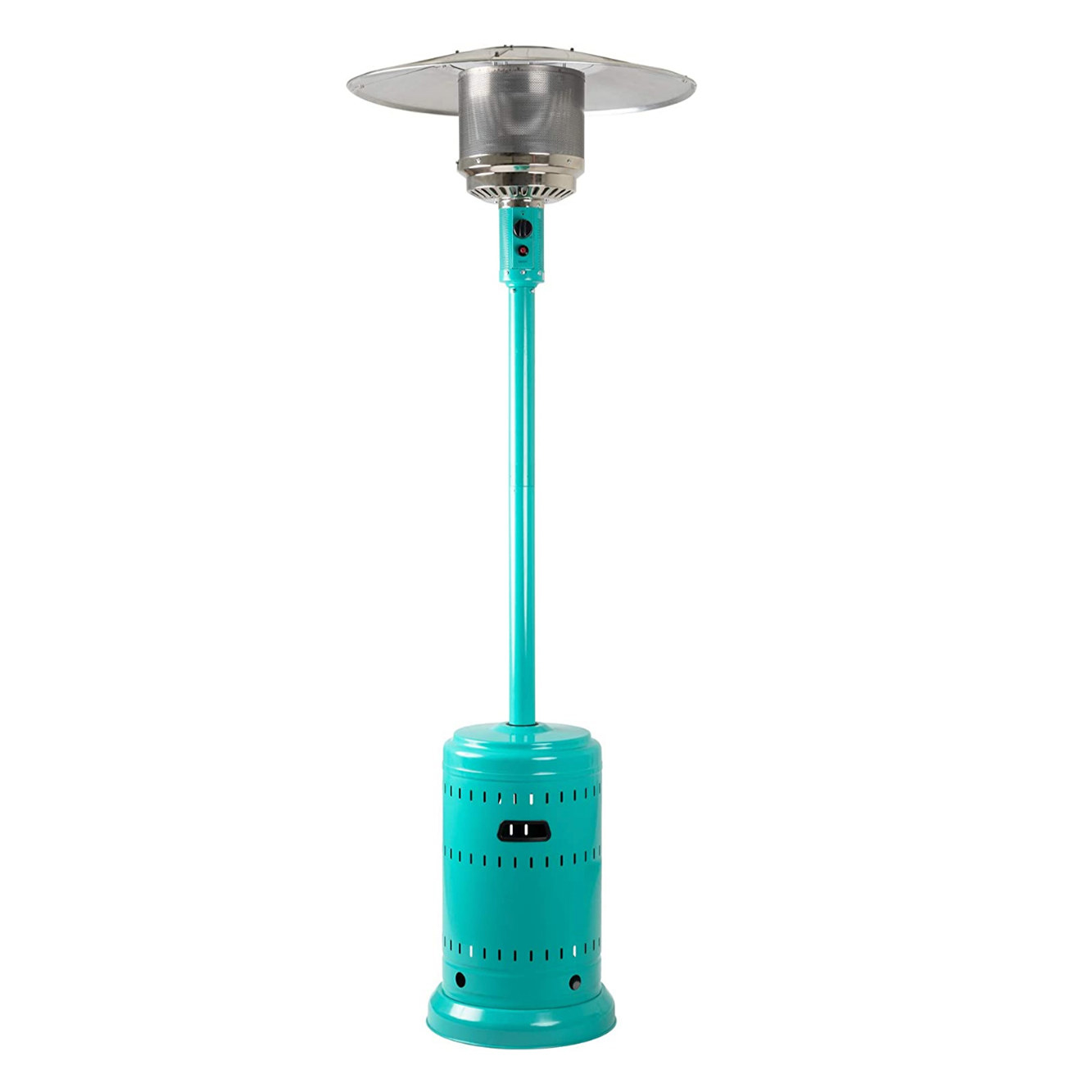 Amazon's top-selling propane patio heater emits heat up to a 9-foot radius and uses a user-friendly ignition that starts the heater with one push of a button. Available in six powder-coated colors, this wheeled heater also features a temperature adjustment knob, a safety auto shut-off valve and an anti-tip mechanism.

You can buy the Amazon Basics propane heater for around $147.

2. A table-side electric heater
This double-sided infrared heater is complete with a 20-layer tungsten heating element that doesn't require any pre-heating to provide efficient 360-degree heat. You can choose between three temperatures using an included remote control, and its lightweight design is both waterproof and dust-proof.

You can buy the East Oak patio heater from Amazon for around $180.

3. A portable tabletop heater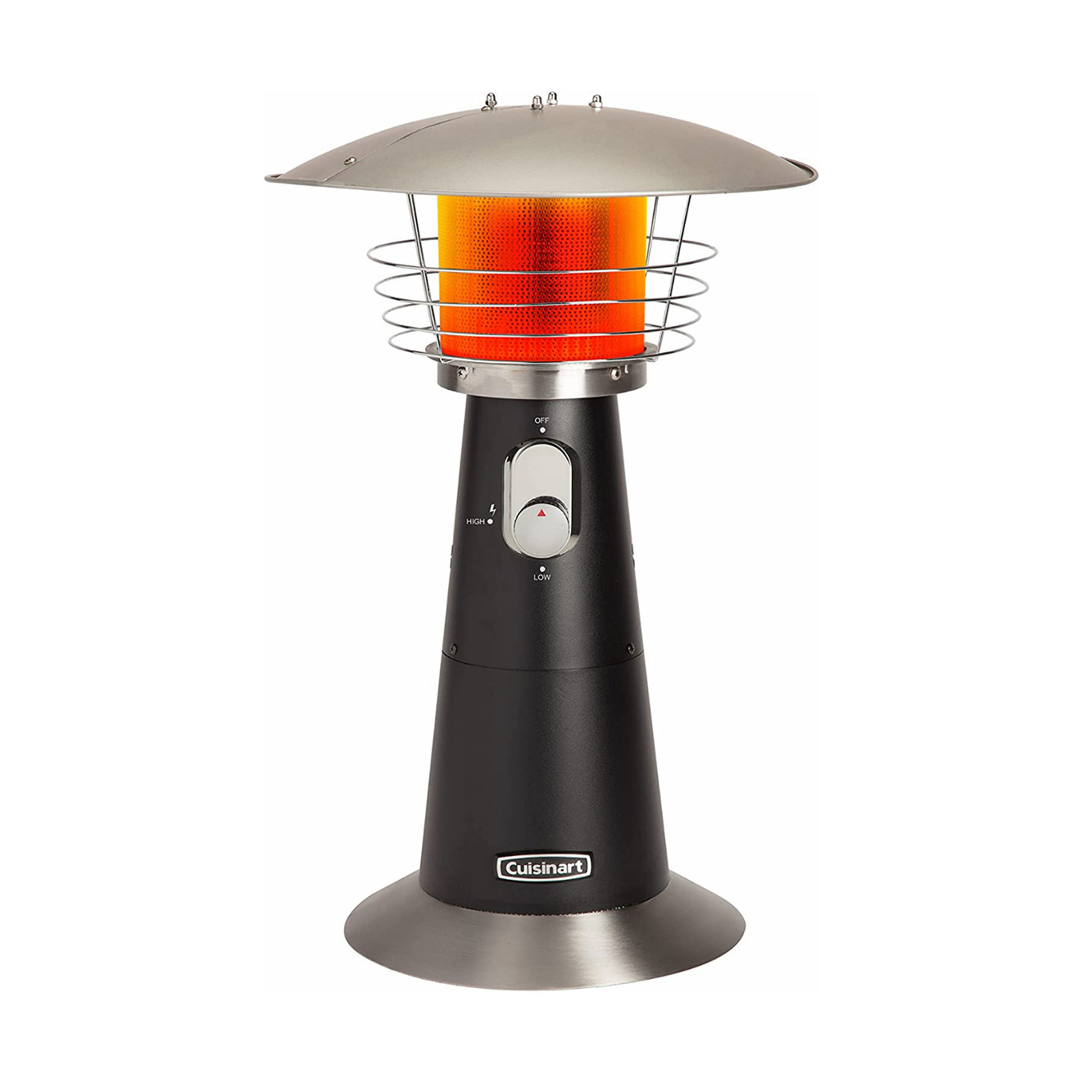 Cuisinart's small but mighty propane heater is highly portable and can sit atop tables or other secure surfaces to provide 11,000 BTUs of heat, which can be controlled using a dial. The top shield protector even distributes heat, and a tilt-protection switch automatically shuts off the heater if knocked over.
The Cuisinart tabletop heater is temporarily out of stock on Amazon, but you can buy it from Wayfair for around $147.

4. A mountable overhead heater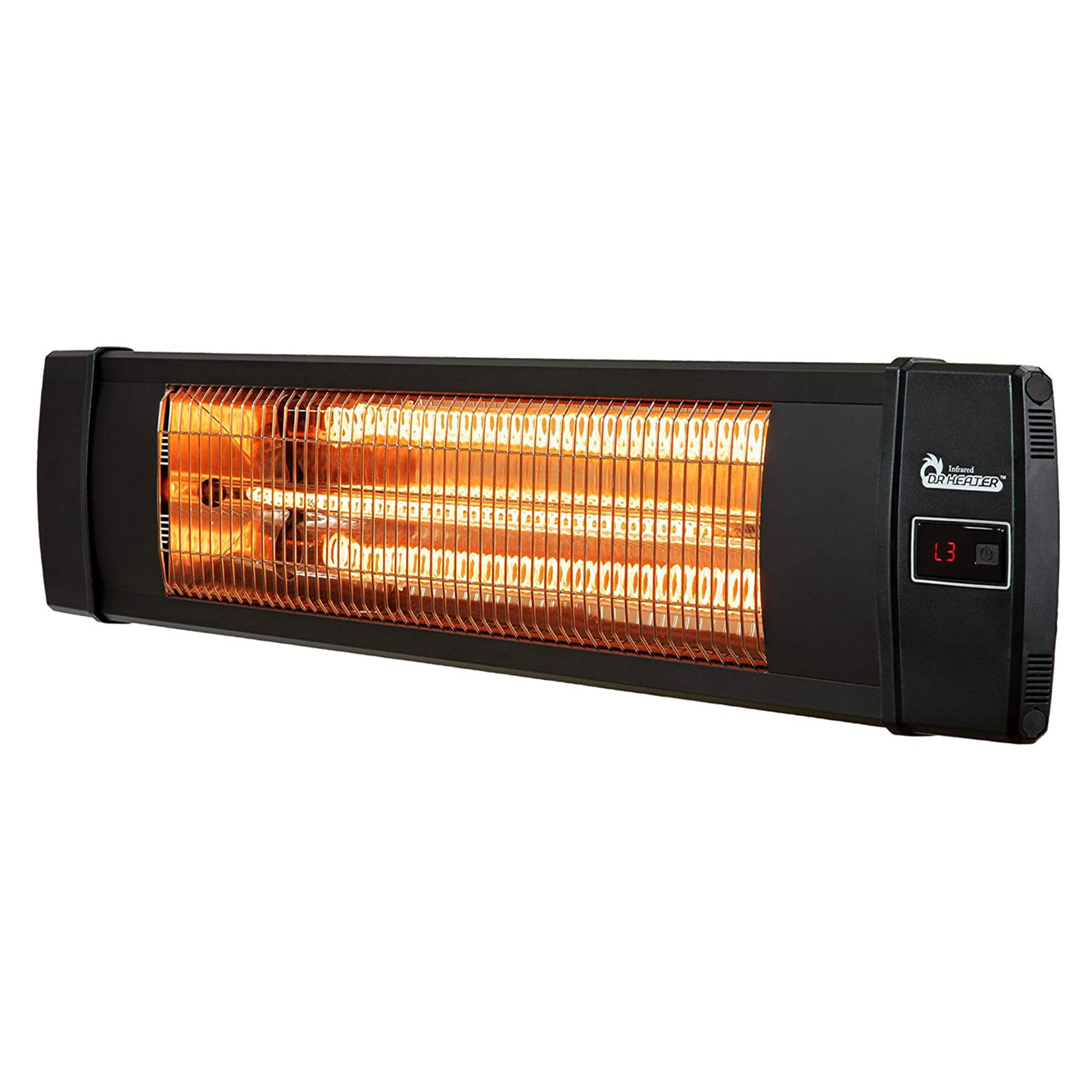 Enjoy clean, instant and constant infrared heat with this carbon heater that can be easily mounted on a wall using the included brackets, or on a tripod. It's made with a waterproof and weather-resistant anodized aluminum, great for use all year round, and can be conveniently operated with a remote control.

You can buy the Dr Infrared heater from Amazon for around $84.

5. A pyramid flame standing heater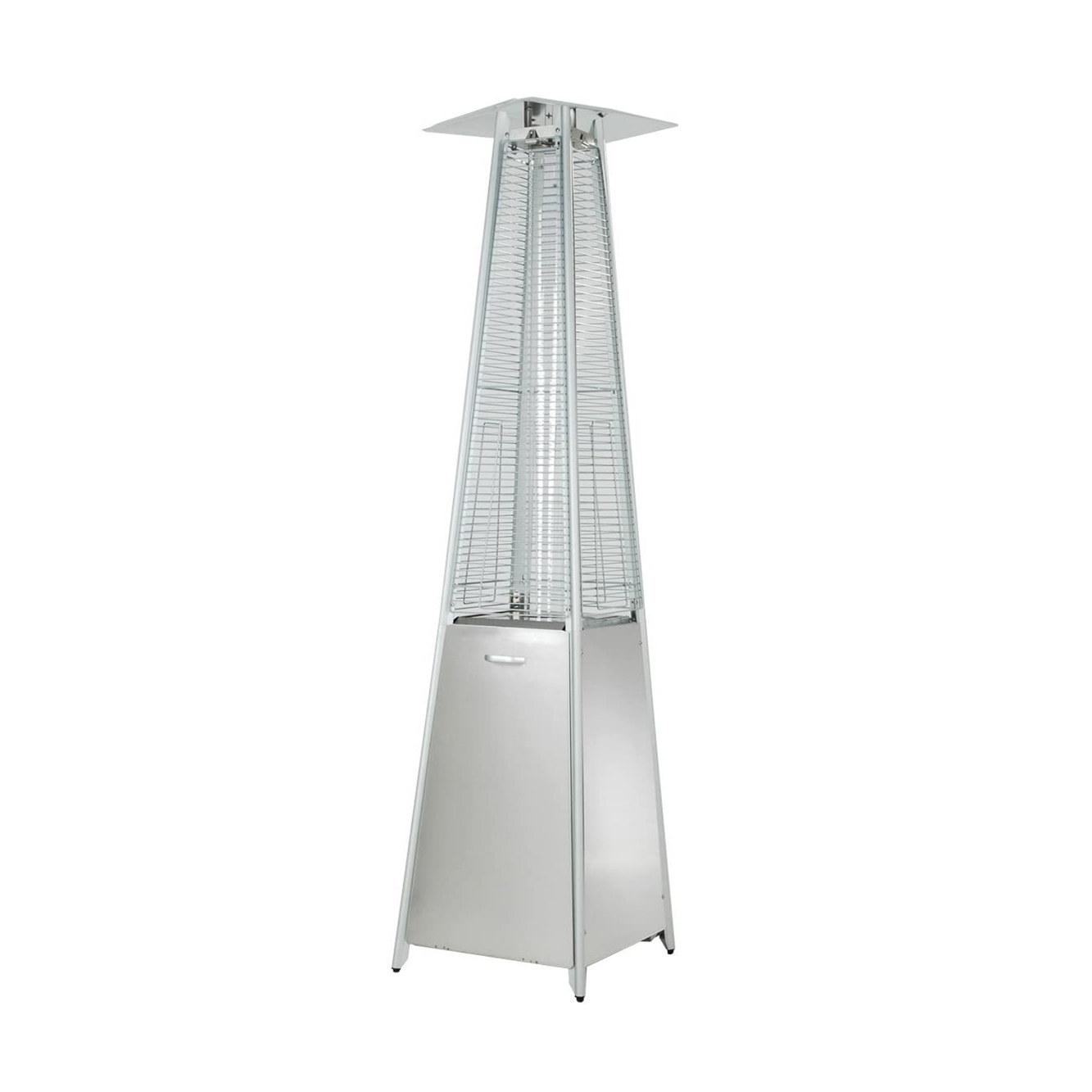 This pyramid-style propane heater emits flames safely encased within a quartz glass tube to deliver 40,000 BTUs of heat, as well as ambiance. A reliable ignition system makes powering on and adjusting the temperature worry-free, while integrated wheels make the heater easier to move around.

You can buy the Hiland glass tube heater from Amazon for around $300.

6. A hanging electric lamp heater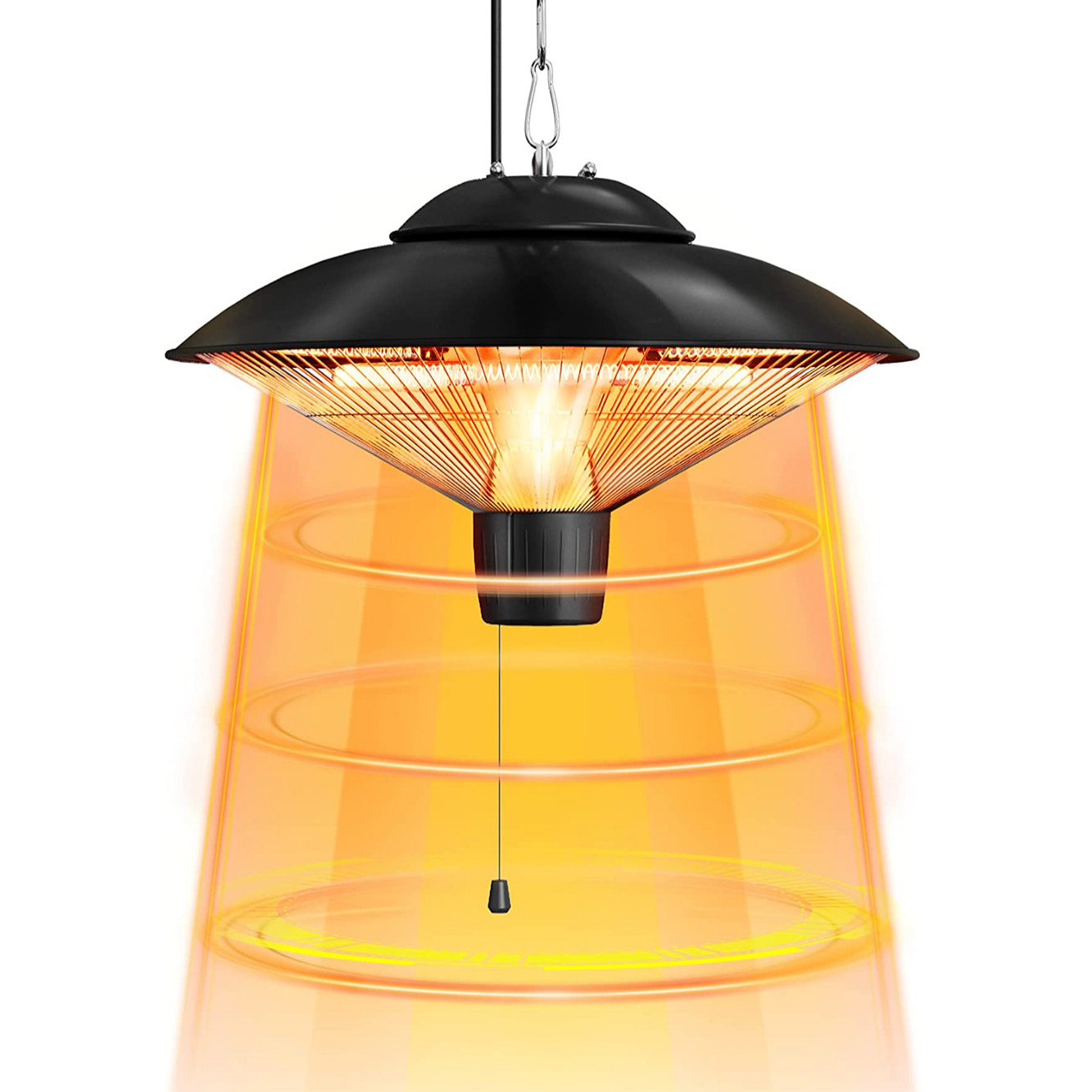 Designed with all of the functionality of an overhead lamp, this electric-powered hanging heater uses two thickened halogen heating tubes as well as infrared to transfer heat efficiently. You can leave this up all year round thanks to its durable and waterproof construction.

You can buy the Hinxietie hanging patio heater from Amazon for around $110.

7. An extra-strength hammered bronze heater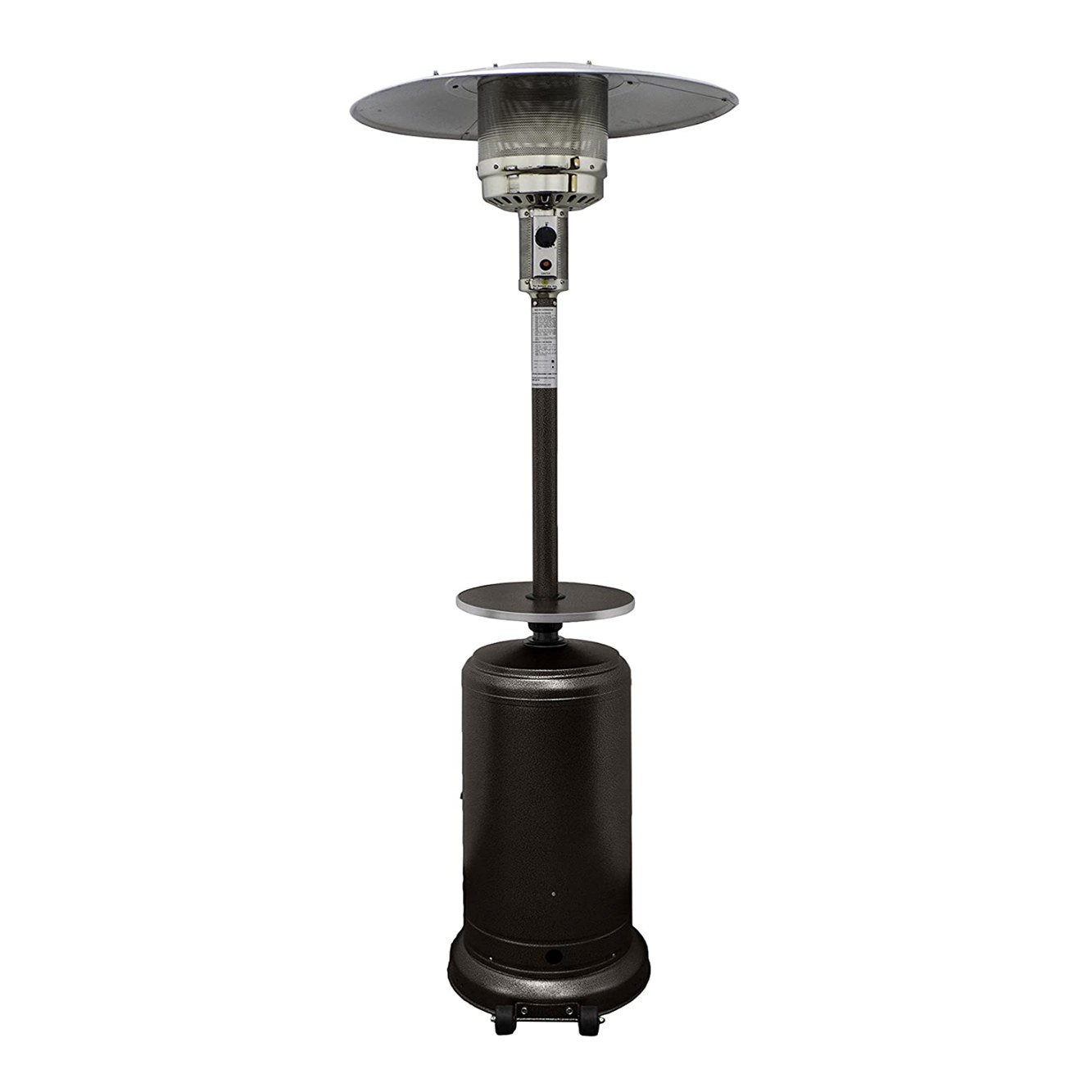 When you really want to bring the heat, this high-powered propane standing heater has you covered. It has an output of 48,000 BTUs and 10 hours of burn time on a 20-pound tank. Its durable hammered bronze construction promises to stand up to all weather conditions, and a weighted base keeps the heater from tipping.

You can buy the Hinxietie patio heater from Amazon for around $171.
8. A propane top attachment heater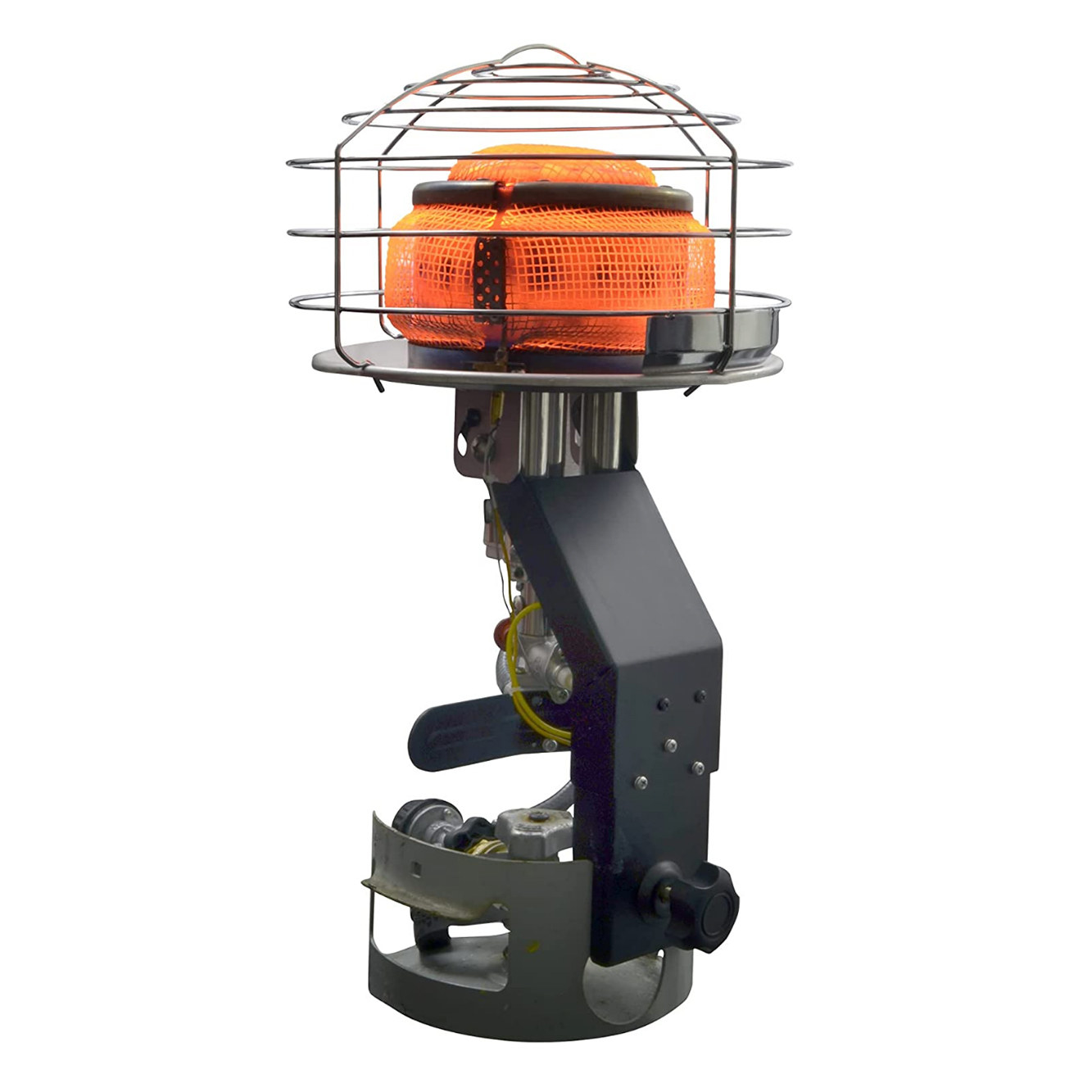 Great for camping or outdoor grilling in the winter, this compact heating element attaches directly to the top of your propane cylinder to offer multi-directional heat for up to 9.5 hours with a 20-pound tank.

You can buy the Mr Heater radiant propane heater from Amazon for around $88.



This article originally appeared on HuffPost.