This Woman Says She Was Fired For Trying To Fight Corruption In Her Government
Olena Tregub moved back to Ukraine from the US to try to reform her native country. Instead, she found herself shown the door.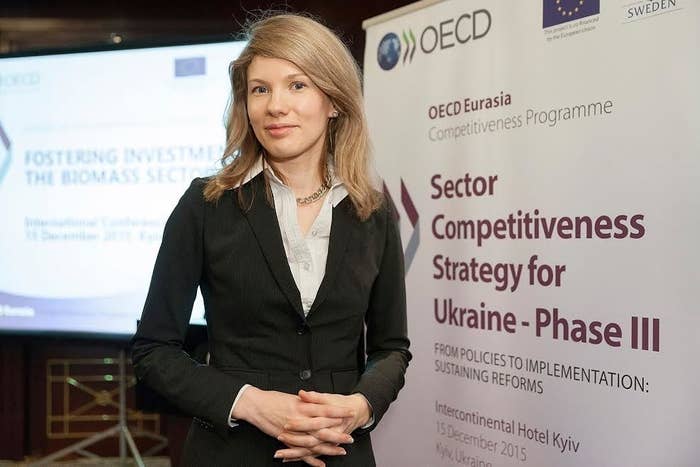 KIEV — When Olena Tregub left Washington, DC, for her native Ukraine in 2015, she hoped to help turn the country's moribund economy around. Three years later, she finds herself suing the Ministry of Economy and Trade after she claims she was illegally fired for trying to rid it of corruption and financial mismanagement.
"When the revolution happened, for me, it was a very special moment because I felt I wasn't doing enough for my country," Tregub, 35, told BuzzFeed News over dinner at a café in downtown Kiev in July. "I was raised and educated in Ukraine and I felt that I just can't go on in my career outside of Ukraine without trying to contribute to change inside my country because I felt people like me should take ownership over how our country develops."
Activists were optimistic that the Maidan protests, which sparked Ukraine's second revolution in a little over a decade, would finally soften the country's notoriously corrupt culture. Their goal: Slowly fill the government with reform-minded young people like Tregub and finally set the central government on the right path.
Washington has spent millions of dollars aiding Ukraine since 2015, with the State Department under President Donald Trump planning on sending more than $200 million to Ukraine in 2019. But the US has grown frustrated with Kiev's seeming inability to curb corruption.
Since 2015, the government loses $4.8 billion a year from corruption in customs service alone, according to a report by German newspaper Süddeutsche Zeitung. Last year, Transparency International ranked Ukraine at number 130 out of the 180 countries in its annual Corruption Perceptions Index. President Petro Poroshenko's government has meanwhile been criticized for not having former activists' backs.
Tregub's story is a more recent example of one of those reformers who felt distinctly unsupported during her time in government.
In January of 2015, Tregub was living in Washington, working as a journalist for the Kyiv Post while also running an education exchange business. Her life was upended, though, when she got a Facebook message from a member of then-economic minister Aivaras Abromavičius's team asking if she'd consider moving to Ukraine and joining them. After a few Facebook chats and an interview at the ministry in Kiev a month later, Tregub was hired in February as a senior aide, and, after a three-month clearance process, was appointed director of foreign aid and grants, managing a $10 billion portfolio.
But, Tregub says, her two-and-a-half-year stint in the Ministry of Economy and Development was filled with career civil service officials thwarting her efforts for transparency, discouraging her from investigating possible cases of financial malfeasance, and ultimately liquidating her department in 2017 — a move she interprets was an indirect way of firing her for her reform efforts, according to a lawsuit she filed against the ministry this year for wrongful dismissal. Three of Tregub's former coworkers backed her claims when contacted by BuzzFeed News.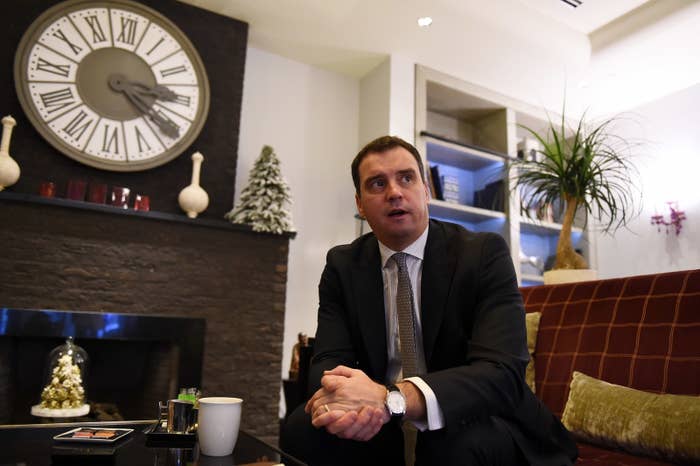 In a lengthy statement to BuzzFeed News, the Ministry of Economic Development and Trade rejected Tregub's claims, charging that her accomplishments were "rather mediocre" and that "her behaviour frequently caused incidents with colleagues and other ministries," accusations that Tregub strongly denies.
During her first months, Tregub says, she had a few successes in getting officials removed for conflicts of interest. But soon, various officials connected to one high-profile firing inside the ministry asked her not to file any official reports about the case — sometimes, she said, these officials would stop her in a corridor of the ministry or near her office. She always refused.
Tregub said her boss, Abromavičius, supported her and advised her to never meet with any of the officials who approached her without a colleague from the department, something she says frustrated them. Tregub also alleges that days after her appointment, two units within the government conspired to shift her powers to control loans and grants to other ministries without informing her superiors.
In the middle of all of this, she launched an open portal that showed how every dollar was being spent of the loans and grants she controlled, something she says also irked the less reform-minded civil servants.
Ten months after Tregub was officially appointed as a department director, Abromavičius and other members of his team resigned. "We always faced obstacles because [of] the old system. The vested interests did not always appreciate the speed that we proposed," Abromavičius told BuzzFeed News in an email. "I was pressured into appointing people to key positions that would have rolled our efforts back (at best) and would have discredited myself, my team and all the reformers in the government. I could not agree to this sort of pressure."
Tregub said Abromavičius's replacement did little to address the corruption at the ministry.
A former senior ministry official whom Abromavičius hired, who asked not to be identified for fear of reprisals from officials still working in government, backed some of Tregub's descriptions of the work environment, including having to take a trusted colleague to meetings with the "Soviet-types" in case they tried to bribe or pressure them out of doing their reform work. During the year-and-a-half Abromavičius worked at the ministry, he said, his team fired 50% of the staff and replaced them with people who had no government experience but were Western-educated.
The new hires were immediately confronted with fierce resistance.
In one case, the senior official said, a department head the ministry wanted to replace — who had admitted to the senior official that he had stolen $20 million a year from the budget and shared it with his colleagues and others — didn't feel threatened by the investigators. In fact, the people under investigation were more likely to be the ones doing the threatening.
"I can do whatever I want with you," was the department head's response, the senior official said.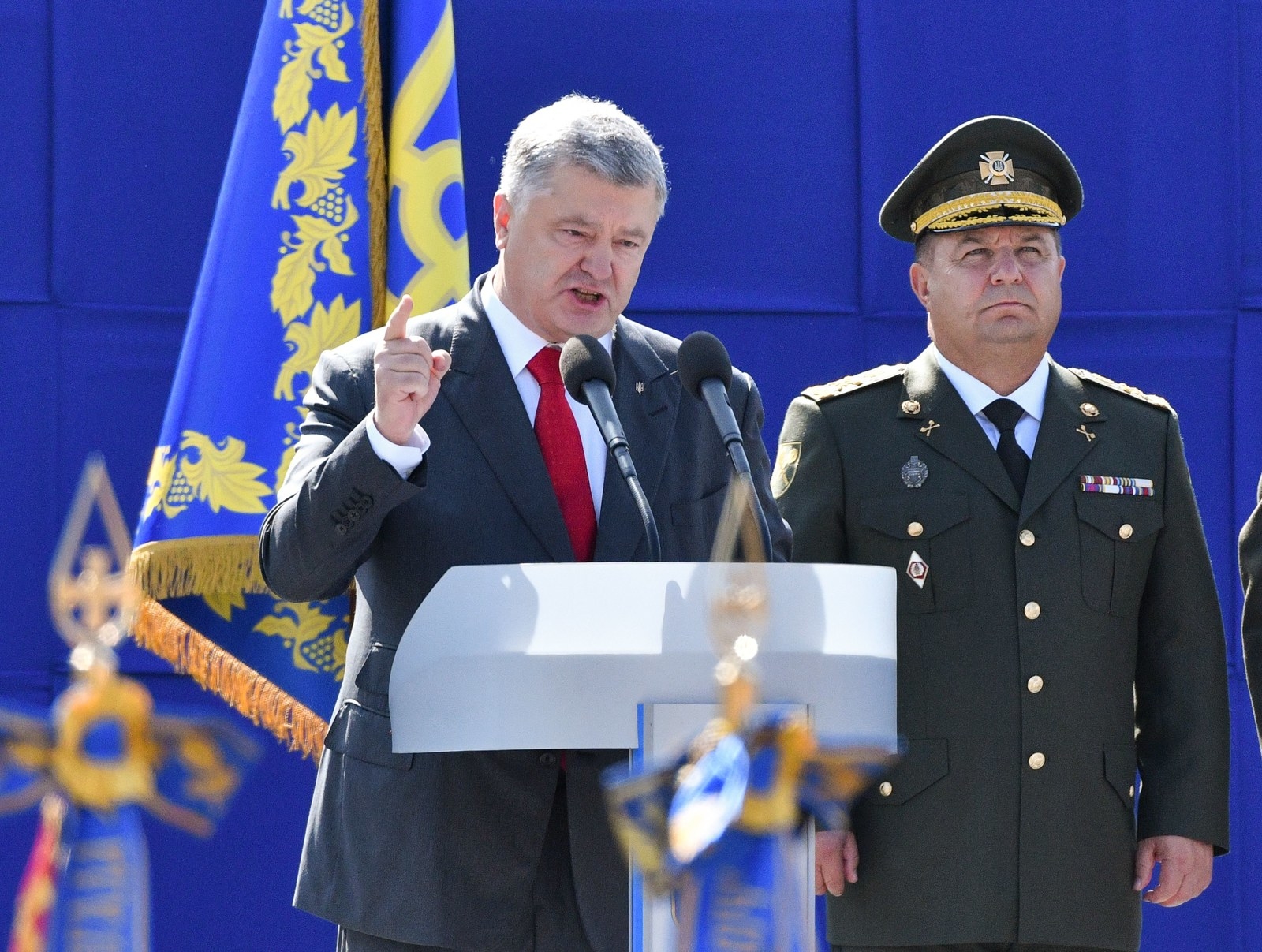 The senior official said that private contractors trying to influence legislation or get backdoor government contracts would offer bribes as high as $500,000. The senior official never accepted.
"They were like gangsters," the senior official added. The senior official resigned soon after Abromavičius left.
"They don't need fresh reformers because [the reformers] are destroying schemes and they need schemes to feed the political elite to be elected and that is the whole point with the ministries," the senior official said.
From then on, Tregub felt isolated but too invested to quit on the people she hired. But when she began looking into an investment fund that international donors had poured billions into, she says, that was apparently a bridge too far. In June 2017 she was dismissed from the ministry.
The ministry said it offered her the "position of the Head of Technical Assistance Division with the same responsibilities in the new Department" and "of the same category as Tregub held," but she refused the offer. The statement also says there are many people from Abromavičius's tenure who decided to stay and have been promoted to senior-level positions.
"The Ministry has offered Ms Tregub the possibility to continue working on the reform. Hence none of Ms Tregub's allegations against the Ministry is [sic] true and the Ministry plans to continue to defend its position in the court," the statement read.
Tregub said she never rejected the offer but was flat-out fired. Moreover, the position was to lead a unit that consists of three people versus the 30 people that were in her department. It was also four levels below her old rank, she says.
Victor Marchenko, a director in the ministry who came in with Abromavičius's team, remembers Tregub as smart, ambitious, and "pushy," which, he said, may have played well in the US but made her tenure at the ministry unsustainable.
"We were like 20 new people in the ministry and there were 1000 people in the ministry who are used to working under the old, bureaucratic conditions," Marchenko said. "There was a lot of resistance from the old guard and you had to win them over one way or the other by your authority, experience, qualifications, your ideas or simply out-maneuvering them in terms of the bureaucratic process," the latter a skill many of the new recruits lacked.
When she asked why she wasn't able to lead another department, Tregub says she was told she lacked the proper security clearance — despite attempting several times to get that clearance and several of her fellow directors having no such issue transferring without one.
Today Tregub is working at Transparency International, in what she says are far better working conditions with much less stress. But that isn't why she left her comfortable life in Washington.
Tregub is taking her case to court because she wants it to be known that what happened to her wasn't fair, and she hopes to make it easier for other reform-minded people to do an honest day's work without the threat of being fired.
"I want ministry officials who do not respect the law to realize that the government is not their personal sandbox, but an institution that belongs to the people and is accountable to the people," she said. "Not just me, but many amazing professionals from my team worked hard for over 2 years to build a new system of foreign aid coordination in Ukraine. But those in power who care only about their private gain are willing to ruin all this work that has been done, even if it is detrimental to the national interest."
Terrell Jermaine Starr is a reporter at The Root. He writes about US politics and Eastern European affairs. Follow him at @Russian_Starr.

Got a confidential tip? Submit it here.