Recently, while living and reporting in India, I found myself scouring Instagram for glimpses of how Indian and Indian-American designers, artists, and stylists were blending Indian and Western fashion. This isn't something I usually spend much time doing — I'm not what anyone would call fashion-conscious — but there's nothing like living in India to drive home the ways in which I absorb my grandmotherland, and the ways in which I forsake it.

Clothing has always been a form of code-switching for me: A way to keep two half-lives separate. I grew up wearing Indian clothes to Indian functions — baptisms, weddings, Diwali parties — but never to school, or Girl Scout meetings, or a white friend's home. This is true, I think, of most immigrant kids. The way the world views us is an inescapable part of our identity. We are treated according to the ways we can be categorized by others, and so much of this treatment is based on what we cannot change.
I can't hide the fact that I'm Indian-American. It's written so plainly on my face, I never saw any reason to wear it on my sleeve. I was always worried that wearing Indian clothing or jewelry — even pieces of it, paired with Levi's or Converse sneakers — would make me look fresh off the boat. Americans claim to love Indian fashion, food, and weddings, but don't love them quite so much on Indians. Immigrant kids do not learn to flaunt what makes us different. We learn the language of Americana. We learn that we can only trust America with slices of ourselves.
It felt as if I could never wear Indian clothing on my own terms. If I wore it in America I would be seen as too foreign, a girl both unpatriotic and uncomfortable in her own skin. And wearing Indian outfits in India made me feel as though I lived by someone else's rules. I chafed at the way anything tight-fitting had to be covered with a shawl, at having to wear thick leggings under ankle-length anarkalis.
I wanted to blend these worlds on my body in a way that made them mine. After coming back to the States, I set out to discover what other first- and second-generation women think about wearing styles or artifacts from their own cultures, how they rationalize the decision to incorporate or leave behind what marks them as "other," and — perhaps more importantly — how they claim these pieces as their own.
These statements have been edited for length and clarity.
Jenny Shen: Chinese-American; born in Canada, moved to the US at age 4.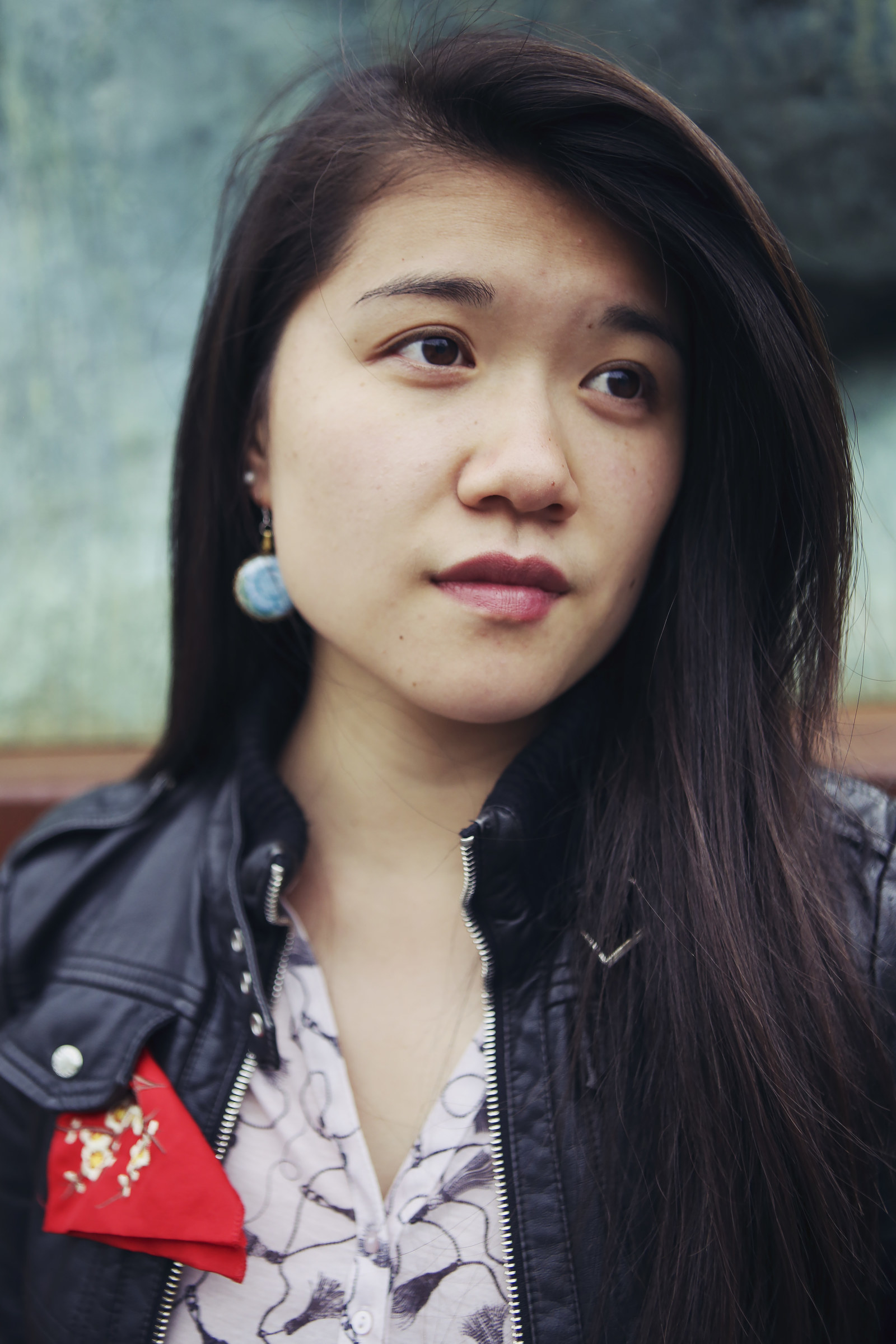 I think one of the first things to go may be physical artifacts: dress and jewelry. Anything that seemed different was something that people — myself included — shied away from. Especially when you're trying to assimilate, people are very preoccupied with aesthetics. If that's first to go when you're 5 or 8, it's hard to go back to it when you're 15 or 25. Second-generation immigrants grapple with the idea of how much is too much? What will people perceive as too much? That is obviously very unfair to put on an 8-year-old, but it's something you think about when you're trying to fit in.
Second-generation immigrants grapple with the idea of how much is too much.
My mom gave this handkerchief to me in January; she had recently gone to China and brought it back for me. She said, "They say you should carry red with you during your zodiac year to make sure you're bringing yourself good luck." In Chinese culture, red and gold are seen as the luckiest colors. And my instinct with superstition is to be like, ok, but this is one of the first times where I didn't roll my eyes, I didn't throw it into the bottom of my suitcase, I put it in my purse immediately, and I've been very aware of the fact that it's been there ever since. That's also reflective of how my relationship with being Chinese has changed over time. It's something I carry close to me mentally or physically, but isn't something I put on display. I've struggled to grapple with what counts as mine and what doesn't. It kind of feels mine, but not totally, and I feel like you could spend your whole life saying, Oh, you know, I'm going to keep it at an arm's length. But I don't mind growing into it 24 years late.
Melanie Kim: Ecuadorian- and Korean-American; born and raised in the US.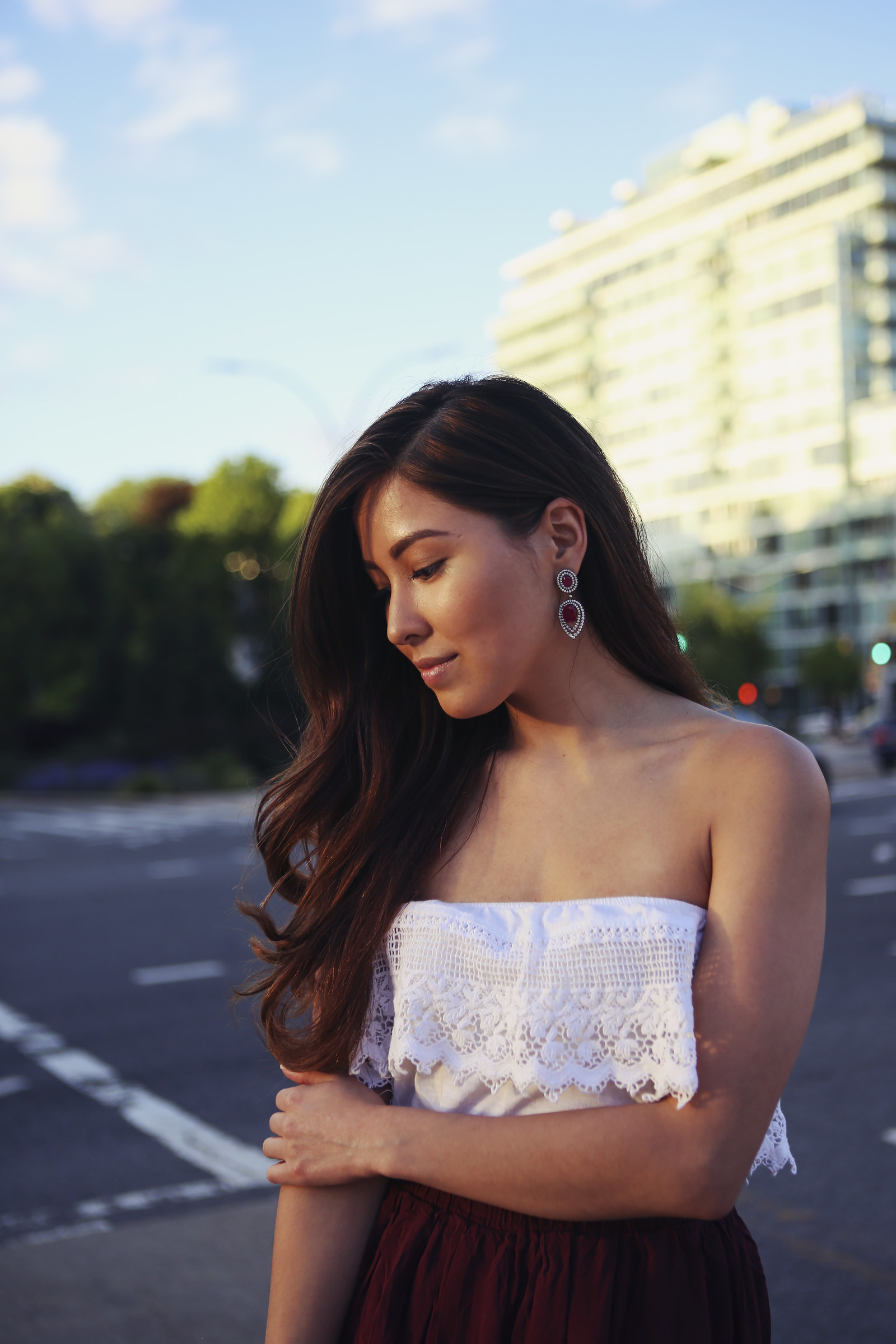 Growing up, I was told that I dressed like a telenovela star. Flowy clothing, off-the-shoulder stuff. I've always dressed like that because I grew up watching those, and that's how I learned Spanish, too. I wanted people to see me as I felt while I was growing up. It's been weird because I grew up around Latino people, but I look more Korean. I'll have people come up to me, my friends too, and they'll say, Oh you look more Korean today. And it's the weirdest thing, hearing that. Or, You look more Latina today. I feel more Hispanic but I don't look it, so by dressing a certain way it helps me represent that a little more.
Last year my mom really wanted me to participate in this Ecuadorian pageant, so I did. Everyone was super nice to me, but I did have people come up to me and say, Oh, that's so weird, you look like you're Korean or Japanese. It's not prejudice, exactly, but…they can never let it be. They have to tell me. For the pageant I had to wear a traditional dress; I don't think I'd wear that in public. I'd pick a certain part of it, and then pair it with something more normal. In America I think it would be really weird if you wore a full traditional outfit. But pairing it with something I guess you can wear that and still look stylish. And I think when you combine the two it's a really good outcome. Like mixed children! I think mixing things is good.
When I grew up I felt like being Korean was awful. I wanted to be more Hispanic so I wouldn't get all the comments about my ethnicity. Now I embrace it because I think it's cool I can be two things and most people can't.
Hiab Debasai: Eritrean-American; born and raised in the US.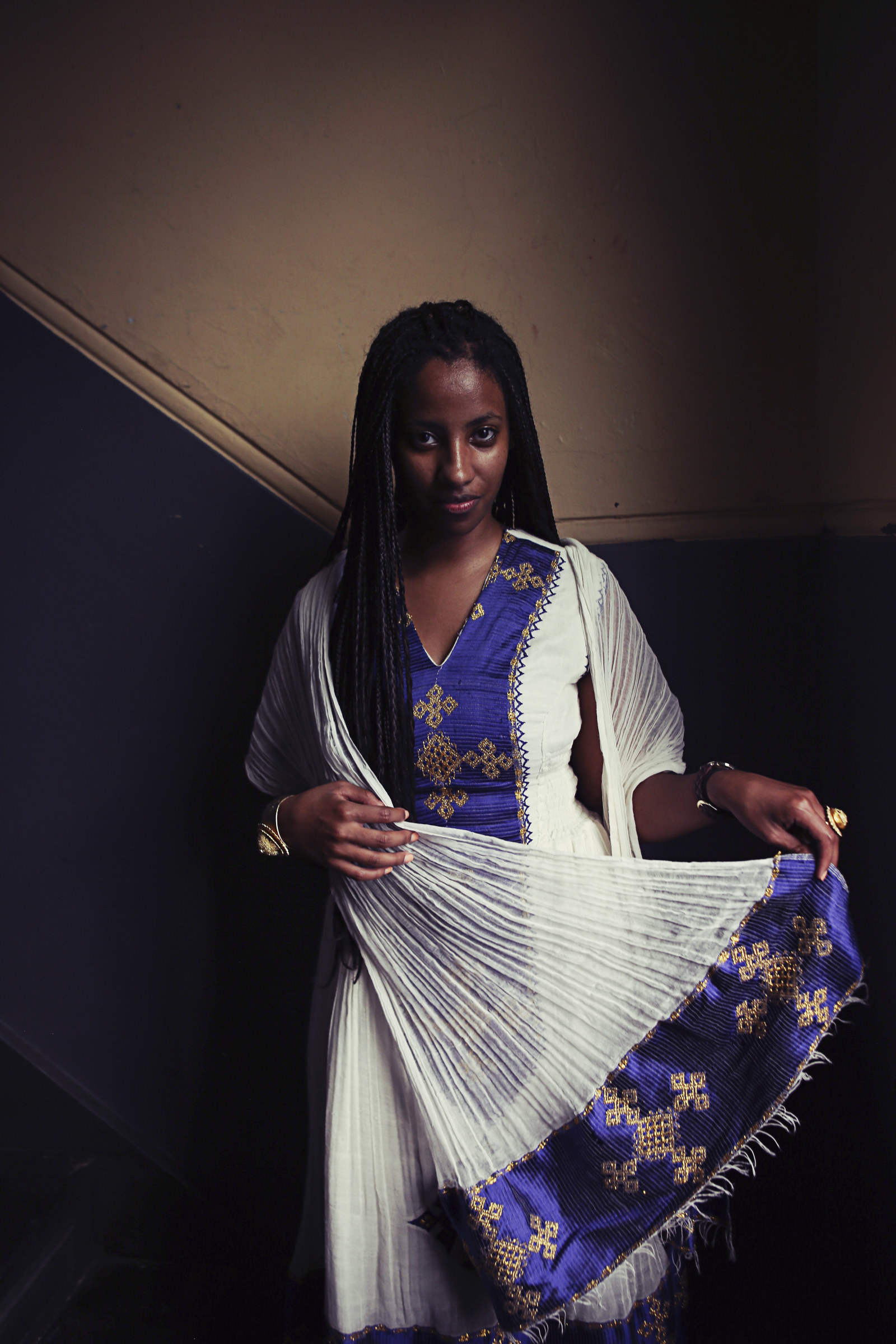 I have almost zero relationship with clothing from my culture. I think it's because, to some extent, style stems from the media. So the more access your culture has to media, the more representation that style has, and then the more confident you feel wearing those clothes. Because Eritrea is such a small country and very old world — or at least perceived that way because they don't have a lot representation in the US — it is an isolating experience to wear Eritrean clothes in American society.
In Eritrea there are nine different tribes, and they all come with their own cultures and styles of clothing as well as traditions, languages, and religions. Tigrinya is the tribe my parents are a part of. The Tigrinya tribe wears a very light, almost all-white, full-length, modest dress, called the zuria. You're supposed to wear it with a netzala, which is a kind of shawl made of white chiffon. Eritrean women, especially the older generation, will wear them constantly, and my mom will use any opportunity around family to pull it out and wear it.
I know that Eritrean style is evolving and changing just like any type of style.
I think that the misconceptions we have here about any type of traditional clothing is that they are fixed and old. And I know that Eritrean style is evolving and changing just like any type of style. I grew up in a place in Michigan where there was no Eritrean community. But my family in Norway has done a really good job of going back to Eritrea and creating a transnational experience. When I go to Norway and go to functions with them I see women wearing zuria-like clothing that is shorter, or sleeveless, and matching it with hair that's more Western, or not as much jewelry. It's being developed through younger generations who are part of the diaspora.
The first time I wore a zuria I was 4 or 5. When I chose to wear it during school presentations, like show-and-tell, or for Halloween, I would always be an Eritrean princess. I would feel really cool and special because it's such an incredible article of clothing. But then I realized people don't understand it. So, growing up, I just never made the choice to go and be fitted for these types of clothing because it was almost too much of a hassle to explain. You just wear it knowing that you're going to be asked questions. It's kind of representative of the way it feels to be a first-generation immigrant. You have your home life, you have your culture, and then you have your American life as well, and sometimes they just don't intersect as much as you want.
Haniel Ogburu: Nigerian-American; born and raised in the US.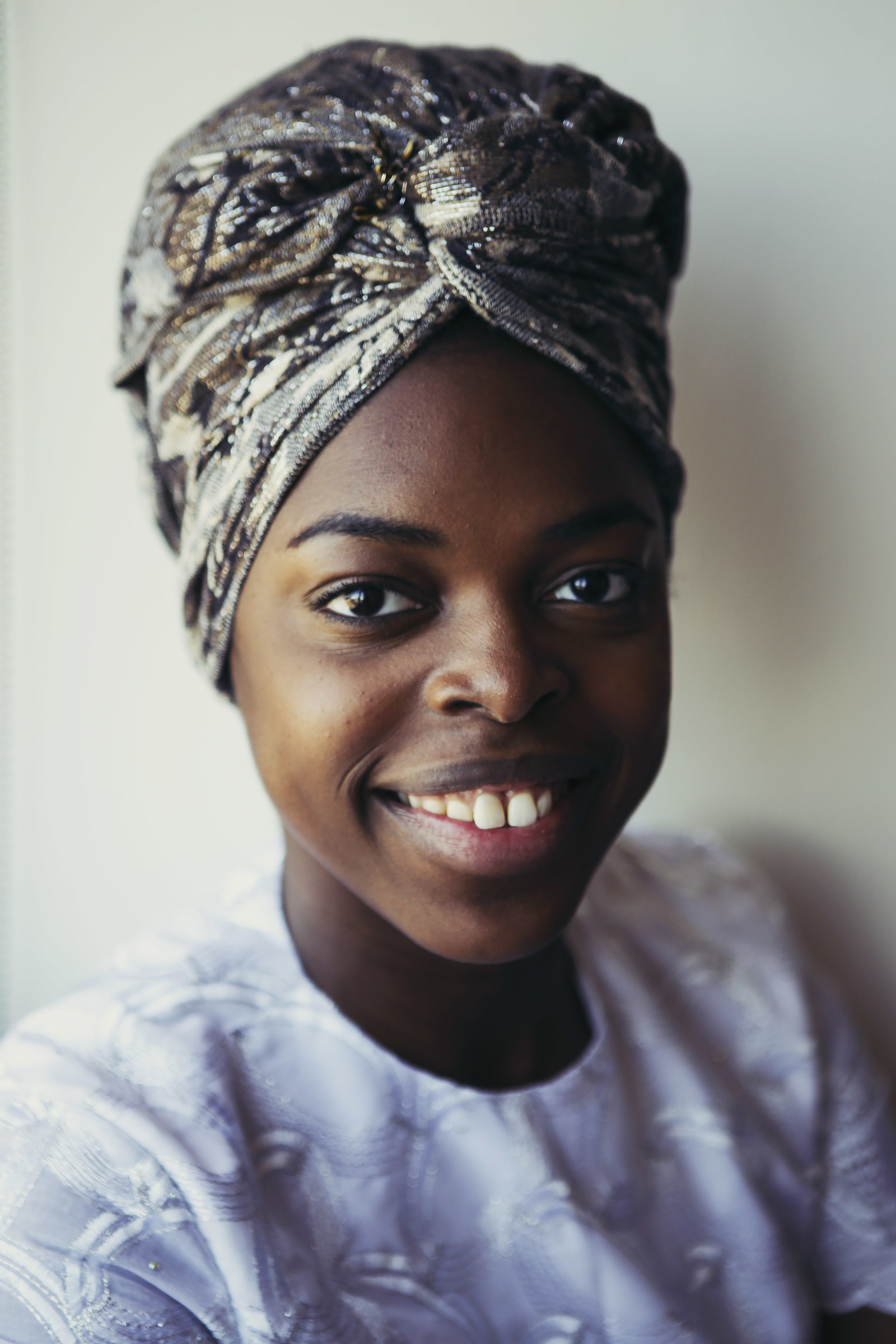 I went on a date a week ago and I had a headwrap on. At that time, I didn't have a picture with a headwrap on my dating profile, and I didn't have my hair natural in any of my pictures. I texted my friends and said, Hey, is this too much for a first date? Will the person feel uncomfortable? I feel like my headscarf is just screaming "African." And all of my friends were like, Why would you even ask that question, what's going on?
Usually I don't really care, but I guess it was the first introduction and I didn't know how it would be perceived. It was one of the first times when wearing a headscarf made me feel uncomfortable. I feel sometimes when people wear African clothing they come off as "Black Pride!" And it's not a bad thing, but I don't want a first-date conversation to be all about the black struggle or the Black Lives Matter movement. I want it to be a fun, casual thing.
When I was a kid I thought it was really cool when my mom wore her African clothes in public, because I liked how everyone looked at it. For all of my graduations I forced my parents to wear Nigerian clothes. I was like, I don't care how hot you are in your Nigerian clothes, they need to know that we're Nigerian.
This year I was able to go to Nigeria and get tailored clothes. When we went, we purposefully chose designs we felt like we could wear when we got back home. Crop tops are in now, so I got two crop tops made, but I had a high-waisted skirt made with it, and high-waisted pants made with another one. and they still went with the ceremony. And I'm really happy I did it, because I can wear them with regular clothes here. I still have a piece of my culture with me. Now when I wear my headwraps, or anything with African print, I feel really connected. I feel more comfortable showing, Yeah, I'm African, and this is me.
Marianna Phillips: Colombian- and Argentinian-American; born and raised in the US.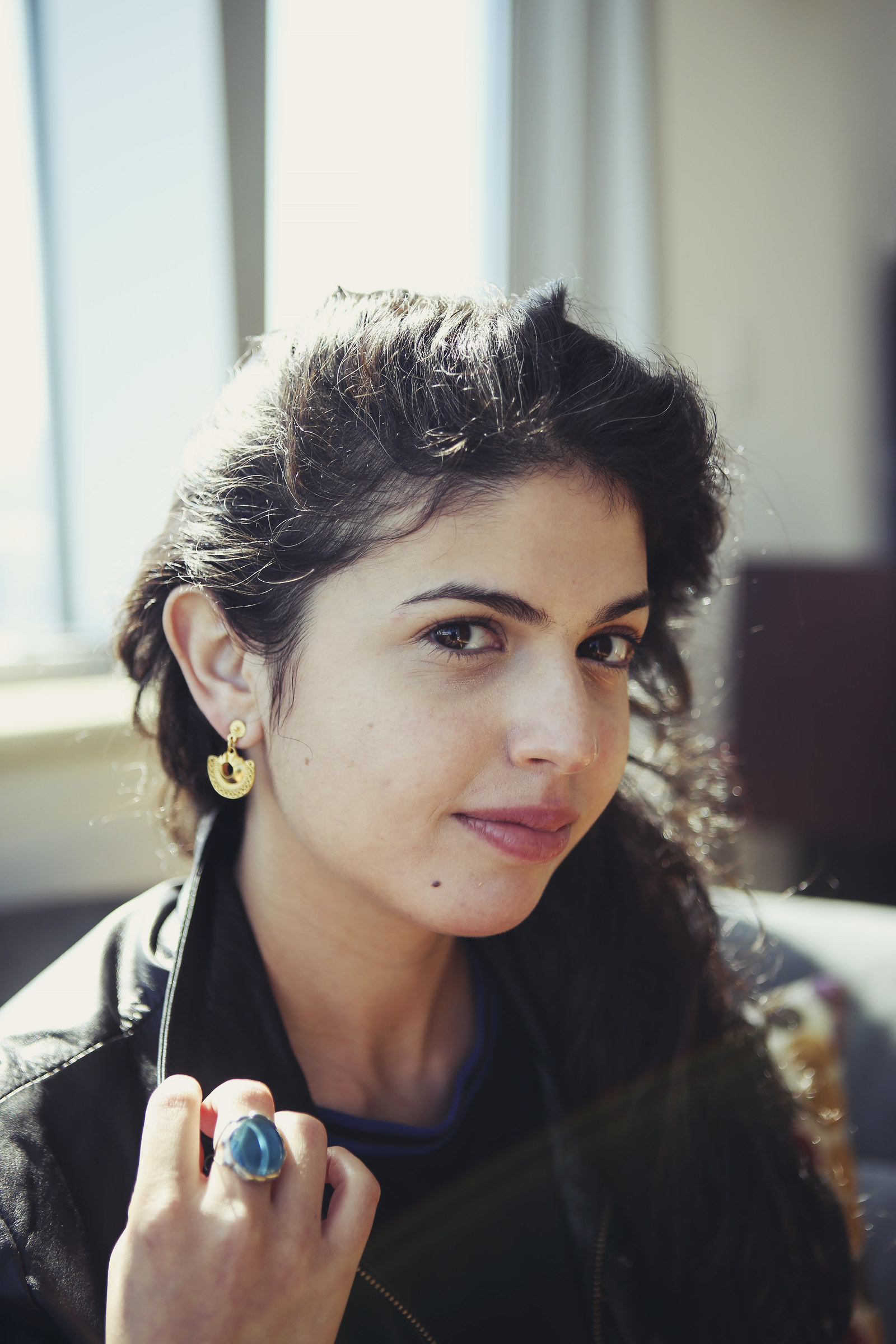 I love earrings that are very intricate and detailed, and the things I have that are Colombian are like that. There's an aesthetic. It's stuff you can look at and think, Wow, someone spent a long time making this. Stuff that my family would appreciate. Wearing these pieces makes me feel close to them. The clothing that's been given to me is from my parents; my jewelry is from my mom, my dad, my grandparents. Everyone but my parents and my sister is in South America.
These pieces help me connect. It's like a tether back home.
I grew up in North Carolina, and the look there is very…bland. It's a lot of outdoor wear — North Face — and the pearls and the shoes. And when I was younger I was in private school, and I didn't have many people who looked like me, or were from the countries my parents were from. When you're younger you care more about not making waves, and my mom would go to Argentina and buy me this woven artisanal jacket, and I would never wear it because I wanted to fit in. But as you get older you realize what really matters is your family, and appreciating your culture and where your family comes from. And with age I've embraced that more.
These pieces help me connect. It's like a tether back home. In South America they say, Oh, you're American, and here they say, Oh, you're Colombian or Argentinian. It's like, well…where do you fit, then? And so sharing this kind of thing, it's like I'm sharing my family experience.
Mahima Saigal: Indian; born and raised in India, moved to the US at 22.
I was in India last year for my sister's wedding, and for every event there's a massive cleanse of the house. I saw this jacket and I was like, Mom, why are you throwing this away? I'm taking it. I didn't expect it to be a thing I would wear outside, mixed with shorts or something, but there's something about New York — you can wear anything without thinking, Oh, this is odd. I'm so sick of H&M, Forever 21. Those are the stores I can afford right now, but I hate wearing things that lack character. I've worn this three times and I've gotten compliments from people on the street. Here I can do whatever, wear whatever, because there's someone else sitting next to me looking like a ninja or something.
I love wearing saris — for fancy events I would rather wear a sari. I think it's much more sexy for my body type to wear Indian clothing as opposed to a gown, which is expensive and won't fit me. I've never really had any inhibition to wear Indian clothes outside. I like experimenting with Indian jewelry on a day-to-day basis. I love my earrings; they're like 10 rupees in India, and here they're $50. All my friends like to touch my jewelry and say, Ooh, what's this, and I say, The same stuff you see at Anthropologie, only less expensive.
Yordanos Fesehaye: Eritrean-American; moved to the US at age 2.
Growing up bicultural, I quickly learned that being confident in who I am and where I come from is going to make me the strongest person in anything I do. At the age of 13, I went to Eritrea for the first time and I had a profound experience. I felt really in place, and when I came back it was just an extension of who I am. I've always incorporated a hint of our culture in anything I do, because it's a part of my identity.
I've always incorporated a hint of our culture in anything I do, because it's a part of my identity.
In terms of the jewelry, it's gold all the way. Eritrea is very rich in natural resources, and gold is one of them. It's really beautiful on our skin tone — I guess that's why all our foremothers wore it. Usually, when a woman is getting married, her husband will buy her an entire gold set which consists of really big earrings, a gold necklace, bracelets, even a gold pick — which is my favorite — and a headpiece. And that set means you're married. Sometimes, I'll rock the gold sets and people will ask me, When did you get married? And no, I just really love gold.
I'm carrying a part of my identity and my traditional attire with me, and so in a place like New York, where it can be overwhelming and there's a lot of things happening, incorporating Eritrean design and jewelry into my everyday attire is my way of making a statement, showing my pride in my culture. I'll wear professional business attire and accent it with East African jewelry. When I go back home I'll have a tailor make things for me. I made a pencil skirt from traditional fabric and prints. And now I'm seeing on Instagram people are having companies around making clutches and sunglasses with the traditional jewelry on there. There's this emerging market because there's a huge need to fill the desires of second-generation Eritreans, to find that middle ground.
Cody McBurnett: Icelandic- and Italian-American; born and raised in the US.
I'm wearing a typical Icelandic sweater, and it's something literally every person in Iceland has. When I was a kid we would get one every year. You have them for decades. It's not just a fashion statement; it's practical, because it's cold [in Iceland] and a lot of people live on farms. In the past 10 years they've become more prevalent; people travel to Iceland and come back with them. Whereas maybe 10 years ago if somebody — people who knew — saw me wearing one, they would ask if I was Icelandic. In old family pictures going back generations you see everyone is photographed in sweaters like this. When I see pictures, it sort of carries through.
Being Italian and Icelandic ... looking at me, there's not this "other," so it wasn't something I was confronted with. No one [in the US] looks at me and thinks, Oh, her family are immigrants. So I just didn't think about it. That was nice that I didn't have to deal with that, but it makes me think about my own place in the immigration story a little differently. It's taken me a little while to really want to embrace that and know that it's important to do so.
Growing up, I split my time between my mom and my grandmother, who is from Italy. So I felt very Icelandic and Italian, and it's only been as I'm starting my own family that I realize my son and husband are further away from that, and I need to make an extra effort. Instead of saying, I'm giving that up to join this family that we're creating, I'm bringing them into it. I want my son to be able to choose how close he feels to his Icelandic heritage. So it helps me bring it into our day-to-day life. Sometimes we will all be accidentally wearing the sweaters on the same day! It's one of the few ways I can visually and tactilely have that heritage in my family.
Julie Emra: Indian-American; born and raised in the US, adopted by non-Indian parents.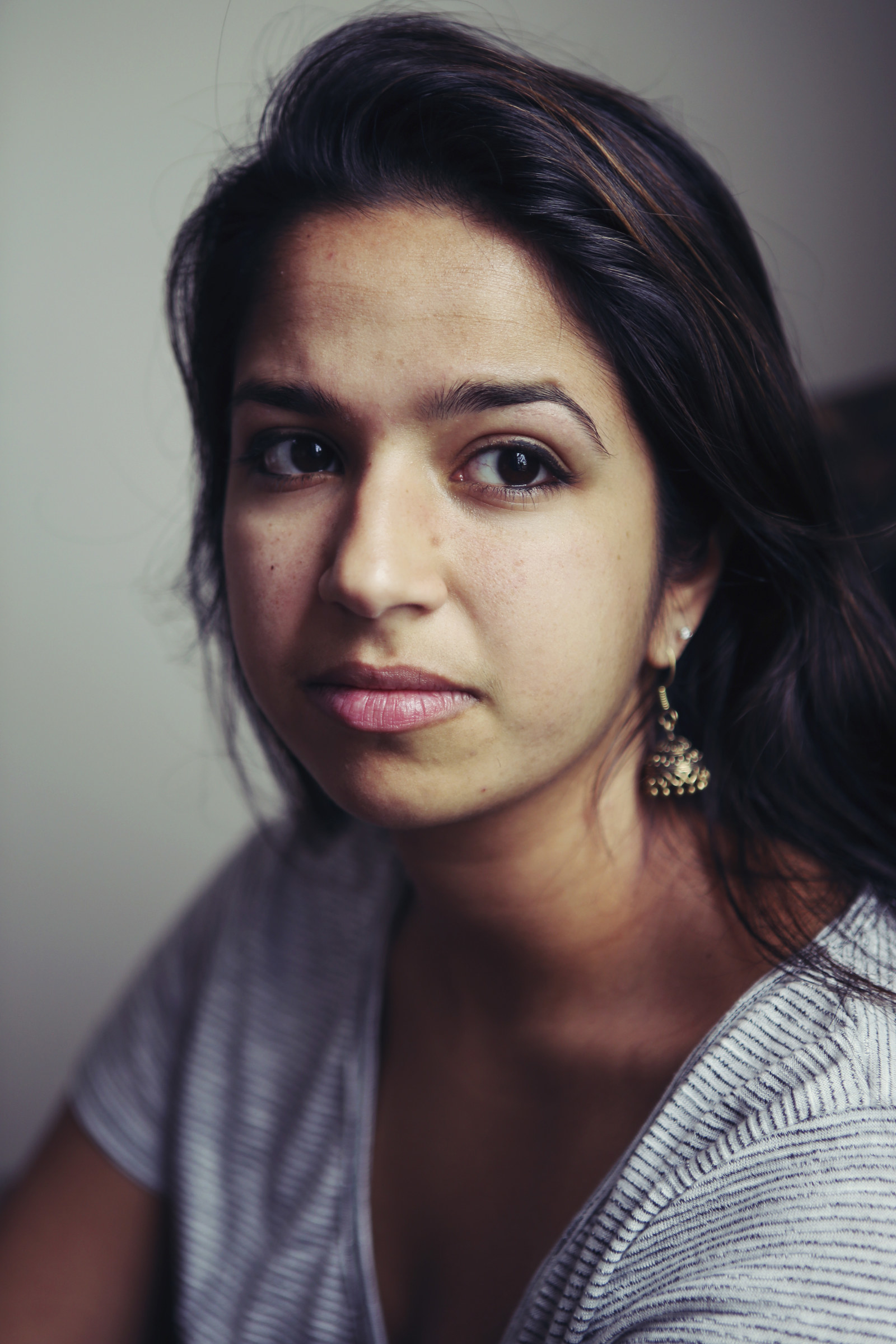 My relationship with Indian jewelry started when I would spend a lot of time with my Indian family friends; every time I would go over there my friend's mother would give me another pair of earrings. I think that was her way of connecting me to Indian culture. I felt like that gave me a piece of India. I didn't grow up wearing traditional clothing or anything like that, but I could still show that I was Indian, and still feel Indian, by having those pieces.
You can't just choose this part of my culture that you want to have.
The earrings I wore were longer and more ornate than most girls wore in my school. And other people would make me feel really proud of wearing that jewelry. They'd be like, Wow, look at those earrings, I love how beautiful they are. But it was in a way that was like, Wow you're lucky to be Indian because you have this jewelry. At the time it made me feel special, and like my culture was important. Later on I thought, You can't just choose this part of my culture that you want to have.
My skin is quite light, so I don't think I'm always perceived as Indian in the way that I want to be. And so I've sought to wear jewelry so I am identified that way a little more. The pieces of jewelry I value most I have from my family friend who gave them to me. And I still wear them. It feels important because that's when I was still learning about my identity and what it was to be Indian, what that meant for me. Those pieces remind me of that.
Tomi Okuyemi: Nigerian-American; born in Nigeria, moved to the US at age 4.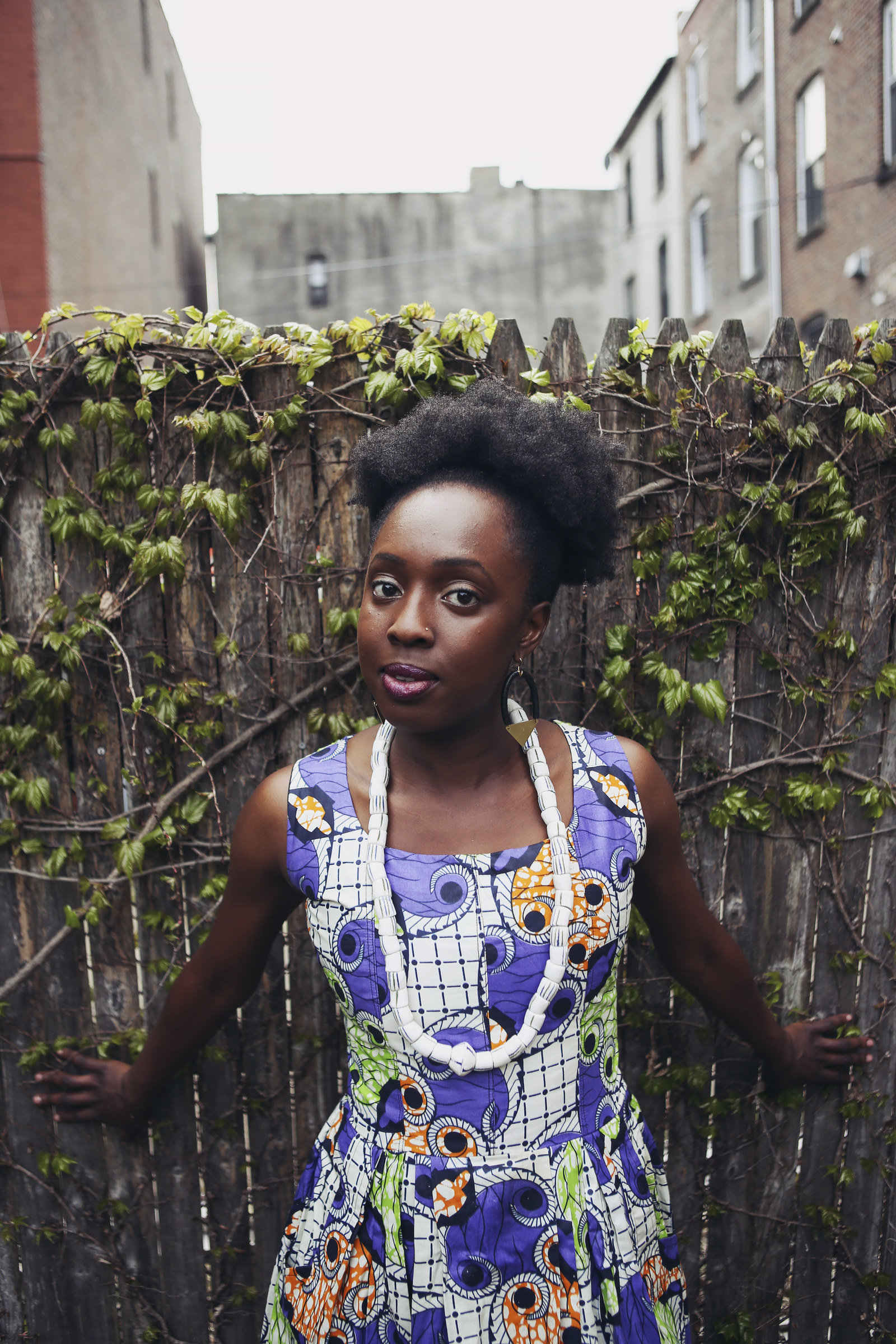 Nigerian clothing is really colorful and bold; there are so many colors, and even when something is one color there are so many textures. And most people use tailors or make their clothes themselves so everything is custom for you. I like how social Nigerian clothing is. In Yoruba culture, when people have weddings, the bridal party will all wear matching clothes. Everyone buys a fabric and then gets it made in their own way of wearing it.
When I went to Nigeria I got this dress made. Usually I'll get something made for an occasion — a wedding or a birthday party — in whatever silhouette I want. The iro and buba is the more traditional silhouette, where it's a wrap skirt and a loose fitting top that's the same fabric. When I think of those I think of my mother. I can't wear those anywhere else, and if I'm going to spend money on something I want it to be something I can wear in multiple situations.
Moving to Brooklyn, I've become more and more comfortable wearing whatever I want. I love dresses and I have a lot of Nigerian dresses, so it's just easy to throw on. But usually I wouldn't wear a headwrap and a Nigerian dress at the same time; I feel like that would be doing a little bit too much. My mother who lives in Minneapolis, and my sisters who live in the Midwest, will be like, You wear that to work?! They would get so many comments — nothing negative, but they want to be able to wear clothes without everyone commenting on it, even if it is positive. So my mother might wear something not too in-your-face to work, but never a headwrap. And I get less of that here, but I also stopped caring. I don't mind standing out, but just let me be.
I have a complicated relationship with my parents, so the clothes are one way I can feel really connected to my culture even if I'm not feeling really connected to them. I wonder sometimes if I wear the clothing more now because my relationship with them is more fractured. Just wearing something on your body, even subconsciously, is a way of embodying who you are without saying anything. I feel comfortable, I feel like myself. I feel like I'm wearing my ancestors.
Eman Abdelhadi: Egyptian- and Palestinian-American; born in the US, moved to Saudi Arabia and Egypt and then back to the US at age 9.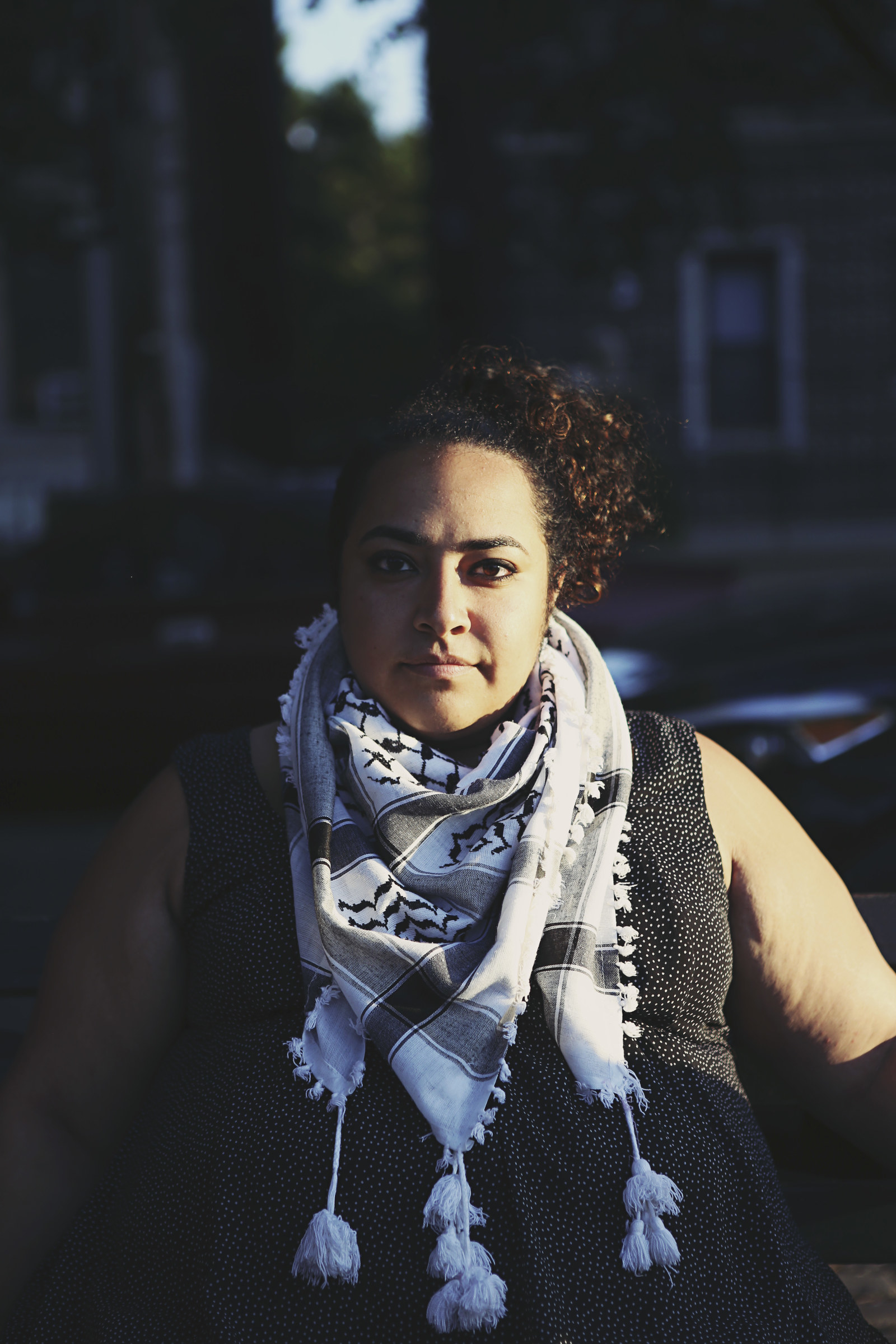 In both Egypt and Palestine, Western dress is pretty prevalent, but I think with Palestine it's sort of embodying the politics of the place. It's not so much about wearing the original clothing, but symbols of Palestine like the keffiyeh. I have a necklace which is a key, which is a symbol of the right to return.
I feel like since I don't wear hijab anymore, I'm not necessarily identifiably Muslim. For me, wearing things like a keffiyeh or anything identifiably Palestinian feels really important because it highlights that identity for me and makes me visible, at least to other Arabs and Palestinians. I've gotten really snarky looks for wearing the keffiyeh and I've gotten yelled at, but it feels good to wear that identity visibly. I guess I felt a bit guilty after taking off the hijab, because I felt like a lot of the burden of representation was lifted off my shoulders, but I really identify with my community and I don't want my Arab-ness and Muslim-ness to just be undercover. I want people on the street to know that's who I am. I want to be seen as Arab, and Muslim, and Palestinian. The more that identity is stigmatized, ironically, the more I want to center it and visibilize it. It feels like a form of resistance for me.
I don't want my Arab-ness and Muslim-ness to just be undercover. I want people on the street to know that's who I am.
In Palestine there's a big tradition of embroidery, and so a lot of women will still wear taubs, basically long dresses with multiple colors. In Egypt it's more tied to religion, so more religious women will wear a jilbab, also a long dress, but over clothing. It tends to be paired with a hijab. And that style has evolved a lot over time — it hasn't been the same jilbab forever. A lot of women in my family wear jilbabs and abayas. They don't necessarily feel comfortable in Western clothing — at most they'll wear a skirt and a shirt.
Egyptian symbols get used a lot here; I think there's this effort to whitewash ancient Egypt. So I guess it feels good to reclaim that stuff. There's the tendency in American culture of appropriating stuff without caring at all about the origins of it. The things that when you're a brown kid you think, It's fobby, I can't wear that — those are the same articles that white women will wear for social capital to appear cosmopolitan and cultured. And they're rewarded for it, whereas we're often punished for participating in our own cultures. So I think it's important to reclaim that stuff and push back on those narratives. ●