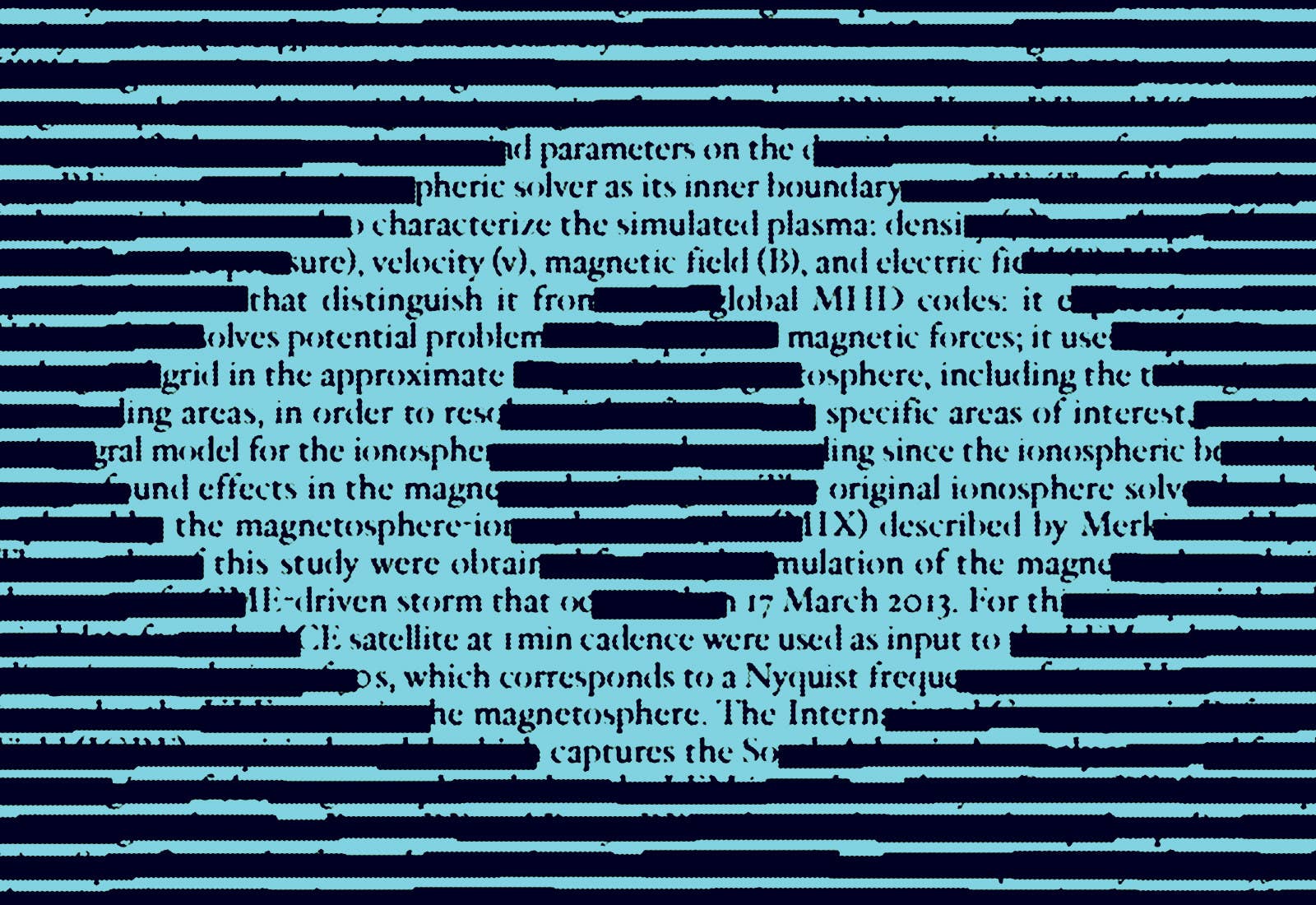 When Susan Sherman, a public health researcher at Johns Hopkins University, was notified by her school in March 2013 that someone had used the Freedom of Information Act (FOIA) to request her scientific grant proposal, she was worried. Sherman had a two-year grant from the National Institutes of Health (NIH), worth almost $236,000, to study the health risks faced by sex workers and exotic dancers in Baltimore. She was concerned she might have been targeted by conservative activists intent on sabotaging her research.
She decided to sit tight and didn't ask who had requested the document. It was only when BuzzFeed News asked about the request that she learned it had come from a research dean at George Mason University in Fairfax, Virginia.
Sherman was concerned. "It is not normal to request an active grant," she said. "It's like a live wire."
In the past few years, some scientists have complained that FOIA has been weaponized by activists and special interest groups to "bully" and "harass" researchers involved in climate science, animal experiments, and other controversial work.
But when it comes to grant proposals — in which scientists detail their scientific plans, so they can win government funding — the most common requesters are not bullying political activists, but individuals at academic institutions looking to get an upper hand, a BuzzFeed News analysis has found.
Through our own FOIA requests, BuzzFeed News obtained logs of all the FOIA requests received by two major science agencies. Over the past 10 years, the NIH, the main federal funder of biomedical research, has received more than 13,300 requests for grant proposals, these records show. In 2015 and 2016, nearly 30% of these requests came from other academic institutions.
The National Science Foundation (NSF), which supports a wide range of science projects, received more than 1,800 requests for grant proposals between 2009 and 2016, and about half were filed by academic scientists or university officials.
"People want their grants private and to keep their secrets."
In some cases — like Sherman's, as it turns out — FOIA requests were filed by university officials keen to obtain examples of successful grants to help train their scientists to write better ones. But others came from researchers who want to find out what their competitors are planning. Although this practice is perfectly legal, many of the scientists involved were reluctant to talk about it.
Out of 40 academics contacted by BuzzFeed News — including those who had filed FOIA requests, and others who had been on the receiving end — 15 agreed to an interview. Several were completely unaware that they had been FOIA'd. Others were shocked that information they viewed as sensitive was not redacted. Almost everybody was uneasy — unsure whether to feel worried about someone poaching their ideas or open to the spirit of scientific collaboration.
"People want their grants private and to keep their secrets," Terry McGlynn, an ecologist at California State University, Dominguez Hills, who has been on the receiving end of two FOIA requests, told BuzzFeed News.
The experience of having other scientists request his work left him so incensed that he wrote about it on his blog: "If I did want to share my grants for public viewing, then I'd post them on my website."
When the NIH or NSF receives a request for a grant proposal, the agency will typically first reach out to an official at the academic institution affiliated with the research. That official is then supposed to work with the scientist to provide the documents, redacting certain information if it falls into any of the nine FOIA exemption categories outlined in the law.

For grant proposals, the most relevant is Exemption 4, which protects commercial "trade secrets." So if a scientist has a spinoff biotech company, for example, it may be possible to redact some proprietary information about its products and plans. But in most cases the exemption doesn't cover scientists' ideas and research plans.
"A lot of it is sensitive," John N. Forrest, a nephrologist at Yale University, said of the contents of his grant, which was FOIA'd in 2013. "I'm surprised they give it all away."
Forrest was taken aback when BuzzFeed News told him that his grant — which requested money for training programs for medical students — was provided to Gary Hamlin, a grants specialist at the College of Pharmacy at the University of Florida. (Hamlin no longer works at the school, and a university official said the school was unaware that he made any such requests. Hamlin could not be reached for comment.)
If Forrest had known about it, he said, he would have asked to redact portions of the grant, including data that he thinks could give competitors an "intellectual leg-up." (Unless the grant contains a commercial trade secret, however, it's unlikely that any such redaction request would have been granted.)
Some requests sting more than others.
McGlynn, the ecologist who was the subject of two FOIA requests, is also worried about how his competitors might benefit. In addition to those two formal requests, McGlynn received one from the Grants Resource Center — a nonprofit unit of the American Association of State Colleges and Universities that helps institutions win competitive grants. A GRC program adviser emailed McGlynn on behalf of an unnamed academic at Central Washington University asking for a copy of one of McGlynn's old proposals.
"I do understand that this request can be made through the Freedom of Information Act (FOIA), but that is a lengthy process," the email read.
McGlynn was mad that the GRC wouldn't tell him the name of the academic who ​wanted ​his grant. "It's a jerky thing to do," he told BuzzFeed News. On his blog, McGlynn said he felt "a little bit like I was just visited by a stereotypical but incompetent mobster giving me an offer I can't refuse."
The GRC email's mention of FOIA "was never intended as a threat but we understand how it may have been interpreted as such," George L. Mehaffy, vice president for academic leadership and change at the American Association of State Colleges and Universities, told BuzzFeed News by email. Because these emails have been misinterpreted, Mehaffy said, "Going forward, we will be amending our language accordingly."
Some requests sting more than others. Walt Jesteadt, an experimental psychologist who studies hearing at Boys Town National Research Hospital in Omaha, Nebraska, was jolted to learn that in 2014, two of his previous proposals had been handed over to Andrea Pittman of Arizona State University, who used to work as a postdoctoral fellow in his lab.
"It seemed like a lack of collegiality to go through the FOIA mechanism," he said. "She could have just called and asked for it."
Pittman did not respond to multiple calls and emails from BuzzFeed News. She requested two other grants as well, including one by Larry Humes, a professor of hearing sciences at Indiana University Bloomington. Humes told BuzzFeed News he knew Pittman personally, and was surprised she went the FOIA route, which he had not experienced before. "I don't feel like there is a need for secrecy," he said.
Some scientists think of FOIA as a powerful professional tool and see no ethical problem with using it. Britni Ayers, a postdoctoral fellow at the University of Arkansas for Medical Sciences, told BuzzFeed News that she has made more than 30 FOIA requests for grants, all related to her work on health disparities and child care in minority communities. By reading other people's grant proposals, Ayers said, she hopes to adapt and improve her own research.

Ayers said that FOIA is often quicker than asking researchers directly for their grant proposals. "If someone hasn't worked with you before, they might not email back for months and months, so the formal protocol would be faster."
Almost all of the FOIA requesters who responded to BuzzFeed News said they were not interested in the specific plans detailed in the grant proposals, and simply wanted to learn how a successful bid for funding was put together.
Allen Barton of the University of Georgia, who studies family relationships and child development, was initially reticent about discussing his use of FOIA, responding by email: "I don't think I'd be very helpful person to talk to about this… FOIA isn't something I use much." Once he discovered that his FOIA request of four grants had been provided to BuzzFeed News through FOIA, he explained his motivations.
"My FOIA request was for grants from previously funded research. I'm at a center that writes grants of that nature. I wanted to see what they looked like," Barton said. Ultimately, he added, the FOIA wasn't useful to him because it took three months to receive it.
Other requesters said that scientists doing taxpayer-funded research should have no expectation of keeping their grants hidden.
"The obligation to share the government's investment in your research is much stronger than the good ideas that are protected in it," Alan McMillan, an imaging scientist at the University of Wisconsin, told BuzzFeed News. He used FOIA to get four grant proposals.
Some scientists said they submitted FOIAs to help junior colleagues in the scramble for funding.
McMillan admitted that he felt slightly awkward filling out the FOIA request, but thought asking directly would have been worse. "I would feel that they would take offense if they didn't want to share the grant, and then I FOIA'd anyway," he said.
Some scientists said they submitted FOIAs to help junior colleagues in the scramble for funding. At the University of West Florida, Mark Roltsch is assistant vice president for research. His office at the small private school of 2,500 students uses FOIA to see how the writer "puts it all together." He said he searches the NIH grants database to find projects similar to what his staff scientists want to pursue. "Then we either reach out and contact the principal investigator directly, or sometimes use FOIA if they don't respond."
At his previous institution, St. Mary's University in San Antonio, Roltsch filed 13 FOIA requests over the span of two months in 2015. "It's a US citizen's right," said Roltsch, who worked for the NIH for seven years, and so has seen both sides of the FOIA process. "I don't think a lot of people know you can do it."
That's also the reason Susan Sherman's grant about research on sex workers was FOIA'd, according to Keith Howell, the associate dean of research and program evaluation at George Mason University, who filed the request. Most of his faculty, Howell said, have never written a successful proposal, and many have never even seen one before.
"There are thousands of these well-done proposals, and I just see them as a resource for others to learn from," Howell told BuzzFeed News. Between 2013 and 2014, his office requested 28 grants from the NIH, including Sherman's. If Sherman had revealed her concerns, Howell said, he likely would have canceled his request.
For younger scientists like Alona Angosta of the University of Nevada, Las Vegas, FOIA is an essential resource. She first learned about how to make FOIA requests from a book, Writing the NIH Grant Proposal: A Step-by-Step Guide. The book recommended FOIA as a way to request a complete grant proposal, which Angosta found useful because the NIH's online database only provided the grant's title and abstract.
In 2013 and 2014, Angosta FOIA'd four grants related to her research on health and lifestyle activity, and says that those documents, along with working with an editor, helped her write her own proposal, though it ultimately was not funded. "I would recommend it to new investigators," she said. ●